Competition is fierce and harness tracks have to work harder than ever to attract betting dollars.
by Dean Towers
I was preparing to play the races (primarily Mohawk) this past Thursday evening (July 22) and noticed a track had a Pick 4 that I thought might be worth looking at. Unfortunately, I did not have a program. The $2 or $3 to buy one should not have been a big barrier, but it was.
Maybe it seems weird to you, but it is not uncommon.
With dozens upon dozens of racetracks competing for the betting dollar, even a seemingly tiny barrier like paying for a program can cost eyeballs and wagering dollars.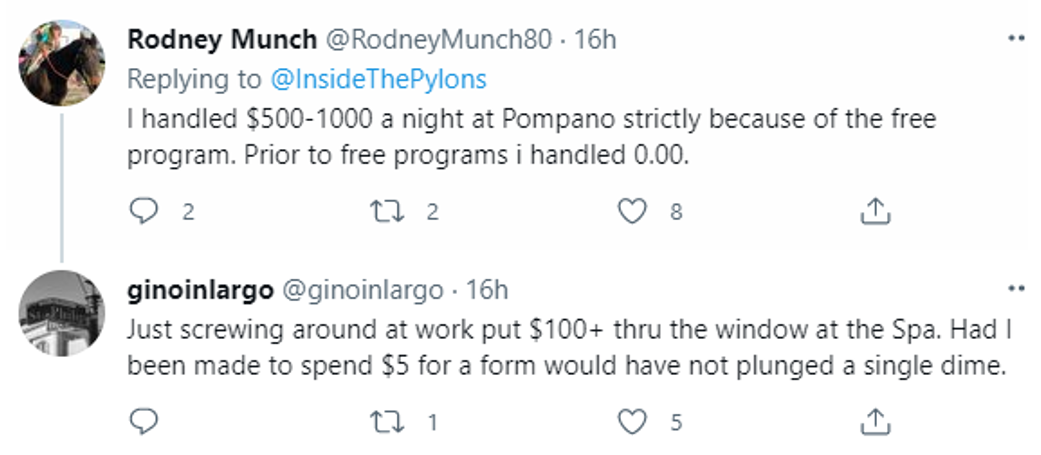 Tracks, in my view, need to know one simple rule – you have to give us a reason to bet. And that can mean myriad things; some of them, like a free past performance page, relatively small.
On-air analysts can play a role in attracting dollars, by highlighting (either in print or on the pre-game show), bad trips or slam dunk pick "n" keys. These horses can generate interest and can give someone an idea to open the book.
I remember one instance, at a local simulcast center, a thoroughbred player stormed in completely excited to bet a Pick 3. He'd heard there was a can't lose horse in the 8th and he wanted to play his Pick 3 around her. It was Ramona Hill at 1-9. Now, it was probably a bad Pick 3 with spread-key-spread, but he was slinging money into the harness pools, which he never does.
On Thursday evening I saw a horse who I thought was live the week before; she was boxed and looked like a use for the last Pick 5. Lo and behold I was watching the Mohawk simulcast show and Chad Rozema highlighted the horse, too (much to my chagrin Chad!) The filly again raced well and came second at 25-1. If someone watched Chad and used the filly, they had a reason to bet and feel good about it.
Signature bets – a bet, especially a small track, focuses on – can pay big dividends for handle and interest. People are attracted to a wager with pool size, along with handicapping materials or ideas attached as a part of the marketing. Gabe Prewitt at Pompano has proven this a sound strategy, as have some others. The Hoosier Park Super High Five (thankfully a non-jackpot wager) meets the $10,000 guarantee most weeks; the Pick 4 at Cal-Expo, expertly handled by Gary Seibel and team, is another success story.
Others are not so fortunate, but as Gabe and Gary know, it's not easy. If you're offering a Pick 5 with a $4,000 pool, get to work giving us a reason to bet and maybe good things will happen.
I was chatting on the Harness Racing Alumni show this week (listen here), and Bob Marks mentioned the past when he'd visit Aqueduct in the afternoon where bettors pushed $4 million through the pools. Then he'd head to Yonkers, where they'd bet another $2.5 millions (probably $16 million and $10 million, respectively in today's dollars). Without casinos and scratch-offs and slots and sports betting, this is the way it was at a track like Yonkers – they merely had to fling the doors open to compete.
It's clearly not like that anymore. Today tracks have to fight, not only for slots players and sports bettors, but amongst breeds. It's more important than ever for harness tracks to give us a reason to bet. If they do it well enough, we will.