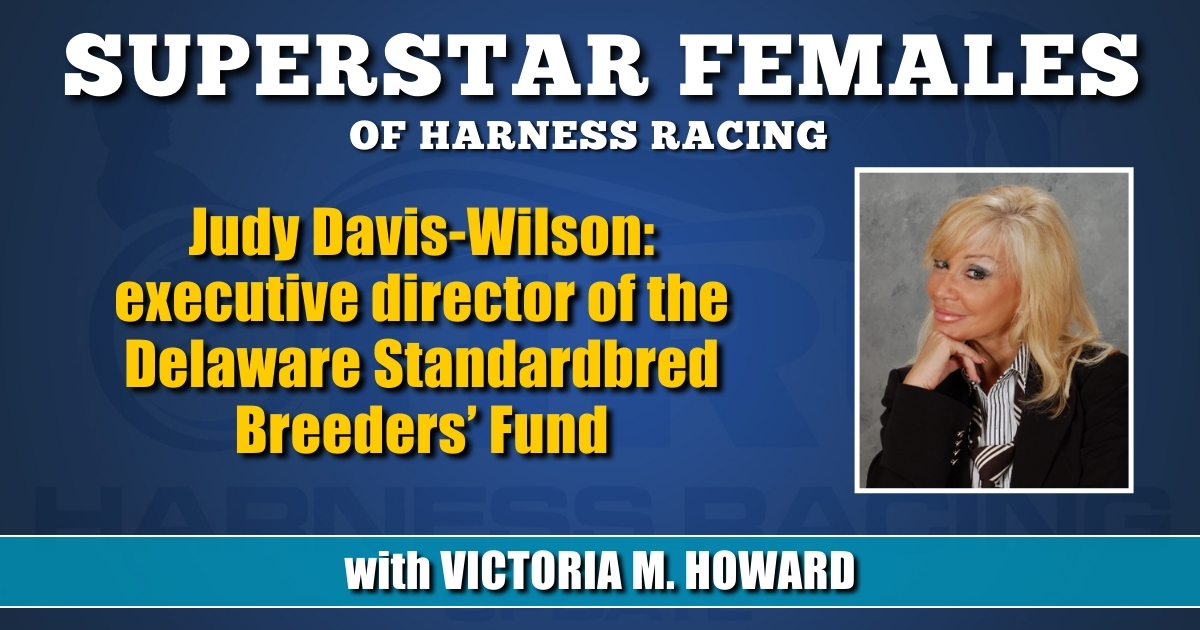 Judy Davis-Wilson: executive director of the Delaware Standardbred Breeders' Fund
by Victoria Howard
Just like everything else she does in her life, Judy Davis-Wilson made sure she wasn't late making her debut into the world. She arrived a month early. Being responsible, efficient and hardworking, Wilson would eventually become one of the more relevant women in harness racing.
"When I decided to be born, mother insisted her family doctor deliver me, so she made my father drive over two hours on a Sunday afternoon to Elkton, which was near her family farm in Chesapeake City. She would often tell me I cost her a great Sunday afternoon fried chicken dinner," Davis-Wilson said, laughing.
Born in Elkton, MD, Davis-Wilson's parents were both involved in the sport.
"My father was trainer/driver Olin Davis, and mother was Ruth Bower; a chemist who graduated during the war from the University of Delaware and worked at Dupont. Mom also drove racehorses: she was a female way ahead of her time.
"Her father, a retired pharmacist, bought a dairy farm near where Winbak Farm is located today. It was a beautiful place with waterfront on three rivers.
"My grandfather owned standardbreds as a hobby, which is how my mom got started. One day while at the track with her parents, Ralph and Zoe Bower, mom met her future husband, my father.
"My father was from Clayton, Delaware, and ran a private stable for his uncle, JM Davis. In 1959, he owned and trained a filly called QUICK LADY, who won 12 for 12, moving up the ranks from a C-2 pacer to open classes — culminating with the only stake they had paid her into — which was held at Lexington. She won both heats handily."
With both parents involved in the sport, it is no wonder Davis-Wilson chose to make a career of it. Besides her father, mother, and grandfather, her cousin, Eddie Davis, was a prominent driver who won over 8,000 races.
"My father insisted I learn something outside of the barn and backstretch so when I was 15 years-old I learned to chart at Georgetown Raceway, and when I was 18, I got a job at Brandywine Raceway where I eventually became a program director.
"After I gave birth to my daughter, I spent more time away from the track and more time at home, but filled in as a substitute to keep my license active. When my daughter was 11, I went back to work for the 1980 Brandywine meet.
"I was one of the first in the conversion of programs to digital versions rather than hot type set from eligibility papers and manual charts with the RTS system that eventually evolved into what is now E-Track. This was in 1984 and I worked there until they closed the doors in 1989.
'I also worked at Dover Downs and during the summer of 1988 at Freestate Raceway, having been lured there by the late Race Secretary, Ted Leonard."
Davis-Wilson has owned many standardbreds; one being a very nice pacing filly named BEATEN LENGTHS, a 3-year-old that competed in the New York Sire Stakes, driven by Ross Hayter or her cousin, Eddie Davis.
"The filly was a homebred out of the mare KITTY S, who I co-owned with my father who trained her. KITTY S had been bred by dad's uncle, J M Davis, and was sold to Hanover Shoe Farms at the estate auction when Uncle Med passed away.
"Hanover then sold her to horseman Larry Marsh. When Larry cut back his numbers we bought her at a mixed Tattersall sale and kept her the rest of her life.
"Currently, I don't own any horses, but my daughter does, so that keeps me close to the horse."
Davis-Wilson went to the Hambletonian Society when they merged with the Breeders Crown opening a joint office, and was responsible for computerizing all the payment records from index cards with Gladys Bell, who meticulously kept them for 40 years in Lexington at the Hambletonian Society. Davis-Wilson was also a major part of undertaking and learning about software and hardware.
"I jokingly say, I really carried my boss, Tom Charter's, camera bags everywhere," Davis-Wilson said, laughing.
"Presently, I work for the State of Delaware as the executive director of the Standardbred Breeders Fund. In 2001, when Delaware got slots and money appropriated for a Sires Stakes program, I left the Hambletonian Society and returned to Delaware to get the program off the ground. Originally, this was called the 'Delaware Development Fund' back in the '60s and '70s.
"In fact, my mother was on their Board, and I like to say today's fund is, like the phoenix who rose from the ashes.
The current Governor, John Carney, was Secretary of Finance and is the one who really got the ball rolling — increasing the funds to the yearly amount of $3 million for purses — under the then Governor, Ruthann Minner.
"I have been an active member of USHWA since 1992 and a former national president and treasurer, managing numerous Dan Patch Awards banquets, acting as chairwoman of the USHWA Hall of Fame Screening Committee."
Judy Davis-Wilson is by far one of harness racing's greatest assets and we are very lucky to have her.