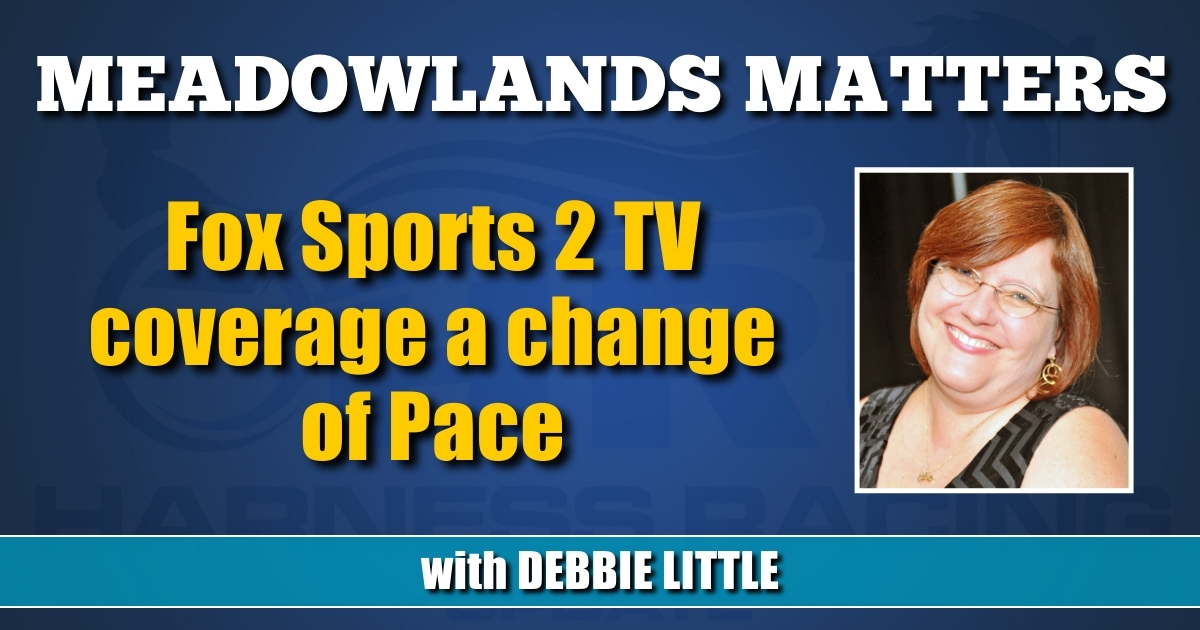 Saturday marks the first time the Meadowlands Pace will be broadcast on Fox Sports 2 in association with the New York Racing Association. The hope is it will be the first of a long, fruitful relationship getting harness racing broader TV exposure.
by Debbie Little
For the first time, the Meadowlands Pace will be part of a two-hour live show on Fox Sports 2 (FS2) from 8-10 p.m. on Saturday (July 17).
The New York Racing Association (NYRA) televises thoroughbred action from Saratoga and Belmont regularly on FS2 and it's The Meadowlands' connections with NYRA that led to the Pace broadcast.
"Dave O'Rourke and Jeff [Gural] have a friendly business relationship," said Eric Donovan, NYRA's senior director of TV broadcast operations. "Jeff knows what we do with our broadcasts on Fox. So, the idea was floated to have The Meadowlands Pace on Fox."
O'Rourke, the president and chief executive officer of NYRA, and Gural, the president and chief executive officer of The Meadowlands, had discussions for the possibility of a Pace show in 2020, but with the pandemic it never moved beyond that phase until ideas resurfaced for this year.
"NYRA is a perfect fit quite honestly for The Meadowlands because of the relationship that we have with them," said Jason Settlemoir, Meadowlands' chief operating officer and general manager. "They do a great job. And we think it only makes sense to try and get this audience involved and get us on TV. That's always been something that Jeff and I have wanted to do, is put us in front of more people on television. We're excited about the opportunity on Saturday and the opportunities going forward."
NYRA just signed an agreement with Fox Sports television that extends through 2030 for daily racing coverage from Belmont and Saratoga. As the top track in North America, if not the world, it only makes sense for The Meadowlands to be interested in getting a TV deal of their own.
"I would love to see The Meadowlands get tied into something similar to what NYRA does on a daily basis," said Settlemoir. "But we'll have to see how everything goes and how things work and maybe this would be something that would be, as long as things go well, something that could be explored since they race in the afternoon and we race at night."
Even though this will be a NYRA production, it will be produced and directed by people with harness racing backgrounds and will feature The Meadowlands talent that everyone knows.
NYRA's point person for Saturday will be the show's producer, Kim French, who grew up going to races at The Syracuse Mile from the age of 4.
"Once we got wind that this show was going to happen this year, we knew that Kim would be the perfect person to kind of tie it together because she has the knowledge of our television production environment plus the knowledge of harness racing," said Donovan.
French, an assistant director and production manager for NYRA, has worked in television for 15 years and done countless broadcasts, including The Breeders' Cup and Kentucky Derby.
"Kimberly is an asset, that's for certain," said Settlemoir. "We got lucky that she went to work for NYRA. She obviously has a lot of background in harness racing, so for NYRA to be able to lean on Kim, and for us to be able to lean on Kim, too, works out great because she has that background."
French has been dedicated to harness racing throughout her career and has been a freelance harness writer for more than a decade and is the current editor of The Midwest News Report.
What many may not know is that French was put on the path to TV production as a college student while attending the Clyde Hirt Journalism Workshop, which is sponsored by the U.S. Harness Writers Association.
"Because it is the first show of this nature, essentially, I'm the go-between, between my organization and The Meadowlands," said French. "So, what I do is apply my knowledge of harness racing and work at both ends to reach our goal, which is to promote harness racing to people that have not been introduced to it so that they can become fans or at least knowledgeable about the sport. That is the whole goal of this broadcast."
Working alongside French will be NYRA's long-time television director Mitch Levites, who has done harness racing TV for Yonkers Raceway and New York City Off-Track Betting.
"Mitch loves horse racing," said Donovan. "He loves the thoroughbreds and he loves the people around it, but I think his first love really was harness racing. How he got into racing was going to Roosevelt [as a kid]."
The Meadowlands dynamic duo of Dave Brower and Hall of Famer Dave Little will be doing pre- and post-race commentary. The entertaining and engaging Jessica Otten will be handling pre-race features and paddock interviews. Gabe Prewitt will be looking to "Send It In" with winner's circle reactions, and the ultra-consistent "Voice of The Meadowlands", Ken Warkentin, will handle the announcing assignment on a stakes-filled 14-race card.
The Pace is scheduled to go off at 9:46 p.m. and will be the final race shown on the broadcast that will also include the Dorothy Haughton Memorial, William R. Haughton Memorial and E.T. Gerry Jr. Hambletonian Maturity.
"Our executive producer, Tony Allevato, his mantra from day one is the three things you want to aim to do on our shows is to educate, inform and entertain," said Donovan. "So, you have those goals for each show whether it's a Thursday at Aqueduct or The Meadowlands Pace or the Travers. You want to be able to captivate that audience because to gain new fans and new viewers, you have to be able to tell the stories. We are fans of this sport and this sport can't exist forever with just us, we need to bring in new people so we need to have these kinds of elements on the show.
"I think it's a great opportunity for both NYRA and The Meadowlands and for Fox Sports and the fans of racing, not only harness racing but all racing. I think the more racing that's out there, the better it is for both breeds."