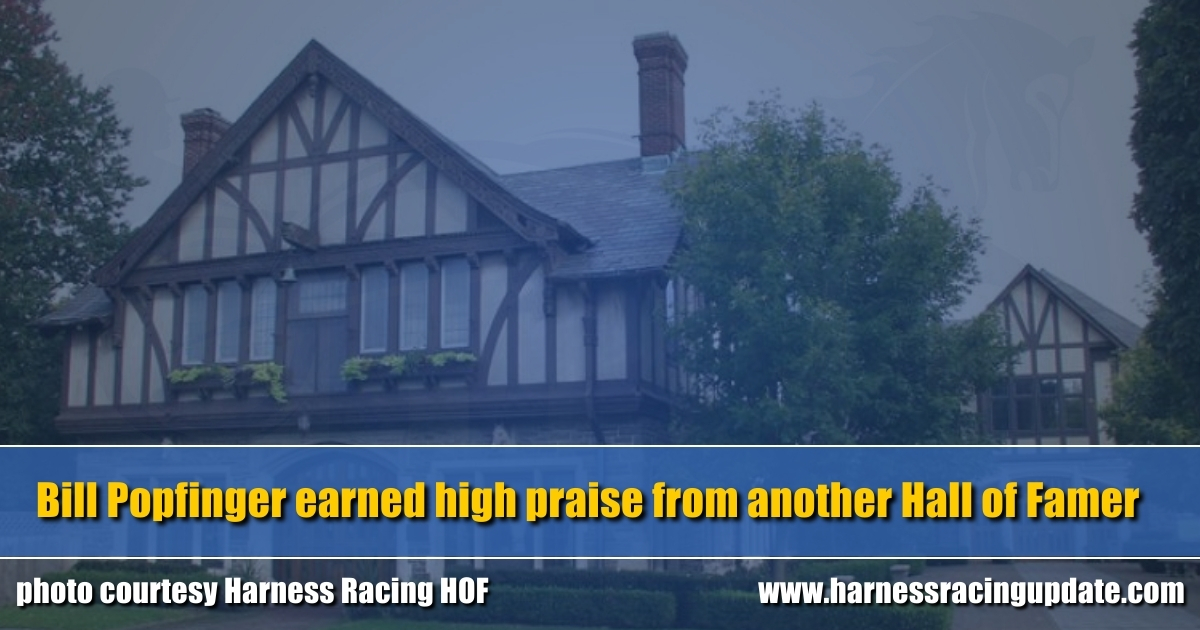 Bill Popfinger earned high praise from another Hall of Famer
The horseman will be officially inducted into the Harness Racing Living Hall of Fame tonight in Goshen, NY.
by Dean Hoffman
I got to know Hall of Famer Howard Beissinger quite well, although he could be an intimidating person because of his gruff personality. Beissinger was a great horseman but unsparing in his judgement of others and he told me often that he thought some trainers were frauds or just lucky.
So I was surprised, to say the very least, when many years ago Beissinger said to me, "You know who has been overlooked for the Hall of Fame?"
I wasn't sure where Beissinger was going with this, but I assumed it was one of his colleagues from the older era of racing. Beissinger was so particular on trivial things. He thought that horsemen ought to look and act like horsemen of the past; his heroes were Sep Palin, Doc Parshall, Henry Thomas and others in the old guard.
When Beissinger told me that he thought Bill Popfinger was worthy of Hall of Fame status 15 or 20 years ago, I thought that there could not be two more opposite trainers.
Bill Popfinger was "Showbiz" and he made for a star figure in harness racing, but definitely was not from the old guard generation. Popfinger had personality plus and Beissinger often had the personality of a rattlesnake.
Yet, Beissinger obviously had watched Popfinger's horsemanship over the years with a discerning eye. Beissinger did not toss bouquets easily or often.
Those of us in the press box or grandstand are not nearly as qualified to pass judgement on horsemanship as those who sit behind sick, lame, and lazy horses on a daily basis and try to make them into winners.
Howard saw Bill Popfinger's horsemanship and gave him high praise. I have never forgotten that.