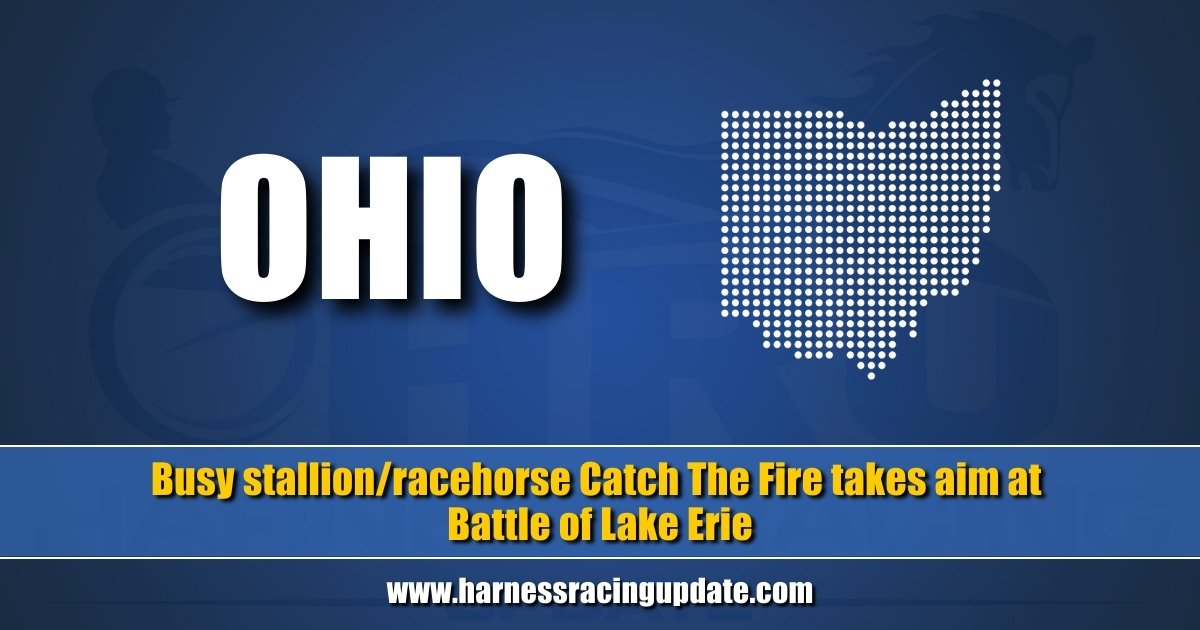 Busy stallion racehorse Catch The Fire takes aim at Battle of Lake Erie
The Ohio-based stud and racehorse will do battle Saturday in the $200,000 free-for-all invitational pace at Northfield Park.
by Jay Wolf
In January, owner Greg Luther expanded on his "million-dollar experiment" and purchased the majority share of the 4-year-old Captaintreacherous stallion, Catch The Fire who is pulling double duty as a racehorse and stud.
Despite a pair of impressive prep races, Catch The Fire has been tapped as a 10-1 shot in Saturday's $200,000 Battle of Lake Erie free-for-all invitational pace at MGM Northfield Park.
Catch The Fire is owned by Luther's Black Magic Racing and Charles Taylor's CT Stables. Greg's brother, Todd Luther trains the stallion.
Catch The Fire won his seasonal debut on May 22 with a 2¾ length score in 1:50.2 at Eldorado Scioto Downs. A week later, he won in 1:51 with the same margin of victory.
"He's a really nice little horse. He doesn't do anything wrong," said 35-year-old Todd Luther. "He's push button. You can race him anywhere, any way you want."
Catch The Fire drew the trailing post-position #9 in the 35th edition of the Battle and will be driven by Brett Miller.
"Brett's great on a half-mile track and has won this race a couple of times (with Maltese Artist in 2005 and Clear Vison in 2014), so he'll know how to get him around there," Todd said.
"By looking at the program, we are either going to have a great trip or we are never going to get a chance to race. It looks like the #1 (Western Joe), #2 (Little Rocket Man) and #3 (This Is The Plan) are going to be leaving. I am sure Joe (Bongiorno) is going to be looking for a position out of the #4 (Stars Align A). Hopefully it will all work out and we get a good trip. We have prepped him for this race. It has been on our radar as soon as we purchased him."
Catch The Fire was originally purchased for just $15,000 at the 2018 Lexington Select Sale by Taylor.
As a 2-year-old, Catch The Fire won four of 12 seasonal starts including the $250,000 Kentucky Sire Stakes Final in 1:49.4.
His connections – owner Taylor, trainer John Ackley and driver Mike Wilder — had high hopes for his sophomore season. Catch The Fire won the $375,000 Adios Final and took a $111,800 elimination of the Little Brown Jug.
A couple of days prior to Catch The Fire's final 3-year-old start, a third-place finish in the $325,000 Progress Pace Final, Taylor announced that his colt would stand stud at Sugar Valley Farm for the 2021 breeding season, while continuing his racing career.
"Breeding and racing has been a great combo," said Joe McLead, co-owner of Sugar Valley Farm. "The McCowns (Cameron and Jessica) have been great to work with, they bring him here on time and take him back to the fairgrounds."
Todd Luther turned to the McCowns to help out since Todd's base of operation is at the Winner Circle Training Center in Ashville, OH – an hour away from Sugar Valley Farm.
"(The McCowns) are great friends of mine. They know my schedule pretty well and I don't have any worries," said Todd.
Catch The Fire performs his stallion duties on Monday, Wednesday and Friday and an occasional Saturday. On 'off' days he is at the Delaware County Fairgrounds, a five-mile drive from the farm, jogging and training.
Catch The Fire, who stood for an introductory fee of $3,500, had an original book limit of 65 mares, but was increased to 85 due to Catch The Fire's fertility.
"He is very fertile and has great semen," said McLead. "We will stop collecting from our stallions on July 3rd and at that time Catch The Fire can leave the state."
"After this race, we'll probably give him a couple of weeks off. He can't leave the state until after the breeding season," said Todd. "He's staked to absolutely everything after that."
On the Battle of Lake Erie undercard are the Ohio Sire Stake (OHSS) divisions of the sophomore colt trot and 3-year-old filly pace.
The undefeated Winning Ticket (Aaron Merriman) headlines the colt trot. The Chris Beaver trainee is a perfect four-for-four this season winning the opening OHSS leg. Stablemate Panzano (Aaron Merriman) are the favorites in the first $50,000 division.
In the $100,000 (div) filly pace, last year's OHSS champ, Summer Touch (Chris Page) is the 3-2 morning line favorite in the first division. Lady Arthur (Ronnie Wrenn, Jr.) is the favorite in the second division.
The post time for the 15-race card is 6:00 pm