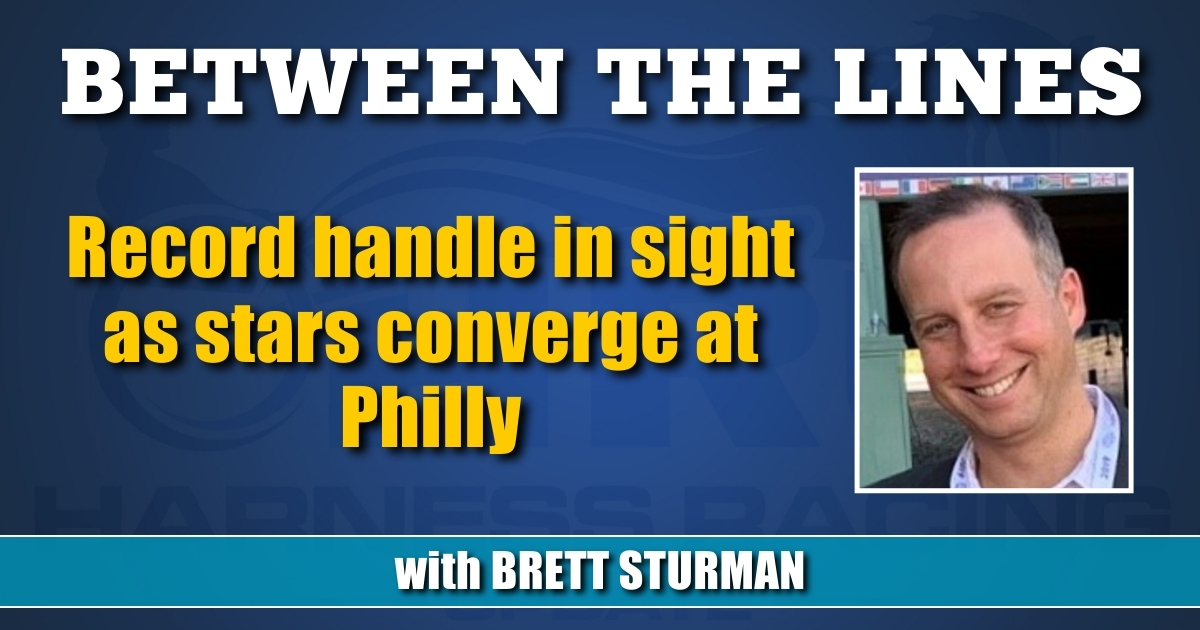 Record handle in sight as stars converge at Philly
Gangbusters card includes the rematch of Perfect Sting and Abuckabett Hanover in the PASS and three $100,000 invitational stakes — the Commodore Barry, Betsy Ross and a star-studded Maxie Lee.
by Brett Sturman
With wagering already up early this season at Harrah's Philadelphia due to a combination of bettor-friendly initiatives, a record handle isn't out of the question as many of the sport's most talented stars descend on the Chester five-eighth's mile on Sunday. In addition to eight Stallion Series divisions and two Pennsylvania Sire Stakes (PASS) for 3-year-old colt pacers featuring premier matchups, three $100,000 invitational stakes including the Commodore Barry, Betsy Ross and Maxie Lee will be contested.
In figures provided by Gabe Prewitt, director of racing for Caesars Entertainment, the all-time daily handle record at Harrah's Chester is $1,382,824. It came on a day when many other East coast tracks including thoroughbred tracks were canceled due to a heat wave. The next highest handle of $1,079,335 came on a Super Stakes Sunday event. But just this past Sunday on a nondescript and typical card, the track handled $1,037,261.
Granted, what's been driving handle over the past year for many tracks is racing when others aren't, far more-so than field quality. But the sheer amount of talent on display Sunday combined with the free programs and low takeout multi-leg wagers that led to a $1 million handle last week on its own, it would be hard to see Sunday not going over the $1 million mark again with the additional eyes that will be watching. Additionally, last week's handle came over 14 races and Sunday will feature 15 races, so the total handle could come close to approaching that all-time mark.
Following the conclusion of the early Pick-4 (races 1-4) on Sunday, the $0.50 Pick-5 begins in race 5 and includes the rematch of Perfect Sting and Abuckabett Hanover in race 6, a $76,309 PASS division.
When they both last raced two weeks ago at Pocono, it was Abuckabett Hanover that put an end to the career unbeaten streak of Perfect Sting, though the tables could certainly be turned on Sunday. Whereas Abuckabett Hanover was favored in that last race on the strength of having a mile under him already this year (and a monster 1:49.1 mile no less), he had the conditioning edge over Perfect Sting and took advantage of it. McCarthy was aggressive in pouncing on Perfect Sting as soon as he moved to the lead and had enough to just last as Perfect Sting surged late up the inside after appearing a gap a bit from the pocket earlier up the backstretch.
Perfect Sting will now be favored as he deserves to be, but Abuckabett Hanover has the post edge and could do it again. Seems like it would be down to these two for pick-5 Purposes. Elsewhere in the field, Gambln Mo has been amazing in his transition from 2 to 3 for trainer John Butenschoen and will get the test for class. Chase H Hanover was uncharacteristically flat once into the lane last out but was excellent two back in his first start of the year. Literl Lad Hanover surprised at big odds two back as easily the longest priced horse of himself and two other Burke stablemates that day.
The late Pick-4 starts goes as races 10 through 13, with all but the first race of sequence being the big three $100,000 invitationals.
First up of the signature races is the Commodore Barry in race 11 for open pacers. Nicholas Beach, This Is The Plan and American History slugged it out through the stretch at the Meadowlands where it was Nicholas Beach that came away victorious in 1:47.2. That's around the benchmark that only a couple dozen or so in the history of the sport have ever went and I can't wait to see these horses bring this time around. Betting-wise, I'd probably let Nicholas Beach beat me if he can at the short price. Sometimes form from the Meadowlands to Chester doesn't always pan out, and he did need every inch of a perfect trip to get by and last. He's been a monster this year and it's not to take anything away from him, but there could be better value elsewhere.
This Is The Plan lands post 8 again, and Gingras' drive on him from the same spot (even more amazingly that it came on a half-mile) in the Borgata final was one for the ages. He was getting to Nicholas Beach last week, too, when angled to his outside and it'll be fascinating to see how this race plays out with the fast American History presumably looking to leave as well directly to his inside. The one that could be overlooked in here is Leonidas A. His only loss of the year came when he drew post 7 in the Borgata final and he beat these types to close out last year in the Potomac Pace at Rosecroft. With a lot of speed to his outside, Siegelman could work out a decent cover trip as a square-priced possibility. Bllack Hole invades from the Midwest but was a 1:48 winner at the Meadowlands last year.
In the race 12 Betsy Ross for open mare pacers, Racine Bell rates a chance as an outsider from post 7. She may be overlooked due to the post and lesser heralded connections as some of the others in here, but all of her recent races would give her a big chance. After running it up at Yonkers, she was sprinting right with Soho Burning Love A through that 25 second final quarter at the Meadowlands two back and was deceptively good last week at the Meadowlands when she was stuck third on the inside after being used prior. She can make the lead in about three steps if Bartlett wants, in career form.
JK First Lady makes her third start of the year and was hard used in last week's Meadowlands open when working hard to the lead through a :53.4 half in that 12-horse field. She will likely be made the slight favorite in a highly competitive field. Soho Burning Love A enters the Betsy Ross on a three-race win streak and went unchallenged en route to that 1:48.2 score last out. Machnhope was the upset winner of the $232,800 Bluechip Matchmaker series four back and is another that got used early in her open last week. Any of these could do it, though if I had to pick one to include with Racine Bell, I'd go with Soho Burning Love A.
Leading the way in the Maxie Lee Memorial for open trotters is the number one ranked horse in the sport, Manchego. I still can't believe that Cutler race. After floating wide around the first turn and then parked first over for much of the mile, she was hanging around for most of the stretch but at no point did I think she was actually going to win. But somehow, she came on when it counted to put away the race leader and hold off Majestic Player A who rode dream cover off her back. If anything, it seems like she should be stronger in her second start back.
Amigo Volo lands the rail and was better last out in his second start of the year, no issue in running second to Beads who they've found the key for now as a 4-year-old. It's Academic held on in the Graduate though they were coming on late at him; guaranteed to be moving forward early from post 8. Forbidden Trade seems like someone that should be along for a share.
Though outside of any multi-leg wager other than kicking off the late double, One Eight Hundred and Southwind Gendry go round 2 with each other. And here's where harness racing needs to get more serious in its morning lines. I'm not guaranteeing he's going to win, but there is no possible way that One Eight Hundred goes off at his 7-2 programmed line, and maybe even ends up the favorite. Currently the co-second choice with Exploit, One Eight Hundred will go off at close to the same odds as Southwind Gendry, maybe about both at 7/5 if I had to guess. One Eight Hundred took the big step up in class last out and was able to sling shot from the pocket to beat Southwind Gendry, proving that he will be legitimate 3-year-old stakes contender this year. Let's see if the switch in post positions reverses the order of finish this time. Lou's Pearlman qualified so well in April but hasn't been himself in two starts this year, gets a new driver in Dave Miller.