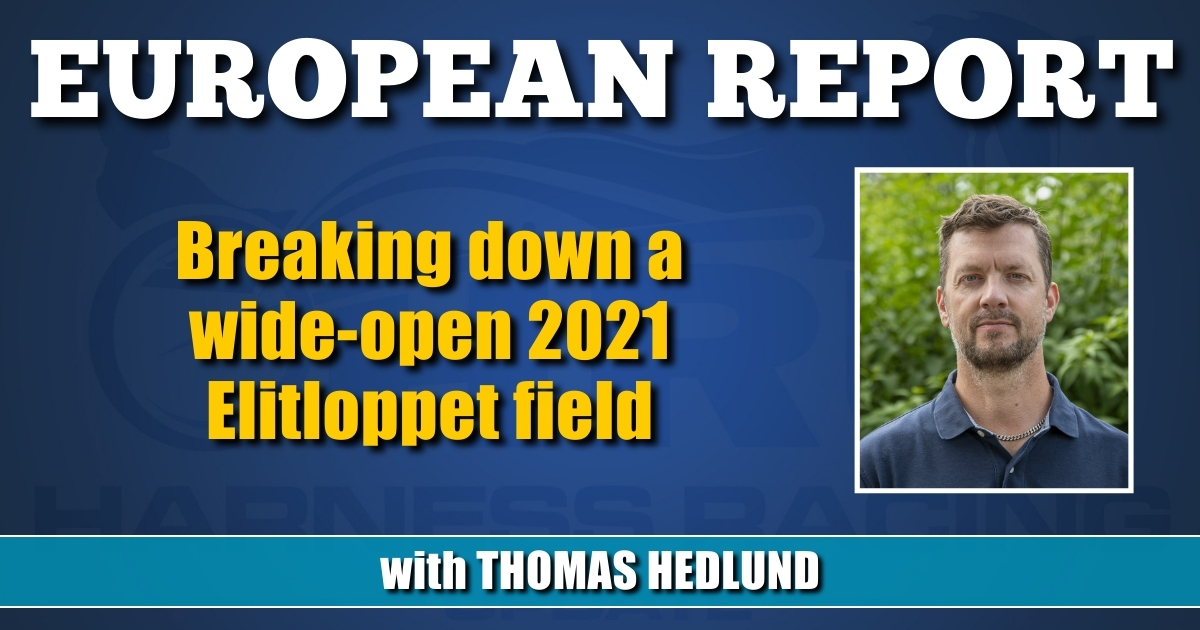 Breaking down a wide-open 2021 Elitloppet field
by Thomas Hedlund
The Elitloppet is one of the most prestigious races in the world for elite trotters and the 2021 edition that goes to post Sunday afternoon at Solvalla is expected to be no different. Sixteen trotters, eight in each heat, will try to reach the final that will take place at 6:10 p.m. (CET) (12:10 p.m. (Eastern time)). The Elitloppet can be viewed in the U.S. on TVG.
This year's contest is particularly wide open after the draw handed the eight hole to both of the probable favorites.
Daniel Redén trained Don Fanucci Zet (Hard Livin—Kissed By The West) developed to become one of the more interesting horses in Sweden last season and his pedigree with a pacing mare has made the 5-year-old coveted among breeders already this year. But what can a horse that made his racing debut in July 2019 do among considerably more merited top trotters from post 8 in a mile race at Solvalla? Well, since the 2021 Elitloppet is particularly unpredictable, anything can happen and Don Fanucci Zet might very well claim his spot in the final.
Very Kronos (Ready Cash—Glide About) also drew post 8 for his elimination. Svante Båth's horse is not well known as a super sprinter (just two of his 45 lifetime starts have been mile races), but his strength will most certainly play its role on Sunday. Luck is needed for both horses, for sure, especially since there are several horses on their inside, respectively, who can leave very quickly when the car accelerate.
Just like last year, the Elitloppet will be raced without spectators, though some of the restaurants at Solvalla will open during the weekend. It's obviously a strange feeling when a race card that contains so many great trotters will be held without fans. But Solvalla survived last year's Elitloppet and will stand strong in 2022 when the world might look a little more "normal."
Solvalla's big weekend begins today (May 28) and on Saturday's card, the 1.95 mile $241,000 Harper Hanover's race is the event of the day. Fifteen top trotters will gather in race 11 (6:43 p.m. CET; 12:43 p.m. (Eastern). The race has increased its status this year. The higher purse has attracted better horses and this can really be a memorable race.
Sunday's race card is, as usual, strong with many interesting fields of trotters. The $241,000 Håkan Wallner Memorial – the final of Breeders Course for 3-year-olds — is one of them where younger European horses will meet for the first time at this level. Alessandro Gocciadoro, who to a very high degree is one of the main contenders at Solvalla this weekend, has two of the most interesting horses in the field, but when one million Swedish crowns awaits the winner, we can guess that there are other trainers who have prepared their horses, respectively, to an absolute peak.
Fifty Cent Piece (Muscle Hill—Thatsnotmyname), comes from a triumph in the $241,000 Drottningpokalen and will be paired with Örjan Kihlström in the $72,500 Fyraåringseliten for mares and will most probably be first choice in the race.
The 4-year-old colts and geldings will be accompanied by American-bred mare Sister Sledge (Father Patrick—Behindclosedoors), who has two consecutive wins in Sweden since she arrived in Europe last fall. The $120,000 Fyraåringseliten also features horses such as Chestnut Hill (Muscle Hill—Poof She's Gone), Hell Patrol (Yankee Glide—Day At The Spa), Rome Pays Off (Muscle Hill—Order By Wish) and Italian star Bepi Bi (Donato Hanover—Lorraine Bi).
After a rainy week in Stockholm, it's been said that our yellow friend in the sky will show up.
Harper Hanover's race (Saturday)
Horse – Driver
3,140 meters
1. Maestro Crowe – Johan Untersteiner
2. Boston Wise L. – Per Lennatsson
3. Demon Ima – Peter Untersteiner
4. Digital Dominance – Erik Adielsson
5. Ol Dono Lengai – Magnus A Djuse
3,160 meters
6. Ivory di Quattro – Rikard N Skoglund
7. Born Unicorn – Björn Goop
3,180 meters
8. Who's Who – Örjan Kihlström
9. Jerry Mom – Pierre Vercruysse
10. Ble du Gers – Per Oleg Midtfjeld
11. Velvet Gio – Ulf Ohlsson
12. Pacific Face – Giuseppe Lubrano
13. Vitruvio – Mika Forss
14. Dragster – Roger Malmqvist
15. Wild Love – Kevin Oscarsson
Elitloppet 2021
Heat 1
1. Vivid Wise As (Bred in Italy)
Trainer and driver: Alessandro Gocciadoro
Vivid Wise As was first choice to win the Elitloppet ahead of the race last year, but at that time he wasn't at his best and the performances this spring makes him a serious contender.
2. Moni Viking (Norway)
Trainer and driver: Björn Goop
Moni Viking collected several big wins last season and is now back in Björn Goop's stable after a journey in France during the past winter. A non-typical Elitloppet contender, Moni Viking is more of a hearty, long-distance trotter than a sprinter.
3. Milliondollarrhyme (Sweden)
Trainer and driver: Fredrik B Larsson
Milliondollarrhyme showed extreme speed behind the car in Finland in his last performance and from a perfect spot he can control the race. This is his third try in the Elitloppet.
4. Aetos Kronos (Sweden)
Trainer: Jerry Riordan
Driver: Magnus A Djuse
Aetos Kronos dominated as a 3-year-old in Sweden and last season was strong with five wins in 11 starts. Aetos Kronos with "his" trip and in perfect shape can beat them all. Jerry Riordan won the Elitloppet in 2018 with Ringostarr Treb.
5. Hickothepooh (Norway)
Trainer: Trond Andersen
Driver: Vidar Hop
Hickothepooh was the upset winner in the Finlandia-ajo on May 9. The victory sent him to Elitloppet and now he faces his toughest battle in his life. The most experienced horse in Elitloppet this year; Hickothepooh has made 90 starts so far.
6. Bahia Quesnot (France)
Trainer and driver: Junior Guelpa
Bahia Quesnot shocked the French people when she, from out of nowhere, won the monté race Prix de Cornulier in Paris in January this year, which is her only victory so far this season. The 10-year-old mare is tougher than the most.
7. Cyber Lane (Sweden)
Trainer and driver: Johan Untersteiner
Cyber Lane is solid every year he races and his last performance in Denmark, when he won Copenhagen Cup, pushed him towards an invitation for Elitloppet 2021. He makes his debut in the race, even if he's been close to a ticket earlier year.
8. Don Fanucci Zet (Sweden)
Trainer: Daniel Redén
Driver: Örjan Kihlström
Don Fanucci Zet impressed in the Sprintermästaren when he won in 1:52 and people then began to talk about the Elitloppet for the pacer bred horse. He makes his 21st lifetime start here.
Heat 2
1. Cokstile (Bred in Norway)
Trainer: Mattia Orlando)
Driver: Vincenzo Gallo
Cokstile is the title defender in the Elitloppet. He finished second to Propulsion in the final 2020, but won the race when Propulsion was disqualified. After problems during the winter, he made his season debut in Denmark two weeks ago.
2. Heavy Sound (Sweden)
Trainer: Daniel Redén
Driver: Kenneth Haugstad
Heavy Sound participated in this race two years ago but didn't make it to the final that day. Kenneth Haugstad has driven Heavy Sound in the horse's all 51 starts.
3. Seismic Wave (United States)
Trainer: Timo Nurmos
Driver: Claes Sjöström
Seismic Wave has shown great speed and strength and he is many people's favorite (after the draw) to win the Elitloppet this year. His development since May 1 (season debut 2021) was astonishing when he finished second to Heavy Sound in his last performance.
4. Gelati Cut (France)
Trainer: Romain Christian Larue)
Driver: Gabriele Gelormini
Gelati Cut has fought among the best French 5-year-olds and the son of Coktail Jet can leave very quickly behind the gate. A probable offensive tactic will be seen from driver Gelormini's part.
5. Gareth Boko (Sweden)
Trainer: Jerry Riordan
Driver: Mats E Djuse
Gareth Boko has impressed a lot in his last two starts 2021 and he really spiced up the Elitloppet by winning the last qualification race (Prins Daniels race last Saturday) in nice style. A high potential trotter with a rookie driver.
6. Ecurie D. (Denmark)
Trainer: Frode Hamre
Driver: Ulf Ohlsson
Ecurie D. became an early first choice in this year's Elitloppet when he impressed in a 1:51.2 win in the Fyraåringseliten at Solvalla in May last year. He is the race's least experienced contender (19 lifetime starts) and we cannot count him out, even if he failed In Paralympiatravet in his last start.
7. Click Bait (United States)
Trainer: Stefan Melander
Driver: Per Lennartsson
Click Bait is probably the fastest horse in Elitloppet when it comes to leaving behind the gate and he will need that ability from a bad post. Unfortunately, he got sick ahead of Finlandia-ajo and the form is uncertain.
8. Very Kronos (Sweden)
Trainer: Svante Båth
Driver: Erik Adielsson
Very Kronos has, since he began his career, been a praised trotter, but his sometimes immature behavior stopped him from the great successes as a 3- and 4-year-old. Last year was his breakthrough season and he is one of the favorites to win Elitloppet, despite the post in this elimination.