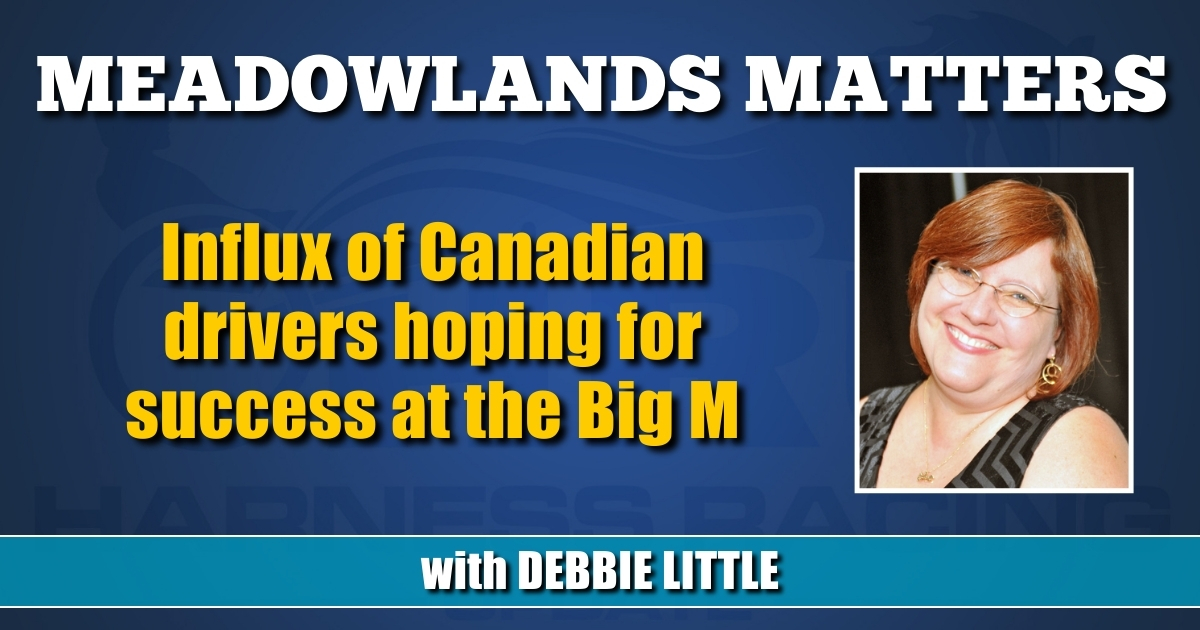 Influx of Canadian drivers hoping for success at the Big M
Tonight, James MacDonald joins fellow Canadian Bob McClure and Doug McNair at the Meadowlands.
by Debbie Little
This week, The Big M could stand for MacDonald, McClure, McNair and Mojitos.
Driver James MacDonald is making his Meadowlands' season debut tonight (April 30), joining Canadian countrymen Bob McClure, who arrived two weeks ago, and Doug McNair, who flew in last week.
MacDonald is excited to finally be back racing having last competed at Woodbine Mohawk Park on April 2, the last night of racing before the current COVID-19 related shutdown.
"The more you race, the sharper you are and it's a good opportunity to go down there and learn," said MacDonald. "It's good experience to race against everyone down there. It's such a stacked driver colony. It'll be cool just to line up behind the gate with everyone down there and try and do my best.
"We would want to go race anywhere just to race instead of what we've got going on here and just try and make a little bit of money. Unfortunately, it's just the norm for everyone in Canada right now. If you're a horse driver there's not much for you up here. It could always be worse but it isn't ideal, that's for sure."
MacDonald, whose last drive at The Meadowlands was in 2016, reached out to a couple of Canadian trainers, such as Carmen Auciello and Blake MacIntosh, prior to coming south, to see what his prospects might be.
"I've got four of five down here that [James] was driving back home pretty well every week and some of my better ones like Buck Dancer Kickupyaheels N and Nothing But Muscle, just to name a few," said Auciello. "James is always the first one to offer in the mornings to come help me train at Mohawk or qualify or school and he puts the work in, so he deserves the loyalty in return."
Even though MacIntosh has his go-to drivers at The Meadowlands, he will keep both MacDonald and McNair in mind, especially for his Ontario Sire Stakes horses.
"When I can get them a shot, I'll give them a shot and let them drive," said MacIntosh. "Dougie's driving one for me at [Harrah's Philadelphia] and when James comes down, he'll for sure get drives from me. They'll pick up drives, but it's not going to be easy for them right off the get-go, and I'll try and help them out as much as I can."
McNair, who last raced at The Meadowlands in 2018, is fortunate that his dad, Gregg, sent some horses down, so at least he has a good starting point.
"It's like anything, you've got to know people to get your name down on the sheet," said Doug. "There are so many good drivers, I'm not expecting to come down here and be driving in every race and taking people's drives. I'm just here for a month or so until we get back going."
McNair drove in 13 Big M races last weekend and got his first seasonal win at the mile oval. He is down on 15 this weekend, including three for Auciello.
"What's going to be nice with Dougie and James down here is that I think they will show some loyalty to me. Already, I've listed Dougie on quite a few," said Auciello. "And I'm going to show some loyalty to them and hopefully we can all have a bit of luck."
For McClure, it was an easy decision to compete in the States since it was the Determination Stable asking him to do so.
"They have a situation where they have some Grand Circuit horses that can't be a month behind everybody when we start back up, if we start back up," said McClure. "So, they had to make the tough decision to go south and when they made that decision, they asked me to come and it was an easy decision to oblige. If Determination Stable hadn't left, I wouldn't have left, either. Obviously, if you're going to travel stateside to drive racehorses you've got to have some power behind you. It's not as easy as picking up, going to a track and saying I'm here to drive. You have to have somebody that's willing to list you."
McClure, unlike MacDonald and McNair, will be racking up the frequent flyer miles heading home to Canada on his off days. But he'll fly back whenever needed as he did last Friday, getting his first Big M win this season in three starts with Mycrownmykingdom. The 3-year-old trotting colt is one of the reasons Determination came to town.
"[We're here now] because [Mycrownmykingdom] was ready to race and he needed to race," said trainer Luc Blais of Determination Stable. "We staked him everywhere and he doesn't have too much experience so he needs experience. And I have a few horses that need to race if you want to be ready for the stakes races. We plan to stay here for the summer. I think we have a big month in July here and we need to get ready for that."
The fortunate situation for Auciello, Blais and MacIntosh is that they have established stables in the U.S., so sending down more horses is not as difficult for them as it is for others.
"I'm lucky, I can keep 25 down here, that's about all I have room for," said Auciello. "But a lot of people aren't as lucky as me and aren't in that situation. So, if you have a small stable with five or 10 horses and your owners want to race then that's it, you're losing them. They're getting sent down to a trainer down here and there's going to be a lot of people suffering really badly and going out of business. If I didn't have a stable down here these horses would be coming down here, they'd just be going to somebody else. It's just been a nightmare."
Typically, Frank and Kristin Calcagni look after Auciello's New York stable at the Pine Bush Training Facility, but with the influx from Canada, Auciello has had to temporarily move down to help his small team with the increased volume of work.
"It's been an experience," said Auciello. "We normally only have 12 to 15 horses down here and I've got three people and it's a breeze. My people down here have been great. They haven't shied away from the work at all, which is nice."
Blais has already brought 11 horses down to his brother Coco at White Birch Farm in New Jersey, with more on the way.
"I'm going to bring all the 2-year-olds that are eligible for Jersey and PA," said Blais.
MacIntosh already had 25 stabled at New York's Mark Ford Training Center under the watchful eye of second trainer Jessica Fallon, but that number grew when another seven came down to race this week.
"I feel sorry for Jess," said MacIntosh. "She's overloaded right now and she's doing a hell of a job just keeping everything going."
MacIntosh is currently still in Canada, but that will change in the next couple of weeks.
"So, at some point, I have to leave my wife and go down and be with the racehorses that are racing and take the American babies down because we can't finish them off at the farm like we want to. I have to ship them into The Meadowlands to train them to see the track and the tractors and get used to stuff. So, at some point next month, I have to bring down the 10 or 12 American babies and go from there."
All the trainers are thankful to have such good owners supporting them in addition to their staffs on both sides of the border, especially their grooms.
Grooms have been in short supply for a while now, so hanging onto the ones they have is most important.
"My grooms up here are upset seeing their horses that they've been working on for two years going down and winning and those grooms are getting the win bonuses," said MacIntosh. "Sure, they get the one per cent but they're still losing out on the $100 paddocks and $100 win tips. So, that's $200 out of their pockets when one wins down there."
Auciello finds himself in the same position as MacIntosh, trying to hold onto grooms that are rubbing and perhaps, more importantly, paddocking fewer horses.
"That's their bread and butter, the paddocking," said Auciello. "They can make a couple hundred in a night plus the hundred-dollar win bonus. And you do that five nights a week and they can make themselves an extra seven or eight hundred bucks a week when we're racing and the horses are doing well. Plus, a little percentage of my 5 per cent I give away. We all know what grooms make in this business, it's not very much."
DERBY DETAILS
For anyone planning to attend the races tomorrow (May 1), there will be a Kentucky Derby celebration with The Meadowlands offering a refreshing Mojito for $9, including a commemorative glass.
With ongoing restrictions due to COVID-19, please check PlayMeadowlands.com/derby for information about dining and guaranteed seating.