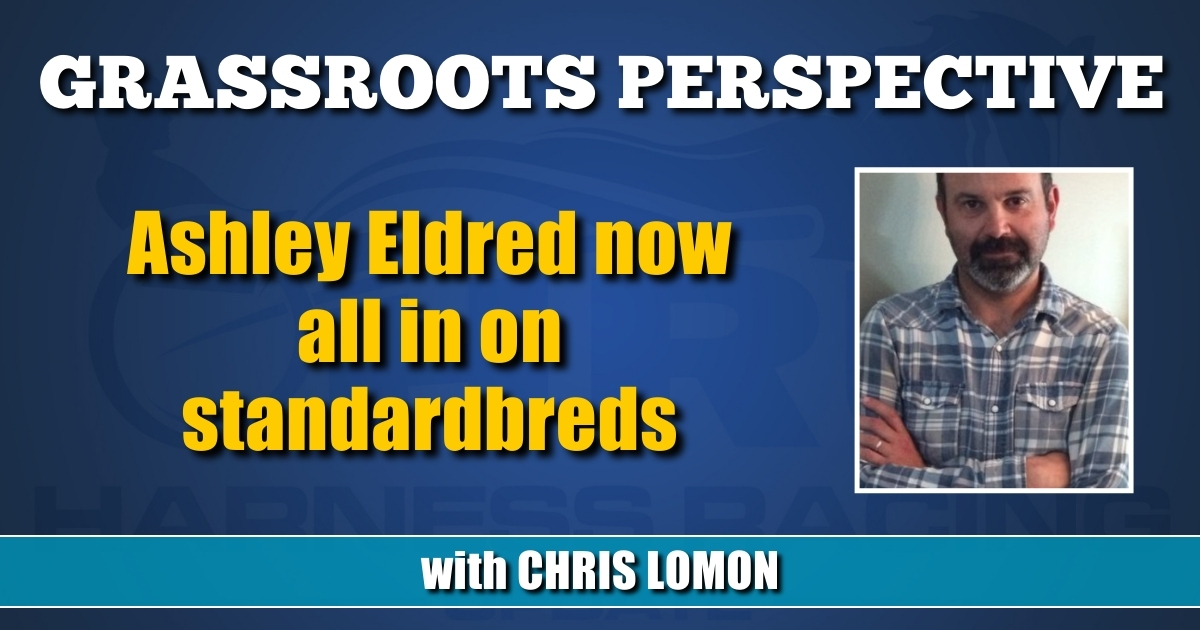 Ashley Eldred now all in on standardbreds
"Growing up, I never saw myself being a trainer or doing anything with racehorses."
by Chris Lomon
Whenever the contented pair rides off into the sunset, it's a picture-perfect moment and reminder that life is indeed good for Ashley Eldred.
It's always a welcome scene, a picturesque landscape that seems to stretch on farther than the eye can see.
For the woman in the saddle, it's a time to let her busy mind rest, a chance for a cherished respite from a busy standardbred life.
"I really do let my mind go," said Eldred, who calls Burlington Flats, NY home. "What's funny about that is when I have a barn full of horses at home – my outriding horses, my broodmares, all of these great riding horses – I still turn to my retired standardbred, Ehi Guaglione."
"Ehi" comes from the Nigerian name for "Angel" and "Guaglione" comes from the Neapolitan name for "Boy," resulting in "Angel Boy."
"He is 17. We go out for miles and hours. There's a nice hill with a sunset view. We just go out together and unwind. It's very peaceful. I've had him on and off since he was a baby. He was claimed several times from me, and sold, but he always finds his way back to me. He's very meaningful because he was the first horse I ever owned and trained. He's got a home for life."
Eldred, it appears, has a career for life.
Or more aptly put, careers.
"I'm extremely happy that everything keeps me so busy. I don't like any down time. I currently train 12 racehorses, I have the under saddle [RUS] gig that I do, and I also outride Fridays and Saturdays at Freehold. In any spare time I have, I recently got into the broodmare business, and had my first foal this year. So I'm looking to expand in that aspect. If I do get a free moment, I go and enjoy a nice horseback ride. My spare time, it's still horse-related."
That she has found her way into the racing realm is somewhat of a longshot.
Growing up, she didn't give any thought of one day becoming involved in the standardbred industry.
Eventually, that mindset changed.
"I never wanted to do any of this. Growing up, I never saw myself being a trainer or doing anything with racehorses. My stepfather, Bill Bailey, who raised me, he was a very successful trainer and driver, as was his father [Jack]. I went to school, took some time off, and lived my life for a little bit. Somehow, I made my way to the racetrack, and over the past two or three years, I've really had the chance to take off in my training career. It's been very rewarding. This past year, I took my first open pace win, as well as getting my first Pocono Downs win. I had an amazing year in 2020 and I just hope to do better this year."
Launching her training career in 2015, Eldred and her band of trotters and pacers all hit their best stride last year, a season which produced 12 wins, 17 seconds and 15 thirds from 118 starts.
She's well on her way to eclipsing those numbers in 2021.
A recent rash of outside draws made for some tough results, but good fortune and better posts have yielded happier moments at the racetrack these days.
"Things have turned around as of late, which has been nice. Even in tough times, I never forget how lucky I am. I have some great people behind me, some great support, and I can't thank my team enough."
One member of her team goes by the name Paco, a 22-year-old horse that Eldred partners with for her outrider duties.
The role, and her on-track teammate, have both been an ideal match for the young horsewoman.
"I've always admired the outriders when I was growing up. I had never taken a lesson a day in my life. I taught myself everything I know, and with the help of so many people, I accepted my first full-time job last year, at Freehold. I've also filled in the odd time at Vernon Downs. I don't think it's going to take over my training job, but I really enjoy it."
It's anything but an easy role. A sharp mind and the ability to make split-second decisions are a necessity.
"The toughest part is in knowing when and how to do the right thing, putting yourself and your horse in the right position without getting hurt or hurting someone else. The most rewarding part is that the drivers look to you to help them. They rely on you. It's a big role, but it is rewarding. They know they can trust me to do my job and look after them."
Having Paco along for the ride makes it that much more gratifying for Eldred.
"I enjoy it and I have the best horse. He's been the greatest horse. He's helped me learn how to do my job out there and in rough situations, he's always taken care of me, on and off the track. He's really been a blessing."
Eldred applies the same sentiment to all of her horse racing positions.
Don't expect her to be riding off into the sunset soon, at least not at the racetrack.
"I don't think I could dream of anything better when it comes to my work. I don't think many people my age can say they love what they do. And if I don't like what I'm doing, I'm going to change it so that I am happy."