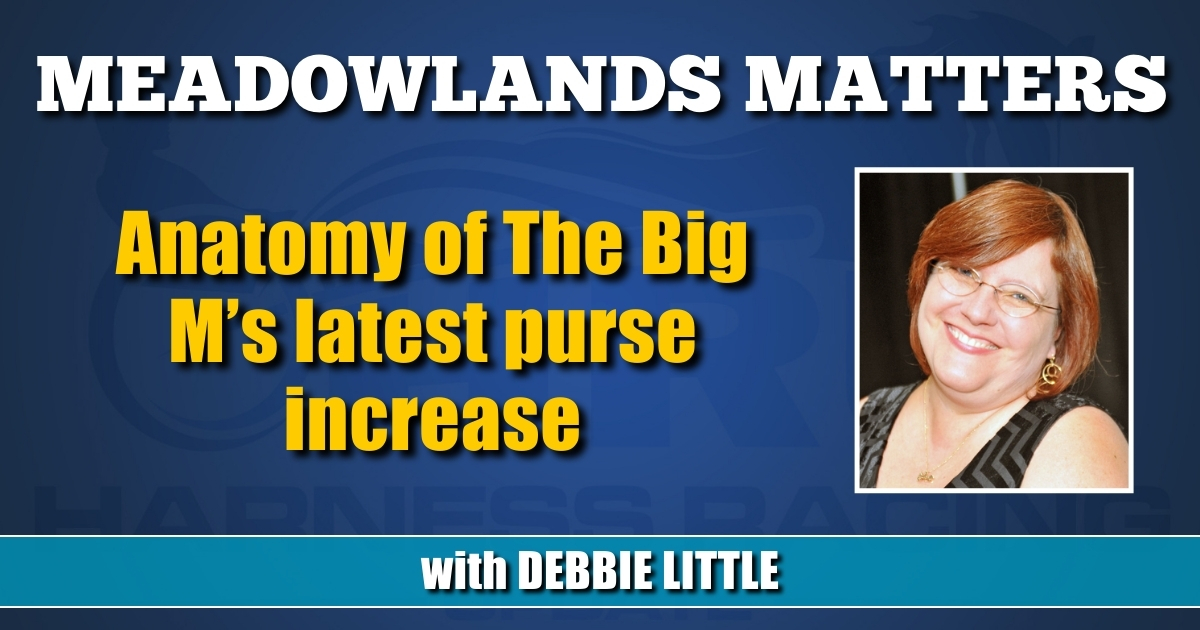 Anatomy of The Big M's latest purse increase
by Debbie Little
This is Jeopardy! The category is "The Meadowlands," the clue is "They're going up" and the correct response is "What are purses?" You don't need to be Ken Jennings to know why.
"In the wintertime, there's no [Harrah's Philadelphia], there's no Pocono, so you have the horse supply that you need to fill the box," said Big M race secretary Scott Warren.
With Pocono Downs adding a fourth day to their race week and Harrah's Philadelphia opening today, it's that time of the year when the competition for horses heats up.
The Meadowlands had cut purses in 2020 when they reopened after the three-month COVID-19 shutdown, because they had no income during that time, they didn't know what was going to happen and they didn't know whether there would be another shutdown.
Then, in mid-November, they had a significant purse increase, and now, just five months later, they're raising them again.
According to Warren, Meadowlands chairman and chief executive officer Jeff Gural sent an email following a recent weekly purse report inquiring whether they had the wiggle room to raise purses.
"I've always said that we, as far as employees, and we, as far as the horsemen, are very fortunate [to have Gural in charge at The Meadowlands]," said Warren. "He is a casino operator and a sports betting operator, but he is still horse racing first. He is a horse racing person and you won't find that in just about any other casino people."
After crunching the numbers so far during 2021, Warren was confident they could increase purses.
The track's great handle this winter – as well as the horsemen who supported the entry box – definitely made this boost possible, giving The Big M some of the best purses in the Northeast.
"Even before [this] purse increase, we were beating a lot of the purses in Pennsylvania," said Warren. "For the most part, we're comparable if not higher than Yonkers, except for their top class. It's going for $33,000 and if we fill a preferred, it goes for $30,000. Some classes are going for more than Yonkers. [Big M purses] may not be entirely the same, but they're in the same general area of what the purses were before COVID hit."
Before deciding what to do, Warren studied an Excel spreadsheet of Pocono, Yonkers before and after their own recent purse increase and Harrah's Philadelphia once their new condition sheet came out.
"I tiered it so the bottom classes got the smallest increase and the higher-end classes got the biggest increase," he said. "I bumped up the non-winners lifetime a good chunk, too, because The Meadowlands is always tough racing. The objective is to fill better races, but your bread and butter, it doesn't matter what track you're at, your bottom classes help you fill races whether you're at The Meadowlands or Ocean Downs. Bottom classes help you fill cards.
"They're racing for a good chunk of money right now. Before the increase the $7,500 claimers were going for $8,125. So, they're going for more than their claiming price."
The increase for the $7,500 claimers is definitely appreciated by trainer Chubby Stallworth, who just happened to claim two of them at The Meadowlands last week.
"I was claiming something anyway and then I found out the purses were going up," said Stallworth. "I'm glad they're raising the purses on those claiming races because that gives incentive to people to jump in and get a horse that doesn't have a lot of money.
"They can get a $10,000 claimer with a partner or a $12,500 with a partner that's going to race for good money. Some people can't afford to put up $20,000 or $30,000 to get a horse."
Stallworth has a 10-horse stable but is definitely looking to claim more at The Big M.
"You might have to go a little faster at The Meadowlands, but if you're going to go faster for that kind of money, it's okay," said Stallworth. "I don't want to go to [Harrah's Philadelphia] to go 1:52 and go for no money when I can go to The Meadowlands for more and go the same speed.
"Most of my owners want to claim at The Meadowlands. Most people want to race at The Meadowlands. They love to race at The Meadowlands. It's just the spot to be. I love it there."
Another trainer who enjoys racing at The Meadowlands is Ron Burke.
"I love to race there, but it's still by far the hardest place to win a race," said Burke. "But when you feel that you're getting compensated for it then you don't mind that you're going there as much.
"It's the only place that matters and I hate to say that. I'll win races there and I'll get 20 texts immediately, 'great job,' 'horse was awesome' and anywhere else I win it's like it didn't happen, so it's still the premier track."