Despite a highly-successful career, the trainer said he is most blessed to have had horses for some three decades with Paul Emposimoto and both the Farber and Siegel families.
by Murray Brown
If you asked most horse trainers what their greatest accomplishment during their time in the sport was, they would likely point to winning a major race such as the Hambletonian or the Breeders Crown. Not that our subject, Jim, Campbell hasn't won those and numerous other classics races, but they are not the area of which he is most proud.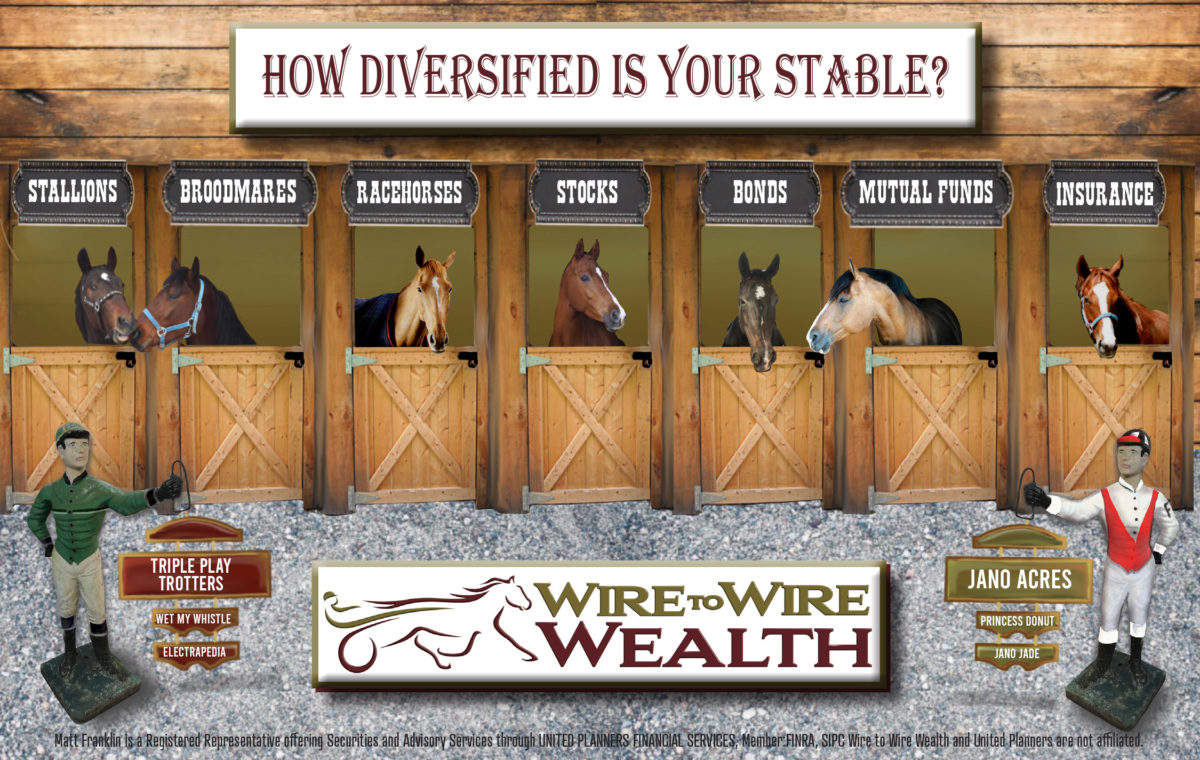 For Jim, it's been the fact that he has remained friends and a client of his three best known owners for 35, 34 and 27 years, respectively.
His oldest client is the Farber family for whom he has had horses for 35 years beginning with the late Sandy and now on to the next generation with his son, Scott, for whom he won the Breeders Crown last year with his homebred Sebastian K filly Next Level Stuff in an emotionally-packed winner's circle (full story here).
Next in line is Paul Emposimoto who has been with Campbell for 34 years.
"Unfortunately I haven't come close to having the great horse that a wonderful person like Paul deserves. We've had a few nice racehorses, but not much more. But he has stuck with me through thick and thin. Unfortunately, mostly thin. He buys one or two yearlings each year. I'm still hoping that his big horse is right around the corner."
The best known and largest of his owners have been Jules and the late Arlene Siegel with whom he has had horses for 27 years.
In recent years, British Columbia native John Floren and his Coyote Wynd Farms have joined the stable.
In my conversation with Jim, he was more inclined to speak about his owners, his family and the numerous friendships he has made in the sport rather than himself and his many accomplishments in it.
Perhaps that is the reason, or at least part of it, that he isn't in either the Hall of Fame at Goshen or the Canadian Horse Racing Hall of Fame.
He certainly has the achievements in the industry worthy of inclusion in either or both.
When asked the question, his response was, "If it ever happened, I would be greatly honored. However, there are numerous other people, who perhaps have achieved more than me who are not in either place."
Jim Campbell's story begins, as do so many others, with a lifetime immersion with harness racing and harness horses. His older brother, John, their father, Jack, and his grandfather, Duncan, were well known trainer/drivers.
Jim, you speak so fondly about your owners and the length that they've stayed with you. Let's speak about them.
Sandy and Scott Farber
"Sandy first came to me in 1986 looking for me to get him a horse. 'What kind of horse,' I asked him? 'A good one,' he said.
It took almost a year, but I thought I had found him one. His name was Run The Table. The Meadowlands had the New Faces Pacing Series back then. He appeared to be the best horse in it.
"Charley Karp, who was to broker the deal, and Dr Kenny Seeber recommended the colt. The deal was that I was to train him and if I liked him Sandy would buy Run The Table. I didn't realize how lazy a horse he was. I went a mile with him hoping to come a last quarter in 29 seconds. Instead I ended up working life and death to get him to go one in 36. He just wouldn't go. I called Sandy up and told him that I didn't think that Run The Table was the horse for him. Charley and Kenny urged me to reconsider. They said that he was a real good racehorse, but a terrible training one. We did reconsider and he ended up being, in my opinion the best 3-year-old pacing colt of 1987.
"There is a side story to this main story. At the time, Arlene Traub was the major owner in my stable. She had a 3-year-old named Dictionary who had been a top 2-year-old. Unfortunately, as sometimes happens, he didn't come up to expectations at 3. Arlene thought I was favoring Run The table over Dictionary because I thought he was the better horse. He was the better horse. But I don't believe I was favoring him because of that. Arlene ended up taking all 15 of her horses including, Even Odds, who was to win the Woodrow Wilson, because of that. That left me with a meager stable of seven horses."
Paul Emposimoto
"As you mentioned above, I haven't had much luck for Paul. But, he continues to have faith in me and he buys one or two yearlings just about every year. I'm hopeful that his time will come and that we will hit upon that top horse that everybody dreams about having."
Jules and Arlene Siegel
"Talk about some rain falling in a dry place. I was down to five horses in my stable. Jules and Arlene were looking for a trainer for their horses. Freddie Grant and Wally Hennessey put in the good word and recommended me. The rest is history. We've been together through 27 years — some lean, many of them fairly successful. Even in the poorer years, we've always had a horse or two that allowed the sun to shine.
"They are among the greatest people I've ever known, either in or out of the horse business.
"Through all the years that we've been together we've nary had a harsh word or disagreement. We are usually on the same page when it comes to the horses. We like the same type. Let me give you an example of the man that Jules Siegel is. My wife Duke and I were looking forward to celebrating an important wedding anniversary. We decided to spend a weekend in New York City. I was supposed to drive to Hanover the next day with Jules to look at their yearlings. Duke suggested that I asked Jules about recommendations as to where we should stay and eat. I mentioned it to Jules on our ride there. His response was, 'There are plenty of great hotels and restaurants in New York.' Nothing else. Duke asked about it when I got home and I told her what he had said. Oh well.
"The next day I get a call from Jules, 'You're all set,' he said. 'I got you a reservation at the Mark Hotel and there's an excellent Italian restaurant on Columbus Circle where you have a dinner reservation.' When we got to the hotel, I gave them my credit card. They said, 'Mr. Siegel has taken care of everything.' They gave me a card from Jules that said 'Have a Great Anniversary.' After dinner, I asked for the check. Same story – 'Have a Great Anniversary.'"
John Floren — Coyote Wynd Farms
"He joined the stable just a few years ago. He concentrates on extremely well-bred trotting fillies. The first two I had with him were the stakes filly Sherr's Lyn Lady and another fairly decent one Madam Sherry. Unfortunately, neither one came back strong at 3."
In this season of COVID-19 how have things been for you?
"Well, I got it. Fortunately I didn't give it to my wife, my son James or any of the people in my stable. I'm guessing I picked it up somewhere in that whirlwind from the Lexington races and the sale, the Breeders Crowns or the sale at Timonium. I felt weak and decided to get myself tested. Sure enough, I was positive. I did lose my sense of taste and smell and was weak for several weeks. It's been a terrible winter up north, weather wise. Fortunately, we haven't lost too much time training."
How is your stable looking at this time?
"We've got 40 head going. That's about the number we generally have. They seem to be a pretty good bunch. But I've given up guessing and predicting. Today's breed is so much different than those from even just one generation ago. You can find enough pedigree and good looks in most of them to rationalize their becoming a good horse. Of course, that doesn't mean that your chances with a Muscle Hill aren't better than those with most other trotting sires. But we won a Breeders Crown last year with a Sebastian K and beat all the Muscle Hills."
Can you trace your history in the sport for us.
"I started off working for my dad, Jack, and raced mostly at Windsor. I both drove and trained. John was at The Meadowlands and was quite successful. That was the big time. Dad suggested that I might broaden my experience if I went down there and worked with him. At the time, he had his own stable in addition to being a top catch driver.
"I worked for John and learned a great deal from him — mostly how to work with trotters and high-level horses. There is a difference. I kept learning from John until the day he retired.
"I then went to work for Glen Garnsey where I was a second trainer. I was with him when he had many good horses for the Armstrong Brothers. I got to know Dr. Glen Brown and to this day I have a great deal of respect for that man. I then went out on my own."
What about training exclusively instead of being a driver/trainer?
"John told me I should pick either driving or training. I chose training so I could remain at and be competitive at The Meadowlands The sport was becoming one of specialization. If I were to remain a trainer/driver, it would be likely that I wouldn't be successful at either one. I decided that I trained better than I drove, so it wasn't a difficult choice to make."
Speaking of drivers, give me the five with whom you've had the best association.
"1. John Campbell. 2. David Miller. 3. Tim Tetrick. 4. Brian Sears. 5. Jordan Stratton."
Which are your favorite horses that you've trained?
"I think if Broadway Hall had stayed sound at 3, he would have been the best of all. Behind them, Tagliabue, Crystal Fashion, Galleria, Dial Or No Dial, Real Artist and Run The Table. There were certainly others."
What has been your greatest thrill in the business?
"That would have had to be Tagliabue winning the Hambletonian. The week before the race he finished second to CR Kay Suzie in the Beacon Course (now the Stanley Dancer Memorial). I remember John saying, 'There is still next week.' Actually, the fact that John drove him was a matter of fate. John told me that he was committed to driving Donerail, regardless. Donerail didn't come back strong at 3 and they retired him a few weeks before the Hambletonian. On Hambletonian Day, Suzie was the overwhelming favorite, but she made a break. It became a great day for us. Jules and Arlene, their friends and family, John and his family, our mom and dad and Duke were all there to celebrate. That day would be something that would be hard to top."
What do you do with yourself in the off season on Saturdays without horses to race?
"Typically we go to mass at 4 p.m. We'll have dinner with a bottle of wine at home or go to a restaurant. Then probably watch a movie on Netflix. Life is pleasant and I really enjoy my time with Duke and James."
You spend your winters up north in the freezing conditions. Have you given any thought to moving your winter operation to Florida?
"Maybe a little, but not much. If I did, chances are, I'd stay there and wouldn't come back north."
Have a question or comment for The Curmudgeon?
Reach him by email at: hofmurray@aol.com.