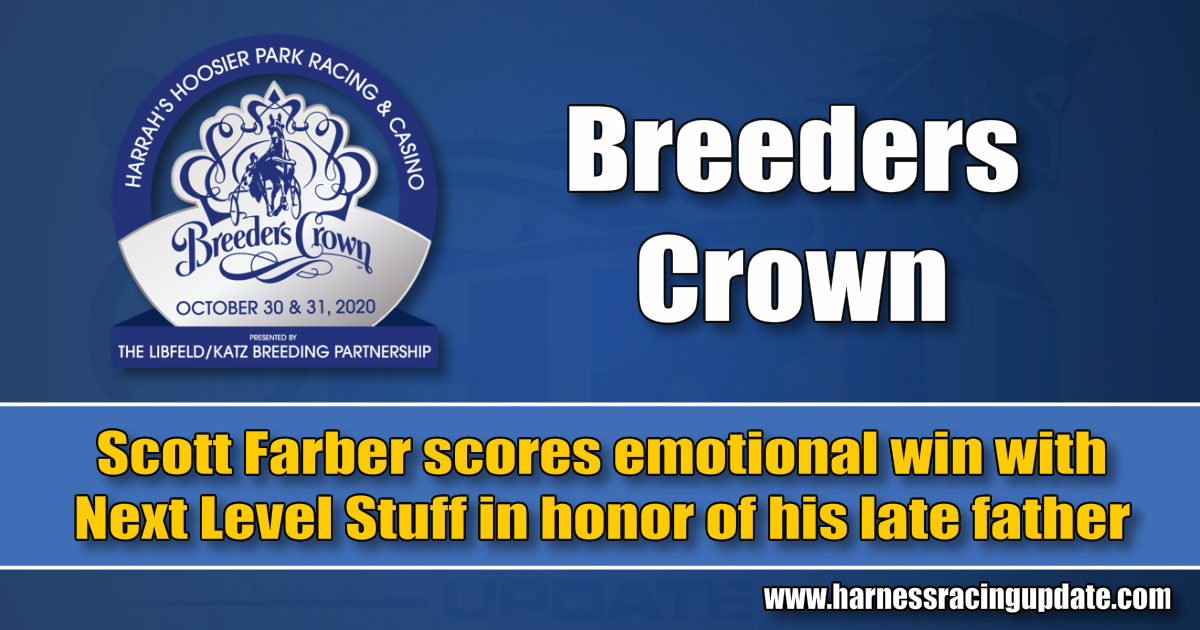 Scott Farber scores emotional win with Next Level Stuff in honor of his late father
quotes by James Platz / story by Sandra Snyder
When Next Level Stuff snuck up the passing lane for the second straight week and claimed the $500,000 3-year-old trotting filly Breeders Crown Final, Scott Farber was overcome with emotion.
It was the Montvale, NJ resident's first Breeders Crown win and his first appearance at the season ending showdown since cheering Run The Table home to a second-place finish in the 1987 three-year-old pacing colt final alongside his late father Sandy Farber. In honor of his father, who passed away in 2004, the owner/breeder named his operation Runthetable Stables and has been chasing a second Breeders Crown for 33 years.
"My stable is named after my father, who I loved with all my heart. He was my best friend in the entire world and I just miss him so much," said a tearful Farber from the winner's circle. "I hope I made him proud tonight. And I'm so proud of this horse and so proud of being a small part of the Campbell family, who is the greatest family, in my opinion, in harness racing.
"With no disrespect to any trainers that are out there, Jim Campbell is the best. I'm telling you, he's the best. That's just how I feel."
Campbell's patience and care were critical to landing Next Level Stuff and Farber in the winner's circle on Saturday night, along with a second-straight flawless steer from driver Tim Tetrick.
Starting from Post 1, Tetrick hustled Next Level Stuff away from the Hoosier Park starting gate and was happy to yield to fan favorites Sorella and Yannick Gingras heading by the :27.2 opening quarter. Sorella and Gingras gave way to Hypnotic AM and Brian Sears before the :55.2 and Hypnotic AM carried on to a 1:23.4 three-quarters with Sorella and Next Level Stuff jammed up behind her and Love A Good Story mounting a moderate challenge in the outer lane. When the fillies squared up in the stretch Sorella tipped right, Next Level Stuff went left and for the second straight week Next Level Stuff had the biggest late kick, pulling away to a one and one-quarter length victory in a track and stakes record 1:52.
Sorella survived a brief inquiry to be second and Ab`sattitudexpress with Andrew McCarthy aboard closed well to be second. Pacesetter Hypnotic AM was fourth.
The 1:52 clocking bettered the 1:52.2 record set by Shake It Cerry in the 2014 Crown at The Meadowlands.
"She raced really good. In her last three starts she's been coming into top form," said Tetrick. "Last week she got home in :26 and-a-piece and raced well, and tonight we got kind of the same trip. With the long stretch here, we had plenty of time to get through there.
"Jim and the crew have done a great job with her. She's definitely exceeded expectations, that's for sure."
Hot-headed as a freshman, Next Level Stuff made breaks in her first three lifetime starts before going gate-to-wire in a division of The Stallion Series. The daughter of Sebastian K and Cantab Hall mare Nantab would string together five more wins in her freshman campaign as Tetrick and Campbell worked to broaden her repertoire from paces-setting to pocket-sitting. Her biggest win as a two-year-old came in the Nov. 7 Matron Stakes at Dover Downs.
This season the filly kicked things off with three straight wins, two in overnight action and the third in the Pennsylvania Sires Stakes (PASS), displaying far greater versatility. She bookended a disappointing fifth in the Hambletonian Oaks with second-by-a-nose results in the Tompkins-Geers and a PASS split. Second in another PASS division and fourth in the Championship, Next Level Stuff returned to the winner's circle in her Sept. 25 Liberty Bell split at Harrah's Philadelphia and followed that up with a personal best 1:51.3 triumph her Oct. 4 Bluegrass division at The Red Mile. A fourth in the Oct. 11 Kentucky Filly Futurity was Next Level Stuff's final prep before last weekend's Breeders Crown elimination.
"She matured a lot mentally from her two-year-old to her three-year-old year. She trained back real good and she was much more versatile to race. You could race her anyway you wanted to race her and that was the biggest difference this year," said Jim Campbell. "She did tail off on us right around the Hambletonian Oaks. She had about three starts right in there where she wasn't as sharp. She really came to life down in Lexington. She was really good there both weeks. Then she came back here and, both weeks in a row, she finished it off for us."
Her Breeders Crown triumph gives Next Level Stuff a record of 13 wins and three seconds in 23 career starts for earnings of $646,816, but more importantly it gives Farber a memory he will treasure for a lifetime.
"There's just no way that I'm going to be able to put this into words. I can talk forever, but at this point, I just think I need to say one thing – this is the first time I've been involved in a Breeders Crown since I was with John and Jim with Run The Table and I'm just so proud to be a part of it. Harrah's has done a great, great job entertaining this thing, and we won," said Farber. "It's something you're always fighting to get back to and here I am tonight."
"I think winning a Breeders Crown tops almost any race, with the exception of the Hambletonian or the Oaks," added Campbell. "It's a thrill and I'm especially happy for Scott. We've had some bad years and he's hung in there, so I'm happy for Scott and his family."