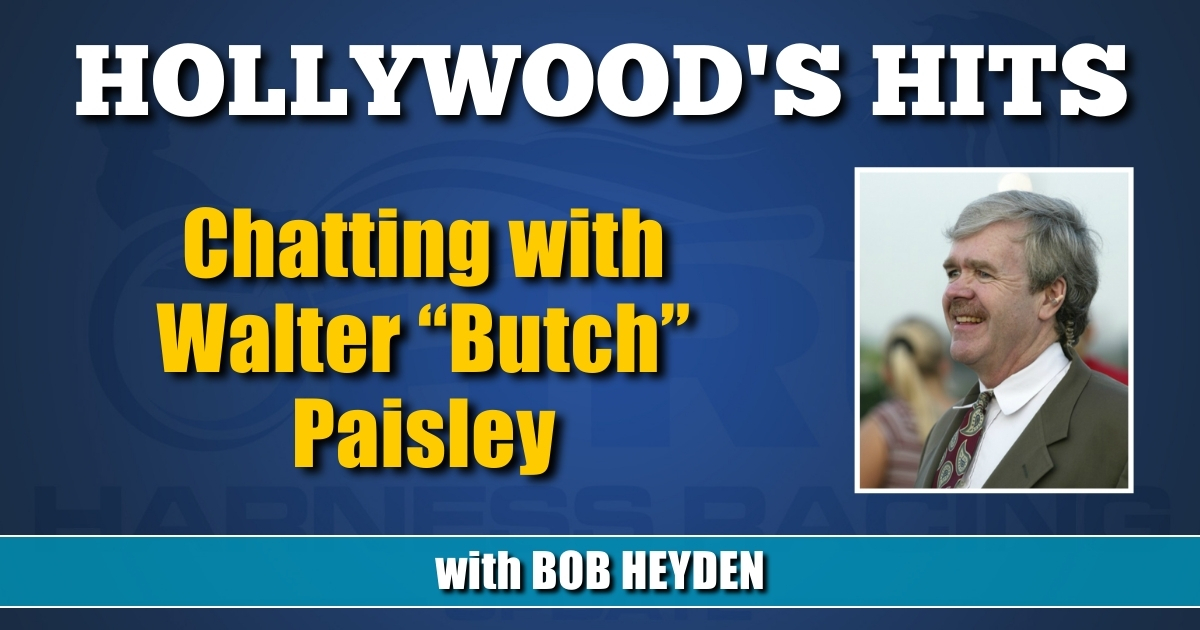 Chatting with Walter "Butch" Paisley
by Bob Heyden
Walter Paisley turned 80 on Wednesday (March 10).
Born In Berwyn, IL, but now a 22-year resident of Stockton, IL, "Three hours from Balmoral," Butch is now 80.
The Illinois Hall Of Famer with over 5,700 wins and $35 million lifetime was one of the sport's greatest drivers, reigning supreme from the mid-1960s for a 25-year span, mostly in the Chicago area. Now retired but with a "couple stalls, one broodmare, a barn but no horses," Paisley recently remembered some of the greats of the past and the best moments of his career.
His first win came in 1958 when Paisley was 17: "I didn't make any money until I was 27-28 years old. It took a long time. I was 16-17 and hanging around the fairs — I had a horse and a sulky — and I would think nothing of walking to the next fair when one ended. One time it was 12 miles or so and I was hitchhiking with my bike and horse and I got a ride, but most of the time people were all full up."
Wait, you were hitchhiking with your bike and horse?
"Yes. I didn't even give it a thought. I was where I wanted to be — around the fairs, the stalls, you name it."
In 1959 you were just 18 and racing in the Hambletonian with a 99-1 or longer shot named Algiers Eblis. You are still the youngest ever Hambletonian driver. How did this happen?
"My father. He had a dream to be in it and Harry Burright was set down and he wanted me to drive. I just wanted to stay out of everybody's way. He was more than a 99-1 shot. (finished 12-15-14 in summary). Remember, there was a $2,000 entrance fee. But nothing was going to stop my dad from putting him in there. Oh, one more thing. That was the first time I ever wore a helmet. Not even once before."
NOTE: From 1958-1965 Paisley only banked $24,000 or so, combined.
What was the catalyst that got your career going in the mid-1960s?
"I was hanging around the Farrington barn a lot. I was fascinated by the conversation. I wanted to be around the barns that were winning. It paid off. One time Bob Farrington and Lloyd Arnold were going to Australia for a month and I wound up driving one of their horses. I won. Bob called to see how the horse did. He was told it won and he told his second trainer to put me down on all of them. I must have won 20-25 races in a short period of time for him and I was on my way."
You were instrumental in drivers getting a flat fee back then too.
"Yes. There were drivers who were driving a few longshots here and there and weren't getting any money. We thought that there should be a $25 surcharge for each drive. The owners didn't seem to mind. It really was a good idea. You can turn off a potential talent by not paying them something."
What about Herve Filion?
"I knew him well. One time, I was driving Armbro Nesbit — in the American-National, I think. First time. Joe O'Brien told me, 'Either sit last or go to the top. And he does not like getting hit.' So I had him on the lead and Herve and Otaro Hanover pass me at the 7/8ths and I'm thinking, 'Oh my God. I just got this horse beat.' I reached up and decided to hit him once and he fought back and won. Herve past the wire told me he thought he had me."
Billy Haughton?
"One time Billy left a horse with me. Some problem came up and I called him. He told me that I didn't have to call him, just do what I thought best. That kind of confidence from a guy like Billy goes a long way."
Stanley Dancer?
"Quiet. In 1972, I remember being in the drivers room just watching Albatross at Sportsman's Park the night he set the world record of 1:54.3. Wow! I couldn't believe how great this horse was. Back then, the very best horses at the track would go in 1:56-1:57. Braidwood, one of the best horses I ever drove at the time, took a record of 1:57.2 and made a lot of money."
Bob Farrington?
"Like I said, he gave me a big boost. I raced Braidwood against him when he was 4. Braidwood was a one-dimensional type horse who couldn't leave-but you couldn't stop him once he got going."
What about that 1975 season when you and Daryl Busse were battling it out nationally for the dash title.
"I remember it well. I wound up going to Monticello and a couple other tracks to get as many drives in December. Some trainers actually offered to take Busse OFF their horses to give me a chance and I told them absolutely not. It wasn't that important." (Busse wound up winning it by two)
Sanders Russell?
"I remember going to Georgia to see him and his operation. Everything stopped at 10 in the morning for biscuits and gravy."
Glen Garnsey?
"He helped me. I drove Balanced Image and won the American-National for him."
In 1980, you were chosen as the World Driving Championship representative.
"Yes, quite an honor. And the next year I tried it for a couple of months at the Meadowlands. They do things quite different there. I remember a couple times winning and getting taken off that horse the next start. Overall, New Jersey just wasn't for me. I couldn't see living there full-time."
Hollywood Park?
"Oh, great memories. The track was like cotton balls. Beautiful. Loved it there. Clean."
What about today?
"I don't follow it as much. But I get a chance to talk to the guys here and there. I talked to Dave Magee a few weeks back. I have no complaints. I did what I wanted to do and loved it."