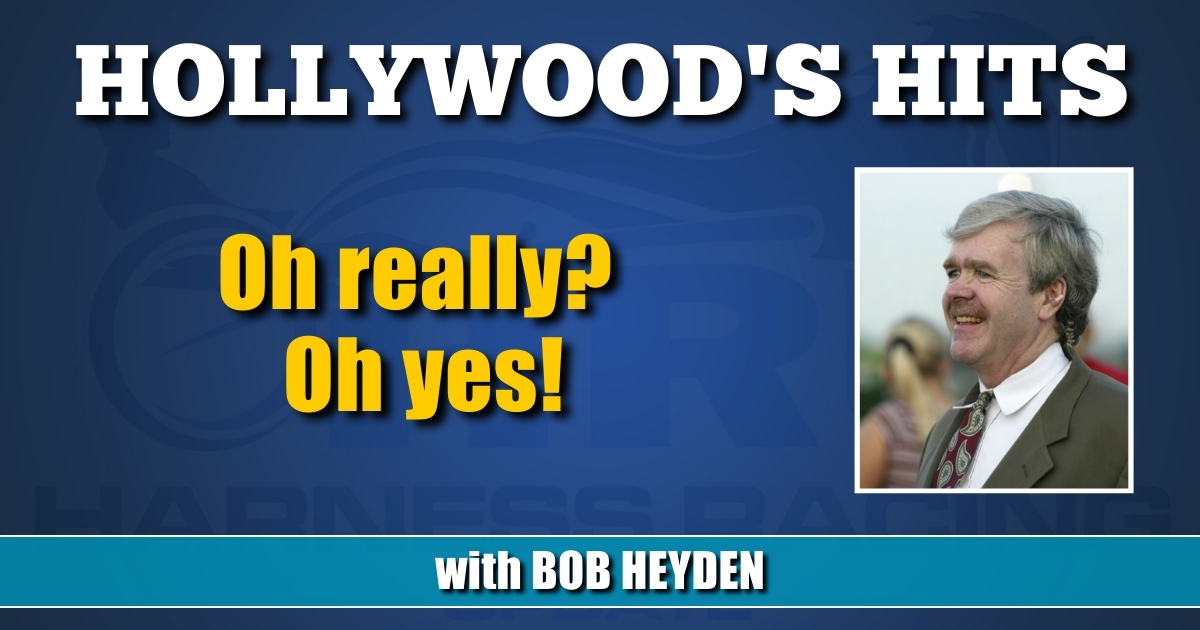 by Bob Heyden
Here's a list of some of the most unusual moments in the sport of the last 50 years:
1. Red Bow Tie laying down in his stall in 1999 on the day entries were due for the Breeders Crown. It was still a couple of weeks until the race, but he was not doing well at all. But, he was the defending Crown champ and rebounded to win the Crown again.
2. At least twice I did an interview at the Meadowlands where the winning driver told me the horse would be "even better" in the final of that series/stake. That WAS the final.
3. Half a dozen times, at least, a winning driver asked me in the winner's circle what the purse was on the race he just captured.
4. In 1999, Ross Croghan traveled to Hoosier Park to drive B Js Whirlwind in the $150,000 Dan Patch. He won by a nose. Anything unusual about this? No, not if you think a driver driving for the first time all year in a major stake, and winning it, is normal.
5. Speaking of Croghan, did you know that he — not Dexter Dunn or Andrew McCarthy or Ross Wolfenden — was the first Down Under driver to win a sub-1:48 race? Yes, 1:47.4 in 1998 with Ultimate Falcon at Colonial. It stood as the fastest mile of the year.
6. How would you like to be a trainer that hit the board six times in Little Brown Jug heats and finals and did not win it? That happened to Bill Robinson in 1993. Riyadh was a heat winner at 1-9, Ready To Rumble was second at 12-1, Presidential Ball second to Life Sign at even money, Native Born was third at 15-1 in the second heat and Riyadh was second to Life Sign in the final with Presidential Ball third.
7. In the first 55 Hambletonians from 1926-1980, the last-place finisher never once went on to sire a Hambletonian winner. But look at the 40 years the race has been at the Meadowlands:
In 1987, Waikiki Beach was last, then sired Varenne, the richest male trotter ever upon retirement. In 1997, Yankee Glide was last then sired the Hambletonian and Hambletonian Oaks winner the same year (2006) in Glidemaster and Passionate Glide.
In 2002, Andover Hall made a costly break and was last, then his fist crop in 2007 rewarded him with the Hambletonian 1-2 finishers in Donato Hanover and Adrian Hall and the Oaks winner in Danae.
In 2014, Father Patrick was last after breaking at the start. His son Greenshoe was the overwhelming 2019 favorite and proved second best en route to Trotter of the Year honors.
8. Walter Case, Jr. and Ben Webster — circa 1985 — racing into the 15 and 16 path near the quarter pole before the judges put a stop to it. Their feud had been percolating and reached a head that night — at public expense.
9. Mike Gagliardi and Rene Poulin whipping each other's horse in the stretch. Can't remember the race — it was somewhere around 1982-83. That too was quickly taken care of by the authorities.
10. Walter Case, Jr. winning the 1993 Presidential with Cambest, then leaving. He was on the road driving to Yonkers and the judges were trying to get him back to take his urine test. He never again appeared at the Big M.
11. Disgruntled and soon to be ex-employee sometime around1989 drove the water truck to the finish line and proceeded to dump everything in the tank onto the track during the race card. Several precious minutes passed and Bob Ashelman and crew hurriedly came and put a stop to it. It took a while to clean up and resume racing.
12. Roger Hammer appeared in the richest trotting race ever, the 2005 Hambletonian for $1,500,000. He won it with Vivid Photo, but never again drove in one. He was the oldest at 59 to debut and it was quite a day considering that Hammer had not yet had a million-dollar season in his 41st year of driving.
13. In the 1986 Governor's Cup at Garden State Park, well over $1 million was on the line and Barberry Spur won it. But there was a 1,023-1 shot (Amazing Fella) in the race and he beat three horses finishing 9th. To date, he appears to be the only 1,000-1 or better shot to compete in any million-dollar race.
14. What Hall of Fame driver finished second in the Hambletonian in three different decades? Bill O'Donnell — 1987 with Napoletano, 1996 with Lindy Lane and 2001 with Pegasus Spur.
15. In 2014, during a tribute to the stars of Roosevelt Raceway held at the Meadowlands, a young man approached me with about 20 minutes to the first post. I had never seen him before. He handed me a package and said, "Here, this is for you. I know you will give these a good home." I said thanks and he slipped into the crowd not to be seen again that night — or ever. Inside the envelope was a$2 win ticket for each of Niatross' Triple Crown wins from 1980 — the last being at Roosevelt in the Messenger. I immediately thought, "Wait, he couldn't have been old enough to be there 34 years ago." Wow. All night I kept thinking about this kind gesture. In case that mystery man is reading this, they do have a good home right where I live in Anderson, IN.