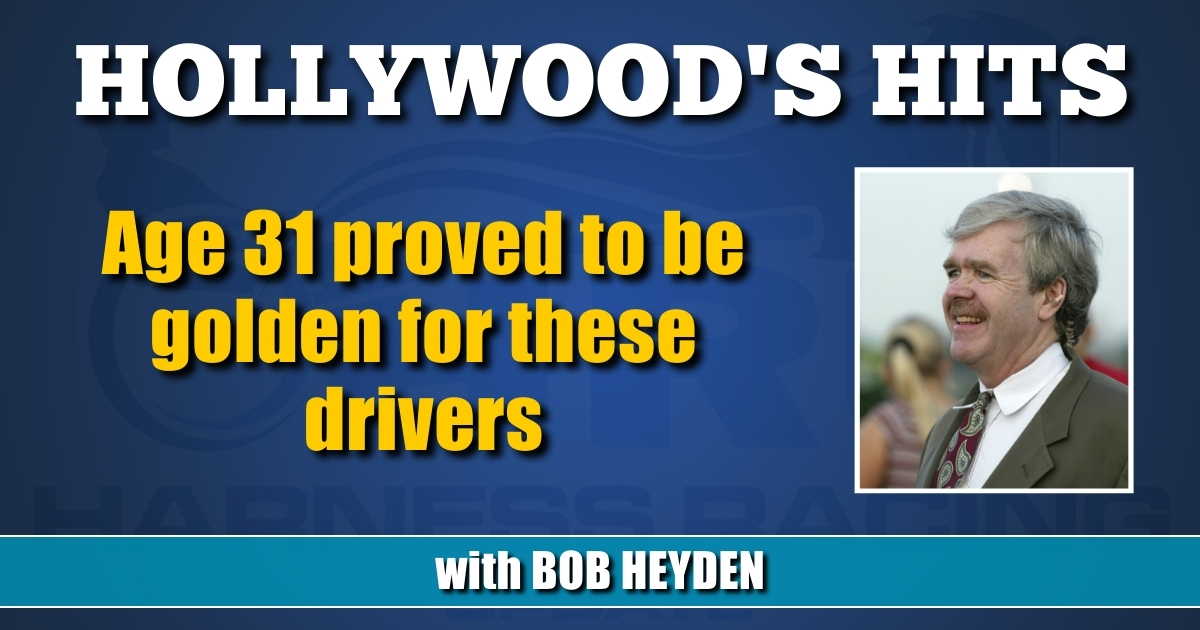 Age 31 proved to be golden for these drivers
by Bob Heyden
Dexter Dunn is 31. Coming off back-to-back Driver of the Year awards, what might Dunn expect to see this year? Here's a look at some prominent drivers and what they accomplished at age 31:
• Tim Tetrick turned 31 in 2012, the same year he was 1-2 in the Horse of the Year race with Chapter Seven and Market Share. That year, Tetrick drove the winners of seven divisional titles in all, a record that still stands today.
• Herve Filion won his second dash title in 1971 at the age of 31 and was #1 in earnings with $1,915,945.
• John Campbell was embarking on his first ever $10 million season in 1986 at age 31. His $10,386,495 that year was a new earnings record, something Campbell would accomplish five times in his career.
• Mike Lachance was making his way to New York at age 31 in 1981. He posted his first $1 million season that year ($1,881,384).
• Bill O'Donnell earned $681,854 in 1979 at age 31. Just two years later he would become the sport's first ever $4 million man.
• Jack Moiseyev had a year to remember at age 31 in 1991. He won his first Meadowlands Pace and Hambletonian with Precious Bunny and Giant Victory, respectively, and led the nation in wins (769) and earnings ($9,568,468). That has not been done since 1977 when Filion was the last to pull off that daily double.
• Tommy Haughton was 31 and was on his own just a couple years after his dad passed. That 1988 season also brought us Peace Corps, the outstanding filly from the first crop of Baltic Speed who would go on to win four Breeders Crowns, a record that still stands.
• David Miller in 1995 at age 31 had his first ever drive in million-dollar races with North America Cup favorite Cinder Lane Sam, who also got some money in that year's Meadowlands Pace.
• Per Eriksson turned 31 in 1991 between Giant Victory's Hambletonian win (1991) and Alf Palema's (1992). Eriksson won three Hambletonians before he was 31.
• Dan Dube had the Horse of the Year and all-time single-season record setter Gallo Blue Chip (and later all-time money leader) in 2000 at age 31.
Record-breakers
How many times did the following drivers set a new single-season earnings record?
Billy Haughton — six times
John Campbell — five times
Bill O'Donnell — four times
Herve Filion — three times
Stanley Dancer — twice
David Miller's Hambletonian quest
David Miller is still looking for his first Hambletonian victory. Despite ranking second on the all-time earnings list, he has never drive a Hambletonian favorite. Still, Miller has been cashing steadily in the Hambletonian.
In 2020, he was fifth with Hollywood Story at 100-1.
In 2019, he was third with Gimpanzee at 7-1.
In 2015, he was third with Uncle Lasse at 39.40-1.
In 2013, he was third with Corky at 8.70-1.
In 2010, he was fifth with Temple Of Doom at 53.70-1.
In 2009, he was fifth with Symphonic Hanover at 21.40-1.
Hambletonian influence
Of the five leading drivers by career earnings, John Campbell made $1 of every $41 in the Hambletonian, David Miller has earned $1 of ever $432 in the August classic, Tim Tetrick has earned $1 of every $115, Ron Pierce $1 of every $58 and Brian Sears $1 of every $70.
Take this to the bank…
One hundred years from now, this record will still stand:
Three members of one family all driving in at least one Hambletonian final at the age of 25 or younger.
Billy Haughton was 25 in 1949 when he finished 18thwith Crossbow. Peter Haughton was fifth, fifth and fourth in the Hambletonians in 1976, '77 and '78 at ages 21, 22 and 23. Tommy Haughton remains the youngest driver to win the Hambletonian, doing so in 1982 at age 25 with Speed Bowl. Tommy is also the youngest to win a Hambletonian heat. He was 23 when Final Score did it in 1980.
The Big M was big for these drivers
The following six drivers made it to the Hall of Fame, but their single biggest purse check ever did not come in a victory. It came at the Meadowlands finishing either second or third in a huge purse event, the kind that stamped the Meadowlands in its first decade or so.
• John Simpson, Jr. was second with Lon Todd Hanover in the 1981 Wilson for $1,760,000, by a nose, no less. Billy Haughton won it with McKinzie Almahurst for his biggest ever driving score. For Simpson Jr., the purse money for second was $440,000, by far his biggest one-race haul.
• Ted Wing was second with Prince Royce in the 1987 Woodrow Wilson which carried a healthy pot of $1,422,500. Even Odds won it. Wing made the Hall Of Fame a couple of years back and the $366,625 check Prince Royce earned in the Wilson was the biggest in the driver's career.
• Bill Popfinger holds the record on this list with a $540,250 check for Praised Dignity in 1984 for finishing second in the sport's richest ever race — the $2,161,000 Woodrow Wilson won by Nihilator.
• Doug Ackerman's prized colt Chocolatier was second in the 2006 Hambletonian (to Glidemaster) that carried a $1,500,000 purse. The $375,000 second-place check, with son DR driving, was a career high for Doug.
• Joe O'Brien was third with Neros BB in the 1980 Woodrow Wilson won by Land Grant. O'Brien's $241,320 third-place check was a career high. He died four years later.
• Glen Garnsey died three years after his No Nukes was second in the 1982 Meadowlands Pace to Hilarion. The $250,000 second-place purse check was the most for a single race for Garnsey, despite the fact that he had two Horses Of The Year in the previous four seasons — Abercrombie in 1978 and Fan Hanover in 1981.