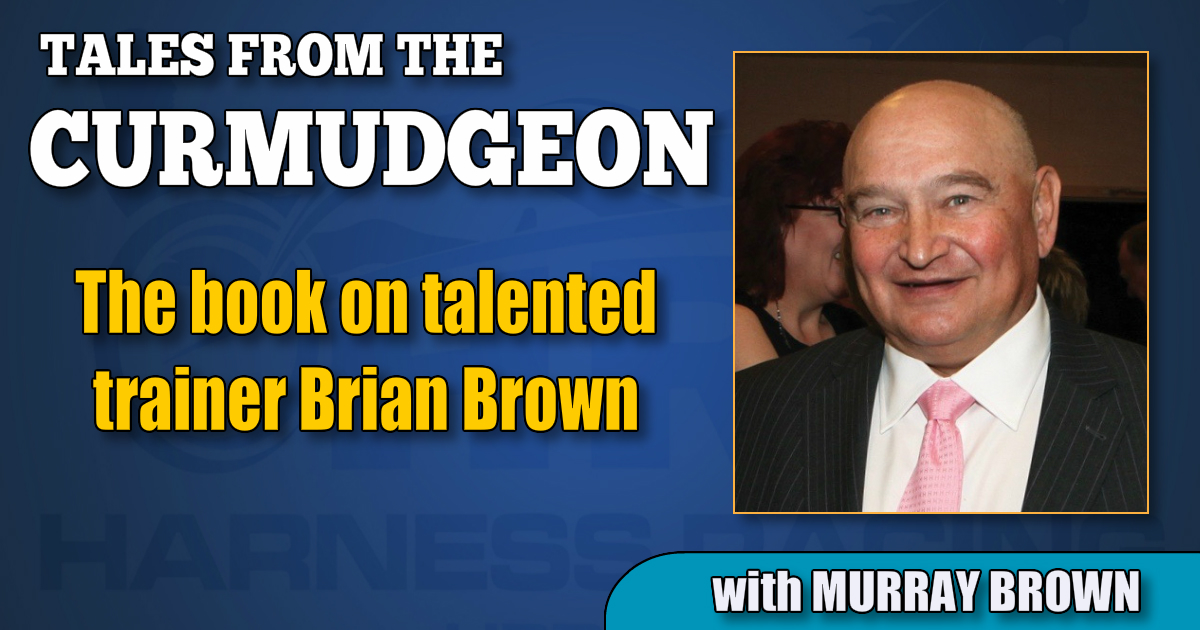 The book on talented trainer Brian Brown
The Ohio horseman on why he's all in with Downbytheseaside's first crop and much more.
by Murray Brown
It's a rarity in most businesses, let alone ours, for a person's name to often be preceded or followed by such positive terms such as "great guy, wonderful person" and similar words or phrases. That however is the case with the outstanding Ohio horseman Brian Brown.
If there is a person who has ever uttered a negative word about him, I've never known of him or her.
As with likely the majority of people in harness racing, Brian Brown was born into the business that has kept him occupied for the vast majority of his life.
He started his career in harness racing under the tutelage of his father Robert and his uncle William.
They mostly trained 2- and 3-year-olds that were raced on the Ohio Fair Circuit.
From working for his family, Brian then went to work for Ivan Sugg, a man he credits with being his greatest teacher in the business.
If one followed Ivan and did what he did, you were bound to benefit.
While working there, Brian became a quasi-member of the Sugg family. He would have dinner with them several times a week, go to the movies and of course train with them.
Ivan is now retired and Brian said he regrets that he rarely sees him anymore. He still sees Ivan and Patty's two sons Kurt and Duke often.
From working with the Sugg family, Brian began his first public stable where he raced mostly overnight horses at Northfield Park.
He soon decided that was not for him. He loved the challenge of buying yearlings and hopefully developing them into stakes quality 2- and 3-year-olds.
With the odd exception of a real good older horse, that has been the focus of his operation since.
He presently has 53 2-year-olds in training; 17 2-year-olds and one 5-year-old, the good stakes horse Workin Ona Mystery.
When asked about the makeup of his stable this year his answer is, "I bet the ranch on Downbytheseaside," he said referring to his former trainee.
Of the 53 yearlings, 20 are by Downbytheseaside and four are by another outstanding alumnus of his stable Fear The Dragon.
"If those two horses have good years with their first crops, I'm guessing, so will I. If not, I'm probably going to be in trouble — big trouble.
"Thus far, they are all doing fine. Some look better than others. There isn't a single one of the 24 that I regret having in the stable."
The Brown operation is a family one.
Brian, together with wife Jennifer, are the head honchos.
Son Beau is involved as a trainer and sometimes driver and Brian said he has great confidence in his son's horsemanship.
His daughter Jessica also trains and is married to Cameron McCown who is an up and coming trainer/driver on the Ohio circuit.
There are also several nieces, nephews, sisters in law and a brother also involved in the stable's operation as caretakers.
Brian, you presently have 53 2-year-olds in your stable, how are they made up?
"We actually have a few less than we've had in the previous two years. I've had as many as 70. That probably was too many. I feel that I'm able to handle the number we have now. Twenty of them are by Downbytheseaside, four by Fear the Dragon, a few by Captaintreacherous, Always B Miki, a few other Ohio- and Indiana-breds and even one trotter that I own myself. He is a My MVP colt that I've renamed Floyd William after my uncle. In Indiana, I especially like J K Endofanera. I trained two of them last year. One, the lesser one in my estimation, finished second in the Indiana stakes final. The other one, who I thought might have been the best colt in the stable, fractured a P1 right before he was scheduled to qualify."
From that stable makeup, it seems like you've figuratively put most of your eggs in one basket.
"I guess I have. Downbytheseaside was as good a horse as I've ever had anything to do with. He was a big, strong colt who could do everything well. If there is anything I regret about him, it's that we didn't bring him back to race at 4. He finished off his 3-year-old season as strong and as good as he ever was. He won his last four races going into December fairly easily all around 1:48 or better. There is no doubt in my mind whatsoever that he would have been an awesome free-for-aller as a 4-year-old. When I looked at his yearlings, I really liked them. They reminded me of him. In my heart, I have no doubt that he will be a great sire. But, as you well know, there are no guarantees in this business. It's nice to like them as yearlings. It's even nicer to have them train well as 2-year-olds. But the bottom line is how they perform on the racetrack. I guess at this time next year, I might be considered a genius or a fool."
You were fortunate to have two great horses from the same crop in your stable at the same time.
"Both Seaside and Fear The Dragon were great. There were times when maybe one could have been considered better than the other. It depended pretty much when. Fear The Dragon was great in the early part of the year. Then unfortunately he got sick. Later in the year Seaside went on a rampage. To be frank with you, if I were looking at Fear The Dragon as a yearling, I probably wouldn't have bid on him. There was nothing wrong with him, but he just wasn't my type. I was never a great Dragon Again fan and I like a big, robust yearling. Fear The Dragon was an average-sized yearling who grew into a great looking horse, but at the time, he just wasn't what I was looking for. I guess I was just fortunate that Bruce Trogdon gave him to me to train. They were both great at different times. At the end of the season, Fear The Dragon tailed off because he got sick. With Seaside, it was the opposite, he just kept getting and feeling better and better."
You are a Buckeye. Obviously, as with most Ohioans in harness racing, your greatest thrill would be to win the Little Brown Jug. You've had two great shots at winning it. Both times, you didn't quite get there.
"To be very frank with you, each time I was terribly depressed for several days later. Lost For Words lost to Wiggle It Jiggleit by the smallest of noses in a race in which many consider to be the greatest race they've ever seen. In the 2017 race, things just didn't work out well for us. Fear The Dragon and Downbytheseaside went into the race in good condition. I thought we had a good chance to win it or even finish first and second in it. All I can say is the race didn't work out as well as we thought it would. In retrospect, I've gotten over it.
How great is it to have a horse in perhaps the greatest pacing race many people have ever seen? In the other one, how many trainers are fortunate enough to have arguably two of the top three horses in their respective divisions in the same race?
"There was actually a third one where I was late to the dance. I had Limelight Beach and I wasn't doing near as well with him as I felt the horse was capable of doing. I suggested that the owners either sell him or give him to someone like Ronnie Burke who might be able to improve upon him. They did both, they sold part of him to Ronnie and his group and he ended up winning the Jug for them. I can honestly say that I felt no remorse there. If he were still with me, I doubt that he would have won the race."
You have a large and diverse group of people who have horses with you. How many are there?
"At one time, we had as many as 70 owners. Right now it's around 50. Through it all we've had the Koehler family (Country Club Acres) and guys like the Wingfield brothers and Joe Sbrocco as mainstay owners. We've been incredibly fortunate to have people who've stayed with us through the good times and the not so good times."
As a trainer, do you get upset when an owner moves his horses to another stable?
"Generally speaking the answer to that question would be no. As a matter of fact, there have been times when I've felt I wasn't doing well enough with a horse that I actually suggested that another pair of eyes or a change of scenery might do the horse some good. The only time I have really gotten upset is when I was doing well with an owner's horses and he decided that someone else would do better. Even then, it's his money and his horse and he has the final say on how he uses them."
Do you have any favorites among the hundreds of horses that you've trained?
"I suppose that would be Lost For Words. He was a wonderful horse who had a great personality. If not for Wiggle It Jiggleit having a longer nose, more people would be aware of him."
I've seen you in action at sales. It seems you get there early the day before the sale begins and look at loads of yearlings, never stopping.
"I suppose I would be better off if I were able to get to the bigger farms before the sales and have a good part of my work finished by the time I got there. Unfortunately, my schedule hasn't allowed me to do so. I look at a guy like Tony Alagna. I know he does his homework better than almost all trainers. He goes to the farms and looks at most of them. He's at the sales early and still is looking. He never seems to slow down. I know he's doing the right thing. Because what he does in the days leading to the sales is the chief determining factor on how well his stable will do the following year."
What do you look for in a yearling?
"I suppose your interview with Jack Darling a few weeks ago expressed it well. I want size and everything else to be a little more. I don't want a scrawny little horse. I want a good-sized one that looks healthy. If I were excusing faults, I'd be less inclined to do that with the front end of a horse than with the back end. With trotters it would be the other way around. But even there, there are exceptions. I really don't want a pacer that toes out, especially one who toes out with its right front. Limelight Beach did exactly that. The folks who wanted to buy him still wanted him. They persuaded me to watch his video. Much to my surprise, not only did he not come close to a knee but he actually paddled a little. We bought him and to my knowledge he never came close to hitting a knee."
What trainers have you learned the most from?
"I'd start with my dad and uncle, from there Ivan Sugg, watching and listening to Gene Riegle, Ron Potter, Ronnie Burke, Tony Alagna and others."
What do you do different than most trainers?
"I don't know that it's different, but I train my horses hard. I don't believe in vacations. That certainly does not mean that if a horse is sick or sore that I won't give it some time off, if I feel that it needs it. There are no rain days. If it's raining, we still jog every day. I look at every training day as building a block in a foundation. If the foundation is missing any blocks it will be weakened. I have pretty much the same philosophy when it comes to racing. When I enter a horse to race, that is what I expect it to do. I'm not about to enter a horse that I don't believe is not capable of racing to its utmost."
How about drivers? Who are your favorites?
"There are so many good ones out there, probably more than there have ever been. Overall, it would have to be Purple Jesus, David Miller. He's done a lot for me and I like to think that my horses have done a lot for him. Ronnie Burke stole my ace in the hole last year. I thought that Chris Page was as good as anybody in prepping a young horse to race. I used him a lot. So what does Ronnie do, he comes to Ohio and gives Chris first call on all his horses here. He has him, so now I barely have access to him."
You said that your career changing horse was Won The West. It was that horse that changed the perception of you from being an adequate horse trainer to one who is well known.
"Yes, he was. Ironically we hit a dull time with him and I suggested that perhaps a short change of scenery might benefit him. I suggested that we give him to Ronnie Burke to try and see what he could do. He did so well, that I never saw him again. Actually, it was I who told his owners to allow him to stay with Ronnie because he was doing so well."
One thing among many that I've admired about you is that you are generous with your time. You are never too busy to speak with someone to answer questions. In 2017, you had the favorite for the North America Cup. WEG was doing a press conference in conjunction with the draw. You drove up there from Ohio because you were invited and drove back after it was over.
"I strongly believe that all horsemen have an obligation to promote the sport in any and every way they can. This was their most important race of the year. They were putting it on to support us and for our benefit. The least I could do was show up to help. Every time a member of the media asks a question of me, I am more than willing to respond. Moreover, I always thank them for taking an interest in our sport."
Where do you see yourself in 10 years Brian?
"I'd like to see a smaller stable entirely focused on quality, with my son Beau and daughter Jessica in charge with me in the background as somewhat of a senior consultant."
Have a question or comment for The Curmudgeon?
Reach him by email at: hofmurray@aol.com.