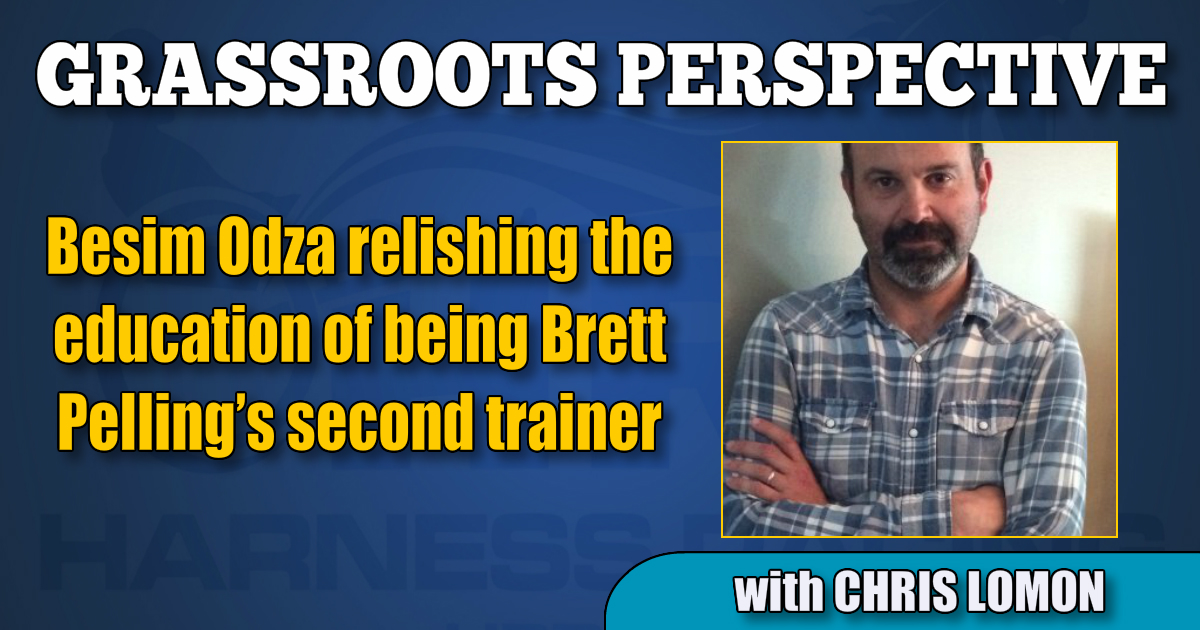 Besim Odza relishing the education of being Brett Pelling's second trainer
by Chris Lomon
Besim Odza can recall the precise moment, nearly 10 years ago, when he looked up at his father and said, "I know that one day I can do this."
Whenever he wanted to visit the racetrack, Dzemail Odza never needed to ask his son if he wanted to join him for a day at the races.
For the kid who hadn't yet reached teenager status, watching the horses and drivers whizz by at the Meadowlands was always a huge thrill.
While most 12-year-olds had no idea what they wanted to do for a career, it was a decidedly different story for the youngster from Garfield, NJ.
"My dad is a big fan of the sport. I really owe him for what I have been able to do. I remember that one day we went to the races and I told him that I wanted to be in horse racing when I was older. He said that if I can figure out the path on how to do it, he'd be happy to help me along the way."
Nearly one year after that conversation, the younger Odza enrolled in the Harness Horse Youth Foundation chapter in Goshen, NY.
Not long after that experience, he was helping out high-profile horseman Mark Ford and other big names in the sport.
Although Besim was the one doing the work, his father was happy to come along for the ride.
In this instance, literally.
"We lived an hour away from the farm, and my dad would drive me, then wait in the car for a couple of hours when I was working. He'd do that on the weekends and then every day in the summer. I think early on, he was more invested than I was."
That, however, would soon change.
In 2017, a then 18-year-old Odza launched his training career, winning his first race,at Freehold with Steady Pulse,that year. After the single victory in his rookie campaign, he made nine trips to the winner's circle in 2018.
He then made the decision to change the trajectory of his career path.
"I had a three or four horse barn, and I was getting out of training around January of 2019," said Odza. "I asked [multiple stakes winning trainer] Brett Pelling for a job and he mentioned he had a groom position open. So, I took it. People told me this was someone I could learn a lot from. I did the groom role and after six or so months, Brett mentioned that he wanted a second trainer and he'd like me to be it."
Odza gladly accepted.
While the vast majority of his time is spent tending to Pelling trainees, the now 21-year-old still keeps one horse of his own.
"I like to have at least one horse to train on my own," said Odza. "If the horse gets claimed, I'll just claim another one. The horse I recently claimed, his name is Western Redhot [a 7-year-old son of Western Ideal]. I was very fond of the horse last year, and my other horse, Dashboard, got claimed, so it worked out perfectly that I could get this guy. He has some issues, but I think once those are resolved, then give him some time and train him up, I think he'll be something solid."
The signs are already there.
Western Redhot hasn't contested a race for Odza yet, but from his vantage point in the race bike, he likes what he's seeing.
"Mostly, I was looking for a big, strong horse. I grew up around the Meadowlands and that's kind of been home to me. If I can get a Meadowlands-type quality horse, even if it's a claimer, to race there and be competitive, that's what I'm looking for. I always look for a strong last quarter in a horse, and he always is strong in that final push. I thought putting him in a farm atmosphere, rather than a barn at the racetrack, would be good for him. And it seems to be working. I trained him and he was strong, and paced through the wire."
The veteran pacer lining up behind the gate in race action isn't all Odza has to look forward to.
Working in the Pelling barn continues to the ideal classroom for a young horseman looking to sharpen his skills.
"We have a great relationship. He's very professional and he loves to teach. I worked with a bunch of people before, and with him, his main thing is keeping everything simple. Condition the horses the right way, feed them right, and then everything will work out. He never jumps the gun and thinks everything through. For a young guy, that is so helpful."
So, too, is Pelling's education and experience when it comes to the claiming game.
Tapping into that wisdom has been a game changer for Odza, who one day hopes to use what he's learned from Pelling and training his own claimers to become a full-fledged trainer himself.
"When you get these horses, especially these claimers, you have such a short time – literally, five or six days – to figure them out and know everything about them. I had trouble doing that, but being around Brett, he does a hell of a job conditioning, keeping them on top for a long time. I learned that from him. With the claimers, you just have to keep them happy and healthy. I've learned so much from Brett. I don't think I'd be claiming a horse without the knowledge I got from him."
Nine years after he told his father that he believed he could make it in the standardbred worlds, Odza, who now calls Cream Ridge, NJ, home, has no doubt lived up to those words.
He's happy to still have his dad along for the ride.
"My dad owns the horses with me and it keeps us on our toes. He always told me that his dream was for me to make it in harness racing. But him owning horses and watching them race, I can see he always looks forward to that. In many ways, I think we are both living our dream."