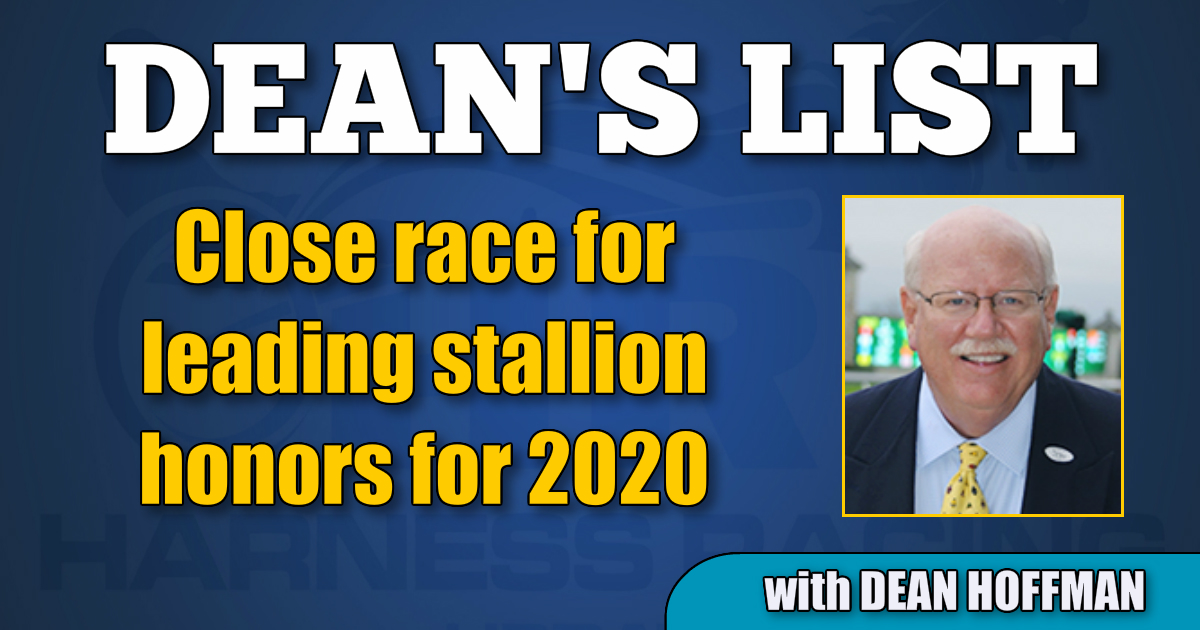 Close race for leading stallion honors for 2020
by Dean A. Hoffman
It's a tight race and two great pacers — Bettor's Delight and Somebeachsomewhere — are battling for first place.
No, this race isn't taking place on a track, but, instead, in the sire statistics compiled for stallions in North America. As of Saturday (Dec. 12), with only a few weeks left in the bizarre year of 2020, Bettor's Delight has offspring with earnings of $16.5 million while Somebeachsomewhere is just a nose behind with nearly $16.4 million. Both stallions are some $6 million ahead of third-place Captaintreacherous.
The stats are compiled by the US Trotting Association and available on its website.
Bettor's Delight has an edge partially because he had more soldiers in his 2020 army than Somebeachsomewhere. This year, 635 pacers by Bettors Delight have competed in North America while Somebeachsomewhere had 507 starters.
Over on the trotting side of the ledge, there is no race. Muscle Hill is dominating the sire stats just as easily as he dominated his pursuers on the track. His offspring have earned $9.6 million this year while Chapter Seven is far behind in second place with $7.8 million.
In the weeks remaining until the final races of the season, it's likely that Bettor's Delight will maintain or increase his lead over Somebeachsomewhere and wear the crown as the leading stallion in the sport.
The richest warriors in the legions of pacers representing Bettor's Delight include the recently-retired millionaires Bettor's Wish ($2,601,233) and Horse of the Year favorite Tall Dark Stranger ($2,020,195).
The ageless gelding Bettor's Edge padded his bankroll in 2020 to go past $2.2 million as an 11-year-old.
We can also think back to such Bettor's Delight offspring as All Bets Off, Lazarus N, Darlin's Delight, Bettor Sweet, Shebestingin, Bettor Sweet, and so many more.
Bettor's Delight will turn 23 on Jan. 1 and many can recall his storied racetrack rivalry with Real Desire. Bettor's Delight was as handy as a Swiss Army Knife and Real Desire was virtually supersonic at times. The duels delighted racing fans.
The meteoric Somebeachsomewhere died in early 2018 and his top performers in 2020 were the mare Kissin In The Sand ($1.7 million) and a quartet of geldings Dorsoduro Hanover ($1.9 million), Somewhere In LA ($1.8 million), Filibuster Hanover ($1.8 million), and This Is The Plan ($1.7 million). Career earnings are shown.
THE SON ALSO RISES
Somebeachsomewhere is dead but his heir apparent is obvious because Captaintreacherous ranks third on the overall sires list as his 2020 pacers banked more than $10.4 million. He accomplished that with only 343 foals of racing age while the other stallions in the top six on the pacing list had in excess of 1,000 foals at the racing wars.
MUSCLE HILL TOPS TROTTERS
The results on the list of trotting sires is much like the results when Muscle Hill raced. To paraphrase a famous tribute:" Muscle Hill in front… the rest nowhere."
That's hyperbole, of course, but Muscle Hill is almost $2 million ahead of his nearest rival Chapter Seven as Muscle Hill's offspring have earned $9.6 million in 2020 while Chapter Seven checks in at $7.8 million. The others are far behind.
I had the pleasure of seeing Muscle Hill both seasons he raced, but I contend that he never actually raced. The term "race" implies competition, but Muscle Hill was so superior to his pursuers that his races were, in fact, more exhibitions than competitions.
He's transferred his extraordinary skills on the track to his offspring. For a brief review, I'll just mention the names Marion Marauder, Manchego, Resolve, Ariana G, Southwind Frank, Mission Brief, Ramona Hill, Bar Hopping. What The Hill, Green Manalishi, and When Dovescry. Perhaps you've heard of them — certainly you should because they're all millionaires foaled in the past decide. Look for future superstars by Muscle Hill at your local racetracks.
But no one should ignore the impact of Chapter Seven, the 12-year-old son of the ill-fated Windsong's Legacy. He's hit some home runs early in his career and he's getting quality mares at Blue Chip in New Year.
For those who may have fallen asleep during the pandemic of 2020, Chapter Seven was represented at the races this year by Gimpanzee, Atlanta, Hypnotic AM, all millionaires. Toss in others from the past such as Walner and Woodside Charm and you can easily see Chapter Seven's impact. (It's interesting to note that four of the five richest performers by Chapter Seven are females).
The leading money-winning stallions get the prettiest girls and their offspring usually wind up in good hands. That's a big advantage. I find that the "average earnings per foal" statistic found on the USTA website to be very valuable. You will often see a lesser-known name pop up among the famous stallions. Pay attention and do your homework. That's often an indication that a stallion is finding success without all the advantages that the glamor boys enjoy. That may present a breeding or buying opportunity for the smart owner.