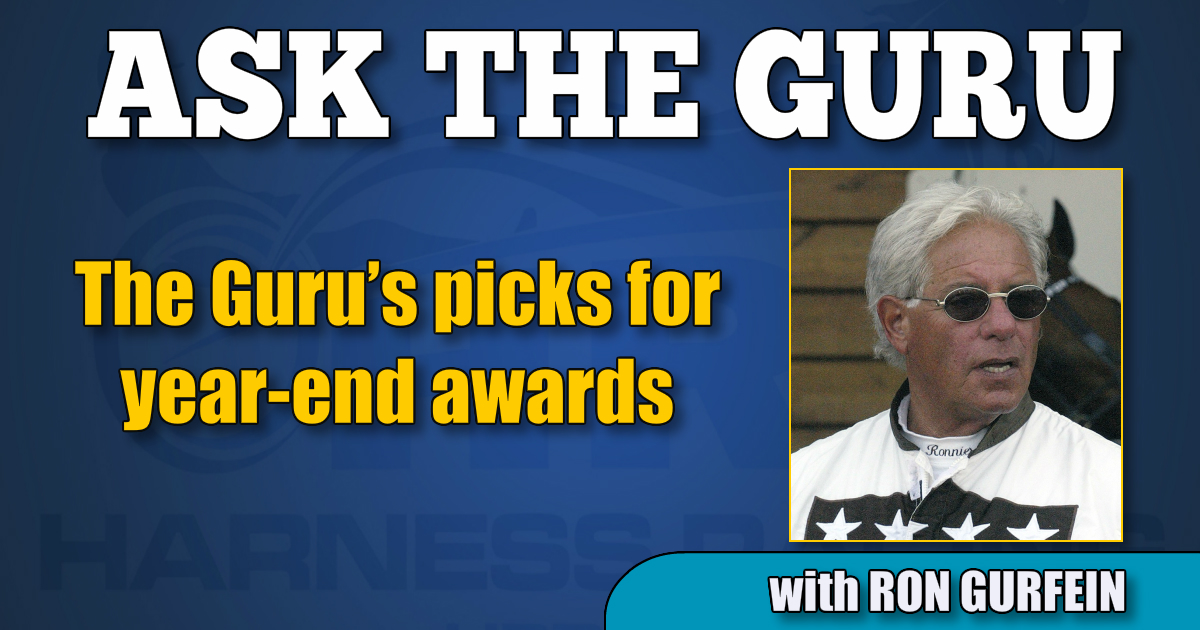 The Guru's picks for year-end awards
Plus, thoughts on a Kentucky bargain, helping a novice trainer and whether horses have the ability to identify other horses.
by Ron Gurfein
Tidbits: Let's start the day after Turkey Day with a Guruism: "It is not necessary to be smart to be rich. It is necessary to be smart to stay rich."
That just popped in my mind as I was fascinated by your feedback to my television streaming suggestions. Kudos to the intellectuality of my followers. Ninety per cent of the comments were about the Queens Gambit and 10 per cent were about the Undoing. I would have thought that a very clever murder mystery would surely outpoll a story about a chess champion. Speaking of the Undoing I hope you watched this week's episode that really proved the point I made last week that you can make a case for anyone to have been the murderer.
* * *
Either harness racing has had a near perfect run in the time of COVID-19 or I have had my head in the sand for almost a year. After the horrible weeks in which we lost John Brennan and four members of the Fusco family, there hasn't been any mention of the disease within our ranks. The tracks and horsepeople have done an amazing job keeping racing as safe as possible under these horrid conditions.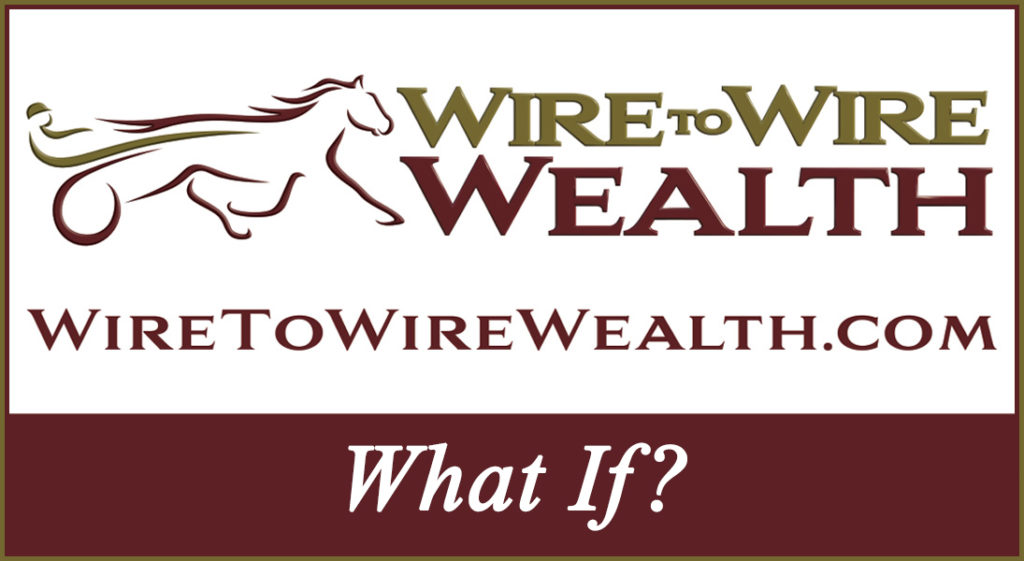 That said will someone please explain to me why Woodbine's thoroughbred track is closed (Note: Woodbine Mohawk Park and other Canadian harness tracks remain open)?
That move is a senseless over-reaction to the pandemic. Eliminating patrons is a given due to the rise in positives in the area, but to discontinue the sport is over the top.
True, I am almost 2,000 miles away but nothing I have read has said anything about a rise in positives in the Canadian racing colony. Nor have I heard of any racetracks having outbreaks of the virus. If I am missing something I am sorry for this piece if I am not shame on the powers that be for curtailing the livelihood of my fellow horseman.
 I must give Jim Lawson, CEO of Woodbine Entertainment credit for his comments about the shutdown. He was oh so politically correct in pointing out that the sport had the cleanest of records in respect to the virus and, as he stated for future reference, the decision will have a terrible effect on the income of the horseman. He was not at all harsh with the government's policy decision to put the city of Toronto into lockdown (Woodbine Mohawk Park is located outside of Toronto city limits in Milton) due to the majority of Ontario's COVID-19 cases coming from that region, but in no way was going to capitulate to their thinking.
If you read between the lines it seems like he was giving the government an out to reverse the decision if it is at all possible.
* * *
I disagree with Debbie Little's take on the Atlanta vs Manchego for year-end honors (full story here). Atlanta has always been the picture of consistency. Manchego was in an awful funk in August and September. That said, Princess Takter immediately righted the ship and she finished the year in grand style. Last Saturday she followed Atlanta off very pedestrian fractions (half in :57) and crushed her in the lane.
Two of the greatest trotting mares in the history of the sport both with amazing careers, to this writer there should be no loser in the older trotting mare division. I suggest the USHWA votes unanimously to give this year's addition a draw.
I think Debbie's mistake is that she is relying too much on statistics. With two horses that close you must step back from the numbers and review the entire season. Atlanta was magnificent in the Maple Leaf Trot, Manchego's last two — the Breeders Crown and the TVG Final — were perfection.
I remain with the desire for a tie, but if it has to go to one winner I think Manchego' s year-end flurry is worthy of the honor. However, there is a downside to this decision. The tables may have possibly been reversed had Atlanta's connections decided to race in the Crown for trotting mares instead of trying to tackle the boys. If Manchego wins year-end honors, down the road some owner thinking about going against the boys may think back to this year's scenario and take the path more traveled.
On that subject here are The Guru's picks for year-end honors, which I am posting simply because most are super standouts and it will intrigue me to see how many votes against the big favorites come in.
2yoft — Lady Chaos
2yofp — Fire Start Hanover
2yoct — On A Streak
2yocp — Perfect Sting
3yoft — Ramona Hill
3yofp — Party Girl Hill
3yoct — Amigo Volo
3yocp — Tall Dark Stranger
Older trotting mare — Atlanta/ Manchego ( tie)
Older pacing mare — Kissin In The Sand
Older trotting horse — Gimpanzee
Older pacing horse — Bettors Wish
Pacer of the Year — Tall Dark Stranger
Trotter of the Year — Gimpanzee
Horse of the Year — Tall Dark Stranger
Driver of the Year — Dexter Dunn
Trainer of the Year — Nancy Takter
Good Guy Award — Yannick Gingras( 30 days in the bubble).
Lifetime Achievement Award — Ronnie Burke and David Miller (both surpassing $250 million in earnings).
Bill Bigler asks: When you were in Kentucky writing about your yearling selections you mentioned a bargain that was purchased by another trainer. Why wouldn't your group have bought the bargain?
Great question, simple answer: pedigree, pedigree, pedigree.
I will not demean my successes, having almost created a miracle having a father, son and grandson in the Hambletonian winner's circle with Victory Dream, Self Possessed and Cantab Hall (second). However, my knowledge of pedigree pales in comparison to the mind of Guy "Sonny" Antonacci, his son Frank "The Elder" and his son Frank M. Students of Tessio the family has created a dynasty with five Hambletonian winners and three seconds that could have easily been a total of 10.
The five almost, in case you have interest, in order of appearance, were: MB Felty, Uma, Cantab Hall, International Moni and Ready For Moni… all of whom were a heartbeat away from a date with destiny.
My choices are based solely on physical appearance and performance when it comes to critiquing the page. I am not the sharpest knife in the drawer.
I find when I come up with the perfect 10 both on the floor and in the paddock and then try to stretch the pedigree it usually bites me you know where. Frank and Frank do an excellent job of preventing that from happening.
I promise to fill you in this time next year on the progress of the bargain colt you mentioned in the query.
Jocz Stanley asks: Do horses recognize each other on the track? Does Gimpanzee know he is racing against Atlanta? Does this have an effect on the outcome of the races?
I have no idea what parallel universe this question came from. To my knowledge Mr. Ed was the only talking horse I have seen in my lifetime and would be hard pressed to give a definitive answer to your question without the ability to have a conversation with an equine.
Possibly the horse whisperer or a sage could help you but this writer has no accurate accounting for your question.
I will however voice an opinion on the subject and without further ado, say NEGATIVE.
I have never been one to value equine intellect. I am certain that some horses have proven to be smarter than others, but I think there are other animals I consider brighter on an intellectual scale. Most animals are able to learn by virtue of repetition and, while I cannot say for sure, I doubt horse recognition on the racetrack would be much of a possibility. Recognition of a caretaker, or a turn out buddy is a different story, but I feel that is not just sight involved but scent and sound also are part of the equation.
Having an outcome of a race affected by horse to horse recognition would be a new path to another conspiracy theory.
Susan Sickle DVM asks: When it comes to being a novice woman trainer who can I look for to assist in learning?
Fortunately for you there are many more old guys with knowledge training than young guys with none. I find most horsemen to be free with their knowledge and help. Wherever I have been stabled I found myself training other people's horses, many times more often than my own on a given day.
I know you are based near The Meadows and there are so many great horsemen in your area that I am sure would be more than willing to help out as well as answer your questions. There are some wonderful drivers in that colony that are very knowledgeable and will give you important input after qualifying or schooling your colts.
Unfortunately I cannot make suggestions as to whom you should approach for fear of recriminations. That said, you have a myriad of choices.
As far as barn help is concerned it gets tougher every year. The best outfits with all their perks even struggle to get good help so that leaves a newbie like yourself in a bad place. If I were in your shoes I would simply over pay someone to help you out for a few years till you had the self-confidence to tackle the problems by yourself.
I don't know exactly where you train but it would be far easier to get good advice stabling at the racetrack than on a farm. At The Meadows there must be a dozen good trainers that would be willing to go a fast trip for you. Plus, you have qualifying days where you can get a top driver to train a mile for you before the races or school after the races. Starting out as a veterinarian you are much further ahead of the curve than you realize.
I hope you all had a wonderful Thanksgiving. Thank all of you for reading my column. Please keep the questions coming and have a wonderful week.
Have a question for The Guru?
Email him at GurfTrot@aol.com.