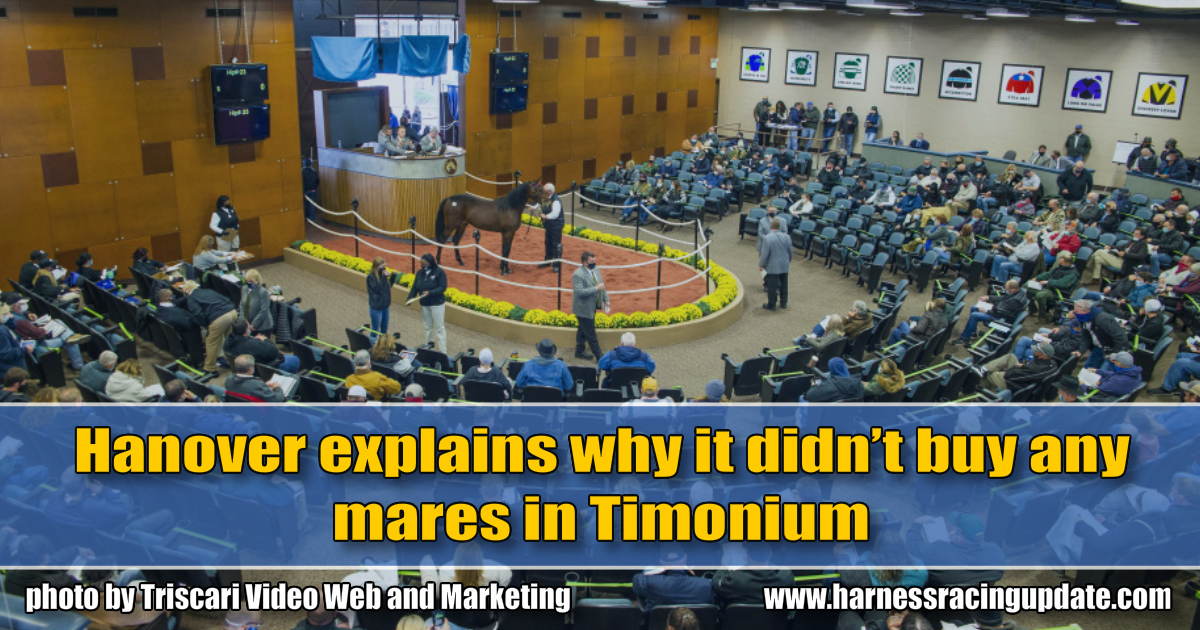 Hanover explains why it didn't buy any mares in Timonium
by Dave Briggs
Most years at Standardbred Horse Sales Company's (SHSC) auction, Hanover Shoe Farms takes some of the proceeds from selling yearlings and restocks by making broodmare purchases during the mixed sale. After all, it is the perfect place for the sport's leading breeder to both buy and sell. It owns and operates the SHSC sale.
This year, Hanover, which grossed over $12 million during the yearling sale — four times more than its next closest competitor — was conspicuous for not buying any mares during the mixed sale.
It had nothing to do with the COVID-19 pandemic, explained Hanover's executive vice-president and syndicate manager Dr. Bridgette Jablonsky.
"Hanover Shoe Farms is committed now, more than ever, to acquiring the best broodmare prospects available in our quest to strengthen our already exceptional broodmare band," Jablonsky said. "In 2020, we were able to make several significant purchases privately."
Hanover's private mare purchases in 2020 have included:
• Beyond Ecstasy: P,2, 1:51.2 $132,984 ' a full sister to Little Brown Jug winner Filibuster Hanover p,1:48.1f $1,855,945
• Crucial: 3,1:52.4f $520,446, a daughter of Jolene Jolene 2,1:52.1 $231,673
• Ready To Ignite: 3,1:55.4 $47,527, from the immediate family of Explosive Matter 3,1:52.3 $1,510,542
• Strong Legacy: 3,1:58.3f $6,130, the dam of 2020 Breeders Crown winner Lady Chaos 2,1:53.1$560,803
• Youaremycandygirl: p,3,1:48.2 $1,566,292 (in foal to Bettor's Delight)
• Zero Tolerance: p,3,1:50.2 $980,736
In 2019, Hanover purchased 29 mares headlined by:
• American Jewel: p,3,1:48.2 $1,840,565 (in foal to Bettor's Delight)
• Hannelore Hanover: 1:49.2 $3,048,857 Horse Of The Year (in foal to Greenshoe)
• Lifetime Star: dam of Bettor's Wish p,1:47.3 $2,413,033 (in foal to Captaintreacherous)
• Percy Blue Chip: P,3,1:51.1f $874,267 Breeders Crown winner (in foal to Captaintreacherous)
• Secret Magic: dam of Manchego 1:49 $2,563,181
• Secret Passion: sister to Manchego 1:49 $2,563,181 (in foal to Greenshoe)
• Shebestingin: p,1:47 $795,522, dam of undefeated 2-year-old Perfect Sting p,2, 1:49.2 $534,300 (in foal to Captaintrecaherous)
• Starita: 3,1:53.3 $307,696, granddaughter of Passionate Glide (in foal to Greenshoe)
"We look forward to raising and selling the foals from these special mares and watching them race for many years to come," Jablonsky said.