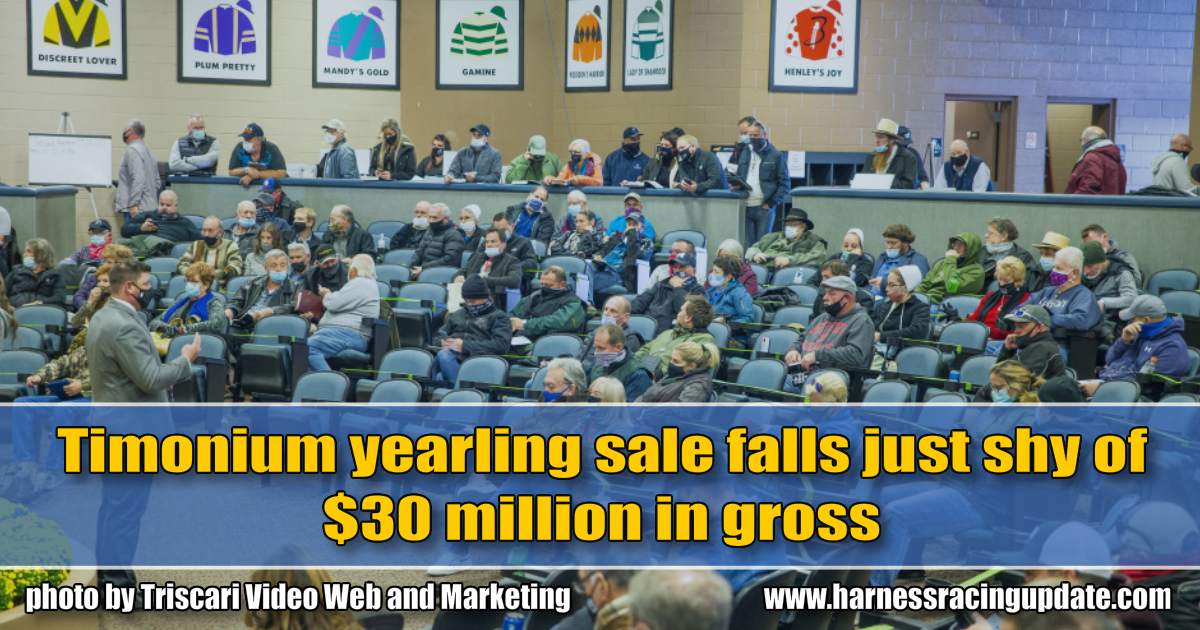 Timonium yearling sale falls just shy of $30 million gross
Fewer horses, new location and COVID-19 challenges that placed particular impediments on foreign buyers contributed to the lowest gross in at least 20 years.
by Dave Briggs
The Standardbred Horse Sales Company's (SHSC) three-day, pandemic-era yearling sale concluded Thursday (Nov. 5) down 22 per cent in average and it failed to hit $30 million in gross sales for the first time in at least 20 years.
This year's yearling sale grossed just over $29.5 million and averaged $38,215. The median was $23,000. The average was the lowest for the yearling sale in five years, but it is a higher average than the sale had every year between 2007 and 2016.
This year's average is down 10.5 per cent from 2018, down 3.7 per cent from 2017 and down one per cent from 2016.
This year, 42 yearlings sold for $100,000 or more, down from 69 in 2019.
Keep in mind, the number of yearlings sold (773) was also the lowest in at least 20 years and was down 60 horses from 2019, which has a particular impact on the gross. The sale sold 833 yearlings in 2019, 830 in 2018, 851 in 2017 and 876 in 2016.
"Given the fact we sold 60 fewer horses than last year and lost 30 to Lexington — and that a number of those horses were very high-end sellers for them — I think when you take all of that into consideration, given the number of horses we had to sell, I think we reasonably kept pace with (Lexington) and the industry in general. I think the high end was really strong. On the first day, I thought the middle market would remain stronger than it was, but as time went on it became clear that the middle market ended up being somewhat soft," said sale president and CEO Pete Spears.
For comparison purposes, this year's Lexington sale was down 16.5 per cent in average, but produced the second highest gross in its history with a total of $41,552,000 for 816 yearlings sold. Lexington averaged $50,922.
For all sales, the COVID-19 pandemic has created major challenges in commerce. Spears said border closures and travel restrictions had a strong impact on SHSC's Canadian and European buyers.
"I think the number of people able to participate in the sale was compromised considerably because of COVID-19," Spears said. "I sent probably at least 100 letters of introduction for buyers to bring and present to immigration and customs, detailing about how important their participation was to our sale and to the U.S. economy. I provided economic data and yet, with that, there were large numbers of Canadian buyers that were turned back at the border. It was my understanding that the ones that were turned back came by car. Those who attempted to come to Timonium by plane were uniformly successful in being admitted to the U.S. So, I thought that was very interesting.
"Even without a deep analysis of the buyers, I think it was very clear that European participation was down a lot. A long-time Finnish friend and client wanted to come in the worst way and I wrote him a special letter to U.S. immigration and he was turned down. He requested that I go through a separate appeals process. I wrote a second letter with even more details and that was declined. Finally, he even tried to show up at the airport, just to see whether he could talk to customs officials directly and maybe convince them to let him fly here and he was still turned away."
Though SHSC did take online bids — and that proved to be successful — Spears said foreign buyers were impeded by not being able to inspect horses themselves.
"You have to have boots on the ground to inspect the animals. The kind of Europeans that want to participate at these big sales are people who want to buy high-end horses and I don't think we've reached a point yet where people want to pay very big money for horses they haven't examined themselves. I have seen very few European representatives here that could perform that task for people," Spears said. "Certainly, I would've been very happy to refer European clients to friendly U.S. agents who could've looked at horses for them, but you and I both know that everybody has his own traditional pathway of doing things and, when that pathway is not available, people don't always feel comfortable adapting when you're talking about this amount of money."
All that said, Spears had high praise for his staff and the greater standardbred industry that jumped in to help when a large tent collapsed Monday during high winds (full story here)
"The two things I would like to say is that I'm really proud of my operations team, who were challenged to the maximum this year, especially with the weather, the terrible winds, the failure of the tent, the new surroundings. I think they did a wonderful job," Spears said. "As I said in a little speech at the beginning of the sale, I'm especially grateful to the people who dropped whatever they were doing to come and help and rescue the horses and rescue trapped people when we had the tent failure. I just can't be grateful enough for their participation and selflessness.
"We're just proud that we were able to meet our commitment to our consignors by holding a live sale. It wasn't easy to find an alternative venue and we had to work really hard to find one. Once we found one, we had to work extremely hard to set it up and make it workable for us… as I say, I'm very proud of my team and very grateful that we could come through for our consignors when they needed it most."
Wednesday's third session saw 328 yearlings gross $6,341,000 in all for an average of $19,332. The median was $15,000. The average was down 12.7 per cent from the 2019 average of $22,148. The gross was off $1,743,000 (21.6 per cent) from $8,084,000 and the median was down from $17,000 a year ago when 37 more yearlings were sold.
Three yearlings fetched $100,000 or more on Wednesday. Hip #591 Shadowmoon Rising, a Shadow Play colt out of Lofty Yankee sold for $115,000 to Dr. Ian Moore out of Spring Haven Farm's consignment. Hip #700 Thx Again Bluechip, a Huntsville colt out of Exclamation, sold for $105,000 to Steve Elliott out of Blue Chip Farms' consignment and Hip #624 Alehouse Hanover, a Bar Hopping colt out of Aspidistra Hanover, sold for $100,000 to Paul Kelley out of Hanover Shoe Farms' consignment.
Hanover Shoe Farms dominated all consignors in gross sales all three days. Hanover grossed $1,748,000 on Wednesday and $12,024,000, total, for 237 yearlings sold through three days to post an average of $50,734. In 2019, Hanover led all consignors with gross sales of $14,371,000 for 233 yearlings, which produced an average of $61,678.
Preferred Equine Marketing was the second leading consignor by gross sales this year. It sold 92 yearlings for total sales of $2,914,000, followed by Concord Stud Farm, agent (55 yearlings, $2,691,000) and Hunterton Sales Agency (54, $1,519,000).
By average, with three or more sold, Diamond Creek topped the sale with an average of $72,333 for nine sold. All American Harnessbreds was next at $54,3436 for 26 sold, followed by Hanover and Concord Stud ($48,927).
Serge Godin's Determination led all yearling buyers with $1,559,000 spent to purchase 12 yearlings. Burke Racing Stable LLC was next with $800,000 spent, total, on 14 yearlings, followed by David McDuffee (2 for $765,000).
The first of two SHSC Mixed Sale sessions begins today at 10 a.m.