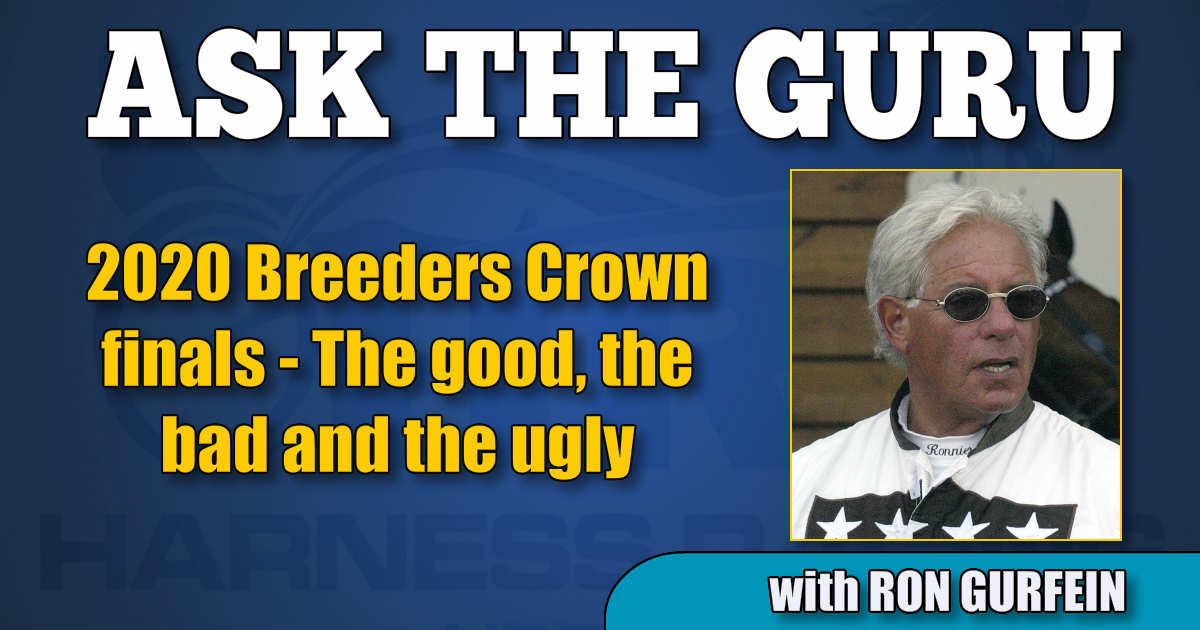 2020 Breeders Crown finals – The good, the bad and the ugly
by Ron Gurfein
Tidbits: The good, bad and ugly from the Breeders Crown finals:
The Good
Jim Campbell's wonderful performance was a breath of fresh air. His owner Scott Farber's dedication of the win to his late father was one of the most touching moments in Breeders Crown history. Scotty Z was magic in a bottle. I am a proud Papa as the old man, Cantab Hall took both 2-year-old Crown races at the age of 19.
Gimpanzee is a wonder horse. Winning three Breeders Crowns may be just the beginning .If he keeps on going he will surely eclipse the all-time money earnings of a trotter.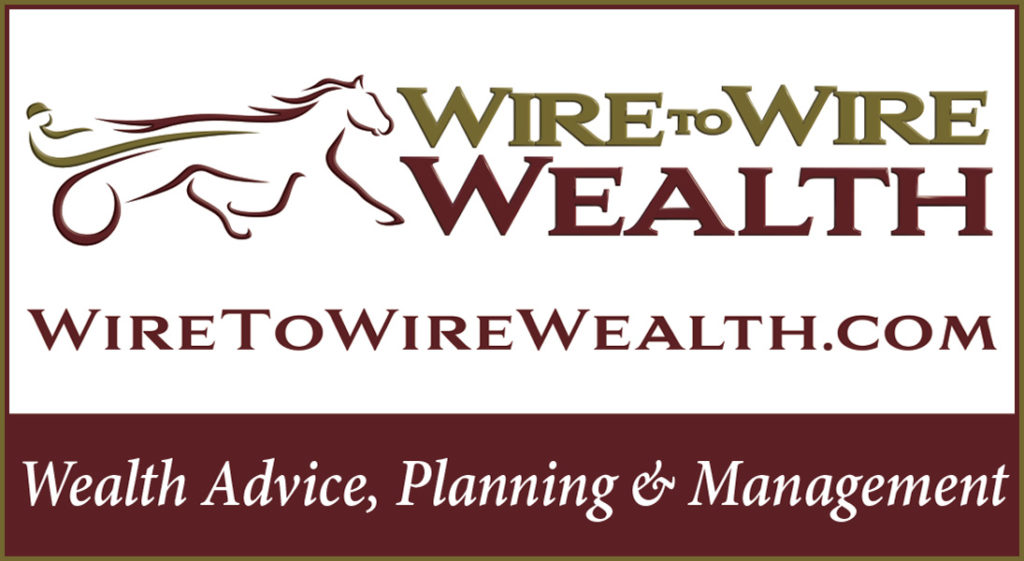 The Bad
Muscle Hill, Chapter Seven and Captaintreacherous, three of the top selling stallions standing today, did not have a 2- or 3-year-old Crown champion in 2020.
It must be the virus!
The track bias turned out to be a graveyard for favorites and I think it is directly related to the track surface. Unless there was a mad scamper the first half, which we truly witnessed in the fall of Tall Dark Stranger and Party Girl Hill, the front runners were very difficult to pass in the lane no matter how long the stretch is. That's usually a result of the surface being difficult to grab hold of and creates a sort of ice skating effect.
The Ugly
"Hollywood" Heyden's quote, "If Linda Toscano wins with Rocknificent she will be the first trainer in history to go two for two in a Breeders Crown history."
100% wrong.
Yours truly did it at Pompano Park on Oct. 23, 1992. I won the 3-year-old filly trot with the great filly Imperfection and the 3-year-old colt trot with Baltic Striker. They were the only entries I had in the Crown that year.
I contacted Holly and he said his book showed 3 starters 2-1-0. Well if I was second with a mystery horse that according to USTA results did not exist I sure as hell never got my percentage check.
* * *
Harness racing is not like politics. We should not be in denial and change comparisons to mitigate problems. Measuring the results of the Standardbred Horse Sale against 2017 and not last year is ludicrous.
I really hate writing about a disaster, however there is much to be discussed about the Timonium sale that falls right smack into that category. True there were a lot of big ticket items, but if you were offering a colt a little out of the top class it was heart breaking. How could a Muscle Hill colt bring $3,000? Surely the buyer would have noticed if he was missing a leg.
How about some Guru numbers? Let's look at first day averages. Lexington Selected vs. Timonium.
Muscle Hill $192,000/ $122,000
Walner $155,000/ $64,000
Captaintreacherous $126,000/$92,000
Huntsville $125,000/ N/A
Chapter Seven $121,000/ $77,000
Father Patrick $104,000/ $78,000
The published figures say 22 per cent decrease in average compared to 2019. I am sure the number is correct, but let's not ask a consignor of one of the colts from the stallions listed above how he feels about that number.
Don't get me wrong, the sale company did nothing wrong. It was a victim of logistics in a pandemic. Add to that all the major Swedish buyers were among the missing. The loss of Order By Stable asking Concord to sell in Lexington was also a killer decision.
The bottom line is I feel bad for the breeders and I don't want to be a Monday Morning quarterback but with the exception of Hanover Shoe Farm any consignor that moved to the Selected Lexington venue would have avoided the disaster to some extent.
Hopefully, 2021 will bring a vaccine and all will be back to normal in beautiful downtown Harrisburg.
* * *
Craig Henderson has asked my help to raise awareness of a major problem arising in our industry due mainly to what I call "faulty modernization."
Direct deposit, or wire as Craig calls it, needs to have a genie installed to figure out the direction for the net proceeds. Money is sent often with no notification. Some tracks will only deposit to one account and if you own a large amount of horses with various partnerships when the money comes in you have no idea where or to whom it should be credited. I wish I had this problem! The answer must lie with track management. They should either put forth the effort to correct the malfunction of this project gone awry or go back to snail mail with all the proper identification we have been accustomed to for the past century.
* * *
I have heard from a more than reliable source that no one on the Kentucky Horse Racing Commission has ever leaked information to the media on the Bob Baffert positives. I am sorry if my comment came off as anything more than a news item.
I must point out that I was not in any way accusing anyone person or agency of anything. Just pure speculation. The fact that it was leaked in any way is a pity.
* * *
It's sales time once again and in the midst of all the furor I got the best sale quote I have heard in many years attributed to my good friend and partner the late George Berkner. George stated in response to a query about the ethics of trainer X: "He is such a snake that if I bought a colt for my mother for $500,000, he would call her up and try to get the colt for him to train."
* * *
The virus has totally deleted the excitement of the coming NBA draft. The shorter season with no definitive champions, and not viewing the best of the best under Final Four circumstances make the draft much too much like a guessing game.
My Miami Heat have done quite well of late tapping their selections from the Big Blue Nation (Kentucky). Bam Adebayo and Tyler Herro have both become super stars. I have not seen the consistency in Tyrese Maxey I had seen from the aforementioned duo but because of the shortened season it's hard to judge.
What is amazing is for the first year in this writer's memory, in the recent era, not one player from Duke or Kentucky is projected in the top 10 in any mock draft.
***
If you haven't heard the Fred Hudson, Trade Martin and Bob Marks' podcast with Meadowlands chief Jeff Gural you should hear it. Jeff brings up one very serious point about the various horsemen's associations stating their disdain for the Horse Racing Integrity Act. It begs one serious question: What will the public's perception as to their reasoning be?
To me it cannot be good.
Richard Johnson asks: Why haven't the powers that be inducted XXXXXX into the Harness Racing Hall of Fame?
I get these letters all the time and I refuse to pass judgement on my friends and colleagues. It is way above my pay grade. I will say that that I feel in recent years the qualifications become cloudy, which in and of itself provides fan speculation on possible additions to the Hall.
I feel it is time that the selection committee come up with some hard guidelines that will end the speculation forever. It certainly would have a direct impact on the amount of new members but will get the committee's attention to the many that because of nonsense politics have never had there nominations approved.
I will not name names at least not yet. But maybe, just maybe someone out there will act upon my suggestion.
To begin, no one under the age of 55 should be considered.
Drivers must have won a minimum of 100 Grade I (equivalent) races.
Trainers 25 Grade I races
Owners 25 Grade I races
You might look at my numbers and think they are a bit stringent. But look at it this way, I can name more than a handful of wonderful horse people that pass my tests and have not even been mentioned in regard to Hall induction.
Scott Leaf asks: I see that Mrs. M Wrenn has received a positive test with a Odds On Horse recently. The drug is Naproxen. Could this drug be environmental? If so, why. Do you think Mr. Parham will live up to his published stance "integrity to the horse world" published June 6, 2020? It would add credibility to our industry for a big player to take a stance and move his horses to an honest trainer.
Let's begin with your last comment first. I am very close to Peter and Melanie Wrenn and take personal offense at your callous statement as to their honesty.
The Wrenn barn could be a poster boy for legitimacy. Their clients include Mr. and Mrs. David McDuffee Victoria Howard and Ron Ruggles, owners that represent the highest form of integrity, all friends of mine that would have nothing to do with a shady trainer.
That said, any positive test could be an environmental occurrence, and unfortunately in the non-uniform way we are testing it becomes more and more evident.
Naproxen is a well-known, often prescribed, human drug for any major pain problem. I myself took the drug after a surgical procedure. If I had used the stall as a rest room as I have done quite often and a horse ate the contaminated hay or straw it would have easily produced a positive test.
I have no idea who appointed you judge, jury, and executioner but it's time to chill. Let the commission do the job you are not getting paid to do. We are still in a country where you are innocent until proven otherwise.
I refuse to speculate on the outcome of any investigation but I assure you I do know the players very well and there was no intent involved whatsoever.
Thanks to all of you for the kind words. The Breeders' Cup will take place today and tomorrow at the hallowed ground called Keeneland Racecourse. Unfortunately, if there haven't been previous arrangements made, television will be the only viewing choice (tablet or computer understood). No matter what, don't miss the headline event, the Breeders' Cup Classic for $6 million has an amazing star studded field. Best of luck to all the successful bidders at the Timonium Sale and have a wonderful week.
Have a question for The Guru? 

Email him at GurfTrot@aol.com.