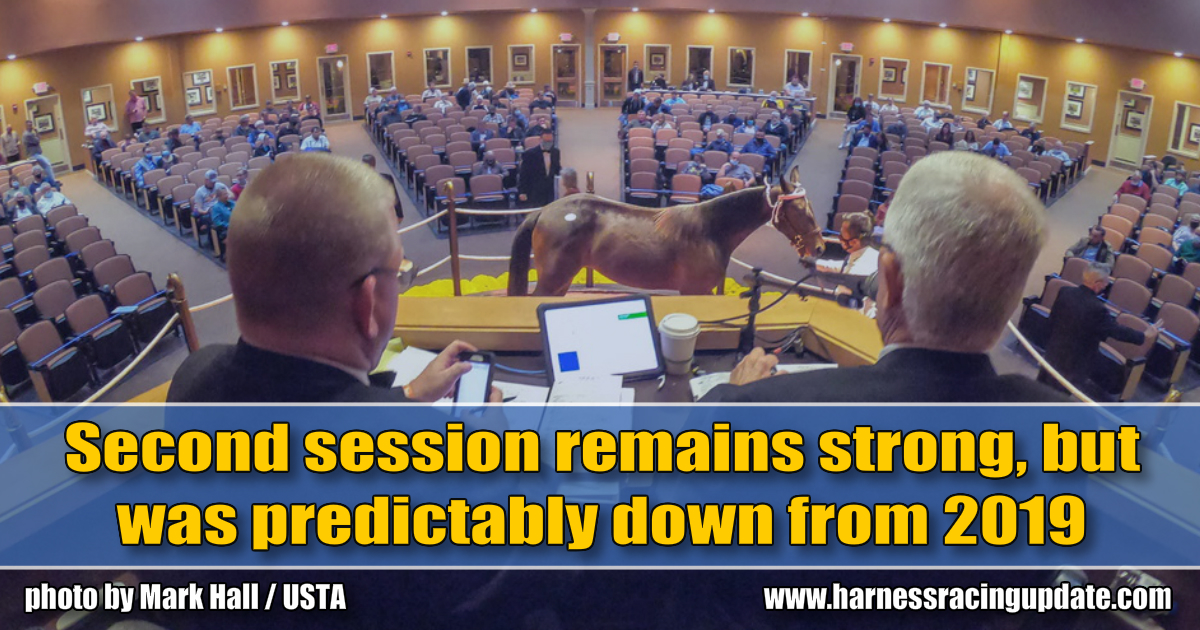 Second session remains strong, but was predictably down from 2019
The second night of the Lexington Selected Yearling Sale saw the average down 18 per cent and the gross down 14.5 per cent compared to the same session a year ago. Still, a gross of more than $11 million and an average of $61,718 are solid numbers during a pandemic.
quotes by James Platz / story by Dave Briggs
The second session of the Lexington Selected Yearling Sale — held Tuesday (Oct. 6) at the Fasig-Tipton sales pavilion — was down 18 per cent in average and 14.5 per cent in gross compared to the second night of the sale in 2019.
The second session grossed $11,171,000 from 181 yearlings sold, meaning the average was $61,718. The session average was down from the $75,103 average from last year's second session. Compared to day two in 2018, the sale is off 26.3 per cent from the '18 average of $83,748.
Tuesday's gross was down from the 2019 second-session gross of $13,068,000 and down about the same 18 per cent from the second-session record gross of $13,651,000 reached in 2018.
Thirty-one yearlings sold for at least $100,000 on Tuesday, compared to 40 and 36 that hit six-figures in 2019 and 2018, respectively, during the second session.
Despite the decline in numbers — which was expected during a global pandemic — Randy Manges, whomanages the sale with David Reid, said the results have been beyond his expectations.
"With everything that's going on in the world, I think they've been terrific," Manges said, adding that he was pleased there was consistent economic activity throughout the second session.
"Consistency in the prices, in the activity and everything. That's what we're looking for," Manges said.
Tuesday's session ended around 12:20 a.m.
Manges joked the session was, "long," but he was pleased with the crowd and the prices.
"I thought it held up well again tonight. There was a lot of activity on the online service and we sold quite a few on there, I think.
A rep for online bidding company Proxibid said 13 horses, including the session-topper, were sold to online bidders on Tuesday for $825,000 in total bids. Through two days, $1.1 million has been grossed through online bidding.
"I wish people could be here, but I'm sure a lot of those people bidding online wish they could be here, too," Manges said.
Reid said that considering the challenges presented by the COVID-19 pandemic, the sale's flow was good.
"With the expanded bidding areas and the online… maybe it's just a tick slower, but, that being said, I think it's beneficial for a lot of other people. We're achieving good results under the situation and we're just going to have to adapt," Reid said.
"There was definitely a lot of activity on the Internet tonight," Reid said, "and I would assume that's going to continue that way the rest of the week.
"It results in more bids for the sellers and results in more satisfied customers for people that can't be here. We just hope that the platform works to their satisfaction and we're happy to have them engaged and enjoying the option."
Trainer Tony Alagna said he, "thought it would be very spotty tonight and it has been. You can't hide a good horse and good horses are always going to sell for good money. There's some middle-of-the-road horses that were good value, good buys, and I tried to buy them.
"I'm a value shopper and there was a colt that sold earlier in the session for $17,000 that I thought was a very nice colt, so I try to find value where I can do the most with it. I don't buy anything that I haven't seen or turned out or like the pedigree and the individual and hopefully it all works out."
Through two sessions, this year's sale has grossed $26,408,000 — see Monday's sale wrap-up (full story here) — for 299 yearlings sold. The gross is down 16 per cent from the $31,274,000 reached in 2019 for 292 yearlings sold and down 0.5 per cent from the $26,551,000 fetched in 2018 for 265 yearlings sold.
The two-day average of $88,321 is down 17.5 per cent from the average of $107,103 through two days in 2019 and down 11.8per cent from the $100,192 average through two days in 2018.
The median through two days is $65,000. It was $75,000 through two days in 2019 and $85,000 through the first two session in 2018.
Kentuckiana owner and general manager Bob Brady said, "It's a very strong sale, very strong market, quite active bidding and buyers and I think we followed that up tonight. It's a little spotty in different places, but a quality horse is bringing what they are worth. I think the most important part is, under these conditions and the kind of year that everybody has had, we just really appreciate all the support. People showed up and actually participated and made it a really successful sale.
"To be able to come back and have the second-best opening night in history (Monday) night, it says a lot about the industry. There's a lot of positive things going on. In particular, the Kentucky program is taking a really big step in the right direction."
Northwood Bloodstock's Bob Boni said the second session was a good one with the numbers holding up.
"I don't know what anybody's expectations really were coming here, but I think it's been pretty much a normal sale," Boni said.
Last year, 108 yearlings sold for $100,000 or more through two sessions. This year, 91 yearlings have reached at least six figures through two days.
The second-session topper was Hip# 277, a Captaintreacherous filly out of Injeanous Style named Style For A Mile that sold for $225,000 to Dana Parham of Boca Raton, FL. The pacer was bred by All Four Won stable of Lexington and raised and consigned by Kentuckiana Farms.
"She's just a gorgeous Captaintreacherous filly. She has a Betting Line 2-year-old that's already gone in :51 and Tony Alagna trains it,"said Brady. "She is just a gorgeous, correct filly with an awesome video.
"On paper, there's a lot of depth to the pedigree. You get back to having Delinquent Account on the page and that's just a matriarch of a lot of top 10 horses. The session topper? I don't try to speculate on that. We just try to raise a good horse and hopefully get a fair price for them. I knew she was going to sell fairly well."
Hip #288, a Huntsville filly out of Big Mcdeal named Max Contract, sold for $200,000 to Andy Miller Stable. The filly was bred and consigned by Cameo Hills Farm of New York.
Hip #314, the third last horse to sell on Tuesday, fetched $200,000, as well. The Chapter Seven colt out Mrs Frank named Zappa was raised and consigned by All American Harnessbreds and sold to trainer Marcus Melander, agent for SRF Stable.
Two yearlings sold for $190,000 — Hip #225 Muscle Mavarick, a Muscle Hill colt out of Ava Marion consigned by Preferred Equine that was sold to Bill Donovan of Delray Beach, FL. and Hip #164 Clenched Fist, a Walner colt out of Smexi purchased by Andy Miller Stable, Inc. out of the Kentuckiana consignment.
"He's a really nice colt," Brady said. "That's a Walner colt out of the mare Smexi. who made half-a-million dollars. He was just a very athletic colt, very sharp looking and got over the ground the right way with a lot of trot. So, we wish them the best of luck."
Miller said Clenched Fist, "was one of our picks for the night, so we went after him a little more aggressively… We went out to Kentuckiana and looked at him a couple of times and turned him out and really loved him."
Northwood Bloodstock sold Hip #141 Sweet Omen, a Sweet Lou filly out of Omen Hanover, for $185,000 to Yankeeland Partners LLP of Frederick, MD.
"We didn't have that many tonight, but she's a very, very sharp, very racy filly," Boni said. "It's a big pedigree, with a Breeders Crown winner, so that alone is going to step her up and she's a very athletic filly."
Andy Miller was the biggest buyer on Tuesday with $792,000 spent on nine yearlings.
"I think (the sale is) very strong," Miller said. "The higher quality horses are selling very well."
Through two sessions, Miller is also the leader buyer with $2,137,000 spent, in total, on 14 yearlings. Nancy Takter is second through two days with $1,628,000 spent on 14 yearlings, followed by Ake Svanstedt ($1,057,000 on seven yearlings) and Burke Racing Stable LLC ($920,000 on nine yearlings).
Alagna, who is eighth among buyers with $702,000 spent, total, on 10 yearlings through two days, said his purchasing decisions depend on what he's already acquired.
"The first two days we kind of picked out what we were going to take a run at and every horse we buy dictates the next one we buy, so if we end up with three pacing colts or pacing fillies or whatever, then we're trying to fill slots with the opposite," Alagna said.
"We'll try to go down the list, but we won't buy a colt or filly just because we need it, we'll buy what we like pedigree-wise and sometimes there are stronger colts and sometimes there are stronger fillies. It depends on what we get and what we get beat out on, too."
Preferred Equine led all consignors Tuesday with $3,055,000 in sales for 42 yearlings.
"It was a fast and furious night with a lot of head going through the ring, but overall I think we had a reasonably good night," said Reid, wearing his Preferred hat. "I definitely felt there were some pockets or some spots when it was just getting a little pickier, maybe poor placement on my part or whatever, but overall I still felt it was fairly healthy."
Through two days, Preferred also leads the consignor list with total sales of $5,675,000 for 62 yearlings sold. Hunterton is next among consignors with $4,293,000 in sales through two days, followed by Kentuckiana with $4,101,000 in sales.
By average, Concord Stud leads all consignors with three of more yearlings sold with an average of $124,357 for 14 sold. It is followed by Kentuckiana ($124,273 for 33 sold), Northwood Bloodstock ($115,333 for six sold) and Hunterton ($104,707 for 41 sold).
"The catalogue is very good this year, the quality of the horses is good," Manges said. "We've got some new sires, that always helps. And the catalogue holds strong, through (Wednesday) and Thursday. Then there's a whole new set of circumstances with the regional horses and we have a really good bunch of Ohio-bred horses. We don't have as many Indiana horses, but there's some good ones. We're very pleased with the quality of the book this year."
Tonight's (Oct. 7) third session of the Lexington Selected Yearling Sale will feature 181 yearlings. It begins tonight at 7 p.m. at Fasig-Tipton. For more information about the sale, please visit: http://www.lexingtonselected.com.