Two weeks after profiling Keith Waples, we put the spotlight on another legendary Waples — his cousin, Ronnie.
by Murray Brown
What does one do after writing a column on the man who is one of the most influential horsemen of all time – the living legend Keith Waples (full story here)?
One attempts to write one on a man carrying the same name who in terms of statistics and statistics only has even more on his resume than his cousin Keith — that being Ron Waples.
Like Keith, Ronnie Waples is a member of both the Canadian Horse Racing Hall of Fame (1986) and the Harness Racing Living Hall of Fame at Goshen (1993).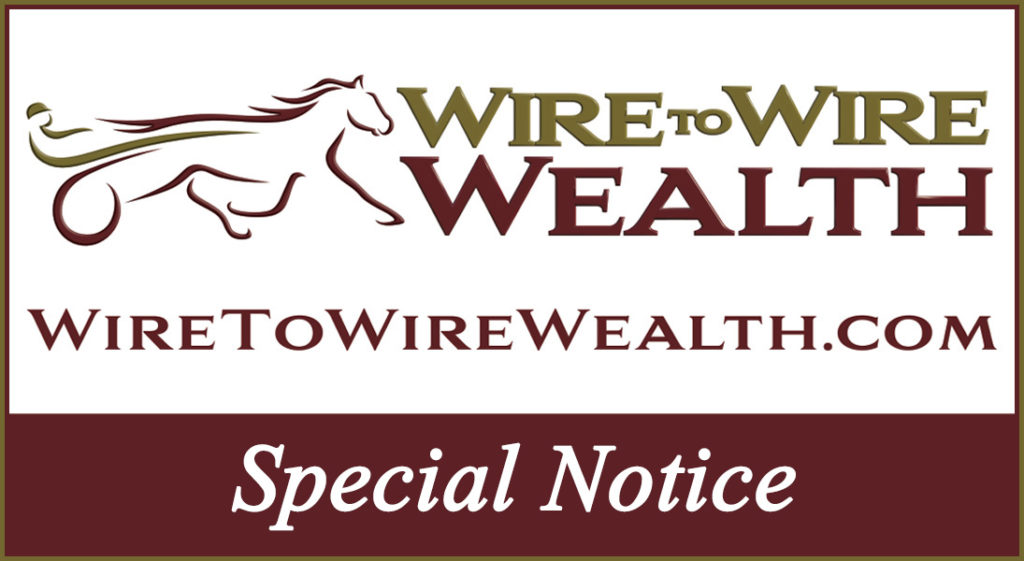 He has driven the winners of 6,923 races and $74,379,689 and trained the winners of 2,205 races and $3,984,278. Keep in mind, though, that these statistics are far from inclusive, since he was actively training and driving well before they began keeping these numbers.
He has driven the winners of just about every classic event in both Canada and the United States.
He began as a farm boy in the small town of Ebenezer, ON. The town consisted of the Waples Farm at the top of the hill, three Feagan farms beneath it and a church.
He wanted to get out of town. He did so primarily to escape an unhappy home life. In retrospect, the rift was between his father and him because his father worked with and was primary interested in machinery. Ronnie was consumed by horses. He loved everything about them. His father considered them a waste of time.
But Ronnie soon discovered what he was born to do — become a horseman. Not only a horseman, but a horseman both trainer and driver who was among the greatest to don a set of colors and carry a whip.
At 15, he left home. He describes himself as basically an unmotivated kid who was a bit of a screw up. He hated school and wasn't happy at home. He really wasn't sure where he was going and what he wanted to do.
He ended up staying a few days with a friend Jack Turner who worked at a local post office. Jack asked him, "Why are you here and what are you going to do?"
"I'm here because I left home and I'm going to go see my cousins Keith and Murray in Coldwater and see if I can get a job with them working with the horses."
Keith asked him if it was alright with his parents. Ron said that he didn't know, but that he had told them that he was leaving. Keith then checked with them and got the okay and gave young Ronnie a job.
He started as a groom, became a second trainer and was often sent out to drive some of the horses.
Although he was treated well by Keith, there was no such thing then as a driver making money from driving an occasional winner or more.
Keith often asked Ronnie him how much a purse was. His stock answer most of the time was, "I don't know."
"When I started to catch drive as a professional I sure learned, because the five per cent of whatever the purse was going to be my bread and butter."
He worked for Keith and Murray for 10 years.
"Everything I've accomplished in the horse business derived from working with them."
"Keith was only a teacher in the sense that if you watched him and duplicated the things that he did with his horses, there was no way you couldn't learn."
At the age of 25, Ronnie decided to go out on his own.
For the next 10 years or so, he concentrated on racehorses with essentially very little interest in yearlings.
His first good horse was Caroldon's Knight who carried his small stable for a few years.
When asked about the reasons for his incredible success. he ranks them as follows:
1. Working for Keith and Murray for 10 years.
2. A group of great and loyal owners.
3. The luck of being associated with wonderful horses.
4. A group of great caretakers and trainers.
"I've been an incredibly lucky guy ever since I entered the business. I've had a lot of great owners, the best of which was man named Joe Panaro. He was an owner in my stable for 35 years. To Joe, I could do no wrong. Anything I said or recommend was great with him. I went to Harrisburg once with a budget of $150,000. I ended up spending $260,000. I told Joe about it and it was fine with him. One of the horses was Alba Time who we gave $100,000 for. He wasn't worth anywhere near what we paid for him and we ended up selling him for $20,000. That was okay with Joe. He said, 'We at least got something for him.' The other horse we bought was JDs Buck for $160,000 and we ended up making $1.6 million with him.
Ronnie, you are one of the greatest drivers of all time. How did that come about?
"I think that top drivers are born not made. You have to have some sort of innate talent or touch with horses. I believe I had some of that. But I think I learned most from watching other great drivers. Of course, Keith was number one. I was also a huge Herve Filion fan. Of course, Herve loved Keith and his driving style was reminiscent of Keith's, but there were some differences.
"I've known John Campbell ever since we were both kids. I knew his father and grandfather. John was a natural and a great student and asset to the game. There are many who might say he was the greatest ever. The numbers certainly say so.
"Bill O'Donnell was as cool in the bike as anybody whoever sat behind a horse. We are still great friends and we and our wives enjoy spending time together.
"Among today's drivers there are more outstanding ones than at a given point of time that there probably have ever been. My number one choice would likely be my buddy David Miller. But there are others — Gingras, Sears, the two Down Under guys McCarthy and Dunn are having phenomenal seasons, Tetrick, Scotty Zeron, Joey Bongiorno appears to have a good future ahead of him. Up here, Doug McNair and Louis-Philippe Roy have good hands, good judgment and are able to make one go."
So, let's talk about horses. Who is your favorite?
"I suppose it would be the last one I won a race with. I've been privileged to drive so many great horses at one time or another, some that I've been personally involved with, others just as a 'catch up driver' as Mr. Simpson would call us. But seriously, I suppose when push came to shove it would have to be Ralph Hanover. After all, I won the Triple Crown with him. He was the perfect racehorse. You could do anything with him — leave, come from behind, sit in a hole, anything. Most importantly, I guess I owned a good piece of him. When he won, there were multiple checks coming into my bank account."
Sugarcane Hanover – "Just a wonderful horse who had a great foot of speed. He could do anything, but he was at his best coming out of a hole. When you said go to him you better make sure that you didn't fall out of your seat, his rate of acceleration was that fast. He could accelerate faster than any other horse I've ever driven and that includes pacers. As Joe Biden would say, "here's the story" on Sugarcane Hanover. I had a bit of a row with John Simpson who owned him because of something he had said about me the previous year. At Harrisburg, I confronted him, not in any way nastily, but I told him exactly how I felt. I told him that I wouldn't be buying any Hanover yearlings because of what he had said. That was that. The next year, can you imagine? His son Jim put me up behind Sugarcane and most of his better horses. I asked Jim beforehand if his father knew about that. He said not only did he know, but he strongly approved of it. Of course, that was the end of my feud with John Simpson and Hanover Shoe Farms."
No Sex Please – "A wholly terrific trotter that is rarely talked about today. He was trained by my son Ron, Jr. Many thrills and big wins with him. I can't recall him ever going a bad race. Ron, Jr. took him and me to Sweden to race in the Elitlopp there. What a great time we had."
Park Avenue Joe – "The Hambletonian in which he and Probe dead heated was the first time I had ever driven him. John Campbell previously had, but he had opted off of PAJ because he was driving Peace Corps, the overwhelming favorite in the race. Coming around the last turn at The Meadowlands I was on top while Probe was stretched out outside of me. I was so confident that Joe would draw away from Probe. But Probe kept coming and coming. He eventually caught me, but he never went by."
Prakas – "Bill O'Donnell had a full schedule of stakes drives elsewhere, so he asked me to drive him in the Gold Cup at Vernon. But he made himself perfectly clear. This was the first and last time he would let me drive him. The next week he was in the Hambletonian, which he won. He was perfect."
Devil's Advocate – "She wasn't close to being one of the greatest horses I've ever driven, but she was a project. Jack Darling had her and she was a renegade. She was just awful. I was helping Jack out, this taking place 15 years after I had stopped driving and five years after being a trainer. Jack asked me to try straightening her out and see what I could do. I quickly realized there were two things I could do, either fight with her in which case she would probably win or try to get along with her. If the latter worked, we would both win. Jack had washed his hands with her. She was to become, figuratively, my horse. After many hours of work trying to sweeten her up, I got her to at least stay on the racetrack without running off. She began to show enough manners and ability to be able to qualify. I asked Jack who he was going to put down to drive her. He responded, 'You of course, she's your horse.' I told him no. I hadn't driven competitively in 15 years and trained in five. 'The doesn't matter,' Jack said. 'I want you to drive her.' So I did and she did well. We went through the same scenario when she was in to race for money. But there was one major stipulation on my part. The first time I drove her badly, I was to be fired. Thankfully that didn't happen and she went on to win over $100,000. One of my fondest memories ever, was when she won an Ontario Sires Stakes at Mohawk. There's a balcony over the paddock where the drivers gathered to watch the races. When she won the OSS there, as I was driving her off the track, there were all the drivers on that balcony clapping for me as though I had just won the Hambletonian. If I said that didn't bring tears to my eyes, I would be lying.
"Other wonderful horses that I've been privileged to have driven include Peace Corps, On The Road Again, Cams Card Shark, Huggie Hanover, Presidential Ball and of course Fake Left, who I picked up and won the Little Brown Jug with only because Mickey McNichol had been hurt in a previous Race.
Let's talk about some of the owners, trainers and characters that you've had dealings with.
Bill Robinson – "It was a real pleasure to drive for Bill. His horses were always ready, rigged up properly and winning was the motive."
Bob McIntosh – "Pretty much the same as with Bill Robinson. His horses were always ready and fit."
Billy Haughton – "WRH epitomized class. Here's a couple of Bill Haughton stories for you. I was flying to Ottawa for the ice races on the Rideau Canal. My son, Randy, then quite young, asked if he could come along. I, of course, said sure. He asked who else would be there. I racked off some names and said that Billy Haughton would also be there. He didn't believe me. 'There's no way that Mr. Haughton with a stable of almost 200 horses in sunny Florida would come to Ottawa in sub-zero temperatures to drive a few cheap horses.' Sure enough, when we got there, there was the one and only WRH. Randy was starstruck. He couldn't believe it Billy Haughton had come to Ottawa in the dead of winter to drive. 'What about me?' I asked. 'You are alright,' he said, 'but you aren't Billy Haughton.'
"Here's another one, Randy and his mom Josephine were leaving Mohawk one night. On a bench outside WRH and Joe O'Brien were talking. Randy's mom told Randy to approach them and get their autographs. Of course they were willing. They got to talking and Randy told Billy that he was my son and that he was going to be a driver one day. WRH reached into his pocket and gave Randy something. He came back and showed his mom a stopwatch that Billy had given him. 'You can't take that,' Josephine said. 'It's too valuable. You've got to give it back. I'll go with you.'. When they went back Billy wouldn't take it back. 'This young man is going to be a driver,' he said. 'If he is going to drive horses, he needs to have a stopwatch.'
Richard Dinner and Norm Keyes – "They were known as 'The Blind Man and the Fat Christian.' Richard, because he was pretty much blind and Norm because he occupied a senior position in his church. They were partners of mine on many of the best horses I trained and drove. They were so much fun. Two great guys. Here's a funny story: Richard had met Fred Grant. He spoke of him to me. He described him as 'a succulent little morsel.'. I don't know how Dick would know, he couldn't see."
Murray Brown – "You probably never knew this. But I considered you to be my good luck charm. Most of the success I've had came from horses that I bought at Harrisburg, both from the yearling and the mixed sales. Each year, as soon as I arrived at the Farm Show building, I'd come to your office to say hello. When I left, I made sure to come to say goodbye."
John Hayes – "The Senator gave me my first chance to drive a very good horse with the greatest competition. I saw him at Greenwood one day and he asked me what I was doing that Saturday. I said nothing that I know of yet. He said, 'Good, I put you down to drive Keystone Pat for me in the JFA at Roosevelt, get yourself a plane ticket to New York.' It was my first chance in the big time. I was awestruck being among all the great drivers who I had idolized. I got lucky and won the race. The Senator thought so little of his chances that he wasn't even there.
"In the same manner that he was good to me, he could also get angry. I remember one time I was driving at Windsor Raceway. The drivers, among them Greg Wright and Ray Remmen were circulating a petition requiring racetracks to deduct the drivers five per cent to be paid directly to them. The reason was that a lot of drivers were just not getting paid for work that they did. I strongly believe that everyone should be compensated for the work they do. Even though I wasn't racing there, I agreed to sign. The Senator sought me out and asked me whether I had signed the petition. I answered that of course I had. '"If that's the case, you aren't driving any more for me,' he said."
Clint Hodgins – "Different than the rough, tough guy he is sometimes portrayed as being. Kind and helpful to anybody who needed it. Obviously, one of the greatest horsemen ever."
Ron Southall – "Oh, you mean Grumpy. He's a good friend. He has been in charge of Southern Oaks Training Center ever since its inception as the Simpson Training center. A good guy who does a good job. I wouldn't want his job though. Horsemen are horsemen. Some want the track harder. Some want it softer. Nobody is the same. In the words of Paul Simon though, 'You can't please everybody, so you've got to please yourself."
If you had someone to drive one for you with a horse going for a million dollars, who would you pick?
"I suppose that saying that, I'd go for my son Randy, after that I'd probably opt for David Miller. There are several others out there that wouldn't hurt my feelings if I got them. However, I don't believe all drivers are meant to drive big horses in big money races. In the same way, I think I'd sooner sometimes have the overnight driver drive one for me than the great Grand Circuit driver. In somewhat the same manner not all drivers are meant for all horses, nor are all horses meant for all drivers."
What does Ron Waples' regular day consist of?
"I get up, have breakfast and then my dog and I go for a long walk. I manage to keep busy. Occasionally, I am asked to ride for someone. I usually say yes, but I admit to being concerned. I cannot handle a horse near as well as I used to. As soon as I realized that, I stopped driving. I'm probably close to the time when I need to stop riding as well. I couldn't live with myself if I got someone or some horse injured. Believe it or not, I also do the laundry. I talk a lot to friends. Billy O and I are pretty tight. We and our wives get together for dinner as often as we are able to. I still follow the horses, especially the young ones, quite closely."
You had a bit of a health scare last year.
"When I had a colonoscopy they found a cancerous polyp just inside the lining of my colon. They operated and removed it. It was nothing. I feel fine. I'll have another colonoscopy this Fall."
What about the future for Ronnie Waples?
"(My wife) Liz and I generally take our travel vehicle down to Southern Oaks where we park it and stay for the winter. Liz goes to work for the Pinskes. I mostly loaf and cause trouble. I sometimes help out riding for someone who might need some help. We make a campfire each night and hang out and have a beer or two with friends.
"We always stop in Nashville where my daughter Megan is studying to become a doctor nearby. We usually spend a couple of days with her there.
"I have some concern about how we are going to do it this year though. The customs authorities both in the U.S. and Canada are not on the same page. The way it appears now they are not allowing Canadians to enter the U.S. by motor vehicle unless you are lucky enough to hit the right agent and he lets you go through.
"The left hand with both countries has no idea what the right is doing.
"On the other hand, we can easily enter the States if we choose to fly. It makes no sense.
"I suppose that if worse comes to worst we can fly to someplace in New York and have the vehicle shipped there and we can pick it up and proceed south.
"We generally stay through April and then repeat the process all over again."
Have a question or comment for The Curmudgeon?
Reach him by email at: hofmurray@aol.com.