Interviewing 96-year-old legend Keith Waples is a dream assignment. The multiple Hall of Famer has had a profound impact on a huge number of the sport's greats — though you won't hear Waples talk about that.
by Murray Brown
The first recollection I have of Keith Waples was of him driving an overnight trotter by the name of Ben Boy somewhere in the early '60s at Richelieu Park.
Ben Boy had previously won the Maple Leaf Trot in 1954 for Ruth Wray of Schomberg, ON, the mother of well-known Canadian racing participants Joanne and Jack Wray, but by the time I saw him he was just a solid overnighter.
Back then, harness racing was well covered by the leading Montreal English speaking newspaperThe Montreal Star. The Star had two writers — Baz O'Meara and Elmer Ferguson — who not only covered the sport well, but also were avid fans of it.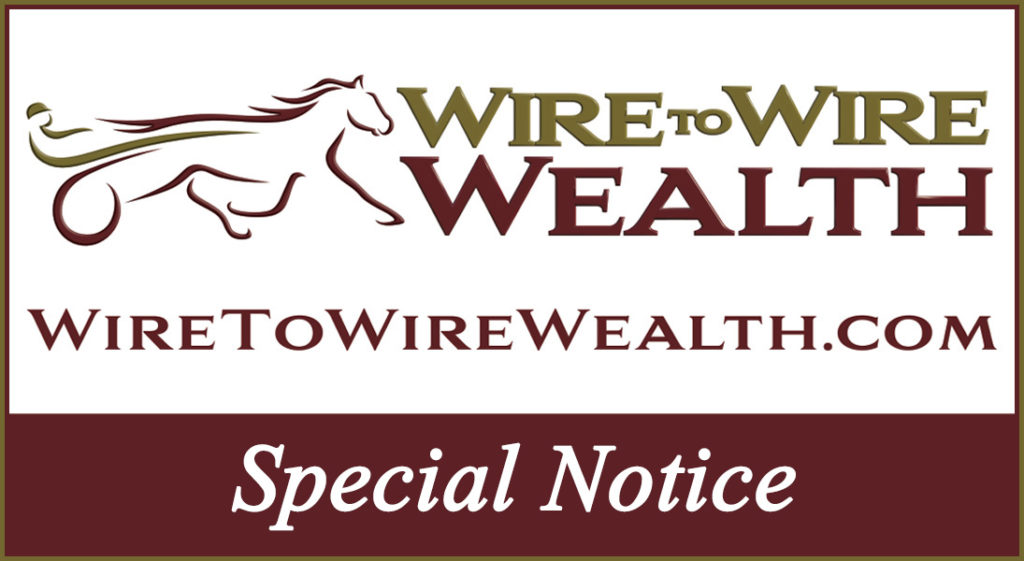 The French-speaking Montreal newspapers, specifically Montreal Matin and later le Journal de Montreal covered it far more thoroughly. It wasn't unusual to see three or four full pages devoted to racing, most of it to Blue Bonnets Raceway or Richelieu Park, whichever one was racing at the time.
Their leading harness racing writers Jacques Beauchamp and Bob Chicoine were also great fans of the sport.
Back then, Keith Waples was the man or more specifically "The Thin Man" as he had been named by O'Meara.
There were all the other drivers and there was Keith Waples at the summit.
It is no accident that he is a member of both the Canadian Horse Racing Hall of Fame and the Harness Racing Living Hall of Fame at Goshen. Both honors, and several others including the Canadian Sports Hall of Fame, were also well earned.
I was privileged to have a conversation with the soon-to-be-97-year-old legend this past week.
Knowing of Keith's aversion to publicity, especially publicity relating to himself, I figured there was little or no chance that I'd get to speak with him, especially as a "journalist."
I have known him for over 50 years, but never as someone who was to be a subject of a story. Heck, I'd never even written stories with anything resembling regularity until last year. I never considered myself to be a writer. For the record, I'm not sure that even now I am.
I'd see Waples at Harrisburg most years. We'd talk for a little while. We would sometimes reminisce a little. He'd ask me if there was a particular yearling I liked, but that was about it.
A little over a month ago, I had a conversation with a friend who asked me why I hadn't done a story on Keith Waples. "The man is a living legend," he said. "You owe it to history to do it."
Of course he was right. In terms of being a legend, he, Herve Filion and John Simpson Sr were the most legendary people of the sport I had been privileged to have a relationship with.
The question hit me as though he were asking, "Why hadn't I taken a spaceship to Mars." I would love to do both, but the chances of either transpiring were probably about the same.
Then I got to thinking "Why not?"
Enter Karen Hauver, Keith's daughter who is a friend of mine on Facebook. I sent Karen a note on Messenger asking if she thought that there was a chance that her dad would be receptive to the idea.
Karen agreed with me that people of this generation were mostly unaware of what a great influence her father had on the sport and more specifically as a teaching model for many young drivers. His history should not be left behind.
Karen said that she had her doubts, but she agreed to ask him. A day later, I received a note from her telling me that not only had he agreed to speak with me but that she really hadn't even had to coax him too much.
Was I ever excited! Here I am an old guy of 79 and I'm as excited as a young hockey fan getting to spend time with Bobby Orr.
How to start? How about at the beginning? I mentioned to him that I had heard that he had first jogged his first horse at the age of 4 and had won his first race at the age of 12. He said that the former might have been a slight exaggeration, but that in fact he had won his first race at the age of 12 driving a free-legged pacer named Grey Ghost.
I asked which was the best horse he had ever driven, expecting the answer to be Tie Silk, Strike Out or Mighty Dudley, the first horse to break the 2:00 barrier in Canada.
It was none of the three, but rather Silver Almahurst which he acquired at the age of 67 and who went on to earn over a million dollars and became his first sub-150 performer.
We talked a little about the three horses I was most familiar with.
"Mighty Dudley, who I co-owned with Jacques Girard was a good horse, but he wasn't as good as he is generally given credit for being, due to that first 2:00 mile in Canada. Champ Volo, who I was racing at about the same time, was better and more consistent. He was a real warrior who always came prepared to race.
"Strike Out was about as handy and well-mannered a horse as any I've ever driven. You could do anything with him. His versatility and great manners made him a lot of money.
"Tie Silk was a top trotter, maybe not a great one, but very good. Things worked out for us on the evening of the International Trot. Su Mac Lad was the heavy favorite, but we managed to get a decent trip and I went by at the end."
I remarked that I had watched the replay of that International Trot (available here) very shortly before speaking with him. The one thing that stood out to me was that while Stanley Dancer driving Su Mac Lad was furiously whipping and flailing, that Keith never used the whip once on Tie Silk. Keith's response was that I was giving him undue credit.
"Tie Silk was a horse that you couldn't get results from if you used the whip. If you hit him, he would stop trying."
Nevertheless of the many hundreds of times I saw Keith Waples drive I rarely saw him use the whip. When he did, it wasn't used to any great degree.
When he had Tie Silk, he was the contract trainer/driver for the Miron Brothers, then by far the leading racing stable in Canada and one of the most powerful in all of North America.
"It was a great opportunity to be associated with so many good horses and it was certainly good for the pocketbook, but the lifestyle was not for me. I guess I was essentially a homebody. I like to sleep in my own bed, get up in the morning and have a purpose. I wanted to be able to supervise my horses, take care of them, not be traveling around from racetrack to racetrack and city to city every day. I suppose that's probably the main reason why I never took my whip and colors to the New York tracks. I guess at heart I'm a country boy."
Keith, there was a time in the '70s where you really cut down on your racing activities and went into racetrack ownership and management.
"From a financial standpoint it was very rewarding. Jim Keeling was a long-time owner and friend He was a great person and a great businessman. He invited me to be his partner along with Doug Gillespie of Owen Sound. Our first venture was in building Orangeville Raceway which became quite successful.
"Then we expanded out west to British Columbia and opened Cloverdale Raceway(now Fraser Downs) and Sandown Park. Jim's son, Tony, was also a huge factor in those enterprises.
"We did well on those ventures, but I missed the horses and went back to them. I felt an emptiness in my life not working with horses each day. I doubt that there has ever been a time in my life since then when I didn't have an involvement with a horse or more than one."
(Unbeknownst to Keith someone posted a YouTube video of the then 95-year-old training a 1:57 mile at First Line Training Center in 2018).
Keith, I know that by nature you are a quiet and unassuming person who is quite reluctant to blow his own horn, but saying that, do you have any idea of the great esteem in which you are held by virtually anybody who has had any contact with you? Names like Filion, Lachance, Chapman, Gilmour, Wellwood, Feagan, Kopas, Dostie, Hayes and numerous others.
As perhaps would be expected, Keith's response was no response. As I said above, he is not one to blow his own horn.
If I were asked, other than his great skills as a horseman how would I best describe Keith Waples. The one word I would use would be "teacher."
But Keith Waples is not a teacher in the usual sense, that is, by instruction. He is a teacher by setting example. As his cousin, Ronnie Waples said to me the other day, "I worked for Keith and his brother Murray for over 10 years. He didn't tell me how I should do things. But if you followed him and did things like he did, both on and off the racetrack, you would learn a great deal."
I asked Keith about some of the sometimes verbose characters such as John Hayes and J. Russell Miller with whom he had been associated.
"I preferred to let them do most of the talking. I did the listening. They were both very good horsemen. John Hayes had a knack for picking out good horses. I really appreciated him giving me the chance to drive Strike Out, especially in his win in the Little Brown Jug. Russ Miller was a brilliant man who would have been successful in anything that he attempted." (video here).
What was your greatest skill as a driver?
"I suppose it would be that I rarely would allow myself to become rattled. Knowing the horse and patience would also be very important."
What do you think about the lean-back style used by many of today's drivers.
"I've never been against progress. I suppose the theory behind it is that it cuts down wind resistance. If I were driving today and I felt that it would help me win more races, I'd certainly give it a try and adapt to it if necessary."
In the few days before writing this story I reminisced about some of what I knew about Keith from other horsemen and from some who I spoke with recently.
Herve Filion – One of my first recollections about harness racing's Babe Ruth was that in his late teens and early 20s he so admired Keith Waples, that before every race card he would go to the judge's stand and carefully watch the films (no video then) of every race that Keith Waples had been in the evening before. It was from these viewings that Herve picked up the ability previously only done by Waples to somehow pick up the bike a few inches in order to quickly create space for him and his horse.
Ronnie Waples – "To a very large degree, everything that I achieved in harness racing was learned in the 10 years or so that I worked for Keith and his brother Murray. If you watched and listened to what Keith said you had to learn. Here's a funny story that I remember. I was just starting to achieve a little success as a driver. One night I won three races on a single card. That was incredible to me. Here I was all pumped up and so pleased with myself. After the races, I came back to the tack room to change. Keith was sitting there. I expected him to say something about my three wins. 'Ronnie,' he finally said, 'Make sure the horses' water buckets are filled before you leave.' Little did I know that three wins, weren't all that much to a man who had previously, on three occasions, won nine races on a single card."
Mike Lachance – "Plain and simple, Keith Waples is the greatest horseman that I've ever seen and known. Maybe the numbers don't tell it, but to have seen and learned by watching him, I've never known a horseman who was as great a combination of a driver and trainer as he was."
John Kopas – "Keith is a man without a single shred of jealousy in his entire being. He was especially generous in his praise and support for any young people trying to make a future in the sport. I remember after winning my first race in 1974, he was the very first person to congratulate me. If a horse was capable of leaving the gate, he could get there as quick as anybody I've ever seen. He could drive in any manner — from in front, from behind. It depended on the individual horse and its competition. My dad and he were great friends. They shared many great times together, but on the racetrack generally friendship was forgotten."
Fred Grant – "Keith was very kind and generous to people, especially young people. I remember back in the '70s he was racing his stable at Blue Bonnets. He asked me if I would keep him company on the hundred or so mile ride to Rideau Carleton Raceway where he had three colts racing in two divisions of the Canadian Juvenile Circuit. Would I? Of course. Spending a few hours with Keith Waples, who would turn that down? He said that I might as well bring my colors along to help him warm up. He won with the two favorites of the three, but I was shocked to find that he had put me down to drive the other part of his entry in one of the divisions. Imagine, me a young kid being put down to catch drive one for Keith Waples. When I asked him about it he said, 'I wasn't going to give you a free ride to Ottawa without making you work for it.'"
What does the future hold for Keith Waples?
"I guess I've slowed down some. I'm going to be 97 on December 8. My wife Eileen and I are still planning to go to Florida for the winter. I'll probably have a couple in training with Gregg McNair and hope to get up to see them occasionally. I've been one of the very lucky ones. I've lived a very good life."
Have a question or comment for The Curmudgeon?
Reach him by email at: hofmurray@aol.com.