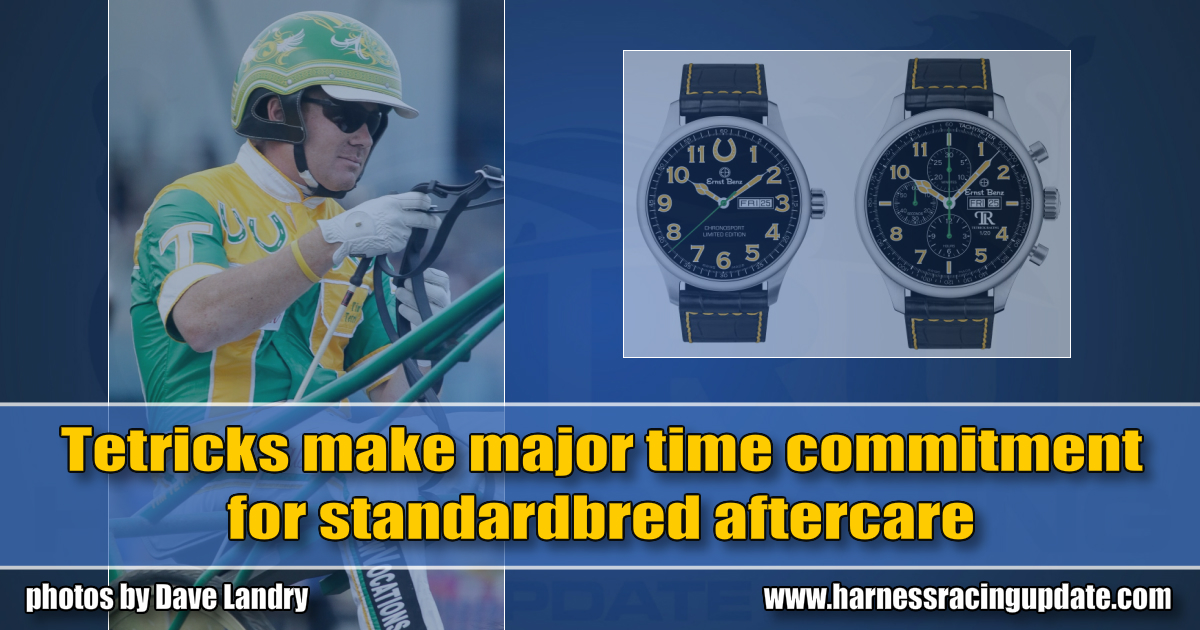 Tetricks make major time commitment for standardbred aftercare
Hall of Fame driver Tim Tetrick and his wife, Ashley, have donated the first of 20 Tim Tetrick-inspired timepieces created by Ernst Benz to be auctioned off at the Lexington Selected Yearling Sale in support of the Standardbred Transition Alliance. A portion of the sales of the other 19 watches will go directly to New Vocations Racehorse Adoption program.
by Chris Lomon
Tim and Ashley Tetrick are always willing to make time for horse aftercare. So, that's just what the couple has done. Literally.
The horse racing power couple is on a mission.
Standardbred aftercare has long been an important issue for the Tetricks, something that has become a top priority for the husband and wife.
So, when the opportunity arose to be part of a unique fundraising initiative, they didn't hesitate to step up for the cause with a special collector's item, one that's much more than simply a fashion statement.
The Standardbred Transition Alliance (STA) will receive the entire proceeds from the sale of a limited edition Tim Tetrick-inspired 47mm Chronograph Timepiece crafted by Ernst Benz.
Created to honor Tetrick's 2020 induction into the Harness Racing Hall Fame, only 20 watches are being made in the series.
The man with a seemingly endless list of accomplishments, awards and accolades donated the first watch, a timepiece that will be auctioned off with the money raised going to the STA.
It will hit the auction block as 'hip number' 127 at the annual Lexington Select Yearling Sale in Lexington, KY on Oct. 6.
The remaining 19 HOF watches and the Tetrick-inspired Chronosport will be available for purchase October 2020 at ErnstBenz.com.
A large portion of those sales will be directed to the STA-accredited organization New Vocations Racehorse Adoption Program.
The idea behind it all began in Scandinavia last December when Tetrick was theonly North American driver competing in the first ever Arctic Horse Race challenge.
"When we were in Finland in December, one of the things that I really recognized that was so different than the driving colony in the U.S. was the driving colony in Finland was predominantly partnered with large corporations," said Ashley. "I got home and said to myself, 'Maybe the sponsorship isn't the right way to go, but maybe we should start with a partnership.'
"A gentleman by the name of Don Hawk, who has been a standardbred owner for over 40 years – he's a good friend of ours – is a big NASCAR guy. I told Don about what was going on in Finland and what a great idea it is, and said we should do something here for charity. He called me up the next afternoon and told me about Ernst Benz, which is the face of NASCAR now. They do the customized watches that go with the charity cars, they do [NFL hall of fame quarterback] Dan Marino's watches, [singer-songwriter] Mary J. Blige's watches – he said that he'd give Ernst Benz a call. The next thing I know I'm chatting with Leonid Khankin, the CEO and creative director of Ernst Benz, about a contract to do a 20-watch series. I thought it was awesome and I couldn't believe it."
For the STA, whose mission is to inspect, accredit and award grants to approved aftercare organizations that acquire, rehabilitate, train and rehome standardbred horses, the Tetricks gesture is as impactful as it is impressive.
Even more so, said STA administrator Jennifer Daniels, considering the struggles charities are facing in the wake of the worldwide COVID-19 pandemic.
"I've always admired the way Ashley Tetrick jumps in to get a job done," said Daniels. "She's quick to identify problems, but when it's time to do the work, she's also the first rolling her sleeves up. Tim has that same attitude. He's not talking about it… he's just doing it. I point to the New Vocations patch he wears on his colors. He's always raising awareness.
"The issue of how best to support our retiring racehorses is not a new one. The Tetricks have long understood that we need to build a solid infrastructure to carry out this mission. Despite what many think, rehoming horses is not simple or easy. We have programs that are doing the work – it's time for us to support them."
One of the sport's all-time greats, Tetrick, who ranks third in all-time earnings with $223 million, hasn't allowed a hectic schedule to make aftercare an afterthought.
In fact, it has become even more top of mind these days.
"I've always tried to give back to the horses after their racing careers are over," said Tetrick, who has topped $10 million in purses each of the past 13 years (a record), and ranked among the top 10 drivers in wins for 15 consecutive years, beginning in 2005. "I'm happy to give back to these great horses, to be able to provide for them what they've provided for my family.
"I grew up around horses my whole life. This is my way to give back to some of the unfortunate horses, the ones that don't have that happy home. We eat, breathe and work around horses. Ashley has barrel horses, I own some racehorses and have a couple of broodmares. My family farm back in Illinois, there are 30 horses turned out there. Some are older racehorses, some are broodmares – we've always had horses. They've always been like children to us."
Ashley agreed.
"We are big advocates of aftercare," said Ashley. "We're also huge fans of New Vocations and what they are able to do. It continues to blow me away. With the STA, it's near and dear to both of us. Over the last 10 years, I've watched what the Thoroughbred Aftercare Alliance has done and it's brilliant. This STA is a great place for large donors to have peace of mind when they are making donations and knowing its going to a good place. The No. 1 thing for us is that we love horses, so it just makes it that much better. We truly believe in giving back to aftercare."
Don't expect that commitment to change.
Ashley said she is hopeful STA fundraisers become a staple at the Lexington Select Sale.
"When Leonid asked Tim if he wanted the first watch in the series, Tim felt it was more important that it went to charity. That's when I thought it would be great to have something like this become an annual tradition at the Lexington Select Sale, that someone brings an item to the table to raise money for the STA, to support what they're doing. I called David Reid, and he jumped right on the bandwagon. We're so appreciative of that."
As they are of their ability to help the sport's driving forces.
For the reinsman with more than 11,700 career victories, the one who ranks eighth all time in the category, the significance of a racehorse doesn't end after its last mile on the track.
"We thought this partnership with Ernst Benz would bring more awareness to the cause, and also enlighten others about the importance of aftercare. Anything Ashley and I can do to help these athletes, we want to do that."
It's something the Tetricks always have time for.