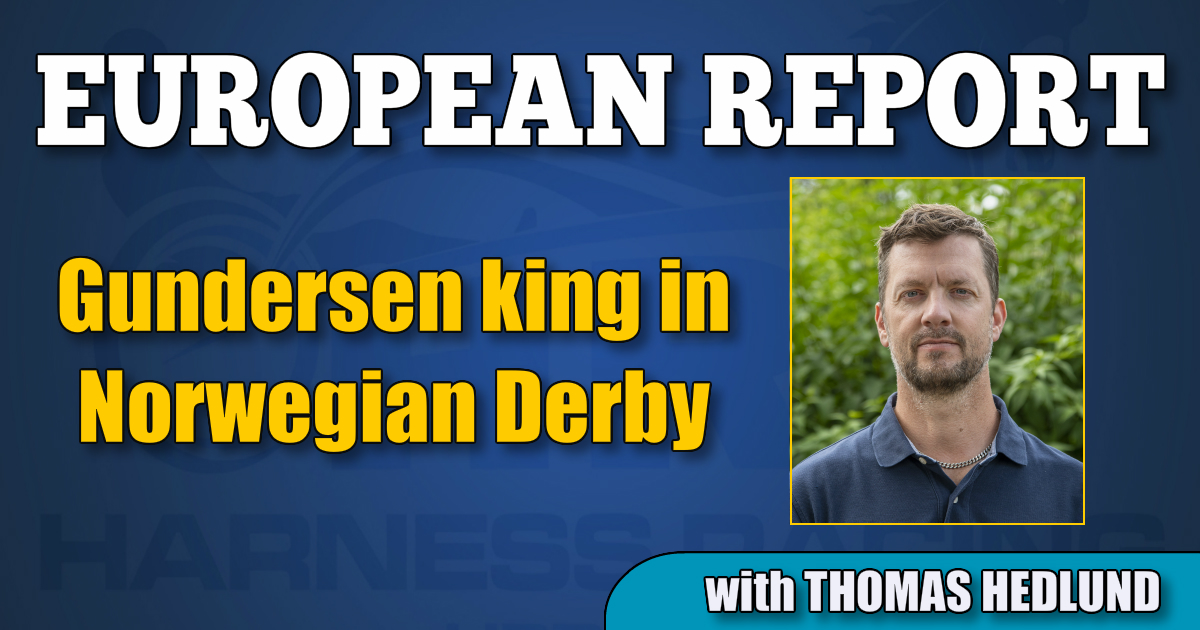 Gundersen king in Norwegian Derby
by Thomas Hedlund
Trainer Geir Vegard Gundersen and his son Magnus Teien had a successful day at Bjerke racetrack in Oslo, Norway, when $330,500 Derby for 4-year-olds was held on Sunday afternoon (Sept. 13).
Gundersen stable has been dominant in the Derby the past eight years since they've claimed the trophy six times, of which the three latest editions have been won by Geir Vegard Gundersen's horses.
This time, Trixton son Iggy B.R., paired with Magnus Teien Gundersen, was the weapon that grabbed the gold medal in the prestigious race and a second over trip resulted in a win by a head. Gundersen attacked three wide with less than a half mile to go and Iggy B.R. fought well against brave leader Golden Dream M.E., who finished second ahead of Te Amo Corazon. Mile rate over 1.6 miles was 1:59.3.
Bold Eagle son High Flyer was served a perfect trip in third over in $187,500 Norwegian Kriterium for 3-year-olds and when driver Erlend Rennesvik attacked three wide, the opponents were out of chance in defending themselves. High Flyer flew to the lead in the last turn and had several lengths advance at the last stretch, which was enough to win the race in mile rate 1:57.2 over 1.3 miles. Custom Cheval finished strongly as second, many lengths ahead of Mr Chocolate.