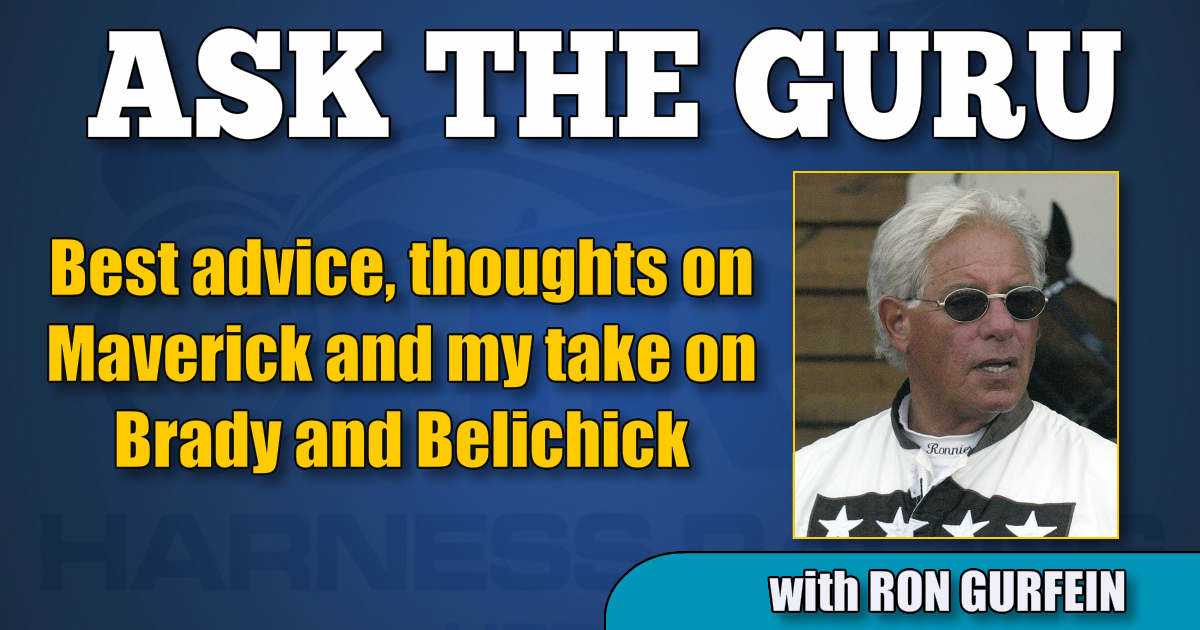 Best advice, thoughts on Maverick and my take on Brady and Belichick
by Ron Gurfein
Tidbits: In a stunning new development, two of the individuals indicted by the federal task force earlier this year have pleaded guilty to conspiring to unlawfully distribute adulterated or misbranded drugs for the purpose of doping race horses. Scott Robinson and Sarah Izhaki will both be sentenced next year. The case against Robinson includes the illegal importing of Erythropoietin (EPO) from Mexico.
These drugs were sold right on the Internet through the website horseprerace.com.
I feel a plea deal in the wind, as just his credit card receipts could cause a tidal wave.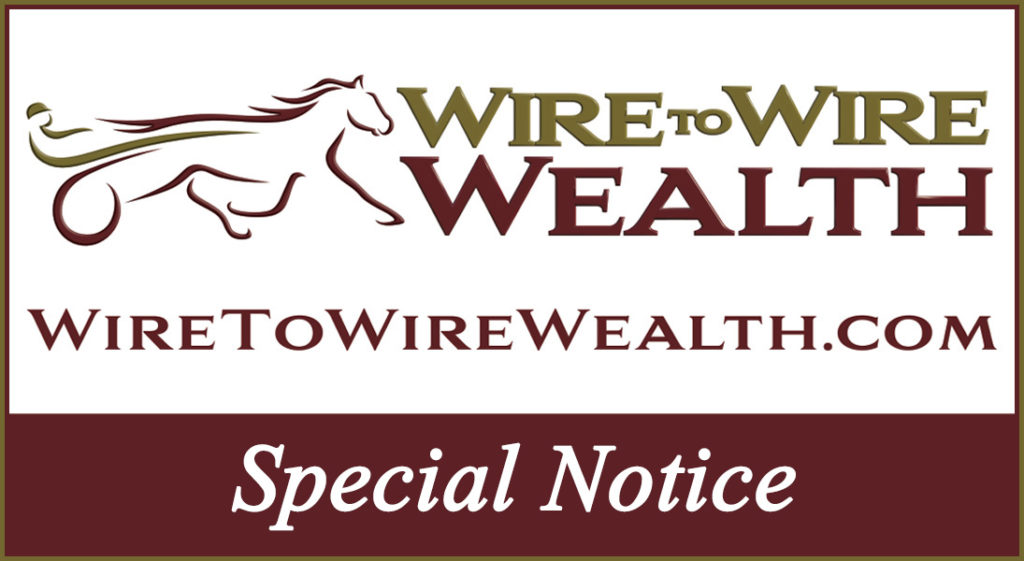 * * *
In regard to Pandolfo the Baffert basher (full story here), I am not going to carry the war with Bob Pandolfo any further other than to say crying like a baby is not going to convince me or anyone else that you are right. I simply stated that a man is innocent until PROVEN GUILTY. You totally rely on hearsay and innuendo. You spout these ridiculous comparisons between a stable of 400 versus stables of 25. As of this day, there is no proof at all that Bob Baffert has ever intentionally administered a performance enhancing drug. That is the last of the story.
* * *
The Horseracing Integrity and Safety Act (HISA) and its provisions have been quite thoroughly discussed on these pages as well as many thoroughbred venues. I think Russell Williams is an excellent president of our national organization, and a very intelligent man. As a writer, I get lots of mail telling me to compliment Mr. Williams for the job he is doing.
However, I question his ability to arbitrarily become the voice of our business without proper determination of what we the harness racing population of the United States actually feel is correct procedure in the matter.
Personally, I signed on to support the act many months ago. Now we have a chance to do something in concert with our thoroughbred counterparts and Mr. Williams says, I am not going to let them take over our show. My friend, it's their show to begin with.
Does anyone think for a moment that the FBI was going to come in on their white horses and save harness racing from the bad seed we had planted within? It is because Jeff Gural and Co. hooked up with the thoroughbreds that saved the day. And you can trust me there is more to come from this alliance apres pandemic.
I must make what I think is a valid point to all of you that think we NEED LASIX.
Please do me a favor and go to your favorite trainer's barn and have he or she show you the Lasix horses and the non-Lasix horses. Unless the Lasix horse has been on the drug for just a short time the difference will be noteworthy. The Lasix horses coat will be dull, he will look like he is too thin and oft times be in a malaise. Remember the thoroughbred gets on average six shots of Lasix per year, our horses 36.
I realize that the naysayers point out the financial difficulties the law would bring to our sport. Obviously, this is not written in stone and as well as other peripheral passages that could be up for discussion. Anything can be adjusted but we must at least sit down at the table . It is of the utmost importance to the survival of our sport to be a part of this endeavor. We cannot have Russell Williams throw us under the bus.
* * *
Thanks to my friend John Roach for writing me to point out that the dam sire of GooGoo GaaGaa, Veeba Rova was in fact trained by Howard Beissinger. He says he was a Speedy Somolli from Akdov by Speedy count and did sire some nice horses.
* * *
Another interesting note from Craig Wilson on the 18-year-old broodmare question from a week ago. Something Royal, born in 1952, foaled a beautiful chestnut colt when she was 18.
His name was SECRETARIAT.
Bill Bigler asks: When you finally reached the top who gave you the best advice?
I learned a lot on the way up spending so much time on the road with Michel Lachance that certainly carries over to the time I hit success. He taught me much to keep me in healthy mode and stopped me from throwing in the towel and retiring on numerous occasions. There are 10 years difference in our age and Mike made no bones about the fact that he wanted to keep me around. To quote my dear friend, "If you retire now you will die."
That was about 20 years ago, so I am thrilled I listened to him. He also taught me to take care of my body, not to over eat and to always watch my weight. The end results are wonderful. Although I have had a considerable amount of physical problems, I have survived. Now, almost 30 days from my 80th birthday, I weigh the same as I did in high school, although not as tall, and feel pretty good. I give Michel 100 per cent credit for my physical appearance.
On the mental side, my friend Jimmy Takter gets a gold star for keeping my head on straight. He was my Guru. Whenever I came to him on how to handle a problem with an owner he had the answer. Jimmy is a great businessman. I am a terrible one. He truly taught me how to approach owners to result in a simple end to seemingly critical problems. He is, and was, wise beyond his years.
Then it come to my good buddy Dr. Rick Balmer DVM. He always gave me great advice — equine or life it was always of great quality.
An hour after winning my first Hambletonian, Rick was the first person I came into contact with going back to my barn. He was standing there waiting for me with another of his many words of advice.
"Ronnie, please remember the only things that happen when you make more money is that you spend more money."
Boy, was he ever right.
Howard Collier asks: What does The Guru think of Tom Brady or Bill Belichick? Which one was the main contributor to the New England Patriots dynasty?
Of course, a definitive answer is impossible at this early point of the season, but to this writer the answer was easy even before the start of the season.
Tom Brady is the greatest quarterback of all time. At 43 years of age it is evident he still brings that rah-rah attitude to the locker room and ignites his fellow players.
Throw out Sunday's debacle. I think Tom was terrific. It's the Bucs vs. the Saints for God sakes. Do you think for a moment that if not for Brady's debut anyone would give the Bucs a chance? I personally thought they would win. He threw the ball well and completed some great passes. The two picks were not his fault. They were errors on the routes run by the receivers. It will be fine. Give it a while. Short training camp, no fans, it's all strange. The man will prevail.
On the other hand, I didn't see much sterling about Belichick's performance against the lowly Dolphins at home. If it wasn't for the legs of the reinvented Cam Newton the results could have been reversed. Miami on the other hand has no quarterback, no offense and no run defense. Other than that they are a great team. Stay tuned.
Paula Rappaport asks: If you were the trainer of Maverick what would you do to make him great?
If I was the trainer I wouldn't be as upset as you because Tony Alagna has just won the Hambletonian with Ramona Hill, a definite candidate for Horse of the Year, as well as 25 other top horses to help feed his family. He is winning stakes races all over the map.
That said, I would be concerned as I am sure he is. There is something radically wrong with the colt. I watched him train all winter and praised his gait and attitude all the time. Today, he is not the same horse.
I did watch him closely on Monday at the Red Mile. He was good almost to the quarter and that's all she wrote. It was downhill after that . If he was half right, he is not giving up the lead after a :59.3 half at the Red Mile. Something awful happened.
He either chocked, bled or tied up and as I write this column I am positive Tony knows the correct answer. I only hope that the problem is repairable.
One way or another, one day you will see Maverick's best. Will he be another Greenshoe (his famed brother)? Probably not, but then again there has never been a colt that fast to this day and time.
George Lowenfeld asks: George wrote me a novel about his filly. I will take it upon myself in deference to my allotted space to ease the pain. He has a problem with his filly sucking air in her rectum. He eliminated wet towel procedures as already tried and asks what can I do.
Before I tell you to go buy a piece of overpriced equipment I will say try the wet towel my way. Start with a long piece of thick wet towel. After you place it through the crupper, tie a thick cord to the bottom of the towel and tie it tightly to the ring on the under belly of the harness, This in my opinion will work 95 per cent of the time.
If it doesn't, pick up the phone and call Big D's or try your local harness shop and ask for a Wahlsten mare air block butt plug. This covers both possible areas of air intake on the filly. They do make one for stallions and geldings strictly for the butt and has a larger area of coverage. I have never ever seen a horse that was sucking air that one of the above solutions didn't stop the problem.
Thank you for all your kind words. I will be in Lexington for the next three weeks, so if you have a question or just want to say hello please don't hesitate. Big weekend at the Red Mile with the finals of the sires stakes and millions of dollars on the line. Another great night of racing at a Woodbine Mohawk Park is also on the weekend menu. Have a wonderful week.
Have a question for The Guru?
Email him at GurfTrot@aol.com.