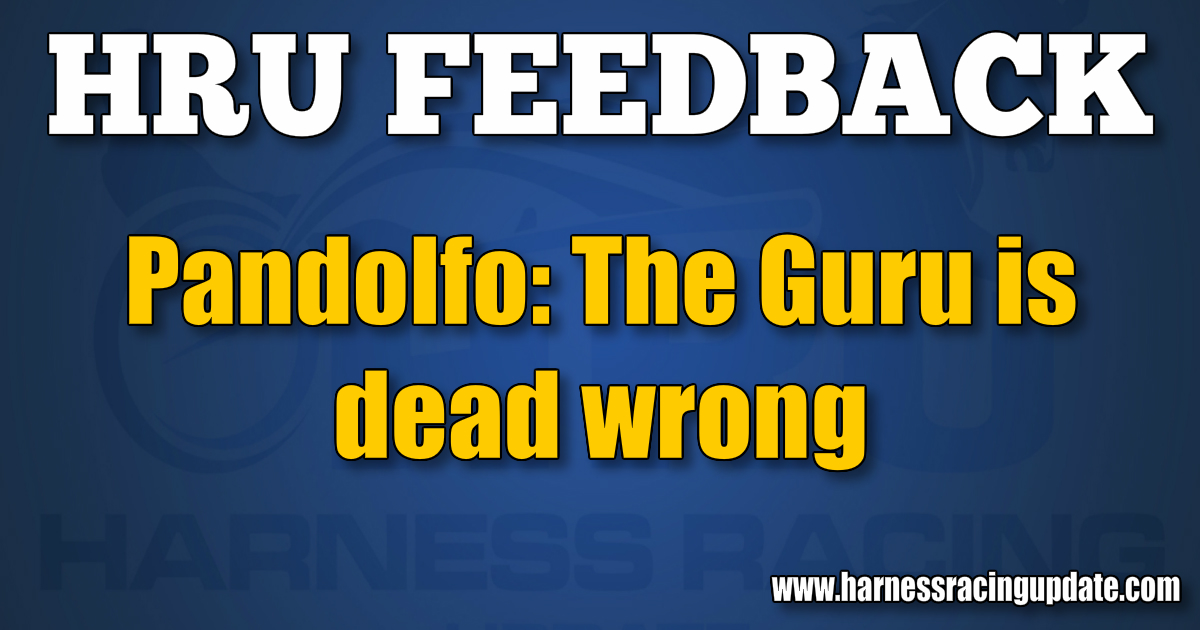 HRU Feedback (2020-09-13)
Pandolfo: The Guru is dead wrong
In his column (full story here), The Guru said that my Facebook comments about trainer Bob Baffert were slanderous and that I didn't list details.
First of all, it's Facebook, an open forum, so I can freely say what I want. Furthermore, I'm very confident that what I said was true. I noted several articles including information from the NY Times and other media outlets. In 2013, the New York Times published an article, "Breeders Cup – Trainers Aren't Helping As Drugs Damage Sport." (full story here). On that list, only five trainers had more than 20 drug violations, including Baffert. He's had several more drug violations since that article was published. Baffert's frequency of drug violations was 1 in every 545 starts, which, quite frankly, is an alarming number. In the NY Times article, there were only two trainers that had more drug violations per start than Baffert.
There are successful trainers that have never had a single drug violation. For instance, like Baffert, trainer Graham Motion has also trained over 10,000 starters, but Motion, a truly great horseman, has never had a single drug positive. Not surprisingly, Motion has been one of the most vocal trainers advocating for the Horse Racing Integrity and Safety Act.
In that same NY Times article, it showed that trainer Shug McGaughey also raced over 10,000 starters with only two drug violations. Christopher Clement, another great thoroughbred trainer, had over 8,000 starters and only one drug violation. There are actually many trainers who have had successful careers without accruing a lot of drug violations.
I also posted links to articles about the seven horse deaths in Baffert's barn in a 16-month period — horses that did not die from injury, they dropped dead. These articles are easily found on the Internet. To be honest, I have a lot of information pertaining to Bob Baffert's drug violations and the actions, or inactions of the California Horse Racing Board (CHRB). I'll post a lot more on this topic on my Facebook page this morning. Those of you who are interested can make up your own mind.
As many of you know, the Senate has proposed a bill called The Horse Racing Integrity and Safety Act, which may be voted on in the next few months. So this is a good time to analyze the use of illegal substances in both sports.
— Bob Pandolfo / Northampton, PA
Race-day Lasix needs to go
Despite what Mr. Russell Williams has to say, race day Lasix needs to become history. It is a powerful diuretic that requires a medical prescription. It looks bad to the fans because it is bad. Take a hot summer day. How would you like to be forced to lose 30 or 40 pounds of fluid hours before a strenuous race? And you at least have a choice. The majestic horse has absolutely no say in the matter. Most, perhaps all, jurisdictions outside of the U.S. have banned Lasix use on race day. Time to get rid of it in the U.S. Only the HISA (Horseracing Integrity and Safety Act) can effectively do what needs to be done.
— Gary Kay / Bensalem, PA