by Ron Gurfein
Tidbits: Another fabulous Saturday production at Woodbine Mohawk Park. Once again, the show and the interviews were top notch. I found even the lesser stakes on the card the Simcoe and the Sires Stakes were all exciting.
Special applause goes out to Atlanta and her connections for a brilliant performance as well as Ready For Moni who came from an absolutely impossible place to simply destroy the competition in deep stretch.
Kudos also go out to the Burke brigade for the fabulous almost last to first effort of Dorsoduro Hanover and of course the absolute romp of Atlanta.
Which brings me to another subject.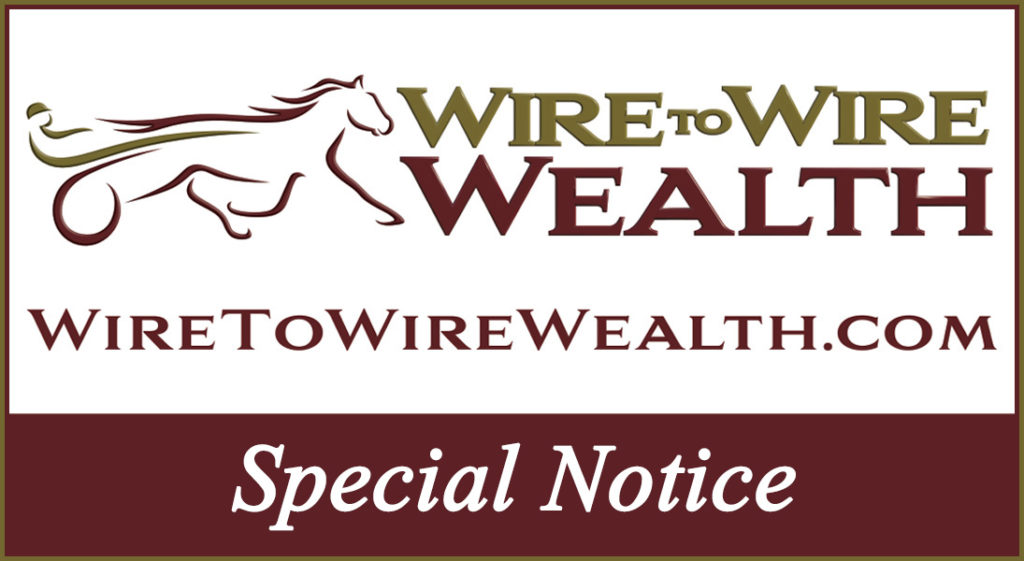 Saturday night because of the quarantine methods of the Canadian government (please don't think I am criticizing them in any way) we watched a myriad of driver changes. No question Dexter Dunn and Brian Sears were sorely missed.
I am not knocking the ability of the Canadian drivers. They are all very capable but there are no Dunns or Sears' north of the border.
What really bothers me is that on a night that the racetrack had a definite come-from-behind bias these guys were out there fighting for the front. To this writer the :52 half was inexcusable.
I have to give a shout out to James McDonald who was right on target from the start. Racing all his mounts from off the pace his charges averaged about 35-1 for the entire evening and he got money with most and was victorious in two big races lighting up the tote board. I am happy for his quick recovery from a racing accident and wish him continued success. His great finesse behind his mounts reminded me a lot of his ultra-talented brother Mark.
I hope the people that are of the opinion that it is solely a trainers game and constantly say "anyone can drive him he is just a great horse" learned a lesson Saturday night.
Pretty much the same was evident in the Kentucky Derby just an hour or so before.
Authentic, had been ridden in all his starts by Drayden Van Dyke, until his last start a winning one with Mike Smith. Prior to that event, Bob Baffert admitted that he was racing him short with the Derby on the horizon. Now John Velasquez jumps aboard and you know the rest of the story.
* * *
When a writer is privileged to be given a format for his opinion, he should be respectful and fact worthy.
Bob Pandolfo' s ranting on social media about Bob Baffert's use of drugs the day after he won his sixth Kentucky Derby is nothing short of deplorable. There is no place for hearsay in the words of a sportswriter or anyone else for that matter. If you are going to blatantly accuse you better have documentation.
Pandolfo's ridiculous and baseless claims are no better than "FAKE NEWS".
If he would say it's his opinion that judging from the horses performance he feels PEDs were used that's one thing. But to say unequivocally the man uses drugs as if he had it on film is nonsense.
To me this is close to slander.
Carter Duer asks: What do you think the elitist breeders think now with the emergence of Captain Corey in the 2-year-old division?
Timing is everything. Googoo Gaagaa had two major winners in Europe prior to the sale of Captain Corey or he never would have brought $150,000 and ended up in the very capable hands of team Svanstedt.
That said, you and your son John were on the money making the call to breed to him.
Frank Antonacci and his dad started with this idea years ago and the mixing of blood is to this writer a sometimes risky but often profitable exercise. I remember Sonny Antonacci breeding to a mare from the pacing family of Overtrick.
Not only is Captain Corey a top horse, but his sires progeny are still shining brightly.
Hail Mary, a Googoo Gaagaa from Dreams, a Victory Dream sister to Moni Maker has won the Swedish Derby as I write this column.
The presence of major outcrosses have produced many high quality performers in recent years. The cross of a pacing sired stallion to a trotting mare is similar to breeding a European stallion or having European mares.
Before I go further, I want all to note that Googoo Gaagaa, although from the sire line of Cams Card Shark, his dam was a trotter Veeba Rova, who if I remember correctly was trained by Doug Ackerman. He truly was not a purebred pacer as all the European columnists refer to him.
Back to recent major outcross success involving European horses, my own pet Delicious was by Cantab Hall from Ipsara Lb an Italian mare. She holds many Swedish speed records, International Moni is a foal of the great Moni Maker by the French stallion Love You. Ready For Moni is by the European stallion Ready Cash from Nothing But Moni a daughter of Moni Maker.
Top this off, last Sunday where the Trixton colt Cuatro De Julio owned and trained by Marie Ortolan Bar and world renown horseman Jean Pierre DuBois, ran off from a field in 1:51.4 at the Red Mile. One fifth of a second off the track and world record of Walner. FYI, Cuatro is out of a Ready Cash mare.
If anyone is interested, it is amazing the super quick Mission Brief trotted a full second faster 1:50.3 at 2.
David Mattia asks: Apart from the years before your success, did you ever buy a very inexpensive yearling because it checked off all your boxes? Have you ever stopped bidding on a yearling because it was too cheap? Who was the best trotter you have had that didn't look the part or show anything prior to racing that would get you excited about their future?
David, great questions and they are easy to answer because these are the kind of horses you never forget.
I have bought many inexpensive yearlings post success. Two favorites would be Great Success $8,000 at the Kentucky sale. He got a time trial record of 151.1, was fifth in the Hambletonian and earned $400,000. Vernon Blue Chip $17,000 at the Harrisburg sale, won the Merrie Anabelle and $543,000 and went on to be a pretty good broodmare.
Good story about Great Success. I was bidding from the back of the sales pavilion at the Kentucky Selected Sale ,standing near Jimmy Takter and Perry Soderberg. When they hammered the horse down to me, Perry had a grin on his face, I said, 'What's so amusing? He proceeded to open his catalog to the colts pedigree page and in big letters was the word 'Gurf.'
NO I have never stopped bidding on a yearling because it was too cheap. The only people that fall into that category are either guessing or did not do their homework.
Another fun story. We (me and the Antonacci clan) were at Harrisburg last year and I really only loved one colt. I originally priced the colt at $425,000 but a few little things bothered me and lowered my price just a bit. Well the colt walked in the ring and five minutes later the board still said $30,000. Frank looks at me like maybe something is wrong and I smile. He bids $35,000 and we both thought it would be a done deal. It must have been at least two minutes without a bid, a very long time to hold up a hammer but unfortunately from there it rolled. $240,000 was the end of the story. That would be the perfect example of not stopping when a horse is selling too cheaply.
The last part of your question will turn out to be the most interesting. There were two, the first I bought the second I inherited.
I loved a colt at Kentuckiana Farm in 2004 — Make You Mine a Self Possessed out of Victory My Way. In no way was he a beautiful individual, but had lots of pedigree and could trot really fast. As I learned years later, he was not a star in the eyes of farm manager Bobby Brady.
From day one he was a total annoyance. He did very little right and had as much desire to be a racehorse as I did myself. I struggled to train him in 2:07 and out of desperation put him in to qualify.
Michel Lachance got off the bike and said, 'Cut him today.' Michel's simple answer connected the dots immediately. The gelding went on to earn $700,000 and was sold for $600,000.
In late June, 2011, I received a call from formidable Midwest trainer Roger Welch asking if I would race a filly in Pennsylvania for his owners. Without asking a lot of questions I simply said 'Yes' and thanked him for the opportunity.
I did some research prior to the filly's arrival and was underwhelmed to say the least.
She had qualified in 2:04.4 on a mile track last quarter in 30.2. The fillies she was to race against had all been around 1:57, on a mile and not much slower on the five eights at Pocono where I was stabled.
Looking further, I found that she was purchased from Lindy Farm for $8,000. Now I was thinking there's trouble in River City.
The truck arrives shortly thereafter and the filly walks off and my guess is she weighs 700 pounds. About as small a 2-year-old as I have seen.
Not to drag this out, but the first time I trained her I was hard pressed to beat 2:30.
I got Matt Kakaley to go a trip with her to a bike and he was more tired than she was going a mile in 2:11. I had to qualify her.
I am watching the qualifier from the deck at Pocono at the top of the stretch which is about the worst view you can have of the stretch. The filly made a break behind the gate and spotted the field 15 lengths. She caught the field and when she came by me at the top of the stretch she started passing horses like they were standing still.
I was in shock. She finished second but trotted her final quarter in 28 seconds. Matt came back and was smiling like a Cheshire Cat. The next week she just ran off in a qualifier in 2;00 by nine lengths. She was small and so far behind the others I raced her in the stallion series where she was basically untested. She won the final in 1:55 and I sent her back to Roger where she won her last start in the American-National at Balmoral Park.
She returned for the winter and, although she had few stakes, won her share. Her final start for me at the Red Mile was a winning one in 1:52 over the great filly Maven.
She was sold to Daniel Reden at Harrisburg and went on to defeat the best mares in Europe and set the Swedish Record as the fastest mare in their history. Unfortunately she was retired because of stomach issues.
In case you haven't guessed, her name was DELICIOUS.
I would be quite remiss if I didn't mention Lisa Palmiter her caretaker and Chris Lakota my assistant for keeping her as sharp as can be for two seasons.
Billy Bigler asks: I know you are a crazy Miami Heat fan. How far are they going to go?
I really think if they played Toronto they would go all the way. I don't think there is a team from the West that can out last their fire power and depth. The trouble is that Boston is the likely next opponent and that would be a far more difficult scenario than Toronto. They would be an underdog to Boston and winning a seven game series against them would take its toll. But they are on fire and anything is possible.
I personally think that the entire team thinks they are going to win it all and that in and of itself is a great start.
Thanks to all my readers for the wonderful emails. They get better as time goes on.
I will be in Lexington for the sire stakes finals and the Grand Circuit and although I will be mostly occupied looking at yearlings, I am sure I will have a bevy of local tidbits for you in the weeks to come. Have a wonderful week.
Have a question for The Guru?
Email him at GurfTrot@aol.com.