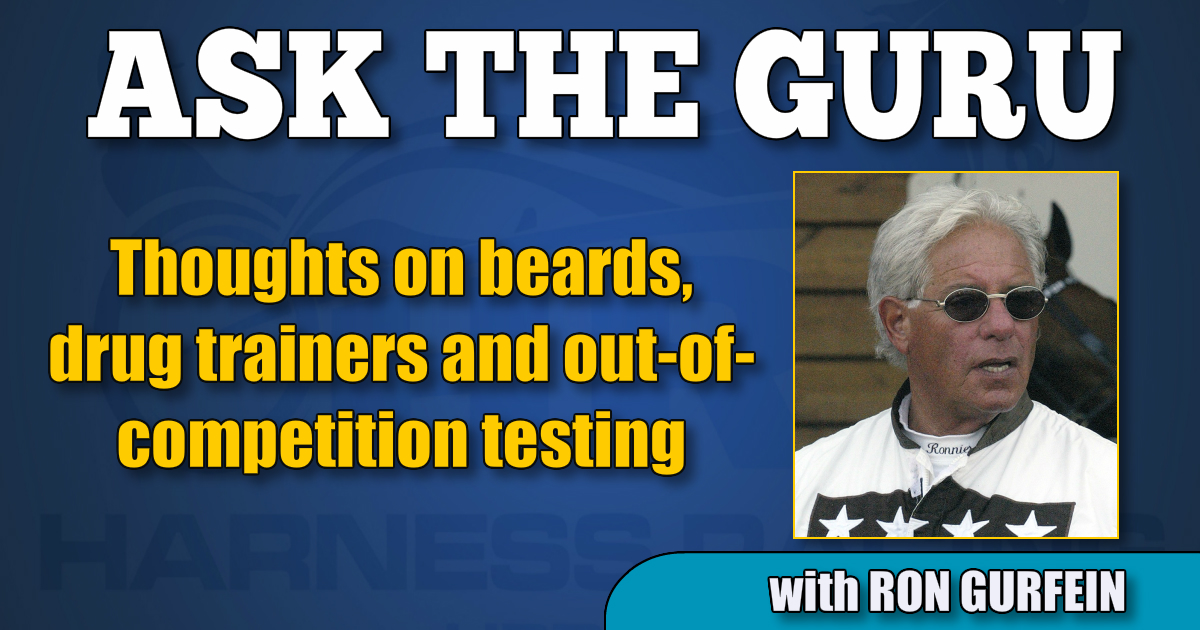 Thoughts on beards, drug trainers and out-of-competition testing
That and much, much more in this week's edition of harness racing's favorite advice column.
by Ron Gurfein
Tidbits: What a fabulous show put on by Woodbine Mohawk Park on NA Cup Night. Truly professional and the $5 million-plus handle was the proof of the pudding. The handicapping hour prior to the races was first rate as well as the formal dress of the broadcasters. Monique Vag was a breath of fresh air, as well as the guys that were doing the winner's circle interviews. I truly understand that it's a dime a word getting Canadian horsemen to talk. The races were perfectly spaced and the lag was virtually non-existent.
Congratulations to all the winners with a special shout out to the brave Marvin and Lynne Katz for making an appearance when most owners for good reason are virus avoiding. Another great performance by their great colt Tall Dark Stranger who in winning accomplished feats even his best predecessors couldn't do.
Although, handicapping wise the night started out like a nightmare and early on it was a favorites grave yard. As the purses grew larger this trend came to a screeching halt and from then on form prevailed for the most part.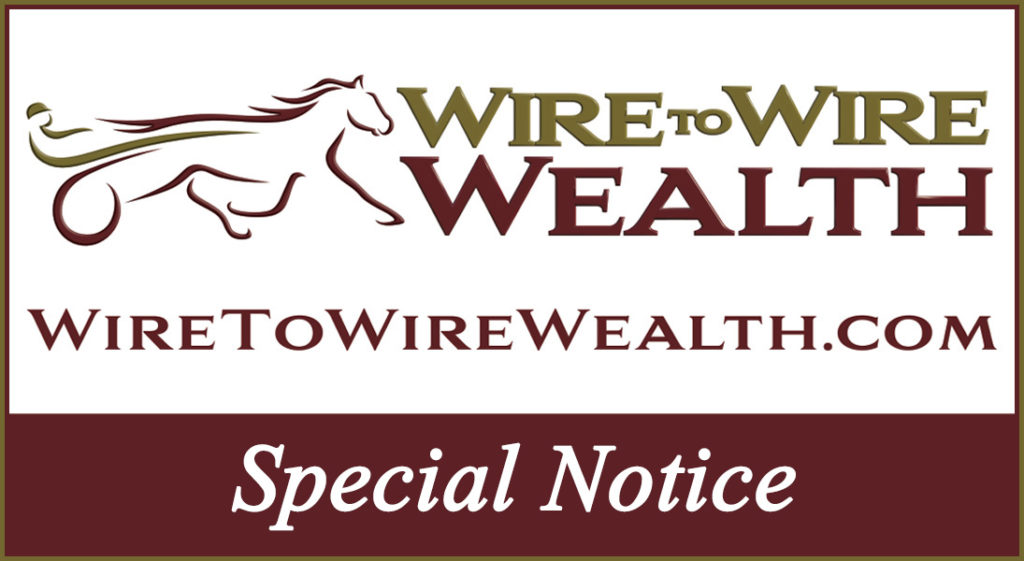 Not all was roses Saturday night at Mohawk. Not to spoil the party, butI must mention, where were the judges hiding Saturday night at Woodbine Mohawk on their biggest night of the year? Bet On Becky, the morning line favorite in the second division of the Eternal Camnation, was lame in the post parade and then never hit the pace scoring down. Jody Jamieson did his best warming her up and I could tell he was very careful with her leaving the gate but she was steppy the whole time till she eventually lost her gait on the last turn. There is no excuse for letting her start as sore as she was. How about there were no less than three announcers on the broadcast that must have seen the post parade and were telling the fans to bet on her.
* * *
In regard to Murray Brown's column last week: To my friends Murray Brown and George Segal, I realize we are getting old, but to hear George say that Self Possessed was the first Hambletonian winner that Brittany bred was a dagger in my heart. Then my boy Murray didn't catch the error.
Doesn't anyone remember CONTINENTALVICTORY? Asking for a friend.
* * *
The questions keep coming on whether or not to attend the Red Mile meeting as a spectator. Shannon Cobb, CFO & COO, has kept me abreast of the situation weekly and its seems to get better week by week. Here is the latest: The Red Mile will be hosting a very limited number of spectators beginning with the Sept. 20 Kentucky Sires Stakes Finals and continuing through the remainder of the meet. The following groups may attend: horse owners and trainers with Kentucky racing licenses, credentialed members of the media, and a limited number of reserved tickets. The clubhouse will be open for dining on a required reservation basis. Masks, social distancing and screening (temperature checks and a questionnaire) will be required for attendance as per Kentucky regulations for COVID-19.
* * *
Even our wonderful sport can be hit with FAKE NEWS. The European press was raving about the increase in the prices at the Swedish Trotting Sale last week. How about the fact that 43 per cent of the horses were bid-in (NOT SOLD)?
* * *
Jeffrey Mallet pointed out something I didn't know and should be on our list of improvements to our sport. Harness racing is the only horse-involved sport that bills a day rate for the month past. Thoroughbred, hunter jumpers etc. bill for the month in advance. For sure this would stop the trainers in our sport from the necessity of being bankers too.
Paula Zittritsch asks: Right now harness racing is in a unique position, So many sports are sidelined due to COVID-19, yet we are racing. The Hambletonian used to be on network. The public is hungry for live sports. Can we push for the remaining Triple Crown events to be broadcast?
Sadly MGM Yonkers has dropped two Triple Crown events for 2020. The Yonkers Trot and The Messenger Stake have been removed from this year's calendar.
That said, even if all the Crown races were intact, in order to gain national TV network coverage we need sponsors and lots of money. At this point in time, we are severely lacking in both departments.
On the subject, there is another way to get the product out there and it would be great if someone picked up the ball we have fumbled in years past and run with it.
We have seen the poor coverage we get from our " big brother" the thoroughbred industry on their nationally produced TVG. In the recent past we have attempted to create our own harness racing channel with TVG. They were more than willing to participate and in fact the price was quite reasonable. I may be wrong but if I remember correctly the cost was around $1,000 per month per track.
Someone didn't want in, so the whole idea was dropped.
This should not be a discussion. It is not only an easy task but to me a necessity that would pay for itself immediately and will surely open an whole new audience to our product.
Gary Bonacci asks: Why can't we have more random drug testing?
Let me set the record straight on random drug testing, as I have received a bevy of suggestions on the subject.
It is not a simple solution. The major problem with cheaters is blood doping. Unfortunately, the window of opportunity for catching the culprit is so small, I am talking hours and that situation now renders the use of random testing basically useless. Many racetracks have employed out-of-competition testing for years and I have not heard of one major conviction. The big fish were too smart until Jeff Gural came up with the brilliant idea of employing a company outside the box to create a sort of sting operation with the help of the FBI and their ability to employ wiretaps. This innovation resulted in almost 30 indictments both standardbred and thoroughbred and would have developed some sort of reasonable blueprint for an outcome by now if it wasn't for the presence of COVID-19. The last I heard was that some further action will be forthcoming in October.
Some of the biggest names in both sports were involved including Jason Servis, trainer of the top horse Maximum Security, winner of the $20 million Saudi Cup.
Because of the indictment, the Jockey Club of Saudi Arabia has withheld the $10 million winner's share from the colt's owners Gary and Mary West pending the COVID-19-delayed outcome of the FBI investigation.
Fortunately, the cheaters in racing are more than evident to anyone who's head is not buried in the sand. Unfortunately, it's no easy task to prove our suspicions.
One thing I find interesting is that without question to this writer's mind some of my usual suspects are less active in the win column since the massive investigation became known. Maybe it's just a coincidence. LOL.
Esther Balenzano asks: Is it possible for a 18-year-old broodmare to produce a decent racehorse or is she too old?
The key word in the question is "possible." Of course it is. Is it likely, I am not sure I know the answer. I have recently read a lot on this subject and I find the facts and figures are unreliable simply due to circumstances.
It is a fact that older mares are less successful at producing great horses but it has become evident that as a mare ages she becomes less likely to be bred to the better stallions. Most often she has been sold to a smaller farm that has less access to the high-priced studs. This fact would obviously lessen her chances for success.
My favorite example of older mares production are Songcan and Songflori great sons of Ami Song who was in her 20's when they were foaled.
Be brave go for it and I wish you well.
Note Esther and Luca Balenzano were my first owners in the business. Sadly Luca passed recently. They were the most wonderful people to train for.
Phil Cunningham asks: I always hear about drugging trainers and beards and other rule violators. How do you begin to unmask the culprits?
I think all it takes is a little ingenuity and a lot of experience.
Beards are the easiest to uncover because of the paper trail. "Where's the money" usually solves any suspicion as to who is actually getting paid.
Performance-enhancing trainers are far more difficult to coral as our testing methods are as of now in great need of improvement.
As for analyzing who the prospective villains are, that's easy.
There is an old saying that I love because I equate it with harness racing: "The cream rises to the top." But not in a heartbeat. Unfortunately it doesn't work so quickly when it comes to horse racing. What they call overnight sensations are not the norm.
Therefore, look at the yearly statistics of each trainer. Win percentage and money earnings will suffice. If a stable goes 10 years earning in the $500,000 range and then goes to $2 million the next year there is major reason for concern.
Believe me there are exceptions but they are few and far between. One in 100 cases like this are NOT GUILTY.
Barn changes with ridiculous improvement are another red flag. However, you must be very careful here. because there are many honest good trainers that are forever improving horses. At the top of the list are Jimmy Takter and Ronnie Burke.
I personally think that the thoroughbred game is far more infested with talented blood dopers than our sport. Guys like the recently-indicted Jason Servis and Jorge Navarro, among others not investigated yet, have taken medium-priced claimers and won graded stakes with them. Once again, please take note I am not saying that every time this occurs there is cheating involved, but it is my feeling there is more often than not especially when it happens multiple times.
I read in a thoroughbred publication this week that "Regulators and racetrack officials often shrug and say it's hard to prove when a horse is entered in the name of a trainer who, in fact, has not been supervising the conditioning of a racehorses."
I call this sheer laziness.
Thanks again to all my readers for the kind words. More great racing this weekend at Woodbine Mohawk Park. If you have interest in going to the Red Mile this month I suggest you email Bessie.purvis@redmile.biz for admission tickets or clubhouse reservations. Have a wonderful week.
Have a question for The Guru?
Email him at GurfTrot@aol.com.