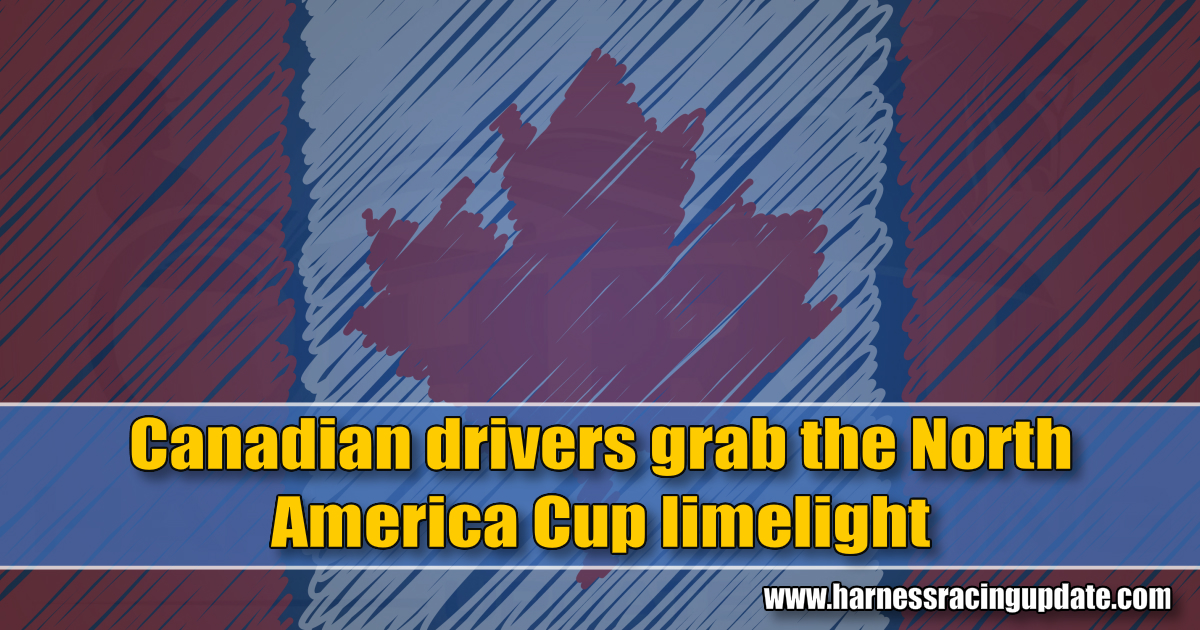 Canadian drivers grab the North America Cup limelight
With U.S.-based drivers staying home due to COVID-19 border restrictions, the Woodbine Mohawk Park driving colony is in the spotlight for Saturday's $2.4 million Pepsi North America Cup card that includes the timely return to action of James MacDonald from injury to make his first Cup start.
by Chris Lomon
What does this Saturday's Pepsi North America Cup have in store? There's home team pride, a triumphant return to the sulky, premier pacers, and a $500,000 first-place prize. And that's just for starters.
While the Woodbine Mohawk Park grandstand won't be jammed with fans as it typically is for one of the biggest races and biggest cards on the harness racing calendar, there is, thankfully, plenty to cheer about when it comes to the 37th edition of the NA Cup.
The main event, the $1 million NA Cup, is complemented by a stakes-stacked undercard, including the Fan Hanover for sophomore pacing fillies, the Armbro Flight for mare trotters, the Roses Are Red for mare pacers, the Nassagaweya for rookie colt and gelding pacers, and the Eternal Camnation for 2-year-old pacing fillies.
Compelling storylines abound, including that of James MacDonald.
The driver, who has accumulated over 2,200 career wins, gets his first shot at a Cup crown courtesy of Captain Barbossa.
Bred by Steiner Stock Farm and owned by Alagnafrankinthegym Stable, Robert Leblanc and David Anderson, a win by the son of Captaintreacherous would be akin to a story taken from a Hollywood script.
MacDonald, who broke his collarbone and suffered a concussion in a racing accident at Woodbine Mohawk Park on Aug. 1, recently returned to the race bike.
The toughest part for MacDonald wasn't contending with the physical discomfort caused by his injuries, but rather the mental toll it took from being out of action.
"Mentally, it's tough for any horse driver, trainer or owner to have sit on the sidelines and watch your horse race. You want to be out there and you want to be competing, and you want to contribute to your horse's success."
Adding an NA Cup trophy to his resume would be, in MacDonald's words, "a dream come true."
From the sidelines to the winner's circle?
"Well, that's the plan," MacDonald told HRU. "I've still got some races to go before the big night, so the excitement is coming, but the focus in on those ones for now. This is my first Cup drive. I've driven in all of the big ones, but this will be a first for me. It's nice to be part of it. I don't know too much about my horse, but what I'm going off of is last week, Louis [driver, Philippe Roy] came to me after the race and was kind of in awe of good the horse was. He never had room, but he was loaded. When I was asked to drive him, I saw what he did in the elim, and he looked good. I got that first-hand information from Louis that he was very, very good. The line is one thing, but how they felt is more important than anything else. And Louis was really happy with the horse."
While post nine isn't ideal, MacDonald isn't throwing in the towel.
Not in the least.
"If we can find ourselves a nice trip, I think we can upset."
MacDonald isn't the only Woodbine Mohawk Park-based reinsman with his eyes on the top prize. Two-time Cup winner Jody Jamieson (2007 with Tell All, and 2011 with Up The Credit), Doug McNair and Bob McClure are also eager to have their picture taken at their home track base in Milton, ON.
Jamieson, closing in on 8,150 lifetime wins, will partner Captain Kirk in the driver's quest for an NA Cup hat trick.
One of three Tony Alagna trainees contesting Saturday's final, Captain Kirk won the second Cup elim on Aug. 22.
The son of Captaintreacherous used a :25.4 final quarter to cross the wire in 1:49.3. He's now two for six this season, three for 15 overall and has earned $194,280 for owners Brittany Farms, Marvin Katz, Brad Grant and Captain Kirk Racing.
Jamieson inherited the drive when McClure opted for Tattoo Artist.
This will be Cup No. 10 for Jamieson.
"I don't know a whole lot about the horse, but I'm really looking forward to it," said Jamieson. "I have a pretty good record in race where I've got a catch drive going for a million dollars. I won with Yankee Skyscaper in the Metro [2006] and I picked him up after the elimination, so it's a bit of a good omen, I think."
The only loss on Cup rival Tall Dark Stranger's record this season was in the Geers Stakes on Aug. 1, a race that Captain Kirk took in a career-best time of 1:48.3.
"This horse is very versatile," praised Jamieson. "He can leave in :25 or he can come home in :25. I don't know if he can do them both in the same race, but he's shown he's got superior speed and stamina. I think he's a great shot."
McClure, who won the 2019 Hambletonian with Forbidden Trade, will look to make a lasting impression in his second Cup appearance.
The talented driver, who won 576 races in 2017 and 508 the year after, will pilot Tattoo Artist, a son of Hes Watching, on Saturday evening.
The bay colt is one of four Ontario-sired starters, along with Tall Dark Stranger (Bettors Delight), Mayhem Hanover (Sportswriter), and Denali Seelster (Sunshine Beach).
"He's an amazing little horse," said McClure. "He's certainly not going to win the beauty contest in this race, but he's extremely fast, and he's a tough, gritty little bugger. Last week, he really didn't get a chance to race down the lane. By the time he did get room – I shut him off three different times – he had a right to be tired. Having said that, he went :49-flat, home in :26-flat. You can't expect much more from him. He was just beat a little over a length by the best horse [Tall Dark Stranger] in North America. I would say he's got as good a shot as anybody."
McNair, who'll drive Capt Midnight, will contest his fourth NA Cup.
"He had a huge effort in the elim, and just missed. It was a really impressive showing, and he was really rolling late. That was my first time sitting behind him and he was fantastic. He showed a lot of heart down the lane."
A $350,000 Harrisburg yearling purchase, Capt Midnight is a seven-time winner from 17 starts. The bay is trained by Tony Alagna.
"Any time you have the chance to be in a race like this, with a horse like this, you can't help but be excited," said McNair, whose father, trainer Gregg McNair, will send out Mayhem Hanover, who will be driven by Randy Waples.
The Canada-U.S. border shutdown due to the COVID-19 pandemic has meant more local talent in the sulkies for this year's NA Cup and the other stakes events on the evening of Aug. 29 at Woodbine Mohawk Park.
Does that mean home field advantage will come into play?
"I absolutely think there is," said Jamieson. "You put extra zeroes at the end of the purse, but it's the same track we race on every night. We know the biases, and what you can and can't do. I think we have an advantage as the home track guys."
McClure and McNair see it differently.
"I think when it comes down that type of thing, it's the horses," started McClure. "Drivers are very adaptable. Canadian drivers going down to the States, there are a lot of different tracks there, or American drivers coming here, I think drivers are adaptable to where they race. I don't think home field makes an impact. I'd definitely take a favorite over my local track any day."
McNair views it in a similar light.
"It's tough to say. Yannick [driver, Gingras] is up here to drive [Tall Dark Stranger] and he knows any track. If we go down there – if you have the right horse – it doesn't really matter where the race is. It's all pretty much the same. I think it's level."
One thing all agree upon is the chance for the world to be reminded of the talent that exists in the Woodbine Mohawk Park driving colony.
With the exception of Gingras, all NA Cup drivers are based at Woodbine Mohawk Park.
"There's no question that these guys can drive with anybody," said Jamieson. "And they're about to prove it."
"I think we've proven that in the past," offered McClure. "I think our driving colony at Mohawk has proven its world-class ways. It sucks that the border is closed. I wouldn't say I'm happy the Americans can't come up and I'm quite disappointed that I haven't been able to go to the States. I missed Hambo Day, Graduates – races like that."
Said MacDonald, "Every time, over the last few years, Canadians have come up big in the big races across North America. Bob won the Hambo – he's won so many big races. It's the same thing with Jody and Doug, who have each won some of the sport's top races. I won the [Canadian Pacing] Derby last year. The list goes on and on. Canadians can get it done against anyone. It's going to be different not seeing Brian Sears and Tim Tetrick here, but it's going to be a great race."
McNair has enjoyed having a front-row seat, so to speak, to see what his Canadian contemporaries are capable of.
"We've had guys win every big dance there is to win. You drive with these guys night in and night out, and you see just how much talent there is. Jody has won the Cup a couple of times and the Little Brown Jug. Bob's won the Hambo, and there are numerous guys who have won Breeders Crowns. There is so much talent here."