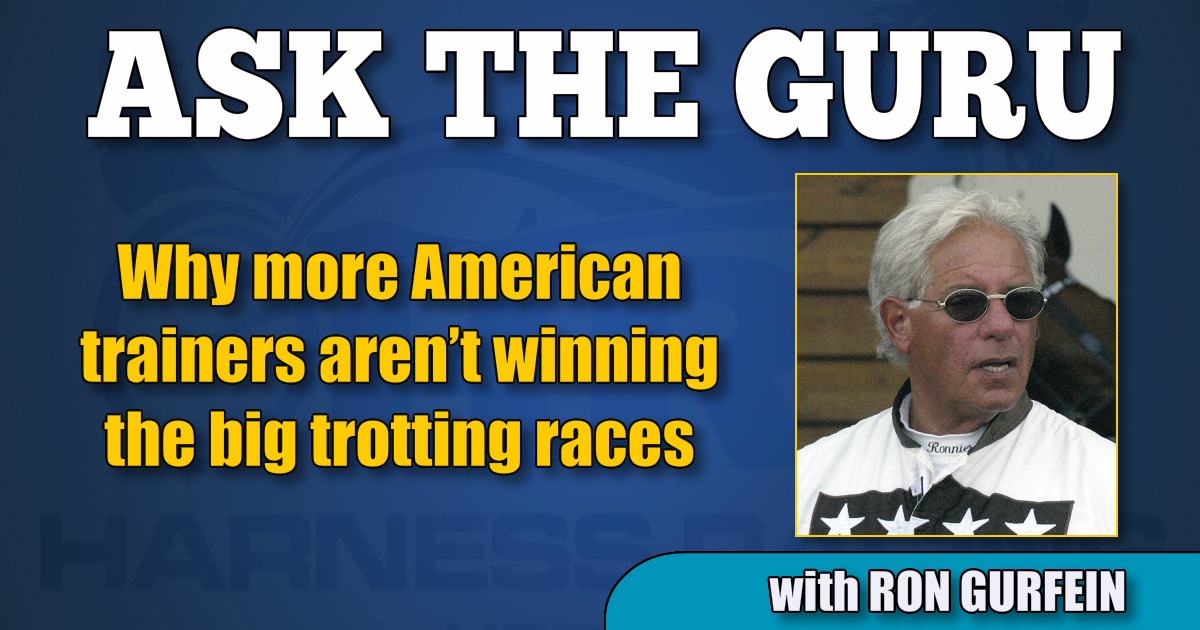 Why more American trainers aren't winning the big trotting races
Plus, thoughts on Josh Marks' apology, the debut of big-ticket yearlings, the betting public and more.
by Ron Gurfein
Tidbits: With the Hambletonian eliminations in the books, and the final tomorrow, some thoughts about what we are about to witness.
No favorite has won the race since Royalty For Life in 2013. Not one of the three fillies to find themselves in the winner's circle in modern times — Duenna, Continentalvictory, or Atlanta — went to post as the favorite. Mission Brief, the last filly to start the race as the public's choice, finished second.
Unfortunately, I will not predict the outcome of this year's edition as I was perfect last week and do not want to hurt my average. I will say we are in for a hell of a race and if the weather is right we may well see the first sub-1:50 Hambletonian final.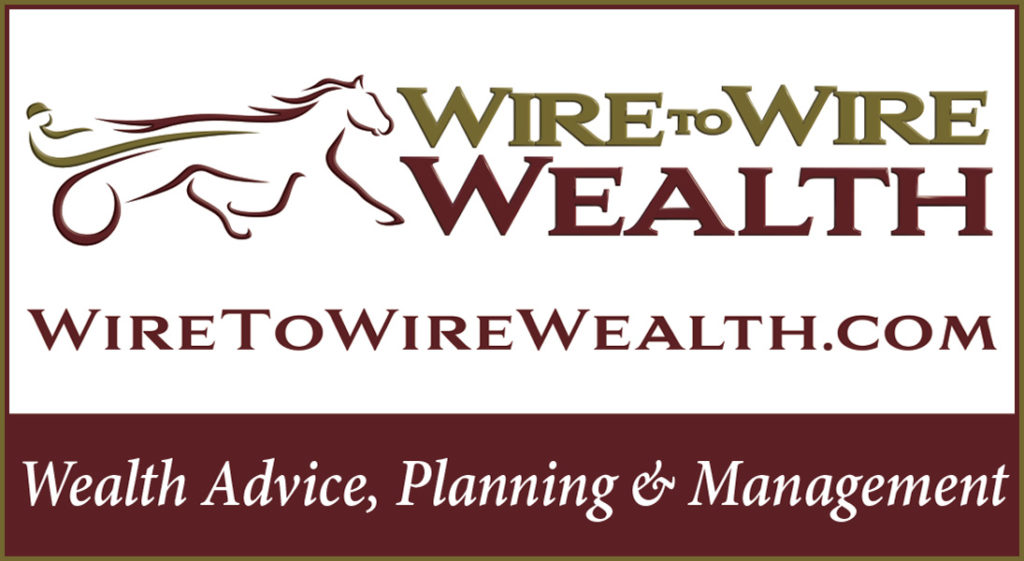 Please take note that I will have a special Sunday column: Hambletonian 95 — The Good, The Bad and the Ugly.
* * *
Amazingly, all of the three big-ticket yearlings of 2019 appeared on the same morning last Saturday at the Meadowlands and to this writer they didn't disappoint.
Did they look like $2.9 million? That's well above my pay grade.
Maverick, who has always appeared great gaited to me but dull finishing, looked strong coming first up for team Alagna and Andy McCarthy to win in 1:58.
Damien made a break just past the quarter in his first attempt at qualifying for Per Engblom and the "White Knight," but it was definitely not his fault as the horse he was following stopped to a walk in a heartbeat on the way to the half. After coming back trotting, he looked great finishing. On the pacing side, the Nancy Takter, Yannick Gingras combo have what looks like a killer colt in One Eight Hundred. The Somebeachsomewhere colt had me scratching my head when he was hammered down for $800,000. He is the third foal of the dam with a full brother that was a winner of just $100,000. I found the price hard to believe. Someone far smarter than I was quite an astute buyer. I won't say he was worth the price but he looked fabulous winning in 1:52.3 under severe restraint.
* * *
I realize the racing season is in full scale and sports are back on TV, but I still get requests for book suggestions and television series suggestions. I honestly have still not read one book that I would recommend. I likedCountdown 1945by Chris Wallace about how Truman and the government handled the Manhattan Project in the days running up to the actual deployment of the first Atomic Bomb over Hiroshima. It is very exciting till after the second bomb is dropped on Nagasaki. The problem is that this occurs at the halfway point of the book. From there on in it is nothing short of just plain DULL. So reading half the book is worth the effort.
As for television, I really love Yellowstone, and find the new version of Perry Mason quite compelling. The first few episodes are a challenge but it gets really good the further you go.
* * *
My readers are constantly asking me to write about the dark side of the business — some spicy stuff I witnessed along the way. To me there is no dark side. After 60 years in the business, have I been around some unsavory characters or witnessed things it didn't approve of? Of course I have. But to be perfectly honest, not for a long, long time. Ninety-nine percent of my experience has been positive. I don't like to single out anyone for making a mistake, only the chronic trouble makers.
My dad taught me something we all should live by: Intelligent people talk about ideas, average people talk about things, dull people talk about other people.
* * *
It's not fun, but I have no trouble admitting when I am wrong. I loved Crucial as a yearling. She ended up way out of my price range, but her failure to live up to expectations thus far does hurt my ego a bit.
Along comes the 2019 version — Ineffable, the next filly from Jolene Jolene and a $600,000 yearling. I was very surprised at the price she was hammered down for as were most of the onlookers at the Lexington Selected Yearling Sale. Somebody seemed much smarter than me after she appeared a filly possessed of rare talent in her first test behind the starting gate. However that was all she wrote. Her wonderful performance that start has yet to be duplicated. My question is why does this happen? I am not going to sit on the sidelines and point fingers or criticize because I have gone through the same situation with Vernon Blue Chip and Miss Wisconsin. However, they both won the Merrie Anabelle before the wheels fell off.
I will on the other hand say, in my opinion, it is not a fault of training or racing pressure as most critics are saying. It is however an over-estimate on the depth of pedigree. To me, all pedigrees have a governor, the progeny under normal circumstances can only go so fast. That to me is the rest of the story of Jolene Jolene.
Andy Richardson asks: I root for the home team and life in harness racing gets more and more difficult year after year with my home team American trainers getting beaten up by their Swedish counterparts in all the big races in the last few years. Why are there not more American trainers winning the big trotting races?
There are numerous answers to your query. The first of which is that the sport has become a business in the U.S. way more than a sport. The trainers that were ruling the roost in the trotting divisions have long since departed. From 1940 to 1980, there was no Hambletonian-winning trainer not born in North America. From 1980 to 2020, there were 12 Swedish trainers and two races were won by an Argentinian.
In this year's event, only three of the 10 entrees are represented by American-born trainers. It means nothing for these Swedish stables to plunk down fortunes to buy horses. They represent wealthy industrialists and Internet entrepreneurs. In America, these mega millionaires are mostly attracted to the thoroughbred game. In the 1930s and before there were many crossovers (thoroughbred and standardbred owners). However, there are not nearly as many today as "Old Money" has dried up considerably in both venues.
Add to these circumstances, the continued great success of Ake Svanstedt and Marcus Melander have brought to them an avalanche of financial backing.
Soren Nordin came to America with powerful connections but had almost all his success with 2-year-olds and never was a factor on the Hambletonian scene. Hakan Walner, Jan Johnson and Bernie Linstedt (Continental Farm) were the first on their scene. They had many Classic 3-year-olds and lots of potential buying power.
Jimmy Takter was next to attract the big spenders and made the most of that power for sure. Melander is a Takter disciple.
It hurts to say this, but this is not a passing fad. The Melanders are young, Ake is a workaholic and not that old (Sara keeps him young), they will be a force for many years to come. On top of them, Nancy Takter has a powerhouse.
The major American trainers just cannot compete. Sure, Tony Alagna has a great filly in Ramona Hill. She cost under $100,000. Tony is a wonderful trainer, but trains very few trotters, possibly less that 10 per cent of his barn. Unless his numbers increase, no matter how good he is, he can't fight the Swedish machine. Similarly, Julie Miller, Ron Burke, Joe Holloway, Linda Toscano, Nifty Norman, Erv Miller, and Chris Ryder, among many others, have the talent to make a mark, but lack the major buying power.
Another formidable problem (I hate to beat a dead horse) is the lack of the use of the straight track by the American trainers and those that make use of it lack the knowledge as to how to use it to their best advantage. I have covered this before and won't bore you with a dissertation again.
Until the money flow changes direction, the Swedes will have a great run.
John Bruno asks: Were you surprised at DEXTER'S public apology printed in HRU last week?
"Nothing DEXTER does surprises me. I want no harm to any human being. I sympathize with the fight he is having within himself. You are always alone taking on mental problems until you reach out for help. I respect Tom Grossman a lot and he stands up for the guy and I will accept his opinion graciously. What I don't truly understand is the correlation between mental health and "better horse racing through chemistry."
Phillip Coole asks: In the fifth race Friday at the Meadowlands, please explain to me how Caviart Audrey was not the favorite over Grace Hill? How on earth could the betting public make Grace 2-5?
The betting public like horses that win. Grace Hill was on a roll, however I tend to agree with you, with the :25.4 last quarter Caviart Audrey displayed in her qualifier the $280,000 daughter of Darlin's Delight was daunting.
I think it's in part due to the connections saying to the TV audience we will leave a little from the outside, but it's her first start and we won't be gunning to the top. Which in truth is exactly what Yannick did and he was victorious anyway.
The more you go to the races you will find that the opinion of the betting public is only sound about 30 per cent of the time.
With the Meadowlands giving away $3,600,000 plus in purses this Saturday I am certain that there attendance quota will be filled. If you
are one of the lucky ones to be there please remember that Governor Murphy is on top of the virus and it is important that you observe all the necessary protocols to keep racing alive and well in the state of New Jersey.
That said, keep the questions coming and have a wonderful week.
Have a question for The Guru?
Email him at GurfTrot@aol.com.