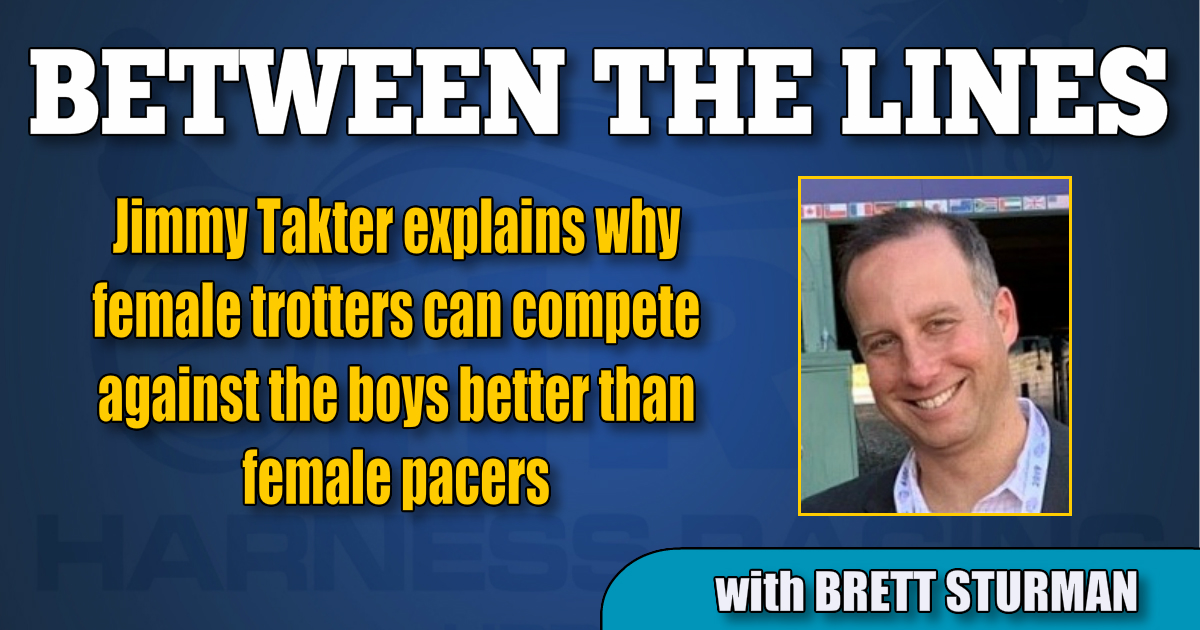 Jimmy Takter explains why female trotters can compete against the boys better than female pacers
by Brett Sturman
Two fillies have been entered in this weekend's Hambletonian eliminations, Ramona Hill and Sister Sledge. If either were to the followings week's Hambletonian final, which would be a career accomplishment in itself, the headlines are sure to include some variation of the girls beating the boys, but I'd say that angle is becoming less and less impressive.
The best female trotters are already no worse than the males. And in some cases, they are better.
Even though when Atlanta won the Hambletonian two years ago it was the first time since 1996 that the filly Continentalvictory turned the trick for my colleague The Guru, the sophomore filly trotters have been nothing less than outstanding in recent years. In 2016, the fastest 3-year-old trotter was a filly, Broadway Donna. 2017 featured Ariana G who was the second fastest 3-year-old, only behind Walner. The 2018 crop of 3-year-old fillies was generational with Manchego, Atlanta, Plunge Blue Chip, Phaetosive, and the lesser notorious Impinktoo, though she trotted a 1:49:4 mile that year.
With that being said, the question for me isn't so much why are the fillies and mares adept at trotting against their male trotting counterparts, but why doesn't the same hold true on the pacing side in harness racing? Sure, there have been some fast mares in recent years, including Shartin N right at this moment, but rarely do they have the same level of success against pacing males. In fact, it's hardly even tried because of its difficulty.
In the opinion of one of the most masterful trainers in the history of the sport, Jimmy Takter points to an answer found in the differences in gait.
"It's hard to explain why, but [I think it is the] difference between the trotting gait and pacing gait," Takter said. "If you get a trotter to have a great technique, they can go against the colts. The trotting gait is more of a technique gait. A pacer doesn't interfere like a trotter does, that's the big difference. The key with the trotters is to make sure they clear themselves, so that they're not shorting their stride and then not becoming the great horse that they potentially could be."
"For example, if you find the key for a trotter, you can [reduce] seconds. I've had trotters, I've been lucky, where I'll suddenly find the right key and they can go three seconds faster. You would never see that with a pacer. It's like the horse I own a piece of that I'm racing in the Hambletonian, Beads. The horse was scared and had no confidence, and now I've been driving him for three starts and I see that every start he's a little more comfortable and he's stretching out a little bit. He went from breaking in almost every start to now suddenly going into the Hambletonian as a contender. You don't see that in the pacing industry."
In describing the phenomenon exhibited by trotters but not pacers, Takter's reasons amount to the fact that a trotting gait relies more on technique rather than a more straightforward pacing gait, and thus the purely genetic and physical components of male and female become lesser emphasized on the trot.
He did note, however, on the pacing side that the reigning horse of the year wouldn't be without a chance if she elected at some point to take on male rivals.
"I'm sure a horse like Shartin N wouldn't embarrass herself against the colts. It would be interesting to see how she does against the top-level pacing colts and she's very exceptional, a great mare. She would definitely compete."
Takter did try the Hambletonian once with the filly Pampered Princess in 2007. He doesn't regret that decision as the trip in the race won by Donato Hanover just didn't work out, but he also notes another characteristic he's seen in exceptional trotting females.
"It must have to do with the gait, but the great fillies that I've had, they've also had a hell of a determination. They never give up and they're really, really tough," he said.
Looking at the fillies in this year's Hambletonian, Takter believes that the fillies in the Oaks will be just as tough as the colts. In naming fillies that could be competitive with the colts, Takter named Ramona Hill, Sister Sledge, Sorella and Panem.
"Sorella is owned by Crawford [Farms] and I said that if [Crawford bred and owned] Ramona Hill had gone in with the fillies, we would have put Sorella in with the colts. It's basically as tough to win the Oaks as it is the Hambletonian. It wouldn't shock me if on Hambo day the trotting fillies go faster than the colts, but I think there are a couple of colts that could be sleepers in that haven't yet shown their full capacity."
With the change starting last year in which the Hambletonian format went from same-day heat racing to eliminations and then a final a week apart, it would seem to be another factor that could aid a filly in a race against colts. It's entirely possible that either Sister Sledge or Ramona Hill could win the Hambletonian, and never before would it be lesser of a surprise for a filly to do so.
ADIOS PICKS
I liked NO LOU ZING last week and noted him as a rapidly improving colt; was shocked that he went off at the odds that he did, though they were no doubt inflated due to the amount of 1-9 money on Papi Rob Hanover. He was used early last out trying to secure a frontwards position through that :25:3 opening quarter, looks to avenge the defeat of his sire Sweet Lou from this race in 2012. He can win. CATCH THE FIRE lasted in his elimination and similar to CAPT MIDNIGHT, was much improved when finally getting away from a couple of the 3-year-old killers. THE GREEK FREAK won his elimination easily but I think it was the weaker of the three, it's still Burke though. CAPTAIN BARBOSSA lost touch from the pocket in his elimination to Papi Rob Hanover but that's okay; he may last longer now and will offer a price from the outside.
Picks: No Lou Zing, Captain Barbossa, Catch The Fire