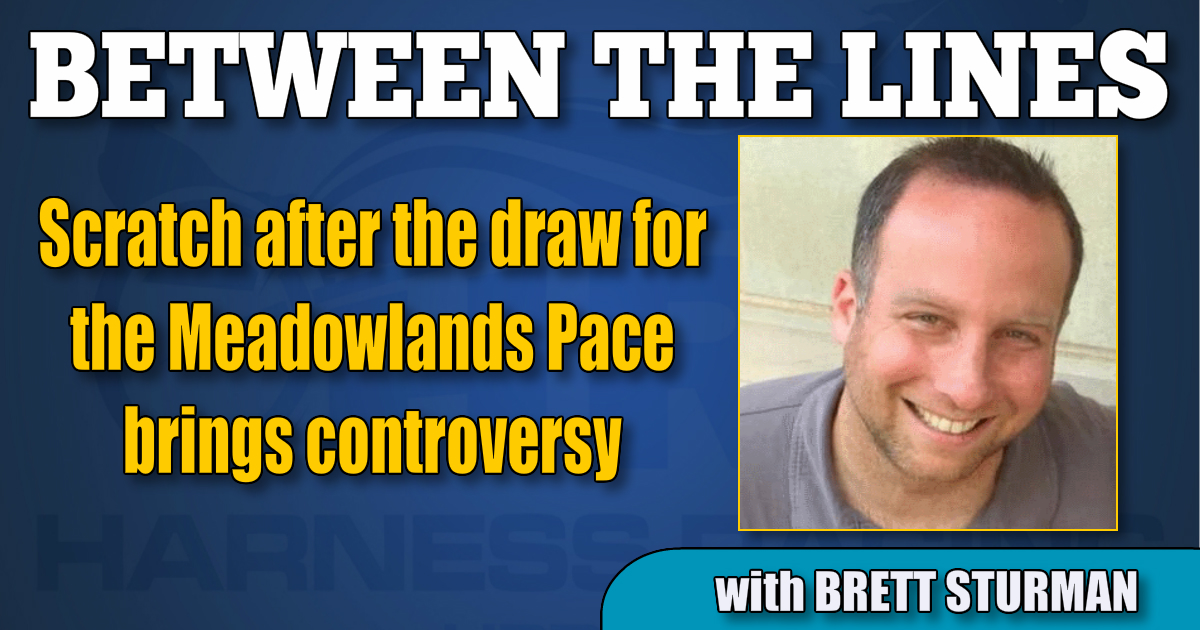 Scratch after the draw for the Meadowlands Pace brings controversy
The scratch of bye-receiving horse Chief Mate to allow stablemate Capt Midnight into Saturday's $636,650 Meadowlands Pace final has made for some interesting jockeying for position long before the race goes to post.
by Brett Sturman
It was announced innocently enough earlier in the week that as a result of Chief Mate scratching from the Meadowlands Pace on Tuesday, that Capt Midnight would draw in off the also-eligible list and take Chief Mate's place in the Pace final. Both horses are trained by Tony Alagna and are comprised, predominantly, of the same ownership group.
The predicament came about as a result of the Meadowlands Pace elimination, in which Capt Midnight almost impossibly failed to qualify for the Pace final. He only needed to beat two horses from the field of 10 in order to make the final. One of the main contenders in the race, he was parked the mile from post nine and finished 9th. When the draw for the Pace final was taken shortly after the elimination on Saturday night, Capt Midnight was placed as the first also-eligible. Alagna-trained horses that did draw in the final were Chief Mate, Captain Barbossa and Captain Kirk.
Captain Kirk and Captain Barbossa finished second and fourth in the elimination respectively, while Chief Mate opted for a bye to the final instead of racing in the elimination. The conditions of the Meadowlands Pace call for byes to be determined by highest seasonal money earners. So, with not needing much more than just $10,000 in earnings to qualify for a bye in this COVID-19 season where racing just restarted a few weeks ago — and the rich Pepsi North America Cup, which normally is held in June, not yet contested — all any horse really had to do was start racing a week before the others to earn more money. The Mark Harder-trained Major Betts had first call to take the bye, but opted to race in the Pace elimination. The next highest earners were Chief Mate and Allywag Hanover and in lieu of having to race in the Pace elimination or having to race anywhere at all for that matter, both bye horses raced last Friday in the first leg of the Pennsylvania Sires Stakes (PASS) at Philadelphia.
Having drawn post 7 in the Pace final, the connections of Chief Mate made the easy determination that they had a better chance in the final going with Capt Midnight instead, and thus scratched Chief Mate a week after accepting a bye. To their credit for honesty, a source from the connections stated clearly in a report earlier this week from DRF Harness that they felt Capt Midnight represented a better chance for them in the Pace final than did Chief Mate. While the swapping of these two horses alone could, perhaps, be characterized as an abuse of the system, but not technically a wrongdoing, what comes next is harder to answer.
Chief Mate is still racing Saturday, just not at the Meadowlands. He drew post 1 at The Meadows and is the 3-1 morning line favorite his second PASS leg this upcoming Saturday afternoon. From a New Jersey standpoint, what formal reason was given for the scratch from the Pace? And from a Pennsylvania standpoint, was his entry accepted while he was in-to-go at a different track that very same day?
To the best of my knowledge, a reason must be given for the scratch — such as transportation, sickness, etc. — to honor a declaration. Provided a reason was given, it hasn't been made publicly available. Similarly, there were no publicly-available indications that Chief Mate was going to be scratched as of Tuesday morning when The Meadows drew for Saturday. That's not to say that Chief Mate wasn't scratched first, prior to entering at The Meadows, but the optics of it don't lend to a transparent process.
Logistics of the declarations aside, what transpired simply is not a good look. Chief Mate and Allywag Hanover elected to use their byes to keep up with their PASS final eligibility. There's nothing wrong with that, although it accentuates the importance of byes in this particular spot, as they had a luxury that none of the other nine PA-sired horses that entered the Meadowlands Pace had in having to choose between the PA-sires route or the Meadowlands Pace (Major Betts is New York-sired). The first two PASS legs were both last week and this week. In the case of Chief Mate, the connections were able to use the bye to not only race and get points in the PASS, but to save a spot for another horse in the Pace final. To be clear, I don't at all think this was an elaborate conspiracy as the thought of Capt Midnight not making the final was improbable. It just seems like a matter of taking advantage of a situation that in this particular case allowed a more talented horse to participate in the final though it failed to get there in its own right. As it turned out, there was little point in even having the elimination to begin with.
The last part of this has to do with the post position. Again, you can't fault anyone for taking advantage of lousy rules, but it doesn't seem fair that by inheriting post 7, Capt Midnight gets to draw inside of three other horses by taking the post position that his scratched stablemate drew. Take Papi Rob Hanover for example. He could only manage third last week when starting from post 10, and he has the misfortune yet again of landing another outside post (9). Why should Capt Midnight, who didn't even qualify for the final, get to start inside any of the horses that actually did qualify for the final?
What happened through these events is more a case of connections playing with starting slots than individual horses. It's what the Mohawk Million consists of when owners buy an "entity" to the starting gate and you can use whatever horse you want, but that's not what is supposed to happen in other major stakes races. It's understood also it was a unique situation this year that brought about the oddity of lesser-deserving horses getting byes and a consolidated stakes schedule forcing owners to choose between major stakes when they normally wouldn't have to do so, but that doesn't make what happened any less right.