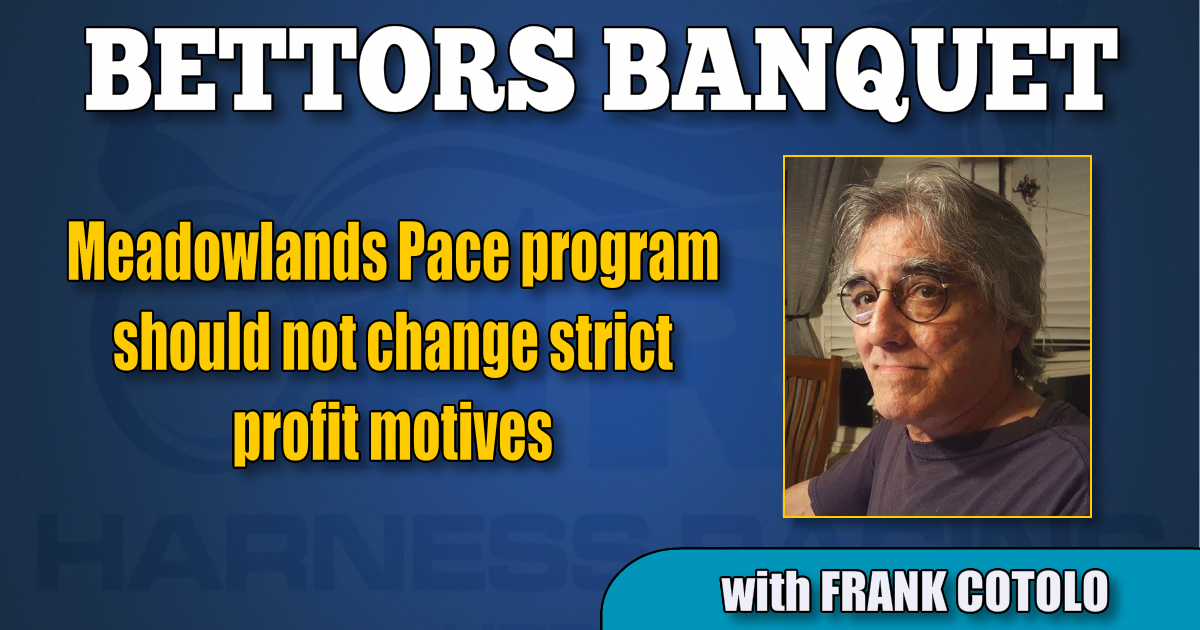 Meadowlands Pace program should not change strict profit motives
by Frank Cotolo
When any horse racing program presents a cavalcade of events featuring top equine performers battling for large purses, where most of the sport's human personalities are involved, most horse players experience a form of dissociative identity disorder. That is, the bettor and the fan characters in the player conflict. This drama will affect the bettor's performance and that is bad news.
The fan, of course, is the passive character. It has favorite drivers and trainers and trotters and pacers and is in their corners with blind loyalty.
The bettor, of course, is active. It must defy bias in every way the fan embraces it. The bettor has to ignore all of the fan's exaltations.
It's not easy being an objective bettor in general, so when a sterling program like the one the Meadowlands presents on July 18 comes along, the bettor has to dismiss the fan.
The bettor should not be shaken by a blanket of celebrity horses and drivers and trainers, nor should the bettor change goals from any program at any racetrack when betting is the focus. The goals are the three Ps — profit, profit and profit. The actions that best serve the goals require absolute objectivity which, combined with math and unpopular wagering tactics, produce long-term profits.
Let's go through my bettor's process related to the July 18 Meadowlands program. After I silence the fan in me, I get to work.
The first race on the July 18 program is not a stakes event. That does not matter, because any class of race on any program presents only two choices for a bettor — could play or could not to play. Not will or won't; could or could not (more about this later). In this case I know when handicapping I will pass this race (deciding to pass is a privilege bettors need to take more often) because I do not have a strong opinion about contenders. A pass is definitive; it means not playing any type of bet. There goes the Daily Double, says the fan. So what? I say. If you don't like the first half, the second half must stand on its own.
The second race is a leg of the Miss Versatility Series. I see Manchego tower over the field. I have no reason to defy Manchego, nor do I see a way to make any money on Manchego, so I will pass. Profit never comes from races played for the sake of playing races.
The Del Miller is the first race I really like. I write my own betting line, assigning odds I demand be offered for my contenders (odds that are on or over those I personally assign turn into win bets). So, back to the conditional scenario — I could play if I get my price on a contender or I could pass (not play) if I do not get my price. I only know what to do around post time. This rule kicks in for any class race at any track I handicap.
In the Del Miller I assign odds: Sorella (2-1), Hyonotic AM (3-1) and Ramona Hill (6-1). The math for the three combined equals a 72 per cent chance to win, while the rest of the field has a 28 per cent combined chance to win, leaving no chance for me to bet on any others in the field (I never bet any horse I assign over 6-1, a 14 per cent chance to win). Now here is the unpopular element of betting: I will only bet to win that contender offering the best price based on my assigned odds. That may not be my first or second choices. I only know what to do around post time. All win bets direct creating an exotic wager (more about that to come).
Next is the first of two Stanley Dancer Memorial (SDM) races. I demand 6-5 on Real Cool Sam (46 per cent) and 8-5 on Amigo Volo (40 per cent). If my assigned odds surface, a cold Real Cool Sam—Amigo Volo exacta would be considered for play. It would not be a box (another unpopular move); no exotic I play will ever be a box; it will be played cold with a strong bet so as to sensationalize on a valuable price if hit (a box, like all multiple-element exotics, makes the bettor buy losing tickets in order to attempt to win).
The second SDM is a no-brainer for me, since I am investing in an outside Hambletonian-eligible, Beyond Kronos. I want to cash on him if he surprises the public before the August classic. I want 6-1 or more. I'm certain to get it. The public will dismiss him, so I will make a win wager only, because it would be a hefty profit at large odds than he may offer again.
In the Mistletoe Shalee, I make Baby Your The Best 3-1 and Marloe Hanover 3-1 (50 per cent chance either wins). A win bet on either is possible. I only know what to do around post time. No other wager in the race appeals to me since the rest of the field has a 50 per cent combined chance of beating me.
Now that you know how I work, here, briefly, is the rest of my math:
W. Haughton Memorial: Century Farroh (4-1); None Better A (9-2); Backstreet Shadow (9-2). I only know what to do around post time.
The Hambletonian Maturity is a pass since Gimpanzee is the utter threat and will never give me the overlay he gave in the 2019 Breeders Crown. No win bet, no exotic. Pass.
The Meadowlands Pace adding Capt Midnight made me excited about the race. I give him a 17 per cent (5-1) chance to win over Allywag Hanover (4-1, 37 per cent for them, leaving 23 per cent for the others to beat me. I only know what to do around post time (that includes a possible cold exacta and/or trifecta).
Then I pass the rest of the program. Win, lose or draw from wagering on the July 18 program, my strict, consistent betting methods usually attract long-term profits. I am a fan of profits.