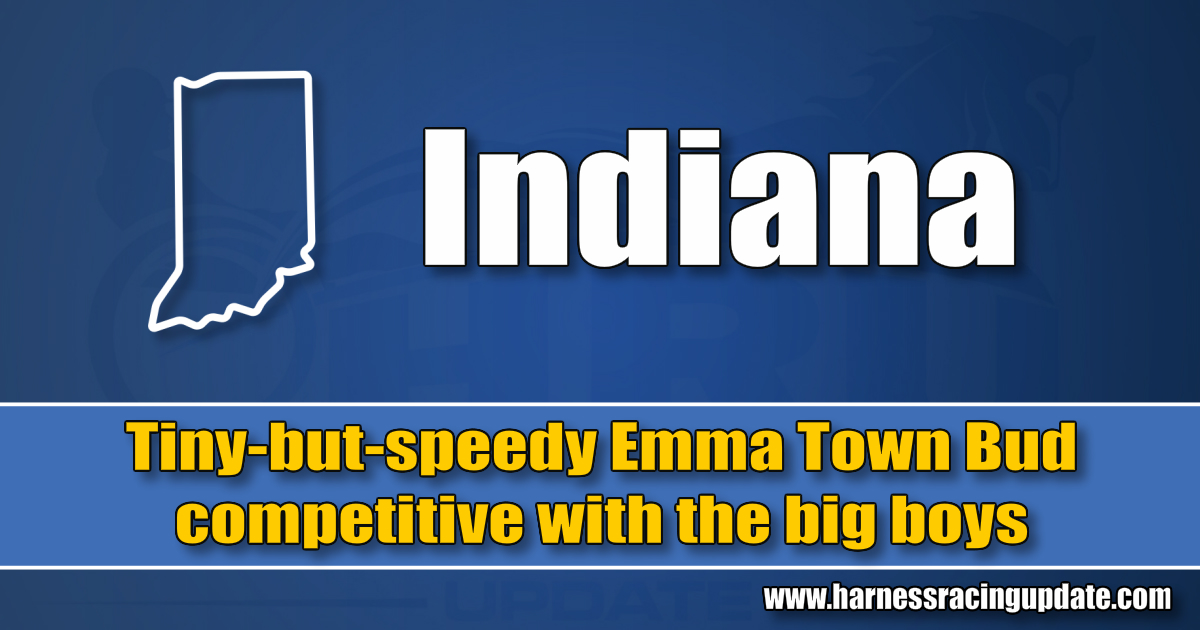 Tiny-but-speedy Emma Town Bud competitive with the big boys
by James Platz
Byron Hooley knew his trotter Emma Town Bud had a quick turn of foot, but even the conditioner was surprised when the pint-sized powerhouse tripped the timer in 1:53.2 Thursday (July 2). Steered by veteran reinsman Mike Oosting, the son of Big Stick Lindy—Centerfold Lady blazed home with a :25.3 last quarter to capture a $31,500 Indiana Sires stakes division at Harrah's Hoosier Park in a lifetime best mile. The victory also raised the gelding's record to three wins in three starts in 2020.
"You wouldn't think he could go with those big colts, but he doesn't know he's little, and right now he thinks he can beat everyone on the track," said Hooley, who races under the moniker Summit Pacing Acres. "I'm hoping I can keep him that way with the attitude."
Emma Town Bud has never lacked for attitude and enthusiasm. A friend called Hooley's attention to the trotter leading up to the 2018 Michiana Classic Sale. In the midst of a four-year campaign with Satin Dancer, an Indiana Sires Stakes champion with just shy of $740,000 on her card, the trainer was told the yearling possessed the same breeding as his top mare, sired by Big Stick Lindy out of a Credit Winner mare. Cataloged as Silver Star Corona, Hooley viewed his video and traveled to see the colt in Emma, a small northern Indiana town located between Topeka and Shipshewana. He purchased the trotter privately days before the sale and paid Hoosier Classic Sale Company commission on the negotiated price.
"It took about five Amish guys to load him in the trailer. He was tough to handle," Hooley explained. "I thought I would just take my time with him. He made me look bad a couple times. I've had about three runaways with him, but ended up being safe and I was safe."
Two days after the purchase, Norman "Bud" Hostetler, a former Trottingbred racer and associate judge at the Elkhart County Fair, passed away. Hooley asked Hostetler's son, Rick, also a comrade from his Trottingbred days, if it would be okay to name the new acquisition after his father. With approval, Silver Star Corona became Emma Town Bud. While he has proven himself a professional on the track, the trotter keeps his 70-year-old trainer on alert when going through the daily routine.
"He's not hard holding. He is really professional once you're on the track. He drives with an open bridle, no overcheck. He's not a bad apple," Hooley said. "Hooking him, he can get excited. I don't really trust hooking him by myself. I always have someone there to take his head when you put the bike on. If something scares him a little bit, I don't know how to explain it, he'll explode. He is getting better and starting to behave more often, but he's the one where I'm on my toes from the time I take him out of the stall until the time I'm finished with him. You just have to make sure everything is done the right way or you're going to have a problem."
Once on the racetrack, Emma Town Bud has shown his professionalism. Last season, Indiana divisional champion TJ's Top Pick garnered much of the attention in sires stakes competition while Hooley's charge quietly compiled a 3-4-2 record in 12 freshman starts. The gelding captured two Indiana Sires Stakes legs, and was second in another. Unfortunately, he scoped sick in the $270,000 Super Final, finishing fifth while sent off as second choice in the contest.
"He was sitting second, right where we needed to be. I thought he would pop out and make it happen," said Hooley. "Well, he popped out and just went backwards."
After accumulating $127,081 in his rookie season and taking a 1:54.4 mark, Emma Town Bud wintered in Florida, training with a group of pacers. The owner believes this tactic may have helped make his trotter stronger heading into the 2020 campaign. He has returned sharp, evidenced by the sophomore's first three starts. In his debut June 17, Emma Town Bud moved right to the lead from post eight and wired the field, kicking home in :26.2 to win by over three lengths in 1:55.1. The next time out he squared off against TJ's Top Pick setting the fractions while his adversary sat in the pocket second. A stretch duel never materialized as TJ's Top Pick broke stride turning for home and Oosting steered Emma Town Bud to a seven-length score, circling the oval in 1:54.2.
In the opening round of sires stakes action, the gelding did not command the field, instead taking a seat behind narrow second choice Swan In Motion. Waiting patiently until the stretch, Oosting moved the three year old out and brushed past the leader to win by a length. His 1:53.2 time matched the mile registered by TJ's Top Pick in the other sires stakes division that night.
"He goes out of the gate and there aren't too many that can beat him out of the gate. This year he is more relaxed sitting in a hole. He has always shown some quickness, but this year it just seems he's bloomed a little bit and developed some lungs, and appears stronger than he was as a two year old," said Hooley. "When he's loaded and he's got some cover and you tip him out, he pins his ears back and it's time to go. He just explodes."
He has banked $25,000 in his first three seasonal starts, but a long sires stakes season awaits Emma Town Bud. With the Breeders Crown returning to Indiana this year, Hooley kept his pupil eligible should the sophomore continue to thrive in each test.
"One thing that probably isn't going to help him is his size. Right now, I've got confidence in him," the owner explained. "I just hope I can keep him sound and keep him eating. Other than that, it's up to him and up to the driver to get him where he needs to go. He is for sure an athlete and he's got the will to do it. We'll just see what happens and try to have a little fun with him."