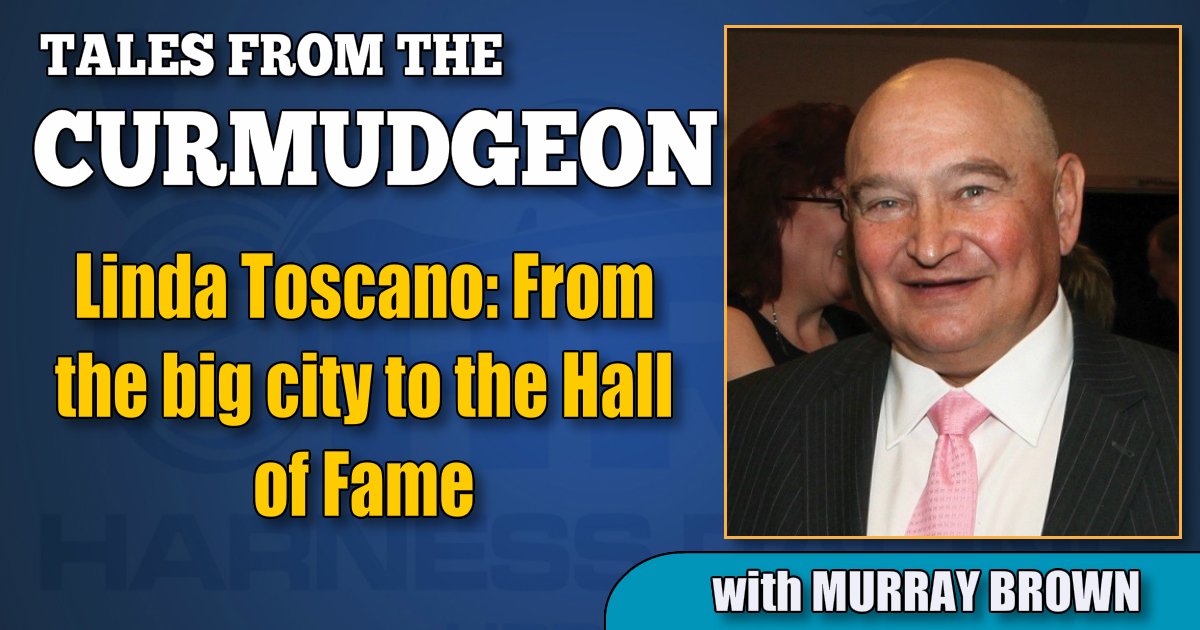 Linda Toscano: From the big city to the Hall of Fame
by Murray Brown
Hall of Fame trainer Linda Toscano spent her first 13-and-a-half years living in Brooklyn, raised as a city girl.
Back then it was pretty much the norm for city kids to have the freedom and the feeling of safety to explore the myriad of opportunities that a great city like New York had to offer.
If you wanted to go to a ball game, a movie or just hang out in the neighborhood, why not? Safety issues were rarely thought about, let alone encountered.
She was the oldest of three children to Bill and Gloria Vreeland.
Her father loved sports of all kinds but especially horse racing. Unfortunately, his preference was the thoroughbreds. He and Linda visited all the New York area tracks fairly often, but almost never went to Roosevelt or Yonkers.
The family grew and eventually outgrew their neighborhood.
Bill decided to move the family to larger quarters on Long Island.
Linda hated it.
She had lost all her freedom. She wasn't old enough to drive. There was no public transportation. She felt trapped.
Her mom suggested that she might be interested in taking riding lessons. That was to be her first physical introduction to horses.
She loved them.
She also became a rabid New York Mets fan. Linda and her dad went to numerous Mets games, including a couple of historic ones.
But, she was bit by the horse bug.
She was a good student and wanted to become a veterinarian.
She started working at a local riding school.
Linda had a friend who worked for Buddy Regan, then the leading trainer on the New York scene. She was urged to give the standardbreds a try.
She thought to herself, why not? In those days, a groom took care of two horses, sometimes only one, if it was a very special one. But they worked and they worked hard.
Buddy and his stable were meticulous. After all, he had worked for Stanley Dancer before he went out on his own. How could he and it be otherwise?
She describes herself as being a very good groom, but tells a story on herself where she messed up and paid for it.
A friend of hers wanted to go to the beach one afternoon. Linda hadn't yet cleaned and put away her harness. Against her better judgment, she was urged to just put it in the harness bag and clean it the next day. Who would know the difference?
The next day when she came to work, she found a pile of disassembled harness lying in front of the stall door.
Buddy said "If you had done what you are getting paid to do, you wouldn't have this mess to take care of now. That would have likely taken you a half hour to do. Now it's going to take you at least triple that time."
She learned a very important lesson. There are very few successful shortcuts in this business. If you take care of all the little things, you will be much better prepared to handle the big ones.
She learned a lot working with Buddy Regan. He wasn't the easiest person to work for, but was imminently fair.
Buddy was the first trainer that she knew who utilized farm turnouts to a great degree. He trained them, but he didn't think stall living was the best environment to keep a horse happy. When his horses weren't working, they were likely in a pasture eating grass. He incorporated being turned out into their regular training regime. He found that it kept them happy and fresh.
He had a 30-horse stable and that was all he ever wanted, although occasionally he'd get a few more. For a short period of time Linda even got the opportunity to look after the great mare Tarport Hap after Alan Leavitt had purchased her. She was a truly great mare.
Buddy, had two important edges going for him:
1. One of his principal owners was Ernie Dahlman, perhaps the sharpest handicapper to ever inhabit the New York tracks. Ernie was not only an excellent and successful bettor, but he also had a great eye for watching horses on the track and gauging their ability. He was extremely sharp on advising Buddy on which horses he believed were good claims, which he thought Regan could improve upon. Invariably, these horses were claimed by Buddy for Ernie or some of his other owners. They almost always did well.
2. Back then, there were several trainers who were known for "sitting" on a horse. That is not extending them to their utmost, expecting that the horse wouldn't get over classified or in hopes of making a score with them. These guys were raw meat to Regan, who would claim from their ranks regularly.
Eventually Regan got tired of the New York grind and went to Florida with a group of younger horses, leaving Linda with the New York contingent.
Linda worked with Buddy for nine years, before he, in essence, shut down the operation.
The next person she went to work with was a young up and coming horseman named John Campbell. John had a smallish stable at Roosevelt. Linda and John's brother Jim looked after the "family horse," To Ri Johnny, which to this day remains one of Linda's all-time favorite horses. Ultimately, John disbanded the New York operation and moved everything to New Jersey.
Then the second Buddy came into her life. His name was Gilmour.
"If there is a person who has a bad word to say about Buddy Gilmour, as a person or as a horseman, I haven't met him," Linda said. "Buddy was a pleasure in every way. If he couldn't help a horse, then that horse couldn't be helped. Working for Buddy and Don Sider was an absolute pleasure. At the end of the day Buddy would walk the stable. With each horse, he'd start his inspection at the bottom of their feet and work his way up until he had covered the entire horse."
After a while with Gilmour, she decided that the time had arrived when she needed to go out on her own.
Regan called from Florida and asked me to handle the New York operation, he'd be staying there for some time. That led to me opening my own stable starting with some of his owners.
Two fortuitous things happened to her at or about that time.
1. She met and began to use Michel Lachance as her principal driver. Mike was one of the greatest drivers ever, but what many people fail to realize is that as great a driver as he was, he is an even better all-around horseman. What Lachance doesn't know about a horse isn't worth knowing. For many years before coming to New York, Lachance ran and owned the biggest part of a stable of 30 head or so. Not only did he drive Linda's horses successfully, but he also gave her tips in training them.
The first really good horse she had was Storm Dust. He won 16 races and was voted Claimer of the Year in New York.
2. She got two great owners who stayed with her for a very long time — the deLucias and the Katz Brothers. The Katz Brothers stayed with her for 28 years. She still regrets the acrimonious situation that caused them to leave. She perfectly understands their reason for doing so. However, she feels if tempers had been allowed to cool for a few days their relationship wouldn't have ended the way it did. They have since repaired their relationship and I am very pleased with the success they have had since leaving. No family deserves it more.
Let's talk about one of my favorites: Clarence.
"Clarence was one of those once-in-a-lifetime dogs. We were fortuitous to get him when we did. He was named after the town where he came from Clarence, New York. We were privileged to have him for 13 years and that wasn't even half enough time. The first road trip we made with him was to visit you guys in Hanover. He must have been about eight or nine weeks old. You baby sat him then and did for many years when we left him with you in your office at Harrisburg."
His successor, Bailey, is a wonderful dog. But there will never be another Clarence.
You tried training in Pinehurst for two quite successful years, but then decided to stay up north. Why the change?
"The primary reason was the help. I have great help that have been with me for years. Good help is irreplaceable. They are the backbone of any stable. They have homes and families in New Jersey. It was just too hard for them to pick up and go. Pinehurst is pleasant, but except for a few weeks the weather there isn't much warmer than it is in New Jersey. Brad and I also found it difficult going back and forth.
If I ever do it again, I'll go the whole way and go to Florida. When and if that day comes, we will go to Florida with half as many horses as we have now and they will all be young ones."
Speaking of Brad, how long have you two guys been a twosome?
"We've been together for 29 years. He is a Godsend. He excels at just about everything that I either don't do well at or hate to do. Our stable would not have had near the success it has had without him. He is a great person and a terrific horseman."
Who are the five best horsemen you've been associated with?
It's impossible to leave it at five, but I'll give it a try.
1. Mike Lachance – "Two words 'The Best.' No horseman that I've ever known has more attributes than him. He is brilliant, beyond brilliant, with horses. He is every bit as good with a trotter or pacer, male or female, cheap horse or top one. He is a great communicator and a great mentor."
2. Buddy Regan – "A great horseman. Without him, I wouldn't be where I am now. He could be stubborn and strong willed. But his instincts were usually correct when it came to horses."
3.Herve Filion – "Simply amazing. I think Bill O'Donnell said he was part horse. I think I'd change that to say all horse, in a human body. The things he could do with horses were astounding. We had an extremely fast horse named Pantry Man. He was also a stone cold runaway. Nobody could control him. He probably set up more lifetime records for other horses than any other horse ever. One day Buddy had Herve in to drive him. Herve said 'I'm going to race him from behind.' 'Sure,' Buddy said thinking to himself, Pantry Man will show you. Others have tried, but none have succeeded. As soon as the gate closed, Herve tucked him into the five hole — no fighting, no grabbing on. Those hands were magical. He pulled at the half, just rode the third quarter and jogged. None of us could believe it.
"Another time I bought a terrible horse for a lot of money. I was in deep trouble with him. Herve said, 'Let me race him at Freehold, a few times, give him some confidence, teach him to be a racehorse. Damned if he didn't. I think he finished second with him six times. We sold him at Harrisburg and he brought $60,000. If not for Herve he wouldn't have brought $10,000. Like you say, he didn't call you by your name. You were 'kid.' I was 'da girl.'"
4. Bill Wellwood – "Incredible horseman. I was so fortunate to get to know Bill and train some of his stock. It always surprised me that they came in all colors, shapes and sizes. There was no Wellwood type. You could learn more in a 15 minute conversation with 'Woody' than if you spent days speaking with someone else."
5. Stanley Dancer– "In terms of the complete package, he might have been the very best. He might not have been the very best driver ever, but he was darn good and he revolutionized the way horses were driven. In terms of training, he was pretty darn good. In terms of running a stable nobody did it better. I doubt that anybody ever will. The same applies to record keeping.
"Let me tell you a story. One of the turning points in my career was when I got all of Richard Heffering's good horses to train. The best one of them was the outstanding trotting filly Lifelong Victory. At about the same time, Paul Reid, who was Stanley's assistant came to me saying 'Stanley would like to speak with you.' The first thought that came to me was what did I do wrong? I walk into his office and he has what looks like a shoebox on his desk. He said, 'I just heard that you got Lifelong Victory to train. I thought this could be of help to you.' Stanley had her as a 2- and 3-year-old. Inside the box he had every single record of the filly while he had her. He had pictures of her being broken and the entire time he had her. In the event that she became great, he would have a complete chronology of her career. He had a record of every training mile she had ever gone, every medicine she had ever received, her temperature every day, any notes regarding how he felt about her at any particular time. Talk about details, he was the best."
5A Tim Tetrick – "Of all the young great drivers out there now, I think he overshadows all of them in terms of horsemanship. From my experience, he is on the ball more often than not when he suggests a change with a horse."
Who were the five best horses you've ever had?
"I hope one of them is in the stable right now, but you never know."
1. Chapter Seven. "Just a perfect horse. He got better each year that he raced. I probably should have had two Hambletonian winners. But at 3 he wasn't perfectly healthy and didn't shake off some kind of bug he was carrying until late in the year. He wasn't very big, nor did he have much length to him, but his gait was amazing. I've often been asked two questions about him. The first was did he need trotting hobbles? My answer would be no, whereas Market Share most definitely did. I trained Chapter Seven in 1:56 without the hobbles before one of the major races and asked Mike if we should try him without them. His usual wise answer was we're doing all right now, why change?
"The second question I often get is did I expect him to be as great a stallion as he has become. The answer of course has to be no. Who could possibly have forecasted such success for any horse. Successful stallions like him only come along very seldom. You are lucky if you hit the right one.
2. Walner – "The most natural ability I've ever seen in any horse. He was perfect from day one. He was never really a kid. He was always a man among boys. If things had gone right with him, I believe he would have gone in 1:48 or maybe a touch faster. If his foals have his gait and ability they will be a force on the racetrack."
3. Market Share – "A wonderful horse who sometimes gets forgotten. He earned $3.8 million, with $2 million earned as a 3-year-old. He was a terrific racehorse who almost never failed to come and play. Very few almost four million dollar winning horses have received less recognition than this truly game warrior has gotten. He might not have been as perfect as Chapter Seven and Walner, but he was pretty darn good and then some."
4. Heston Blue Chip – "He's another really good horse who didn't receive the attention that I believe he deserved. It's probably mostly because the bulk of his racing was done on the New York Circuit and not in the Grand Circuit races against the glamor boys. But he beat them all in the Breeders Crown and then went on to win the Matron in 1.48. Those two wins earned him his Dan Patch Award."
5. Kenneth J – "He was a beautiful horse, beautifully gaited and a pleasure to train."
5A .Jet Laag – "This is probably more of a sentimental choice. But I just loved this guy. Don't get me wrong, he would have been an asset to anybody's stable. He was as consistent as they come. I cannot recall him ever going a bad race. His world record performance at Delaware Ohio was one of the greatest thrills in my career."
You are known as one of, if not the best, if I might use the expression "Owner trainers" in the business. You get along with your owners and they seem to get along with and stay with you.
1. Ken Jacobs – "Ken gave me the chance with some high-end New York-breds and we just clicked. That resulted in Heston Blue Chip and Kenneth J and a bunch of others. He has been my major owner for the last decade or longer. He is game and isn't afraid to try to hit the ball out of the park. He does his homework pretty well by himself, but usually comes to me for confirmation of his opinions. We hit a little bit of a bump in the road last year, but, thankfully, it got resolved and all is good. I'm hoping that he gives me some of his good Walners to train next year."
2. The Katz Brothers – "They are terrific people who came to me when I most needed owners. We were together for 28 years, which is virtually unheard of in this business. Although we broke up a few years ago, I still miss having them in the stable. I trained for their parents, Jack and Pearl, as well as for them. They love the business and are really passionate about it. Their recent success could not have happened to more well deserving people."
3. Richard Gutnick – "I've often said that the stress of training good horses is harder than training ordinary ones. When it came to Chapter Seven and Market Share , Richard gave me the privilege of training these two incredible horses and left me alone to do my job. He always trusted me to do the right thing and helped to make my job easier. I will always be grateful for that."
4. My Present group – "They are a terrific mix of young and old, experts (self-proclaimed), and neophytes. Without exception, they are enthusiastic people who love the business and with who I am generally at ease.
"The Enviro Stable has been loyal and steadfast and partnered with the Katz Brothers to give me my first Breeders Crown winner Mollycandoit.
"Richard Young has given me the opportunity to train a Meadowlands Pace winner.
"Andy Cohen, Jeff Gural, George Segal, Dan Baer, Harvey Nagler and the groups they are part of, keep us in the game every year."
5. Richard Heffering. "The loss of Richard and his dad Peter to the business was incalculable. They really put their faith in me by giving me a bunch of high quality trotters at a time when my ability with trotters was definitely an unknown quantity."
What does the future hold for Linda Toscano and Brad McNinch?
"Right now we are most concerned with this year's group. At this time I think our depth and strength is concentrated in fillies although we have a few nice colts that we like.
"I just turned 65, I have no immediate plans to cut down significantly. Although, I'm sure that as times goes on we will do so.
"Ideally I'd like to have a stable of 15-20 2- and 3-year-olds, winter train in Florida and continue to race up north as long as we can remain productive.
"I'd also like to one day load up our RV with Brad and Bailey travel and see all of our country."
Have a question for The Curmudgeon?
Reach him by email at: hofmurray@aol.com.