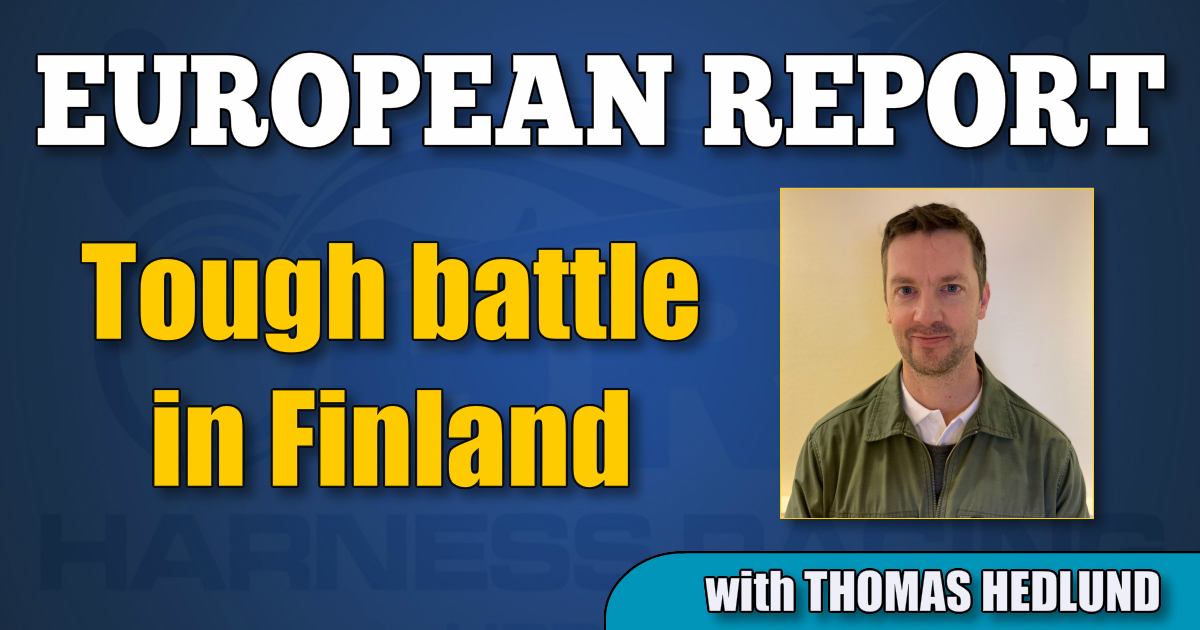 by Thomas Hedlund
Björn Goop had two contenders in $192,000 Kymi Grand Prix in Kuovola, Finland on Saturday afternoon and the outcome couldn't have been better.
His drive Vitruvio (Adrian Chip), known from two Group 1 victories for former trainer Alessandro Gocciadoro last year, was sent to the front with 1,300 meters to go in the race in Finland and that was a winning move on Goop's part.
Elitloppet runner up Cokstile attacked three wide shortly before and Goop assumed that Cokstile was the horse to beat, especially if Christoffer Eriksson would have placed his trotter in position in front of Vitruvio, so Goop's move for the lead was the important stroke that decided the result, at least regarding the first two horses to the wire.
Cokstile challenged bravely on the outside of Vitruvio, but Goop was active in the bike and showed, once again, that he is in the top position among European drivers at this moment. Last weekend, Goop went to Paris and steered Face Time Bourbon to a world record win and now he has conquered Finland and the Kymi GP.
The mile rate for Vitruvio was 1:55.1 over 1.3 miles. Cokstile came home, beaten by a head in same mile rate and Moni Viking, Goop's second horse in the race, finished third.
Båth – King of E3, again
Swedish trainer Svante Båth has just a phenomenal touch and feeling when it comes to shaping young, talented trotters into winners in big races, especially the $202,105 E3 for 3-year-olds.
Trixton mare Barbro Kronos (out of Fama Currit, by Viking Kronos) has a great pedigree and showed talent in her first races of the season and it's not a big upset that Båth has progressed her to a E3 winner.
Barbro Kronos won her elimination in great style, but was not first choice in Saturday's final at Bergsåker racetrack in Sweden, but with all facts on hand, she should have been the big favorite in the race.
Erik Adielsson has helped Båth by winning many of the previous 13 E3 finals that were on Svante Båth's record and the victory paired with Barbro Kronos was a beautiful interaction between horse and driver. Adielsson let his trotter leave pretty quickly behind the gate, but opted second over when Bank Wise As attacked three wide in the first turn. But second over was not the right position for Adielsson and Barbro Kronos since the pace went down after the first half mile of the race, so Barbro Kronos was sent to position first over, from where she was unstoppable.
The mile rate for winner Barbro Kronos was 1:58.4 and Svante Båth collected his 14thvictory in E3 since the stake race began in 1997. This was the first time he has won the mares edition over 1.3 miles.
"I feel fine right now, of course. Why I am so successful in E3? Well maybe I'm in a hurry and want to win something big early every year," said Båth with a big smile. "Barbro Kronos will be aimed for the bigger races later on and we don't need to hurry."
Barbro Kronos' mother Fama Currit (Viking Kronos) was a star trotter for trainer Petri Puro and she banked $827,242 and won $300,000 Stochampionatet and $214,000 Drottningpokalen as a 4-year-old.
In the $202,105 E3 for colts and geldings, the big hope from host track Bergsåker, Global Badman (Yield Boko) and 30-year-old trainer and driver Daniel Wäjersten, was better than the rest.
Three horses were scratched in the final and the race was an open story where many contenders had their chances, respectively, to win the race, but also in this edition, the strongest trotter won.
Global Badman had to do the hard job outside of leader Despot Power and disarmed him shortly ahead of the wire. Daniel Wäjersten did a tremendous job in the bike since his horse was close to losing his gait in the last turn so the driver played it safely throughout the turn before he let Global Badman use his strength in the home stretch. Shortly after the wire, the winner made a break and Wäjersten could exhale, and note that he won a stake race at his home track. The mile rate was 1:57.2 and Despot Power held to second place ahead of quick finisher Furies Rain.
"There's been a lot of tension the whole day and now it just feels empty. This is a victory that I'll remember for a long time," said 20-year-old Daniel Wäjersten after his big success.