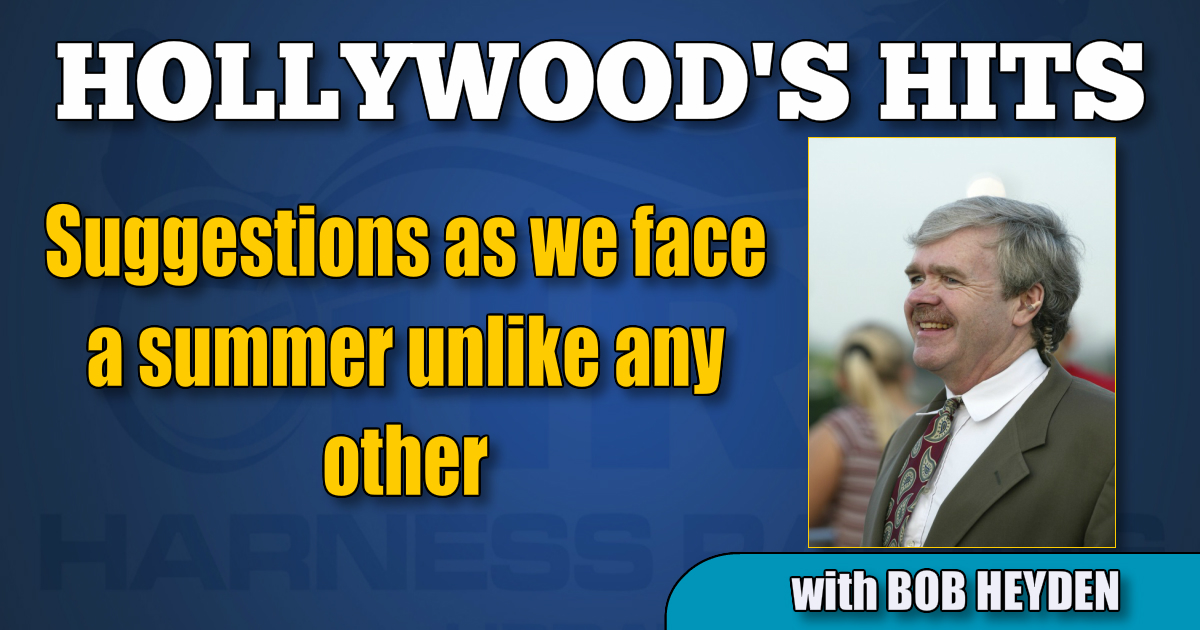 Suggestions as we face a summer unlike any other
by Bob Heyden
Doors are opening, entries are taken, qualifiers everywhere. Relief, exhaling, "We're back."
Yes, sort of.
But with the summer at our doorstep, it appears as good a time as any to implement / try / suggest / at least look at some amendments, some different twists or some plain old fashioned suggestions for harness racing.
Here are a dozen:
1. Layoffs for qualifiers and racing. Three months or more. Hey, when it is snowing in the NFC championship game, EVERYONE is slipping. We are ALL dealing with the dilemma of long layoffs. Pretend the three months is three weeks.
2. Do Down Under-bred horses have an advantage early on after the layoff? Maybe. Their mandatory quarantine got a lot longer in some cases and others just had more acclimating time to these shores. Plus, some are living the good life. This is their second STRAIGHT summer.
3. WHERE to bet. Many bettors are used to going to their favorite track — and sometimes teller — and are blind men in a dark room when it comes to setting up accounts, etc. Solution? Get your grandson to do it, and at the same time we can introduce a potential new audience to racing. Enticements? Oh yes. $100 or so just to open an account for senior, and for junior, an essay contest. For anyone in the next two months who is first introduced to racing up to the age of 18, tell us what you found MOST and LEAST interesting about watching the horses for the first time. The top few entrants can be awarded some money towards a future college fund. The USTA or maybe the Hambletonian/Breeders Crown's Moira Fanning or HHYF's Ellen Taylor could judge the kids' work.
4. INQUIRY LIGHT. Not just on the infield board but on the simulcast screen also. Big, bold lettering with a correct background. I watched some races from Australia a month ago and had the sound on. THAT is how I knew there was a long inquiry in progress. But what if I did not have the sound up? A blank screen for a five minute or so period and longer is an invitation to the simulcast player to shop around and add to his cart. This isn't the NBA with a review timeout. The bettor is likely vested in that particular race, but his attention span is less and has an itchy trigger finger. At least let him know what is going on.
5. SOUND is important at the track. Yes. But, not everyone can make it there at 12:18 to hear the Belmont pre-game show. Or at home now watching the races on TV of one of the various betting channels. Visual is very important at the track. Home or on site. Remember that we are not dealing with nerds who have just come up with three more baseball metrics. We are dealing with a near senior citizen who likes things brought to him — selections in particular.
6. Guarantees of $5,000 or less. Can we all agree right now NOT to publish this. Telling someone that your late Pick 4 has a guarantee of $5,000 is the same as saying "We're Open". Nobody wants to see this. Actually it works in reverse to tell that person with $48 ready for some Pick 4 activity that you DON'T want to head in THAT direction, but want to find a BIG pot somewhere.
7. Tracks to finally pay attention to their EXISTING customers. Not the ones who can afford every handicapping contest, the $5/$10 bettor who doesn't care about mailing lists and hats, but instead wants to know what do you think of Dave Miller's horse in the next. You know, the foundation of the business.
8. DEAD AIR between races. Hello? Hey GMs throughout North America, this is your product, not the yule log. Some tracks simply aren't interested in putting up anything of consequence and just expect you to come back 22 and a half minutes later and fire away. The excessive blank space and emptiness makes it feel like a Yankee-Oriole rain delay. Click.
9. Homogenization of racing. Let's please have none of this. Please no overstocking the fridge. No playing catchup with long excessive race cards well into the night. Those three months are gone for all of us. Don't let it dilute the product currently in front of us.
10. Whew! We're back to normal. Let's put the clamper on all that right now. Getting back to racing — yes — but no one can quite tell what lies ahead in the final six-to-seven months of 2020. Depending on your jurisdiction, you are likely dealing with some combo platter of angry governors, slots reliance, strict in-state requirements — and that is just for openers — track openers.
11. News releases from racetracks that are not formulaic, but actually news. Telling us the first week of September that the April Handicapping Final is at your track is not news, it's filler. The nine people who care already knew that. In 1999, one of the caretakers in the Gary Machiz Stable worked previously in the FBI. That is news. Another worked with horses only on weekends. Why? She was a cross-country truck driver during the week! Real, unearthed stuff. Yes, publicity staffs this means getting off your hands.
12. The consequences of the 90 days away (exactly 90 days for the Meadowlands (March 7-June 5) fun stuff. Trivia. Can any driver hit $10 million this year with the time away and some reduced money for the big stakes? Aaron Merriman's streak of 1,000 wins three straight years coming to a likely end — with an asterisk, right?