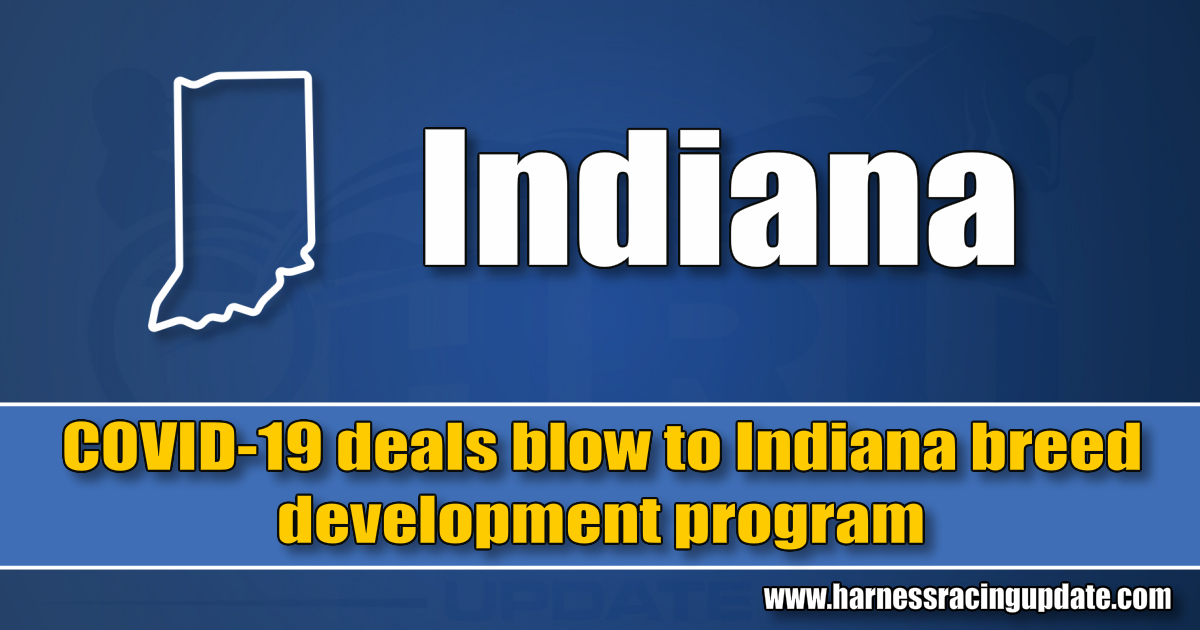 COVID-19 deals blow to Indiana breed development program
With casinos closed and no money flowing, breed development is projected to drop from over $13 million to some $8.8 million in 2020, with the Indiana Sires Stakes being reduced to $5.25 million from nearly $7.6 million in purses in 2019.
by James Platz
Last December, the Indiana Horse Racing Commission (IHRC) approved a breed development plan that offered over $13 million in purses, with a little more than $1 million in new money when compared to the 2019 race meet. On Thursday (May 14), the Indiana Standardbred Breed Development Advisory Committee and Standardbred Advisory Board Meeting met virtually to rehash a program greatly impacted by the COVID-19 pandemic. The challenge at hand is to reconfigure the 2020 program and present a plan for IHRC approval that will offer a budget of just over $8.8 million.
Jessica Barnes, director of racing and breed development for the IHRC, provided details on the amended program and allocation of funds for each area of racing. In her figures, breed development is anticipating just over $6.6 million from slots and table games revenue, down from the projected $12.2 million noted in the December plan, meaning that $2.2 million will be paid out of reserves to shore up the program. That figure is roughly $1 million more than had been originally earmarked from reserves.
"When I started working on the program I didn't have the $2.2 million in there. It made me sick to my stomach," she told meeting participants. "None of these things are pleasant. I'm thankful we do have some reserves."
Barnes offered after the meeting that the program has received $4.16 million to date from casino activity in early 2020. She said that she budgeted "super conservatively," as a few factors are in play going forward. First, state statute requires that $1 million from casino proceeds directed to harness racing be sent to the Indiana State Fairgrounds each summer. Based on the timing, early revenue after the reopening could go straight to the fairgrounds, leaving breed development waiting a few months before seeing new money in the coffers. Second, it is unclear when casinos will be operational in the state. Once operational, business levels may only return to a fraction of activity prior to the March shutdown.
On the Indiana Gaming Commission website, it states, "No reopening dates have been determined at this time, as the decision is dependent upon information that is not yet available. Based upon current guidance, it is not anticipated that casinos will open until after the beginning of phase 4. The Commission will provide reopening guidelines to Indiana casinos and post opening dates as they are determined at www.in.gov/IGC." Stage 4 of the "Back on Track Indiana" plan begins June 16. Barnes did not rule out that if there is a delay in casinos reopening that more program changes could be required.
The reality of Indiana's 2020 breed development program is that all areas will take a financial hit, which equates to cuts across the board. Barnes' proposal calls for a nearly 34 per cent decrease to all line items. The Indiana Sires Stakes program, the largest of the line items, will see a reduction to $5.25 million in total purses based on projections. Last season, the program paid out nearly $7.6 million in purses. The question now is how many legs to offer. Originally, 3-year-olds were set to contest eight legs and a $250,000 Super Final, with freshmen competing in six legs before the lucrative final. Barnes presented numbers for sires stakes that kept the format intact, as well as those eliminating one or two legs. Now, committee members must decide what formula will work best, balancing the number of racing opportunities against keeping purses for each leg strong.
"One thing to keep in mind no matter what we do, we're still racing for the same amount of money," said Scott Snyder, chair of the Indiana Standardbred Breed Development Advisory Committee. "Nobody is getting shortchanged. The money is going to be the same; it's just a matter of the number of legs."
Other line items cuts include breeders awards – decreasing from $700,000 to $465,000 – and Indiana sired overnight supplements and mini-series, lowered to $1.525 million from a previously approved $2.3 million.
One area that horsemen will see the biggest adjustment is in the Indiana sired late closers offered at Harrah's Hoosier Park. Funding projections for late closers shows a decrease from $850,000 to $565,000, requiring significant modifications. The Jerry Landess, Miss Windfall, Cardinal and Mya Tri series, which traditionally lead into the opening leg of Indiana Sires Stakes, function the same way in Hoosier Park's retooled 111-day meet, set to kick off June 16. Instead of a format of two legs and final, the series will offer a single leg and final in the opening weeks of the race meet. Seven other late closers – the Msnaughtybynature, Expression, Hal Dale, Go On BB, Ralph & Dorothy Rose, Bill Thompson and Tubby Trimble – are cancelled. However, race secretary Scott Peine said during the meeting he intends to write mini-series events with the exact conditions to provide opportunities for horses eligible to the scrapped series.
"The conditions would be written word-for-word, so there's no nomination payment. People don't have to worry about nominating due to the uncertainty. They still get two good races in before the sires stakes without having to nominate to anything," Peine said. "They can race for a good purse right off the bat the first two weeks of the meet. It can get people moving in the right direction before sires stakes. We have plenty of flexibility writing overnights to replace them."
The biggest scheduling challenge may exist in the Indiana fair program. Money set aside for the Indiana Sired Fair Circuit is projected to be $965,000 instead of the previously published $1.45 million. The old budget had built in an increase in the championship races from $20,000 to $25,000 and boosted the consolations from $8,000 to $10,000. The new plan strips those purse bumps, and cancels the second series set for the fall.
Barnes said that based on the current projections and the cost of conducting race programs in 2019, there is money available for 11 or 12 fair programs, a considerable drop from last season. One option on the table is to reduce the guaranteed $3,000 purse per division to $2,500. Doing so might allow for the addition of another program or two. Another catch is that even after restrictions are lifted July 4, some fair stops might not have authorization to conduct racing, which makes the schedule a moving target until more information is gathered.
"These are times that nobody foresaw. Everything is on the table," said Indiana Standardbred Association president Joe Putnam. "We're going to have to make decisions that won't benefit everyone. We're trying to put together the best program we can."
With the exception of the late closer cancellations and modifications, there were no hard decisions made Thursday. Committee members must ponder the options on the table before returning Wednesday, May 20 and finalizing the amended program for 2020. Interested parties that have questions or input regarding the program can contact Barnes via email at jbarnes@hrc.in.gov.