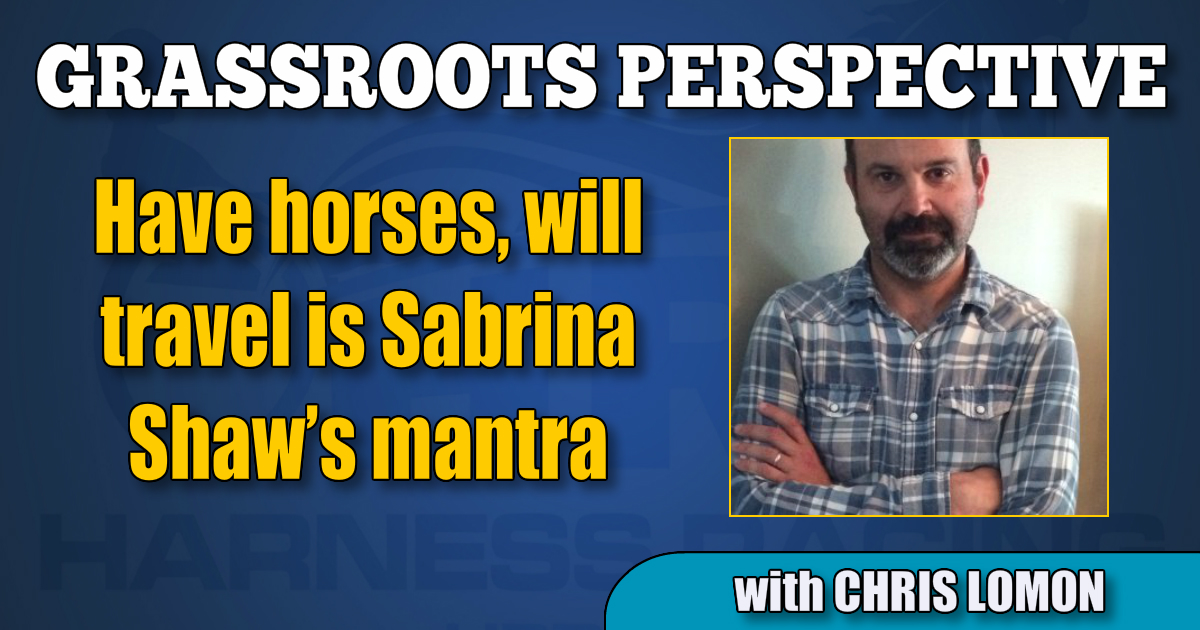 Have horses, will travel is Sabrina Shaw's mantra
by Chris Lomon
Her standardbred travels have taken her all across North America, but Sabrina Shaw has found a home (and great success) in the Empire State.
She laughs at the suggestion, briefly pauses, and then acknowledges it might actually make a lot of sense.
With the number of racetracks the Alberta native has competed at, would she ever consider having a t-shirt made up listing all the cities on it, akin to the ones often sold at music concerts?
"I probably should, shouldn't I? Shaw said with a laugh. "I've definitely seen a lot of racetracks in my life."
In fact, it might be easier to list the ones the driver/trainer/owner hasn't been to.
"I originally started racing in Alberta, at Northlands and Stampede Park, as well as some smaller tracks out there. I went to Fraser Downs in British Columbia, went down to California to Cal-Expo, then on to The Meadows, Hoosier Park, Yonkers, Meadowlands, Freehold, Chester – all those places. I've been to Pompano Park as well. And now I'm here in Buffalo. I've covered most places."
Shaw, who launched her training career in 2001, comes by her love of horse racing naturally.
Her grandmother was a driver as was her aunt. Her father, Doug, enjoyed great success as a driver and trainer, posting 1,597 wins in the sulky, and another 1,023 as a trainer.
Starting out as a groom in her father's barn at the age of 14, Shaw left Alberta two years later in search of her own standardbred career.
Now, 20 years later, she's mapped out a successful life in racing, one that's yielded 229 training wins and 19 victories in limited driving action.
Since her move to Buffalo three years ago, Shaw's been at the top of her game.
After a career-best 36 wins in 2017, she upped that total to 41 the following year, and then bested that number by five in 2019.
"When I started to do well on a more consistent basis, I thought to myself, 'Maybe I can make it doing this and we'll be okay.'"
Shaw has done far better than okay.
When you visit the Buffalo Raceway website and scan the track records page, you'll see her name listed there.
Not once, but four times.
Chelseas Chance, a now 9-year-old daughter of Kadabra, set the Buffalo Raceway standard for trotting mares (all ages, aged mares) on June 1, 2018. With Ray Fisher, Jr. in the bike, the bay stopped the clock in 1:56.1.
Lady London, a 7-year-old daughter of Big Jim, set the track record for pacing mares (all ages, aged mares) on May 1, 2019, piloted by Billy Davis Jr.
"Obviously, track records are fantastic. Both of those mares that hold the records, I claimed them out of 10k claimers. Lady London is just a sweetheart. She never disappoints me. Every time she races, she makes me happy. They far surpassed any expectations I had."
Then there's Joey Hackett.
A bay son of Intrepid Seelster, Shaw enjoyed a thrill ride with the veteran of 222 starts and a 24-time winner.
"He was my heart horse. I claimed him out of a $7,500 race at Pocono and I had him up until he was 13. He was already retired, and unfortunately, he had an accident on the farm and broke his leg. He gave me some big thrills. I (as trainer) set a lifetime mark of 1:51.1 at Pocono in 2012 with him, which was pretty cool. I drove him a little bit more than I drove anybody else. I won with him in 2015 at Cal-Expo in 1:55.3. He was my pet."
The key to such successes, she offered, is hardly a complicated formula.
Instead, it's a simple philosophy that has delivered several on-track triumphs.
"My whole training regimen is based on keeping the horses happy and I've proved that the approach works. Obviously, they have to be fit, they have to be sound and they have to be healthy, but a happy horse will race to the end of the world for you. They will give you everything they've got every single time. That's my philosophy. Keeping horses happy has really been the thing that's helped me be successful."
It's also kept Shaw optimistic through the current trying times.
She's keeping busy with the five horses she owns and the 11 she has in training.
When live racing was put on temporary pause due to the worldwide COVID-19 pandemic, Shaw had posted a mark of 8-4-11 from 52 starts.
"It's tough. We had our winter break, which is about six or seven weeks, and then we got back to racing for about a month and a bit, trying to dig ourselves out a bit. And then here we are again, with no racing. It's not easy. Without horses… these are tough times for horsepeople, but I feel lucky to have them to come to every day. The horses are extremely sharp. You're just raring to go. The horses, they give you purpose and they make you happy. When you look at them, it makes you look forward to the day we get the call to go back."
Not surprisingly, time away from racing has prompted Shaw to look back on the journey that brought her to the present day.
Time, she admitted, has gone by quickly.
"It has. Believe it or not, I was just thinking about that. I'm 36 and I've done this full-time since I was 16. It's hard to believe. It feels just like yesterday I was at Hoosier Park. It really flies by."
As for the biggest challenge she's faced over her 20 years in the sport, Shaw takes a moment to ponder her answer before she responds.
"I'm here in Buffalo now and since I moved away from home at 16, I haven't been around any family. Luckily, I'm a very independent person and I don't really need a lot of people… I'm pretty okay by myself. I've moved around all over the place – all my family is in Alberta and Saskatchewan – so that's tough. Being with your family is something you really miss. It's hard to get away every Christmas to go see family. You want to see them, but with horses, it's really hard to get away. That's the hardest thing for me – you miss a lot of things you wish you were there for. But it's a give and take. It's the price you pay in the goal to be successful."
It's a comforting thought, however, that on every stop of her North American horse racing travels, Shaw has had her own family to take care of.
"That's exactly what horses are. They are your family in every sense of the word."