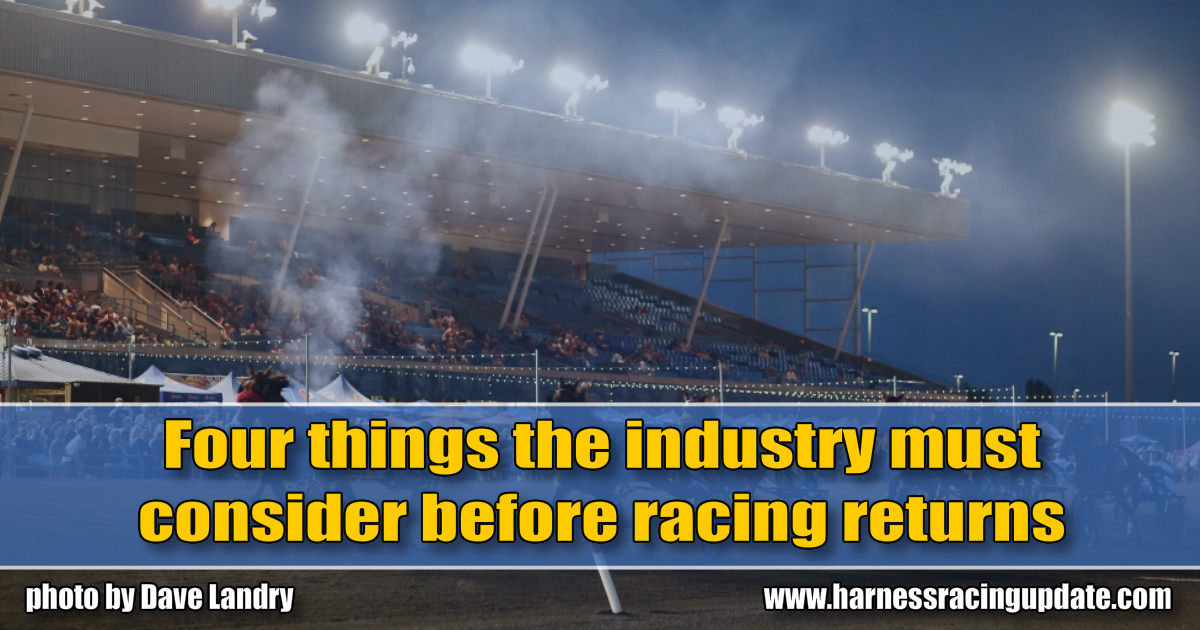 Four things the industry must consider before racing returns
by Jerry Connors
Most people in our sport have had more free time than usual in the last few weeks. Even those training horses still haven't had the responsibilities of taking the horses to the races and the hours that process entails. I am finding that the amount of free time that I have is inversely proportional to state of my bank account, and most of us find ourselves in a similar position.
One good use of all this "down time," besides binge-watching TV shows and improving our video game scores, might be to think ahead and anticipate what situations harness racing might face once we get closer to starting up again in some sort of widespread fashion. I have identified four concepts that probably are already being explored in one form or another in some jurisdictions, but should be in a "ready to qualify" mode as soon as the starter folds the wings of the gate (including being "ready to qualify.")
1. Each track should designate one well-informed person as the "COVID-19 expert" within their staff. This could be a job that can be divided for part-time status between two people, and it could be somebody from the racing side liaising with somebody from the casino side for racino outfits.
This "COVID-19" expert would have several tasks:
a. The expert would carefully watch and read all of the breaking information about the "curves" of the virus, on as many levels as possible – local, regional, state, national, international. While probably not a speaker for the racetrack (that's usually a higher-management function), the expert should be able to deliver up-to-date "bullet points" for management and media departments, based on the knowledge she or he is constantly gaining.
b. The best candidate for this expert position may well be someone with a thorough knowledge of backstretch and paddock operations, as they would be a major advisor to what is needed to be done to insure the health and safety of the people and animals in the racing program once restarting. (This point works on the assumption that at least in the beginning, we will be racing without spectators.)
The expert would be in contact with other racetracks to find out what "best procedures" are working at other facilities (tracks who raced for a couple of weeks before all racing was shut down would be the first people I would contact were I this expert). The expert should also be a part of the team formed with governmental health workers who will likely be inevitable in establishing whether the health of the participants can be guaranteed in the current configuration of the stable and/or paddock area.
c. The expert should be quite familiar with the benefits that racing provides for the area and jurisdiction – agriculture; employment; associated products, from feed to trucks to boarding farms. They could line up a well-spoken horseperson or two to meet the media, either through a briefing conducted by a track executive, or in a story set up by the media relations office, with some specific numbers on how much the current shutdown is costing them personally, and their owners and workers. The sports pages and websites are STARVING for local stories to fill up their space. And don't overlook business pages, or even human interest stories about people, many of whom have never known anything other than the racetrack life and have had a unique situation with which to cope during the hiatus.
We had better have all the right answers in place in order to clear the hurdles and get back to racing as soon as possible. The "virus expert" should have enough knowledge to answer any objections, and be able to pass them along to those higher in the work chain.
2. Organizations responsible for distributing state funds that reward state-bred horses and "state-bred horsemen" should be investigating:what their projected cash flows are going to be this year and next; whether the money "earned" for one year's racing can be carried over to the next year; what new programs if any may have to be designed to ensure each year's "crop" is properly-rewarded; and what the county fair circuit possibilities are for the year as the months go by.
Once most jurisdictions are back "online" or rapidly approaching that point, there is likely to be some sort of regathering of track race office officials and stakes sponsors and executives, trying to get as many races – especially the "traditionally big" ones – into a tentative calendar for the rest of the year.
It is likely that some major stakes will not be conducted in their traditional spots, the North America Cup already declaring itself one. But the Woodbine Entertainment Group will want to conduct an edition of the race in 2020 if at all possible, and so are going to have to find a spot for it. (If anybody has a good, viable plan to condense two-week stakes, elims/final, into a one-week stake just for this season only, the idea would surely be welcome). And the bigger (usually = more money) the stake, the better it can "stake" out its own territory, with good but less-alluring races going to be forced to reroute their events as much as the conditions of the stakes allow.
And in the tier behind that will usually be the state-sired or bred programs. Most have already conceded that they are going to lose one or two of their 3-year-old preliminary legs. If the shutdown lasts a long time, or if later in the year they have to compete with too many major stakes to attract quality horses, there could be reconsideration of just what the state stakes programs can accomplish in their 2020 races.
This is where it will be important for each jurisdiction to know if its laws allow for funds accumulated for 2020 racing can be "carried over" to 2021. Sophomores will likely be losing a preliminary or two unless the schedule is really crammed in, which may benefit nobody; could a carrying-over of money to 2021 and the one-year creation of a "Maturity" stake or stakes be permissible?
When I was with the Pennsylvania program as part of the Harness Racing Commission, the money we paid out in, say, 2012, was the total amount generated by our cut of the pari-mutuel and the casino betting from 2011. We knew in March what the purses would be for each of the eight divisions' four preliminaries, and their championships and consolations.
In this scenario (I don't know if it is still in effect there), the money to be paid out in 2020 would have been what was collected in 2019. But if there were fewer preliminaries in 2020 – and a likely shortfall in 2021 money because of the loss of the months of racing/casino opportunities to generate "normal" amounts in 2020 – could some of the 2020 money be carried over until 2021? It would be devoted to whatever classes lost opportunities this year – thus the idea of Maturity races for 4-year-olds that were denied full opportunities.
I know some jurisdictions get their funding for year "X" for the amount of funding projected from July 1 of year "X-1" to June 30 of year "X." The switching of the normal patterns of income accumulation is going to affect these places, too – what are the possibilities available to keep the program running "normally"?
Lastly, will terms like "social distancing" be far enough in the past for there to be a fair harness racing circuit in any given jurisdiction in 2020? Talk about a crowding together of people – that's the essence of the fairs, in addition on the racing side to the likelihood of a lack of sanitary structure such as will be in place at the pari-mutuel ovals. What if fair racing is reduced or even non-existent this year – can that money be carried over to next season? People bred and bought yearlings to race at the fairs at two and three – are they going to have the chance to get a fair return on their investment?
These are all questions that can be explored right now, and then the answers can be used (or, if we're lucky, not have to be used in many cases) as soon as "the new stakes norm" for the year gets established.
3. How are we going to get all those horses qualified?
During opening week at a small eastern track in the late-'70s, the morning line favorite in the last race on a card was stepping up 50 per cent in claiming price (from $500 to $750) after being distanced without breaking at the lower level in his last race –which occurred ten months previously.
And the chances are that the bettor standing in front of the evergreen backdrop of that oval for that card was not as baffled as will our 2020 bettors be when we start racing and if the horses don't show a qualifying line. Qualifiers have been pooh-poohed in some areas, lately, including this publication, but I can't imagine a bettor, likely already financially wounded by the virus situation, who would be likely to wager much beyond a token level without some indication of form – it seems we should be up to presenting the most enticing product we can right away when we regain our fans' attention.
Further, I have been handicapping for 54 years now, including the last seven doing a tip sheet at Harrah's Philadelphia. I find the qualifiers very helpful in anticipating how a race is going to go, especially pointing to horses that are "faster than their form" indicates to the crowd; and I also infer that many to most trainers also consider a horse and his qualifier as a "finishing school event" in their campaigns back to weekly warriors. I think they still have a large amount of relevance.
Now consider this: if a track races four times a week, 12 races a day, and eight horses a race, that's 384 horses that will be needed for the first week alone. We had better start thinking about the solution to that imposing question of qualifying right now. Marathon qualifiers at the tracks, a couple times a week for a couple of weeks? Some "help" from local training centers or fair ovals? Somebody has to organize a battle plan.
And then after the first week we have:
• horses who won't race until the second week or beyond;
• 2YOs (ALL of whom will need a line, as they have none)
• stakes horses (who need a "good" 2020 line, and who often qualify twice to be tight "at the go")
• horses on "the judges' list"
• horses just coming in from "Down Under" (more and more of them every season now)
• fair horses who need a "good" charted line to start on their circuit (Pennsylvania has such a rule)
Some plan is going to have to be worked out, and now is a very good time to think out the theory and get in place what one can for when the actuality arrives upon us.
4. No claiming races for the first couple of months back at the races.
My colleague Brett Sturman tackled some of point #3 on page 7 of today's issue and mentioned point #4 in these pages last week (full story here); I have a bit of amplification on his observations, and a couple of practical guidelines that might help.
Owners have been paying for the keep of their horses for a couple of months, maybe more before the end of our current hiatus, and for those trotters and pacers who might not do in a conditioned event, we propose a type of racing that does not allow another stable to claim a fresh horse after the investment made in him.
It would be like a starter allowance in thoroughbreds: "Horses who have started for a base claiming price of $10,000 (e.g.) or less within their last (x) starts, or since (xxx date)." This way the horses have been racing at this level, or may be joined by horses stepping up in class – the latter likely would have to be sharp or else shouldn't be in here.
Perhaps a consideration could be made for a horse who is "stuck" in a class just above his ability: "AE: starters for $12,500 (under whatever conditions as above) who are nw$1000L5." A horse who got a good check with the drop would have to go back up in price.
A stable couldn't "jam" a superior horse without fear of losing him via claim by adding a "penalty" condition for a horse who has done very well in this company. "Horses at this level who have two wins, or have hit the board three times, in their last three starts" – 1) "are ineligible"; 2) "are handicapped outside" and/or 3) (this is a little crafty) "can be claimed for the base price plus normal claiming allowances, if any." That ought to take care of most horses looking for "easy pickings."
After a designated period of time the claiming game could be picked up again, but with these conditions on "claiming races," owners who paid several months of upkeep for horses during the delay wouldn't be faced with losing them right away via the claim box. Private purchase options are of course still available, as always.
We hoped we have laid out a few challenges that may be facing the game whenever we start back up again in semi-full force, and we hope the thoughts here may spur those in charge to have definitive policies in place before the inevitable scramble just before reopening.
We hope everybody stays healthy and uses their time wisely.