Canadian Horse Racing Hall of Fame Class of 2020: Ben Wallace
by Chris Lomon
It's a call Ben Wallace is still trying to process.
When he answered the phone and heard the words, "Congratulations, you've been inducted into the Canadian Horse Racing Hall of Fame," the long-time standardbred trainer was an equal measure of elated and overwhelmed.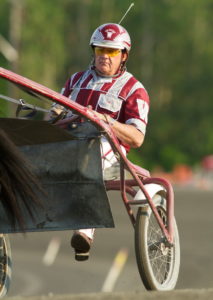 It was a call he had one day hoped to receive, and now that he had, Wallace soon found himself looking back on a stellar career that is approaching 50 years.
And when he did, it wasn't the many talented horses he campaigned that first came to mind.
"I think it was around eight or nine at night when I got the call," started the 71-year-old Ontario native. "I never thought it would affect me as significantly as it did. I thought I had a chance… but when I found out, I was just awash with memories. The next couple of hours were very transcending. Horses weren't the initial focal point. It was people, the ones who struggled along with me. Fifty years of doing this, 50 years of training – that can really run you ragged. You come across such a gamut of individuals, and that's what struck me most."
All of the emotion was enough to keep Wallace awake well into the early hours of the morning.
Not that he was complaining.
Wallace was just as sentimental in the days after his Hall of Fame nod.
"To be honest… I don't know if I ever went to sleep," he said with a laugh. "I know I definitely didn't get a good, solid eight hours of sleep. I was wrapped up in it pretty good. Memories can be funny things because one leads to another. Being in the business so long, you have plenty of them. Where do you stop, really? It was less to do to with any type of wins or big moments, it (his thoughts) was more to do with everyone you met along the way."
Several of those people – some Wallace regularly speaks to and others he hasn't had any recent conversations with – reached out to congratulate him.
"I received so many calls and messages from people you've lost track of. It's funny. The horses are there, and I certainly have tremendous memories of them, but I just kept thinking of people who I ran into over the years, people I hung out with."
Eventually, though, Wallace, who once worked for the legendary Bill Wellwood, recalled some of the pacing and trotting greats that helped boost his hall of fame credentials.
There was, of course, 1999 Pacing Triple Crown winner and Canadian Horse Racing Hall of Fame inductee Blissfull Hall, Breeders Crown winners Totally Western (2002), Pans Culottes (2003), as well as an impressive lineup of seven-figure winners including Apprentice Hanover, Zooka, Cam Swifty, Camotion and Lookout Victory.
But there was also Cliff Time.
Wallace, in a story featured on the Ontario Racing website in July 2016, chose the unheralded pacing son of Post Time as "The Horse That Changed My Life."
In the early 1970s, just out of the University of Windsor and armed with a degree in geography, a then 21-year-old Wallace gave serious thought to heading back to school to pursue a career in urban planning. He took a year to work with horses at Buffalo Raceway before heading back to work for harness racing icon Keith Waples at Mohawk Racetrack.
"My family had friends that were in the business and they had a yearling that they tried with someone else, a $250 yearling, I think he was," recalled Wallace, in the Ontario Racing piece. "He was no good. At least he didn't turn out. He was by a stallion called Post Time. He was out of an unproven mare named Donna Barnes. I'll never forget this because he changed my life.He was ill-bred, big and wooden-headed. He was the prototypical jughead — he had a head that only his mother could like."
Cliff Time was also the first horse Wallace trained under his name.
"He worked his way right up to the highest claimer on the grounds, which was a $9,000-$11,000 pace. If I recall properly, I think the horse was sold and I think he was sold for around $12,000 or $15,000, which was outstanding. I thought, 'Why would I go back to school?' As they say, the rest is history."
Named Canada's Trainer of the Year in 1999, Wallace, who grew up in Guelph, ON, has recorded 1,947 wins and more than $38 million in purses, surpassing the million-dollar mark in 18 consecutive seasons (1996-2013).
There have been trying times, too. None more difficult than in January 2016 when Wallace lost 17 horses in the devastating fire at Classy Lane Stables.
Yet, like he's always done, Wallace persevered, fully committed to an industry that at one point in time was a question mark for a full-time career.
Soon enough (details about the 2020 Canadian Horse Racing Hall of Fame induction ceremonies will be announced) the trainer will take his rightful place beside some of the greatest names in standardbred and thoroughbred racing.
"(Fellow standardbred Hall of Fame inductee) Ian Fleming called me after this year's class was announced, and told he me he was the same way when he went into the Hall of Fame last year, that you end up looking back on everything that's happened. Ian's another one who has been full-bore horse racing his whole life, as well. He said, 'You'll be like that for a while. Then it will slip away and you'll revisit it quite often.'"
During a reflective time where he's spent hours looking back upon his decades in racing, Wallace can add something different into the mix – an opportunity to look forward.
He's humbled in knowing the plaque with his name on it will stand alongside legends of the game, both humans and horses.
"I'm 71… I'm not a spring chicken," said Wallace, whose first job was delivering newspapers. "I've seen everything. I'm glad they hadn't forgotten the '80s and '90s for me, to be honest. Those were my stellar times. And I'm very proud of those days. The only comparison (between himself and those already enshrined) is we're all in the Hall of Fame together. We're all under the same roof, and I'm happy where I am."
Until the official ceremonies take place for the 2020 Hall of Fame class, Wallace will happily take the time to revisit the halcyon days of his harness racing life.
"Nobody gets into this industry as a kid thinking you're going to end up in the Hall of Fame. I wasn't even cognizant of what the Hall of Fame meant 50 years ago. I had no idea. I just knew that I liked what I was doing, and where we ended up was fine with me. As you grow older, you understand there are achievement levels or situations where you are rewarded. And those are great moments. In the back of your mind, you eventually think, 'I wonder if the holy grail is possible.'"
It's a question Ben Wallace no longer needs to ask.