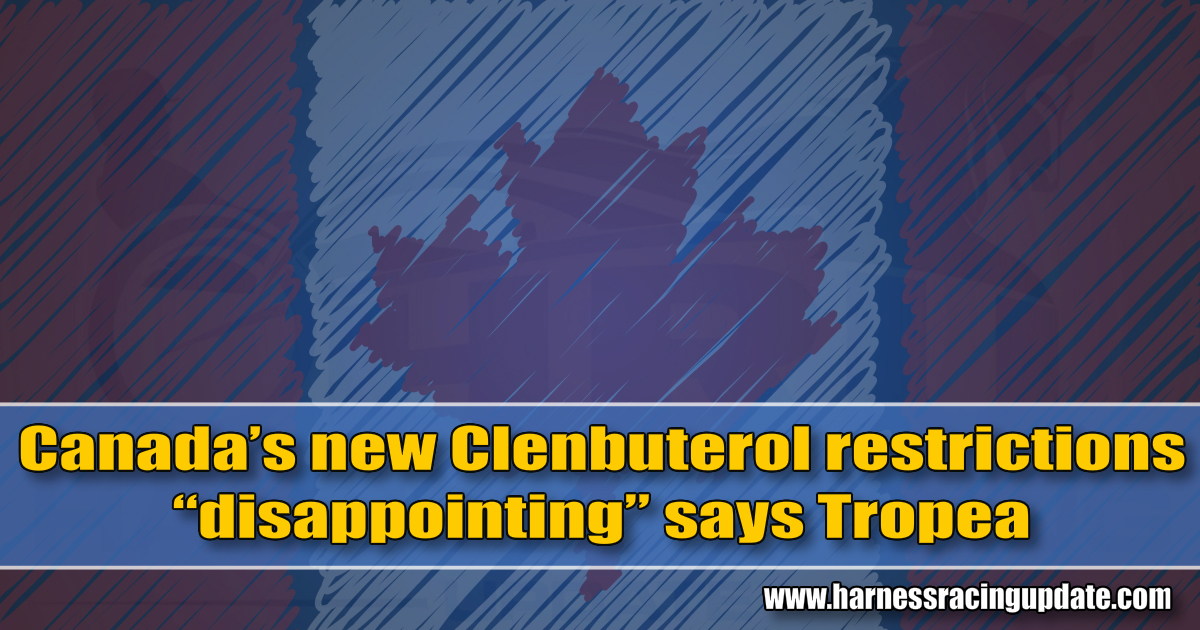 Canada's new Clenbuterol restrictions "disappointing" says Tropea
by Bill Finley
New rules backed by thoroughbred interests regarding Clenbuterol use in Canada will cause unnecessary problems for standardbred owners and trainers, said Brian Tropea, the general manager of the Ontario Harness Horse Association (OHHA).
Last week, the Canadian Pari-Mutuel Agency (CPMA) posted updated rules on its website that banned the use of Clenbuterol throughout the country within 28 days of a horse starting. Prior to the change, Clenbuterol could not be given to a horse within seven days of racing. The new rule covers both thoroughbreds and standardbreds. The drug had already been banned in quarter horse racing.
In both the U.S. and Canada, many racing officials have argued that Clenbuterol is a necessary medication to combat respiratory problems and allergies and that lumping both breeds together when making medication rules failed to acknowledge the difference between standardbreds and thoroughbreds.
"Clenbuterol has been a very effective treatment for horses with breathing issues," Tropea said. "This is something that came from the thoroughbred industry. Certain high-profile trainers were calling for, basically, getting rid of it. Being able to use it only 28 days out is impractical with standardbreds when we normally race on a week-to-week basis. The 28 days means that, effectively, you can't use it at all with a standardbreds. It's very disappointing."
Jim Whelan, the president of OHHA, echoed Tropea's sentiments.
"It helps to clean up a horse's lungs," he said. "To me, it didn't appear to be a performance-enhancing medication. It was a product that worked, otherwise it wouldn't have been so popular. The 28 days makes it impossible for us in standardbred industry to use it. Our horses average a start every 7 to10 days, so this totally eliminates it as an option for treating respiratory problems. Hopefully, they can find something else to treat those horses."
The fight against Clenbuterol was led by Canadian Horse Racing Hall of Fame member Mark Casse. The thoroughbred trainer called it the most abused drug in the industry and called for a total ban. His efforts to curb the use of Clenbuterol were backed by Woodbine Entertainment and the thoroughbred horsemen's group, the HBPA of Ontario. Casse claimed that thoroughbred trainers were abusing the drug because it has steroid-like affects and could help a horse build muscle mass.
"The premise of horses receiving medication for anything other than its proper therapeutic use is not in the best interests of our industry or in the best interests of the horse," said Ontario HBPA president Sue Leslie, who was just named to the Canadian Horse Racing Hall of Fame as part of the thoroughbred class of 2020. "While the vast, vast majority of horsepeople and veterinarians work together to use medication wisely, you always have the outliers. We as an industry can't afford to let this go on anymore. The way we handle animal welfare and the public image of racing has to improve. To me, this is just one small part of it. There is more that we have to do."
The United States Trotting Association (USTA) has been among the standardbred industry groups pushing back against efforts to curb Clenbuterol use. The USTA has lobbied to allow trainers to use it within four days of a race. They, like others, maintain that it is impractical to have the same rules for standardbred racing, where horses often race once a week, and thoroughbred racing, where a typical horse might have five or six weeks off between races.
Whelan doesn't agree with Leslie, saying that it is prudent and humane to give a horse with breathing problems a drug that can help them.
"If you have a medication that you know works to treat an ailment a horse has, especially a respiratory problem, why wouldn't you use it?" he said. "They are exposed to dust on the track and dust in the barns. They have allergies and that affects their performances. These are athletes, not pleasure horses that aren't fully exerting themselves. You have to keep them healthy and if they have respiratory problems you have to be able to treat them. I think it's more humane to treat them than try to race them when they are in pain or in respiratory distress."
The medication rules in the U.S. still vary from state to state, but Casse has predicted that many jurisdictions will follow Canada's lead and tighten the rules regarding the drug.
Trainer Anthony McDonald didn't have a strong opinion about the rule change because, he said, he never uses Clenbuterol. The penalties for anyone who gets caught outside the approved withdrawal times are severe and McDonald said it wasn't worth having it around the barn and risking the wrong horse inadvertently getting the drug.
"As an industry we've moved away from a lot of the medications that are supposed to help with allergies or breathing issues and I think it's probably better for industry," he said. "Over the past four years we have had horses that have had allergies or complications from allergies in July or early August and it's a real problem combating that. Instead of looking for medications to combat that issue with our young horses we've decided we would just stop on them. There's no way to race a young horse through severe allergies."
Trainer Bob McIntosh also said he did not use Clenbuterol out of fear that it would lead to a drug positive. He argued that the regulators need to stop focusing on what he sees as relatively minor drug issue and try to crack down on more serious matters.
"You have all these other drugs they can't test for that are the real performance-enhancers and they're coming down on Clenbuterol of all things," he said. "They have bigger fish to fry than this. I think they are on the wrong path. Put more research into catching guys with the EPO drugs. That's where they should be looking."