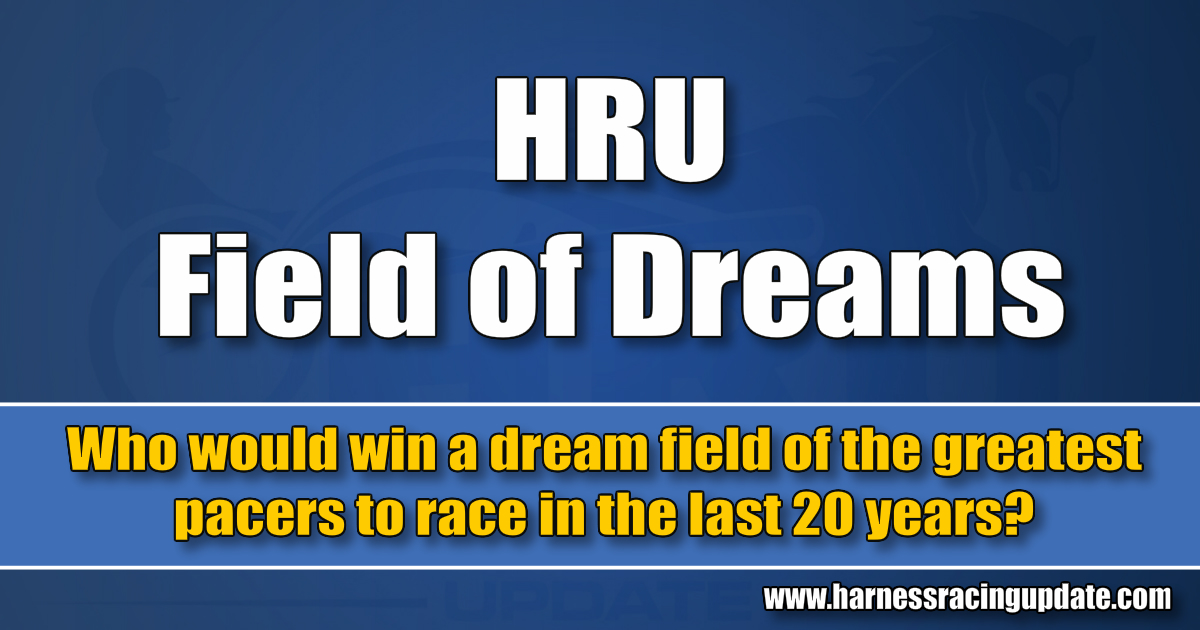 Field of Dreams – Pacing Edition
Carding a field of the greatest pacers to race in the last 20 years for the HRU Dream Pace… and handicapping who would win and how.
View the Trotting Edition here.
by Jerry Connors
You thought the maiden trot was hard to figure out? Then came COVID-19, and many of the standards we had learned, and many of the routine things we were used to doing, were turned on their head in every walk of life, including harness racing.
Health, finances, occupations, working with horses, racing those horses now and racing them in the future are all unknowns at the moment.
But we need to stay upbeat and optimistic, be ready for when the tide (inevitably) turns, and we need to be doing things that will be productive.

Like having two major harness races.
In the early 1970s, Bob Marks, then working as a writer/editor/handicapper in New York City, created a story called "The Race Of The Decade." He evaluated the top horses of the 1960s pacing free-for-all scene, picked eight to race over the half-miler in New York City, drew post positions – and then put them behind the gate and turned them loose, doing one of the earliest "simulations" based on their form, to guide him on how they would race. He said in the introduction, "I didn't know who was going to win until the horses went under the wire." (The winner of the Race Of The Decade was Cardigan Bay, who was always one of my favorites because we were both foals of 1956.
We used this idea in an early '90s column in Hoof Beats with horses of the preceding decade, and since we are now faced with the unprecedented situation of working with our horses and not knowing how and when they will prove themselves on the racetrack, it seemed like a good idea to revive the idea – two fast-class races to keep us in mind of what we are going to achieve with those in training. We're doing the pacers this week, and the trotters next week.
I remembered that it was difficult to limit the field for the one-decade race, and then editor Dave Briggs said, "Make these races for the horses that have raced in the last two decades." So, we widened our focus to include the top horses whose major accomplishments came within the last 20 years. It was about twice as hard to come down to the final fields, but we have done our best to come up with "the best of the best."
Here's the guiding principle we used in putting together the fields for these HRU Dream Races:
We picked the horses who, over a significant amount of time, showed that, on their best miles and without being in a crippling race position, they could win or be very close consistently with the very best horses in competition, both at that time and with champions of nearby years.
Many very good horses – Horses of the Year, world champions, rich earners – went under consideration, but eventually we had to bring it down to 10 for each gait. If your favorite horse didn't make the field, we are sorry. If a horse with whom you were/are connected didn't make the field, we are doubly sorry. To be in consideration for this kind of race reflects of the quality of the final field – and of your horse's achievements.
In picking the "host racetracks," we decided that with this type of quality horseflesh, there would be a good chance of beating the existing world records – 1:46 on the pace, 1:48.4 on the trot. So we picked what we think were the two fastest racetracks over this 20-year period: Springfield (IL) and Red Mile (KY). Both tracks score 10-wide.
Red Mile is currently a co-holder for the world mark for the pace (1:46) and was the location of the outright fastest trot at 1:48.4. Plus it lists an 850-foot stretch, indicating rounder turns. We'll go to historic Lexington for the trot(Remember, all of this is being done outside of a world of calendar time, where tracks not hosting racing, retired horses and horsemen, and years of breed and equipment evolution can be dealt with as wished).
Of the mile tracks, Springfield had an 850-foot stretch, with the ¾ pole way up on the turn, and when the Grand Circuit regularly stopped there along with the Indiana State Fair and DuQuoin, quite often the Springfield miles were the fastest recorded in the divisions. The fastest mile in harness racing stayed there for 23 years. So Springfield will play host to the pacers.
Post positions were drawn through a random number generator in the computer. I did not give serious thought to how the race would be conducted until the posts were drawn, so evenly-matched were these fields, and how position and luck might be so strong a determining factor.
After much hard deliberation, Foiled Again has been designated as AE1, and Rock N Roll Heaven has been designated as AE2.
Here is a brief introduction to the 10 champions who will compete in the HRU Dream Pace. Listed is the horse, year of foaling, any Dan Patch Awards the horse may have received, whether the horse set a world record, lifetime mark, and earnings. All of the horses in this pacing field are males.
If you start on lineage, it'd be hard to ever stop, so we won't start. Since there were ownership and trainer changes during the careers of some horses, and because it would be very difficult to determine who accomplished how much of their lifetime output for each "unit," the sponsorship is not listed – but most of you fans know who they are, and everybody associated with these horses know their greatness, and your contribution to it.
Because some drivers were the "regulars" behind a couple of horses, we explain how the driver in the Dream Race arrived in the sulky.
#1 is REAL DESIRE, a foal of 1998, who was the Horse of the Year in 2002, and a world champion. He took a mark of 1:48.2, and earned $3.2 million. John Campbell regularly drove him, and Campbell maintains the mount here.
#2 is SOMEBEACHSOMEWHERE, a foal of 2005, the 2YO Pacer of 2007, and the Horse of the Year in 2008 as a 3YO. He was a world champion. He took a mark of 1:46.4, and earned $3.2 million. Paul MacDonell will be his driver.
#3 is CAPTAINTREACHEROUS, a foal of 2010 who was Pacer of the Year in 2012 as a 2YO and 2013 as a 3YO. He took a mark of 1:47.1, and earned $3.1 million. Tim Tetrick, his usual pilot, will be guiding him here.
#4 is MC WICKED, a foal of 2011 who was 3YO champion in 2014, Horse of the Year as an older pacer in 2018, and Older Pacer of the Year in 2019. He was a world champion. He took a mark of 1:46.2 and earned $4.9 million. David Miller has elected to drive another horse, as did Brian Sears, so getting the mount is Louis Philippe Roy, who is familiar with the horse from driving him on the WEG circuit at times.
#5 is LATHER UP, a foal of 2015 who was a world champion. He took a mark of 1:46, and earned $1.7 million. Montrell Teague will be in his usual perch in the sulky behind Lather Up.
#6 is ALWAYS B MIKI, a foal of 2011 who was Horse of the Year as an older pacer in 2016, and was a world champion. His mark is 1:46, and he earned $2.7 million. David Miller will be driving Always B Miki today.
#7 is WIGGLE IT JIGGLEIT, a foal of 2012 who was Horse of the Year as a 3YO in 2015, and Older Pacer of the Year in 2016. He was a world champion. The horse has a 1:47.2 mark, and earned $3.9 million. Since regular driver Montrell Teague is behind Lather Up, his connections have tapped Yannick Gingras, whose mounts earned $133.2 million over the last ten years.
#8 is ROCKNROLL HANOVER, a foal of 2002 who was Horse of the Year as a 3YO in 2005, and was a world champion. His mark was 1:48.3, and he earned $2.7 million. He will be driven by his regular driver, Brian Sears.
#9 is SWEET LOU, a foal of 2009 who was 2YO of the Year in 2011 and Pacer of the Year in 2014 as an older performer. His mark was 1:47, and he earned $3.4 million. Regular driver Ron Pierce will be coming in to drive.
#10 is BETTOR'S DELIGHT, a foal of 1998 who was 2YO of the Year in 2000 and 3YO in 2001. He took a mark of 1:49.4, and his earnings were $2.6 million. Mike Lachance will be in his usual spot behind Bettor's Delight.
That's a look at our field for the Harness Racing Update Dream Pace – and here's a look at the morning line odds for the field (top of page).

Obviously you won't be able to "see" this race. That's why the description will run a little longer than if an actual announcer were calling the race live – we have to fill in some of the "hidden" details.
The field is behind the gate for the HRU Dream Pace – 10 of the greatest performers of the last 20 years – with earnings of over $31 million among them — and here they come…
THEY'RE OFF IN THE DREAM PACE … Fastest away is Lather Up from the middle of the track, with his stablemate Wiggle It Jiggleit to his outside … Real Desire is being urged by Campbell to protect position from the rail… and Bettor's Delight is wide and frontward-bound… The favorite, Somebeachsomewhere, is drifting midpack outside… and there's something you don't see every day early on the first turn, as Captaintreacherous, McWicked, and Always B Miki are staying in the two-wide tier… Rocknroll Hanover and Sweet Lou are taking back, and look like they will be dropping back to the end.

Up front, Lather Up keeps going on the lead, with Real Desire keeping the pocket filled early and Wiggle It Jiggleit dropping in behind him… Now Bettor's Delight is up to contest the lead against a strong Lather Up… Somebeachsomewhere remains outside as they hit the quarter in :25.2 – they're steppin'!

Lather Up is very reluctant to give up the lead to Bettor's Delight, and Lachance, seeing a gap behind him, backs off Bettor's Delight to tuck second as they are early in the backstretch… Real Desire is third now, and Somebeachsomewhere is fourth and moving forward quickly, with the others in the outer tier following him up… Lather Up is still on the lead, but Somebeachsomewhere is storming up in high gear for MacDonell, and that pair will be clearing to the lead before the half, leaving Captaintreacherous first-over, with McWicked and Always B Miki in that one's wake… Bettor's Delight, Real Desire and Wiggle It Jiggleit, all forwardly-placed early, have been shuffled a bit, while Sweet Lou and Rocknroll Hanover have the best view at the half in :52.1 – 2/5 slower than in the 2009 Meadowlands Pace.

They're heading for the far turn, with the crowd choice Somebeachsomewhere ahead by a diminishing length as Captaintreacherous comes up to challenge, with McWicked and Always B Miki nearest him in the outer flow, and Lather Up staying tight in the pocket… Bettor's Delight is locked in third on the rail, as is Real Desire right behind him.
Around the final turn towards the three-quarters pole, and Captaintreacherous is now past the wheel of Somebeachsomewhere and still inching forward… Lather Up keeps up in the pocket, but McWicked starts to gap a bit in second-over midturn, and Miller tips Always B Miki three-wide as they are past the three-quarter pole in 1:19!… We have a chance at the 1:46 world record!

They're nearing the top of the stretch, and Somebeachsomewhere retains the lead… Captaintreacherous hasn't faded, but he's not inching up now either… Lather Up is still in position in the pocket… Always B Miki may be moving fastest of all at this point – fourth, now third, and perhaps second soon… Bettor's Delight looking for room… Real Desire is behind a slightly-gapping McWicked… Sweet Lou is wide, Rocknroll Hanover wider, and Wiggle It Jiggleit has been badly shuffled.
Towards midstretch, it's still Somebeachsomewhere, but Always B Miki looks strong and is advancing… Lather Up finally shows signs of not keeping up, and Bettor's Delight will try to go inside him… Real Desire may have found a lane between horses… Captaintreacherous holding gamely but giving a little ground.
In deep stretch, it's going to come down to Somebeachsomewhere on the inside and Always B Miki on the outside… Real Desire looks like he may be third… but it's an epic battle on the front end… Somebeachsomewhere and Always B Miki… The wire — TOO CLOSE TO CALL!… Real Desire third, then Captaintreacherous and Lather Up lasting for the final checks.
But which one will it be? One thing we do know – whoever wins will be the FASTEST PACER OF ALL TIME, as the Springfield timer is frozen at 1:45.4! No one's EVER seen that time flashed at the end of a mile!
We await the photo… Miller and MacDonell head back towards the grandstand.
AND THE "6" FLASHES UP FIRST! Always B Miki, 1:45.4 world record for David Miller, just a nose ahead of Somebeachsomewhere, the "2," with the "1", Real Desire, third, and Captaintreacherous, the "3," fourth … 6-2-1-3 on the board … Always B Miki … 1:45.4 … WOW!

QUOTES
David Miller (Always B Miki): "I had the stablemates leaving on either side of me, and there was another one leaving wide, and the inside pushed out, so I didn't want to get mixed up with that. This horse has raced well off of cover, so I thought I'd just float and follow an outer tier. Well, that's what everybody else thought, too, so I was almost last at the quarter – we were five-in / five-out.
"The flow was better down the backstretch and through the turn. Before the ¾, I was going to go three-deep and was watching to see if McWicked was, too, but he was gapping a bit – he must not have had his top game today – so I hustled Miki out three-deep, and he hit a wicked high gear. I was gaining on Somebeachsomewhere; I didn't know if I could reach him from where I was, but my horse was just eating up the ground.
"Coming back, Paul said he didn't know if he won, and I said I didn't know, either. Both horses obviously raced like champions today, beating the world record. I'm just happy and thankful that my number went up first, and all credit to the horse and all the people associated with this horse. I'll remember today for a long time."
Paul MacDonell (Somebeachsomewhere): "This horse now has only lost twice, and both times he lost he had post two. It's really kind of a tough post in fields like this, because you either have to bust away and make a regaining move, or you just drift and wait and be the last one to the top and hope you didn't pay too high a price. This race was actually easier on him to the half than The Meadowlands Pace.
"My horse didn't get any kind of rest. The Captain horse (Captaintreacherous) came right up and raced him, so there was no breather around the turn. Early in the stretch I looked back and I could see David and his horse coming, and I asked Beach for his best. To pace four quarters under :27 and go 1:45.4, that's just a terrific race, and we were unlucky on the wire. The horse and everybody with him has every reason to come away from this race with their heads held high."
John Campbell (Real Desire): "I knew I had to try to leave some or, with all those horses outside, we'd be shuffled way back. I almost could have kept the pocket shut at the quarter, but then there'd be a huge duel on the front and there would be sweepers and I'd get shuffled back anyway, so I didn't press to keep Bettor's Delight out and take more out of my horse.
"My horse kept up well, and in the stretch Lather Up drifted out just a little, and Mike (Lachance, with Bettor's Delight) went up inside him, so I was fortunate enough to be able to angle out, and I found some room and could get third – he raced super. I am proud to have been a part of this event – it lived up to the hype."
Ron Pierce (Sweet Lou): "My horse drew post nine, and had to race from behind, and went in 1:47.1 and still finished last – that's horse racing. I'm going back to the mountains. At least it's cooler there."
WE WANT YOUR FEEDBACK
Thoughts on the field? Thoughts on the outcome? In your mind, who would win and how?
Let us know and we'll publish some of your responses next week as part of the second chapter featuring the HRU Dream Trot.
Email us at: editor@harnessracingupdate.com.