Carding a field of the greatest trotters to race in the last 20 years for the HRU Dream Trot… and handicapping who would win and how.
by Jerry Connors
Last week's HRU Dream Pace (full story here), a race among our selection of 10 top competitors of the last 20 years, certainly produced a classic, with Always B Miki and driver David Miller rallying to be up in the last strides over a game Somebeachsomewhere in 1:45.4, a clocking which is better than the current 1:46 world record.
Today, 10 of our greatest trotters of the last 20 years are gathered together to put on what should be an exciting, and perhaps another record-breaking, spectacle. We hope that you will enjoy this contest, and that it can both take away the sting of a delayed stakes season brought about by COVID-19, as well as ignite some fond memories, and perhaps even passionate and well-reasoned discussion.
Note: If you read last week's Dream Pace, you know the basics about how this race came about, and our methodology in putting the horses and drivers together and racing them. It bears repeating this week.
In the early 1970s, Bob Marks, then working as a writer/editor/handicapper in New York City, created a story called "The Race Of The Decade." He evaluated the top horses of the 1960's pacing free-for-all scene, picked eight to race over the half-miler in New York City, drew post positions – and then put them behind the gate and turned them loose, doing one of the earliest "simulations" based on their form, to guide him on how they would race. He said in the introduction, "I didn't know who was going to win until the horses went under the wire." (The winner of the Race Of The Decade was Cardigan Bay, who was always one of my favorites because we shared two characteristics: we were both foals of 1956.)
We used this idea in an early '90s column in Hoof Beats with horses of the preceding decade, and since we are now faced with the unprecedented situation of working with our horses and not knowing how and when they will prove themselves on the racetrack, it seemed like a good idea to revive the idea – two fast-class races to keep us in mind of what we are going to achieve with those in training.
I remembered that it was difficult to limit the field for the one-decade race, and then HRU editor Dave Briggs said, "Make these races for the horses that have raced in the last two decades." So, we widened our focus to include the top horses whose major accomplishments came within the last 20 years. It was about twice as hard to come down to the final fields, but we have done our best to come up with "the best of the best."
Here's the guiding principle we used in putting together the fields for these HRU Dream Races:
We picked the horses who, over a significant amount of time, showed that, on their best miles and without being in a crippling race position, they could win or be very close consistently with the very best horses in competition, both at that time and with champions of nearby years.
Many very good horses – Horses of the Year, world champions, rich earners – went under consideration, but eventually we had to bring it down to ten for each gait. If your favorite horse didn't make the field, we are sorry. If a horse with whom you were/are connected didn't make the field, we are doubly sorry. To be in consideration for this kind of race reflects of the quality of the final field – and of your horse's achievements.
(Remember, all of this is being done outside of a world of calendar time, where retired horses and horsepeople, and years of breed and equipment evolution, can be dealt with as wished).
In picking the "host racetracks," we decided that with this type of quality horseflesh, there would be a good chance of beating the existing world records – 1:46 on the pace, 1:48.4 on the trot – so we wanted ovals which have produced records in the past.
The key to a "fast oval" is the largeness and gradualness of the turns – horses do not have to slow down as much to negotiate them. So we picked what we think were the two fastest mile racetracks over this 20-year period: Springfield (IL) last week for the pace, and this week for the trot the historic Red Mile in Lexington KY, which is similarly configured to Springfield, with rounder turns than most mile ovals.
Post positions were drawn through a random number generator in the computer. (And it was just a piece of total randomness that finds the three mares in this field starting in posts one, two, and three – no "mares draw inside" condition exited). I did not give serious thought to how the race would be conducted until the posts were drawn, so evenly-matched were these fields, and how position and luck might be so strong a determining factor.
Here is a brief introduction to the 10 champions who will compete in the HRU Dream Trot. Listed is the horse, year of foaling (and if a mare), any Dan Patch Awards the horse may have received, whether the horse set a world record (world champion), lifetime mark, and earnings.
If you start on lineage, it'd be hard to ever stop, so we won't start. Since there were ownership and trainership changes during the careers of some horses, and because it would be very difficult to determine who accomplished how much of their lifetime output for each "unit," the sponsorship is not listed – but most of you fans know who they are, and everybody associated with these horses know their greatness, and your contribution to it.
Because some drivers were the "regulars" behind a couple of horses, we explain how the driver in the Dream Race arrived in the sulky for today's race.
After much hard deliberation, Mission Brief is listed as AE1, and Market Share is listed as AE2.
#1 is BEE A MAGICIAN (2010, mare), the 2013 Horse of the Year at three and Older Trotting Mare champion in 2015, and a world champion. She earned $4.1 million in her career, and took a mark of 1:51. Brian Sears was first call on several horses in this race and chose to drive Muscle Hill, so David Miller, who had success when he drove Bee A Magician, gets the call to handle her today.
#2 is HANNELORE HANOVER (2012, mare), the 2017 Horse of the Year, the 2016 Older Trotting Mare in 2016, and a world champion. She had a bankroll of $3.1 million and a mark of 1:49.2. Yannick Gingras will be in his accustomed perch behind Hannelore Hanover.
#3 is ATLANTA (2015, mare), the 2018 Trotter of the Year at three and the 2019 Older Trotting Mare champion. She too was a world champion, with $1.9 million in earnings and a mark of 1:49.1. Scott Zeron will be driving Atlanta.
#4 is SEBASTIAN K S (2006), who was the Older Trotting Male of the Year in 2014 and a world champion. He earned $3 million combined on both sides of the Atlantic, and posted a 1:49 mile.
Åke Svanstedt will be in the sulky behind Sebastian K S.
#5 is INTIMIDATE (2009), an earner of $1.4 million in a career which saw him take a mark of 1:51. (Author: Perhaps not among the first horses you'd think of, but possessor of perhaps the fastest "pass everybody" 3/16-mile burst in modern times – watch his two 2012 Breeders Crown races). Sylvain Filion gets the call to handle Intimidate in the Dream Trot.
#6 is MUSCLE HILL (2006), the 2009 Horse of the Year at three after winning divisional honors at two. He is a world champion, took a mark of 1:50.1, and earned $3.3 million. Muscle Hill was Brian Sears's choice to drive among several in here.
#7 is MR MUSCLEMAN (2000), the 2005 Trotter of the Year after taking down divisional honors at both three and four. He earned $3.6 million and took a mark of 1:51.1. Ron Pierce elected to go with Donato Hanover, so another Hall of Fame horseman having experience with the horse, John Campbell, will be driving here.
#8 is GREENSHOE (2016), the 2019 Trotter of the Year as a 3-year-old. He earned $1.9 million while taking a mark of 1:49.4. This is one of several horses Brian Sears usually drove, and Greenshoe's team reached out – all the way across the Atlantic to Björn Goop, son of Olle and one of Europe's top drivers including taking this year's Prix d'Amerique with Face Time Bourbon.
#9 is CHAPTER SEVEN (2008), the Horse of the Year in 2012 as a 4-year-old and a world champion. He took a mark of 1:50.1 and earned $2 million. Tim Tetrick will as usual be at the reins behind Chapter Seven.
#10 is DONATO HANOVER (2004), the Horse of the Year in 2007 as a 3-year-old after taking divisional honors at two, and a world champion. He put up a mark of 1:50.1, and earned $3 million. Ron Pierce didn't go back to the mountains this week and chose Donato Hanover; we're sorry his post luck hasn't changed.

That's a look at our field for the HRU Dream Trot – and here's a look at the morning line odds for the field: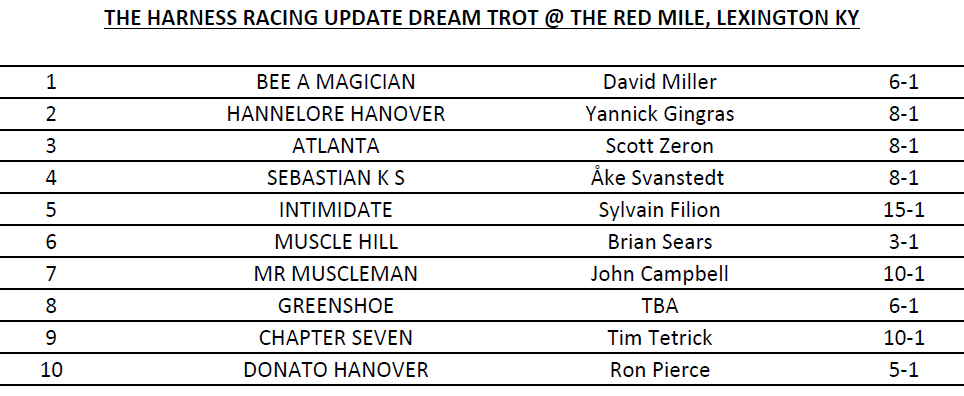 Obviously you won't be able to "see" this race. That's why the description will run a little longer than if an actual announcer were calling the race live – we have to fill in some of the "hidden" detail.
A great assemblage of 10 world-class trotters from the last 20 years – a group that has earned over $27 million – will be looking at the world record of 1:48.4 as they pick up speed behind the Red Mile gate approaching the start of the HRU Dream Trot … here they come …
And they're off and trotting… Atlanta shows her excellent gate speed from the inside, and from the outside Chapter Seven moves up while alongside Donato Hanover is flying three-wide into the first turn… Bee A Magician stays close from the rail, while Muscle Hill floated out and is midpack while two-wide… Hannelore Hanover is sixth, ahead of Sebastian K S, with Greenshoe dangling outside of Intimidate, and Mr Muscleman is last going around the first turn.

Going through the initial bend and coming up to the quarter, Donato Hanover is trotting up smartly to challenge Atlanta for command, and it looks like that mare will yield the front to Donato Hanover… but not until after an opening quarter of 26.3… Chapter Seven tucked behind Atlanta on the first turn and now is third, while Sears now asks for more from the favored Muscle Hill and has now gone to third while still outside… Bee Magician, Hannelore Hanover and Sebastian K S are the next three on the inside, with Greenshoe still outside near the back, joined outside now by Mr Muscleman as Intimidate is still 10th and last heading down the backside.

Nearing the half, Muscle Hill goes up to take over the throttle from Donato Hanover, with Chapter Seven and Atlanta next behind… Svanstedt now has Sebastian K S on the move and going first-over, with Greenshoe and Mr Muscleman latching on to the cover as Muscle Hill passes by the half – in 53.2. That's FAST, even for this kind of field.
Into the far turn, Muscle Hill retains 1¼ lengths over Donato Hanover, with Sebastian K S third on the grind and Atlanta in fourth… Greenshoe is fi… — BUT NOT FOR LONG AS BJÖRN GOOP SENDS HIM THREE-WIDE RIGHT NOW, AND HE IS REALLY SMOKING — now fifth, now fourth, now third, now second and moving alongside pacesetting Muscle Hill… and Greenshoe keeps right on going and is BY Muscle Hill … Greenshoe with a huge power move to sweep to the lead on the far bend, ahead of Muscle Hill, and the field hits the three-quarters in… 1:21. We're still on course for a world record…
Coming out of the far turn and into the stretch, Greenshoe, after that huge move, and Muscle Hill are one-two… Sears, behind Muscle Hill, who is up on the bit, keeps looking to his right to gauge Sebastian K S, who might be starting to show the effects of his first-over journey… Donato Hanover is also full of trot but has nowhere to go at the moment – he may follow Muscle Hill if that one can get clear… Mr Muscleman is moving strongly on the far outside, and Campbell has angled Chapter Seven way wide looking for a lane… On the extreme outside, Intimidate might be moving fastest of all.
Past the tunnel, and Muscle Hill has come clear and trots right up to Greenshoe, but that one fights on… Donato Hanover still looking for clearance… A lot of horses still with trot, but either way wide or stuck along the inside.
Coming to deep stretch, Muscle Hill FINALLY gets by the game Greenshoe… Donato Hanover keeps angling trying to find a path… Chapter Seven and Intimidate continue to gain, but it looks like they're going to be a little late.
To the wire, and Muscle Hill gets the job done by about three-quarters of a length… IN 1:48.3 – the FASTEST TROTTING MILE EVER… Greenshoe thrilled his fans and holds for second. Looks like a three-way picture between maybe Donato Hanover midtrack and the Chapter Seven / Intimidate late-rushing pair … But it's MUSCLE HILL in the HRU Dream Trot – WORLD RECORD 1:48.3!
QUOTES
Brian Sears (Muscle Hill) – "My horse showed he was a champion today. Got parked to a :53.2 half, then came back in a stretch and went in a world record 1:48.3 mile. I'm very proud of him.
"The time to the half was fast, but I thought I'd be able to give him a breather around the turn, as the outer tier wasn't coming up really strongly. Then WHOOSH! – here came Greenshoe, and I have to give Björn Goop a lot of credit, because even among the top-level drivers there aren't too many who would take a big chance like that. I know what kind of speed Greenshoe has, but it was still a bit of a surprise, and it must have caused excitement to the people watching the race.
"I didn't try to keep them parked out, because we could have gotten to the ¾ in 1:20 and something and run ourselves both down, and I was confident that Muscle Hill could come back at him in the stretch – he was still right up on the bit. I finally got the clearance, and my horse got the job done. I'm very thankful to be associated with this horse."
Björn Goop (Greenshoe) – "How do you say in American English – it was "do or die" – isn't that the phrase?
"My horse's people, whom I must thank because they gave me this tremendous opportunity today – they also gave me a lot of insight into this horse, not to rush him away, how much quick speed he could have, and so forth. It worked out well to be second-over, but with Muscle Hill likely to back the speed down on the far turn, I didn't think I could catch him if I waited to move off cover coming to the top of the stretch. So it just came to me to try to make the big move – and I was wondering about it myself even as we went up. Fortunately, the horse was able to get to the lead.
"In the stretch, I knew I had a champion horse behind me, but I thought I was in the best place I could be with the way things turned out. My horse battled against Muscle Hill right to the wire, and he equaled the world record time despite being parked past the half and making that big move. We were right with a star horse at the wire. It's a day I won't forget."
Ron Pierce (Donato Hanover) – "Going into the far turn, I really thought I had a chance to win it all.
"Donato warmed up really well, and I looked over at the start and there didn't seem to be too many busting away, so I sent him – we had to go wide around Chapter Seven half the first turn, but we did get to the lead. I knew Muscle Hill would be coming, and I thought I couldn't be in any better position than in the pocket behind him.
"Then Greenshoe came flying up early on the turn – and it was a smart move by Goop – and got around Muscle Hill, and then all of a sudden I wasn't in the pocket but third on the rail, and I'd have to wait for clearance. I was able to edge out behind Muscle Hill, and I was trying to find room to the inside, between them, or to the outside, but I had two chances – slim and none, and Slim was out of town.
"My horse stayed right with the top two – what were we, third over two horses on the far outside? I was pleased with my horse after the trip we had – all I have to learn now is how to draw a good post in races like this."
FEEDBACK
Thoughts on the field? Thoughts on the outcome? In your mind, who would win and how?
Some reader feedback on last week's Dream Pace is found in this week's Feedback section starting on pg. 34.
Your feedback on the Dream Trot is most welcome. We'll publish some of your responses next week.
Email us at: editor@harnessracingupdate.com and please put: HRU Dream Trot in the subject line.