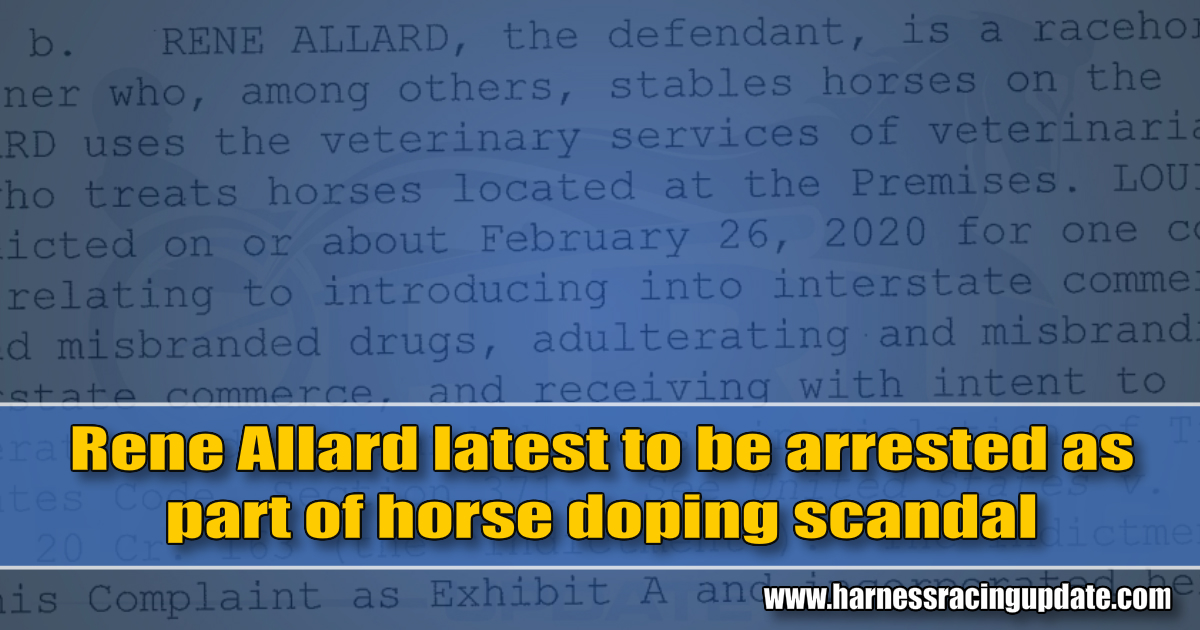 Rene Allard latest to be arrested as part of horse doping scandal
The Feds have now arrested the top two leading trainers at Yonkers Raceway and Allard finished 2019 as North America's third leading trainer in terms of wins and earnings.
by Bill Finley
Trainer Rene Allard is the latest person to surface in the horse drugging scheme that has rocked standardbred and thoroughbred racing. Not among the original 27 who were part of indictments announced March 9 by the U.S. Attorney's Office for the Southern District of New York, Allard was, according to sources, arrested mid-week last week while vacationing in Las Vegas. Allard became the 29th person involved in the doping investigation.
Allard's name surfaced two days after the name of Richard Banca was made public. It was not immediately known why Banca and Allard were not part of the original indictment.
At the time of his arrest, Banca was the leading trainer on the year at Yonkers and Allard was second. Trainer Nick Surick, 10th in the Yonkers standings, has also been indicted. Other harness racing participants who have been indicted include trainers Chris Oakes, Chris Marino, Rick Dane Jr. and Conor Flynn, an assistant to Banca. The thoroughbred horsemen involved include high-profile trainers Jason Servis and Jorge Navarro.
The sealed complaint against Allard (full document here) lays out instances where he allegedly used and "misbranded" illegal drugs to improve the performance of his horses. He has been charged with "misbranding," which carries a maximum sentence of five years in prison.
Perhaps the most disturbing part of the sealed complaint does not directly involve Allard but is the text of an intercepted phone conversation between Louis Grasso and Ross Cohen, both of whom were among the original 27 people indicted, where they joke about horses of Allard's that died, allegedly, because of the use of illegal drugs. Grasso is a veterinarian and Cohen, according to the original indictments, is someone who was distributing PEDs.
The conversation reads (and note this appears exactly as it did in the sealed complaint in terms of grammar and spelling):
Cohen: What's going on with the Allard death camp?
Grasso: (Laughter) well I didn't get any more emergency calls yesterday so I am assuming
Cohen: Assuming the number stopped at 7?
Grasso: Well yeah
Cohen: How many died?
Grasso: Three
Cohen: Jeez. What were you thinking?
Grasso: Three or two maybe.
Grasso and Cohen continue to discuss the effects of the drugs on the horses.
Cohen: Ok, maybe it was just the batch that Allard got I guess I don't know.
Grasso: They got high fever kidneys shut down.
Grasso: …One of them just died on the table they just cut him open and poof it died.
Cohen: Holy f-k did they do an autopsy?
Grasso: Their heart rate was like triple they were breathing real heavy their membranes were going f-ing purple.
The sealed complaint includes the deposition of FBI agent Bruce Turpin, who states that Allard's barn was raided on or about March 9. He was stabled at the training center in Middletown, NY run by Banca. Turpin testified that the raid yielded multiple empty syringes, the drug Glycopyrrolate, epinephrine and vials labeled "Thymosine Beta" and "for research purposes only."
The court filings also include the text of an intercepted text message from Allard to Grasso, which read: "I need 3 bottles of red acid to go to Canada Thursday." According to the FBI, red acid is administered to mask physical injuries in racehorses, thereby increasing the risk of injury while racing. Red acid was one of the PEDS that Surick was said to be using on his horses and distributing to others.
Rumors regarding his use of illegal drugs have followed Allard through much of his career and he was among the many horsemen banned at the Meadowlands.
Last April, HRU reported that Allard's attorney had requested an immediate stay to appeal Allard's one-year suspension, $5,000 fine and two-year probation for a Class 1 positive issued by the Alcohol and Gaming Commission of Ontario (AGCO). The Allard-trained horse One Too Many received the positive test for codeine and morphine, both Class 1 drugs, on March 18, 2017 after a race at Woodbine.
Allard, 33, finished third in North America among trainers in earnings in 2019 with $5,875,255. His 339 wins also ranked third. Allard was the leading trainer by wins in 2019 at Pocono Downs and was also on top of the standings in 2020 with 18 wins on the meet.
His top performers in 2019 include When Dovescry, the winner of the Hambletonian Oaks.