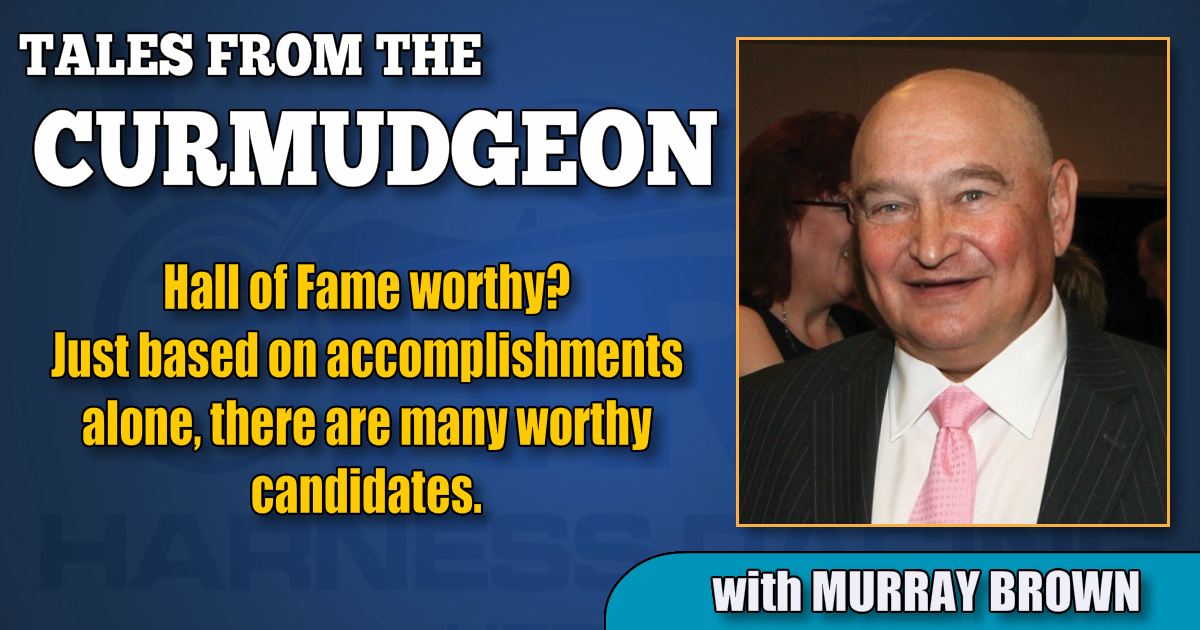 Just based on accomplishments alone, the author argues there are many worthy candidates yet to be enshrined.
by Murray Brown
(Editor's note: To avoid the misconception that the following people have been overlooked by the industry as candidates for the Hall of Fame in either the U.S., Canada or both, it should be noted that the vast majority of the people mentioned in this column have received serious consideration for enshrinement and it is likely that many will be Hall of Famers at some point. As further clarification, the goal of this column is for Mr. Brown to acknowledge the extraordinary accomplishments of those mentioned, that on the accomplishments alone might warrant them to be worthy of induction into the Hall of Fame. As Mr. Brown states off the top, "the list includes a few who others might think unworthy because of issues, both on and off the track, but features those who in black and white have (reached a high level of achievement) on the racetrack or in the highest places of our industry. I have divided them into three main groups of drivers, trainers and a third category of owners/breeders/builders with a pair in the category of personal legends. I have undoubtedly left off some who qualify and many more who owing to their youth, to these old eyes might not yet be seasoned enough for inclusion.")
Drivers
George Brennan – He's done mostly everything there is to do as a driver — wins, money earned and driving the winners of numerous classics races.
Lucien Fontaine – I scratch my head when I think of Loosh not being in either Goshen, or Toronto or both. Virtually all of his contemporaries are there, some of whom, in my opinion only, did not possess the talent nor the accomplishments Fontaine achieved.
Gilles Gendron – Look at his numbers. Many out there today might not be familiar with him. I'll quote my dear friend Michel Lachance who raced against him for many years: "Gilles Gendron was not a good driver. Gilles Gendron was a great driver."
Yannick Gingras – Many would say the greatest driver out there today. He has it all in spades, at the highest level — overnights at Yonkers, numerous classics and Grand Circuit wins and perhaps above all a great mind, both on and off the racetrack.
Jack Moiseyev – Jackie Mo has done it all on the highest level. At one time or another, he was won just about everything there is to win. His numbers and money earned are comparable to and greater than most already enshrined.
Tony Morgan – This is a man who has won 16,628 races, more than any driver in the history of North American harness racing not named Dave Palone. Some might say "where are his Grand Circuit wins?" But the number of his wins and money earned are certainly enough.
Luc Ouellette – A man like Jackie Mo who has done it all at the highest levels. For some reason, time seems to have forgotten both of them. His record says that he is most worthy.
Ben Webster – Excellent numbers both in overnights and stakes races. There may have been some who could make as much speed as Benny the Whip, but none more. In his prime, he was as good as anybody who ever sat behind a horse.
Trainers
Chris Boring – Long overdue. Another one who, time has apparently chosen to forget. Chris could just as easily be on this list as a driver. He has developed, trained and driven numerous champions. A true gentleman and credit to our sport in so many ways.
Ron Burke – The fact that he is not already in the Hall of Fame defies comprehension. He runs and is part owner of perhaps the most successful stable in harness racing history. Just being in charge of about 300 horses just blows my mind. The fact that he is aware of and oversees the status of each and every one of them is unmatched.
Casie Coleman – Just look at her record. The many champions she has developed, the numerous O'Brien Awards she has garnered as Horseman(woman) of the year. That's more than enough.
Steve Elliott – A consummate horseman. If all he did was develop Valley Victory, the breed would be indebted to him, but he has developed numerous other champions on both gaits including Donato Hanover and Well Said.
Per Eriksson – Has there been a trainer who has won three Hambletonians that isn't enshrined in Goshen? Very doubtful. Has there ever been a trainer who did so at so young an age? Most definitely not. Per is another of those that time and the committee at Goshen has passed by. It's time to re-evaluate.
Roger Hammer – Who? Yes, Roger Hammer. There is and probably never has been anybody quite like Roger. Nobody works harder. He has been active in every facet of the sport. Although he has mostly been prominent in fair racing in recent years, he also developed, trained and drove Vivid Photo to a win in the Hambletonian. Roger has often been unorthodox in his methods, but gets the job done year after year.
Richard Moreau – The leading trainer in Canada and winner of seven consecutive O'Brien Awards should be more than enough to qualify him for entrance.
Brett Pelling – A trainer who has done it all. He has led the trainers standing at The Meadowlands numerous times. He has developed numerous champions year after year. They say you can't go home again, but Brett Pelling did just that. After taking a hiatus to Western Australia for several years, Pelling came back and picked up where he left off developing last year's outstanding 2-year-old pacing colt Papi Rob Hanover.
Ray Schnittker – Like Roger Hammer, sometimes unorthodox in his methods, but Ray gets the job done. Also like Roger, he puts his money where his mouth is. He owns part of a majority of the horses in his stable. He has developed numerous top horses including Hambletonian winner Deweycheatumnhowe. His work as a USTA director and as a proponent for horsemen has been significant.
Owners, Breeders and Builders
Frank Antonacci – From the great family that has produced five Hambletonian winners, Frank has carried the torch that his father Sonny and his cousin Frank started. Not only a great breeder and owner, but one of the finest people it has been my pleasure to have known.
P. J. "Jack" Baugh – An individual who time seems to have forgotten. Jack Baugh did much of everything. His Almahurst Farm was one of the most successful breeding farms ever. He was a successful owner, a true Southern gentlemen and one of the very few USTA presidents to not yet be enshrined in Goshen.
John Fielding – A tremendous force both in standardbred and thoroughbred racing. As great an owner, breeder and builder as he is, he is even a greater person. There are few, if any that I've known in my 60-year involvement in harness racing that I love more than my dear friend John.
Brad Grant – My personal Owner of the Year for the last three years and arguably the most prominent standardbred owner of the last decade. I have no idea of how many horses Brad has in training, but I know it has to be a great many. He pays the bills on everything from cheap overnighters to the top weekly classes and then is thoroughly invested in young Grand Circuit types. Also, he signed the ticket on $1.1 million yearling Maverick. That's without mentioning that he is a great gentleman and a notable philanthropist.
Serge Godin – His wealth and personal achievements are only surpassed by his great humanity and loyalty. Monsieur Godin generally shuns the limelight, but his Determination Stable has always been a great force to be reckoned with at the yearling sales and on the racetrack. Of course he is the owner of last year's Hambletonian winner Forbidden Trade.
The Katz Family – For decades the Three Brothers Stable preceded by their parents Jack and Pearl have been leading owners in the sport. Through the many lean years and in recent years, they breed, buy and race horses. They are well known for their loyalty and generosity.
David McDuffee – In my opinion, very long overdue. For decades Dave has been one of the leading owners and builders in the sport. He is a man who genuinely loves the sport and perhaps just as importantly his horses. If a McDuffee horse is scheduled to train at Sunshine Meadows, Dave is out there with his trusty stopwatch. Like me, I sense that he enjoys the days and months leading up to racing almost as much, than he loves seeing them in the winner's circle.
Jeffrey Snyder – For decades Jeff has been one of the leading owners in the sport. He has had numerous champions. His commitment to racing is exceeded by very few.
Russell Williams – No one belongs more than Russell. His loyalty to the horses is unmatched by anyone. Nobody that I know of has rescued as many standardbreds or has spent as much of his own money and time doing so as Russell Williams.
Personal Legends
Marcel Dostie – Very few will probably remember his name. But one of the great Canadian harness drivers and trainers. Very few ever ran a stable as well as Marcel. I have always said that he brought me out. If not for him, it's likely that Adrien Miron would never have heard of me, let alone hired me. For better or worse, Marcel was responsible for any success I've enjoyed in this business.
Geoff Stein – Taken from us far too soon, my "beau frere" was as sweet and kind a person as I've ever known. If there was one, he was my steadying influence. When I'd go off the wall, he was often there to catch me. Without Geoff and Sonny Antonacci the story of Moni Maker might never have been written. Geoff, supported by Sonny, bought Moni Maker at three and influenced her move to Jimmy Takter and the driver change to Wally Hennessey. As they say, the rest is history.
Have a question for The Curmudgeon?
Reach him by email at: hofmurray@aol.com.