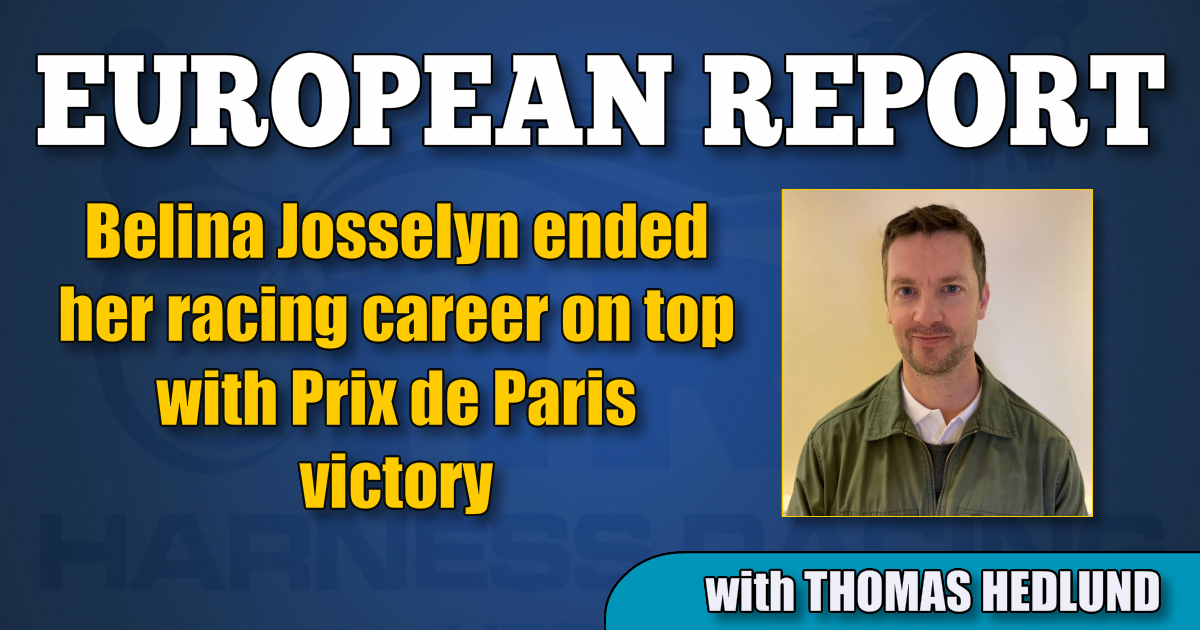 Belina Josselyn ended her career on top with Prix de Paris victory
by Thomas Hedlund
French queen of the tracks Belina Josselyn (Love You) claimed the last of the three Grand Prix-races at Vincennes during the 2019/2020 winter meeting.
The chestnut colored 9-year-old won the 2019 Prix d'Amérique and also followed that success by winning $380,750 Prix de Paris one month later.
This season has been almost as good as last year's and when the Prix de Paris was scheduled at Vincennes last Sunday, trainer and driver Jean-Michel Bazire had everything in perfect shape regarding Belina Josselyn.
Over the solid distance of approximately 2.6 miles, Bazire gave his lady a perfect cover trip in outside position and when the heavy distance began to put its marks on the contenders, Belina Josselyn once again showed that she's one of the most versatile trotters in the world. In the last turn she flew three wide and at the beginning of the stretch, Bazire noted that he was several lengths ahead of the chasers and Belina Josselyn won easily in a mile rate 1:59.3.
Recalls made many trotters stressed when the race went on and Belina Josselyn's stablemate Davidson du Pont was not relaxed enough for running two laps on the big track in Paris, so his day ended in disqualification after an early break.
Tony Gio finished strongly for second place and Earl Simon took home the bronze medal.
Belina Josselyn made her last performance at the track with this start and it's like a fairy tale that she even came back in this condition after her serious injury after the winter meeting last year.
Belina Josselyn won the $121,800 Prix de Belgique on Jan. 12, finished third in Prix d'Amérique two weeks later and made a break in Prix de France before she could end her magnificent career with a win in the Prix de Paris.
Her 74 career starts resulted in 23 victories and lifetime earnings of $2,848,991.
"I'll never get in contact with a mare like Belina Josselyn again," said Bazire after the victory in Prix de Paris on Sunday afternoon.
Face Time Bourbon closes the meeting
Saturday (Feb. 29) is the last day of the French winter meeting and traditionally the $217,000 Prix de Selection closes the game for this season.
The Prix de Selection is open for 4-, 5- and 6-year-olds where the youngest trotters starts 25 meters ahead of the 5- and 6-year-olds, but this year, no 4-year-olds wanted to enter the race, which means that all eight contenders will start from distance 2,200 meters. It seems like Sébastien Guarato trained Prix d'Amérique winner Face Time Bourbon has a great shot to win the race for the second time.
Prix de Selection 2020
Horse – Driver
Fairy White – Yoann Lebourgeois
Fleche du Yucca – Jean-Philippe Dubois
Fighter Smart – Mathieu Mottier
Etonnant – Eric Raffin
Frisbee d'Am – Alexandre Abrivard
Express Jet – Pierre Vercruysse
Enino du Pommereux – Matthieu Abrivard
Face Time Bourbon – Björn Goop